Yonex VCORE Tour 97 (310g) Racquet Review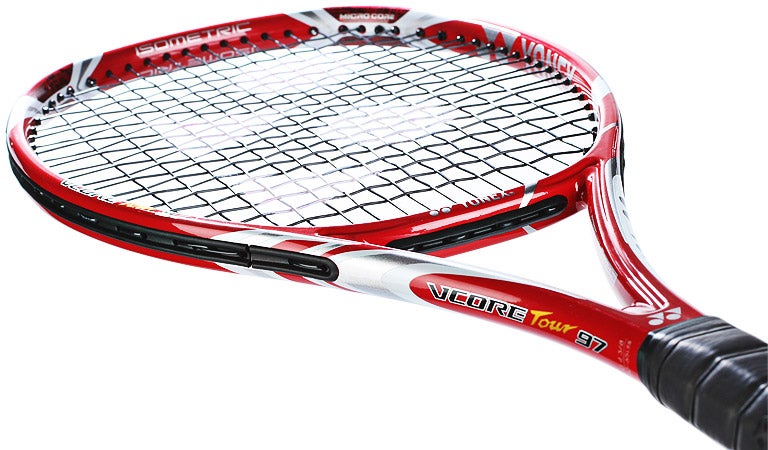 Yonex VCORE Tour 97 (310g) Scores
Comfort
78
Touch/Feel
79
Serves
86
Groundstrokes
84
Returns
80
Slice
81
Topspin
83
Volleys
83
Overall
82
Upsides
Surprising stability
Maneuverable
Easy to hit spin
Spin friendly
Downsides
Nothing we could agree on
Summary
The long awaited arrival of the 310 gram version of the Yonex VCORE Tour 97 is finally here, and it quickly impressed our playtest team. Given its 11.5 ounce static weight and swingweight of 314, we predicted this one was going to be fast and maneuverable, and it was. The light weight allowed our playtesters to wield the racquet with confidence all over the court, from heavy groundstrokes to kick serves and stab volleys. However, what we didn't expect was how exceptionally stable this racquet feels, especially when it was up against some of our biggest hitters. Normally a low swingweight like this would indicate a loss in plow through on off-center shots, but not in this case. This new offering from Yonex has the attributes to appeal to a wide variety of players. Those who want a racquet with a crisp feel that's easy to swing and stronger players looking for control and maneuverability will be well served with the VCORE Tour 97. Even if you aren't typically a fan of racquets with these specs, be brave and give this one a try, you may like it!
Groundstrokes - Score: 84
Our playtesters were generally very impressed with the VCORE Tour 97 (310g) from the baseline. They were surprised to discover how much stability it offered for how lightweight and maneuverable it felt. Troy really enjoyed how easy the racquet was to swing. He said, "My initial impression of this racquet was that it felt very maneuverable, and it was easy to generate a lot of racquet head speed. Because this racquet is lighter than my typical racquet of choice I was a bit early on my timing of the ball, and it took me some time to adapt. I was pleasantly surprised to find that this racquet felt solid on contact even though it felt relatively light. I could get a lot of topspin on my groundstrokes, but my slice backhand wasn't as penetrating as it is with heftier racquets. I enjoyed the heavier version of this racquet because I get easier depth on my shots. The downside for me with this racquet was that my shots weren't penetrating the court like they do with heavier racquets."
Chris was of a similar opinion, feeling the racquet provided him lots of options even when he was caught out of position. He said, "I liked this racquet off the ground from the first hit. I was finding lots of spin on my shots, and it felt very maneuverable. The response was adequately crisp and the racquet felt responsive. I didn't have any issues finding depth or pace. I felt like I was getting decent court penetration, although my shots didn't seem as heavy as they were with the 330 gram version. However, this racquet was much easier to accelerate, and that made it easier to add pace and/or spin, even when I was rushed. I was able to snap this racquet around quickly with my backhand slice, and that gave me the option to hold where I was going to place the ball until the last instant, keeping my opponents guessing. On both topspin and slice shots I found great bite from the stringbed, and I liked the spin and control I got from a co-poly string like Volkl Cyclone Tour."
This racquet was a great fit for Sean, who liked the feel and response of the racquet as well as the maneuverability. He offered, "This frame was absolutely fantastic from the baseline. It was very low powered and control oriented, which gave me the confidence to really hit out on all of my groundstrokes and find great depth. I felt very comfortable and accurate with this racquet from the moment I picked it up. Similar to my current racquet, I found this frame offered only average spin production, but on the other hand, its whippy feel and amazing maneuverability really shone. I felt it was easy to dictate points. I was able to be aggressive from both wings and easily place shots with good pace."
Mark had high expectations for this racquet, and it surely didn't disappoint. He said, "This racquet came with somewhat of a reputation because everyone had been raving about it. I was not the first to swing it, and it was not easy to locate on our wall of review frames. Between how unavailable the frame was and everyone here loving it, I was really anticipating hitting with it. It surpassed my expectations off the ground, and I was happy playing points from the start. With a full set of a low tensioned poly I got great bite on the ball for slice and topspin, with enough predictable depth to make the VCORE 97 (310g) feel like it was my own."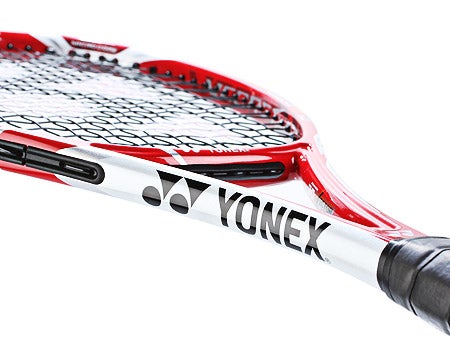 Volleys - Score: 83
Once again the maneuverability and solid feel were apparent when our players took the racquet to the net. Along with those characteristics, Chris enjoyed a nice feel that allowed him to hit touch volleys with ease. He explained, "This was a nice racquet to volley with because it was fast and easy to maneuver. I was able to snap high volleys away with good pace, and I liked the feel and control I had on touch shots. Even on tougher mid-court volleys, I found decent pace and very controlled direction with this racquet. I was able to dig out some tough low volleys and keep myself in the point. The racquet felt comfortable, yet not too dampened. I thought the level of feel was much better than the VCORE Xi models, and I felt more connected to the ball with this one over the VCORE 100 Xi."
Like Chris, Mark felt the racquet allowed him to execute all kinds of shots from around the net. He said, "No issue here. I think that anything but a laser beam off Andy G's racquet could be dealt with as long as it was within reach. Touch shots, like the half volley, were surprisingly easy to keep low."
Sean enjoyed the maneuverability around the net but struggled just a bit to get consistent depth on his volleys. He said, "Another great performance from this racquet at the net. The maneuverability came in handy when I needed to get into position quickly or fend off hard hit shots. I did find myself leaving a few volleys short in the box, so I had to be sure to get my weight behind each shot to ensure my volleys found their way deeper into the court."
Troy preferred playing doubles with this racquet and felt a little more weight would have helped. He offered, "I found a lot of maneuverability from this racquet when coming to net. I felt like the racquet was easy to defend with when playing doubles because I could react fast with it in hand. Surprisingly, I felt this racquet was stable and solid on contact, even when facing heavy hitters. I felt that a little added weight would have made it easier to get depth on my volleys, but it wasn't necessarily a detriment. The feel of this racquet when hitting drop volleys was a bit muted, which made me feel that I wasn't always connected to the ball. Overall, I found it to work well for me in doubles."
Serves - Score: 86
One of the favorite shots for our playtest team to hit was the serve. Sean loved how easy it was to generate racquet head speed while also maintaining control. He said, "With a great combination of mass and maneuverability, this racquet offered me a ton of options on my serve. With such a fast feel, the racquet allowed me to direct my slice and kick serves out of reach, leading to easy put-aways following a weak return. I also had a lot of success flattening out the serve, using my pace as a weapon. Overall, this racquet had great precision and maneuverability, which allowed me to control points from the first shot."
Troy had similar feelings with serves, adding, "This racquet was easy to maneuver, which helped me give some added spin and kick to my serves. My favorite serve with this racquet was the kick serve, and it was easy to snap my wrist and get added spin. The first serve down the middle was also working well, and I could hit it hard and flat. My slice serve out wide had a lot of spin on it, which worked well for me in doubles. Overall, I had no complaints when serving with this racquet!"
Mark was skeptical about how well the racquet would perform on serves when he first looked at the specs. After trying it, his skepticism was put to rest. He explained, "The 11.5 ounce average static weight instilled confidence, but the sub-320 swing weight did not. It felt like the swingweight of the VCORE 97 (310g) was more than 314, and that stable feeling that is usually reserved for racquets with higher swingweights was surprisingly present in this one."
Chris also felt that he could execute a wide array of serves with this racquet. He said, "Getting pace and spin was fairly easy with this racquet on serve. I'd say it was more spin-friendly than a Radical Midplus, with a bit more pop, even though the racquets felt the same coming through contact. I could find my targets consistently and felt like I was serving accurately. I was getting enough action on my wide slice serves to attack the net and volley to the open court. When looking for some heat up the T, the pace I was getting was solid. Overall, I liked the blend of control and power on serve."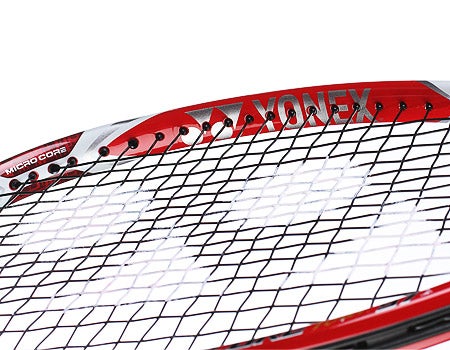 Serve Returns - Score: 80
There were mixed feelings about the VCORE Tour 97 (310g) on the return of serve. Chris once again appreciated how easy it was to get it around his body to meet the ball. He found that this enabled him to use the server's pace to his advantage. He said, "This racquet had a solid feel on returns. I was able to take an aggressive swing with good control. Thanks to the maneuverable feel, I found I could take the ball early and use the incoming pace of the serve to hit an aggressive return. I liked how quickly I could change the direction of the ball. I found this to be a very good racquet in a counter punching situation, such as a return of a fast serve. I was getting all the spin and control I needed when rolling an angled return. Basically, it was all systems go on returns for me."
Mark also liked the racquet for returns. He felt it was a nice match for his style of play. He said, "It exhibits a nice blend of features (weight, balance, beam flex, etc.) that complement my style of return, which is primarily a chip return."
Troy enjoyed the fast feel of the racquet on returns but would have liked a little more mass to work with. He explained, "I found the maneuverability helped me return serves that I typically would find to be out of my range. In doubles I could easily maneuver the racquet to help me keep the ball away from the net man. The downside was that in singles I wasn't getting the easy depth on my returns to keep my opponent back in a defensive position. The slice return wasn't as penetrating as I would have liked, and when trying to be offensive I wasn't getting the results I tend to find with racquets that have more plow through."
Returning serve was Sean's least favorite shot with this racquet. He said, "One area where this racquet didn't perform as well as some others I've tested is on the return of serve. Because of its very low power level it was sometimes difficult to get myself back into the point with a stretch or stab return. I needed a well-timed swing to put the ball where I wanted in the court, which wasn't always an option. On the plus side, when I could swing I was able to punish my opponent's serve with confidence and accuracy, which more than made up for its control-oriented feel."
Overall - Score: 82
Likes
Chris - "I really, really liked this racquet. I was surprised that I liked it more than the heavier version; that is rarely the case for me. I felt more comfortable on my topspin backhand because I felt more in control of the tip of the racquet. I also felt this racquet had more feel and wasn't as muted as the 100 Xi we recently tested. This would be a great option to tail weight and make heavy, but very head light."
Mark - "I have been waiting for the day to arrive that I fall in love with a Yonex frame. It has to be a mental thing, but I never preferred the really long main string and head shape of most Yonex frames. This racquet felt more stable than the 314 swingweight and 11.5 ounce static weight would indicate, and the finished product is very easy on the eye."
Troy - "Maneuverable and solid at net, and a great racquet to serve with. If I were a serve and volley player this would be at the top of my list!"
Sean - "It's control-oriented, precise and has great feel."
Dislikes
Chris - "None. I would add a leather grip and maybe some weight to the handle, but I really enjoyed it in stock form."
Mark - "My only gripe is that it took so long for the VCORE 97 (310g) to actually arrive."
Troy - "I enjoyed the mass of the 330g version more than this 310g option for my baseline style of play. The feel was a bit muted on touch-oriented shots, too."
Sean - "None."
Comparing this racquet to others they've tried, our testers said:
Chris - "I would put this racquet up against the Head Radical Midplus models, as well as a Wilson Blade 98. Another option would be the Volkl Organix 10 295, but that racquet would require a little lead tape to match this one's stability."
Mark - "This frame is a fine example of the mid-11 ounce racquet with a dense pattern and firm beam. It's similar to the Blade 98 (18x20), but the stock swingweight on the VCORE 97 is lower, closer to the Dunlop F3.0 Tour, Head Graphene Speed Pro and Donnay Pro One 97. The Donnay, Wilson and Head frames listed have higher stock swingweights, but the VCORE 97 (310g) is every bit as stable. This will be a home run for Yonex and is definitely a frame that I would switch to over most others."
Troy - "I found a lot of similarities between this racquet and the Dunlop Biomimetic F3.0 Tour, both are lightweight racquets with a solid feel. I also found some similarities to my old Wilson KBlade 98, being lightweight and full of control but at the same time having more pop than a Head Radical Midplus. I prefer the 330g version of this racquet, but for those with one-handed backhands or those just looking for maneuverability in a control-oriented player frame, this is a solid option."
Sean - "It has a whippy, low-powered feel similar to both the Head Prestige MP and the Babolat Pure Storm LTD."
Technical Specifications

Length
27 inches
69 centimeters
Head Size
97 square inches
626 square centimeters
Weight
11.5 ounces
326 grams
Balance Point
12.625 inches
32 centimeters
7pts Head Light
Construction
20.5mm / 20.5mm / 20mm
Composition
H.M. Graphite / X-Fullerene / Micro Core
String Pattern
16 Mains / 20 Crosses

Babolat RDC Ratings

Score

Grade

Flex Rating
67
Range: 0-100
Swing Weight
314
Range: 200-400
Scores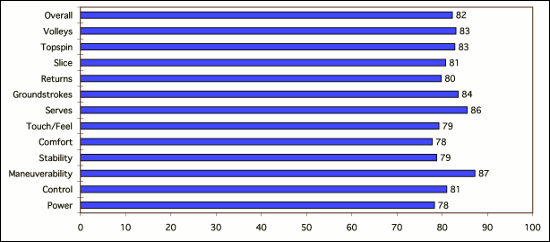 (Scores are determined by averaging individual play test scores)
Chris' Scores
Power
8.1
Serves
8.3
Control
8
Groundstrokes
8.2
Maneuverability
8.4
Returns
8.4
Stability
7.8
Slice
8.3
Comfort
7.9
Topspin
8.4
Touch/Feel
8
Volleys
8.4
Overall
8.2
Mark's Scores
Power
8.5
Serves
8.7
Control
8.6
Groundstrokes
9
Maneuverability
8.7
Returns
8
Stability
8
Slice
8.5
Comfort
8
Topspin
8.5
Touch/Feel
8.5
Volleys
8.5
Overall
8.6
Troy's Scores
Power
7.3
Serves
8.8
Control
7.2
Groundstrokes
7.2
Maneuverability
8.8
Returns
7.5
Stability
7.5
Slice
7.3
Comfort
7
Topspin
8.8
Touch/Feel
7.6
Volleys
8.5
Overall
7.7
Sean's Scores
Power
7.4
Serves
8.4
Control
8.5
Groundstrokes
9
Maneuverability
9
Returns
8
Stability
8.2
Slice
8.2
Comfort
8.2
Topspin
7.4
Touch/Feel
7.6
Volleys
7.8
Overall
8.4
Playtester Profiles
Chris: 5.0 all-court player currently using the Volkl C10 Pro 2012. Chris uses a full-western forehand grip, has a fast swing style and hits a one-handed backhand.
Mark: 5.0 lefty all-court player with a one-handed backhand. He currently plays with the Dunlop Aerogel 4D 200.
Troy: 5.0 lefty all-court player with a full Western Forehand and a two-handed backhand. Troy currently plays with a customized Head Microgel Radical Midplus.
Sean: 4.5 baseliner using the HEAD Youtek Prestige Pro. Sean has a semi-western forehand, 1 handed backhand.

Review date: March 2013. If you found this review interesting or have further questions or comments please contact us.
All content copyright 2013 Tennis Warehouse.