Yonex VCORE Tour G 310 Racquet Review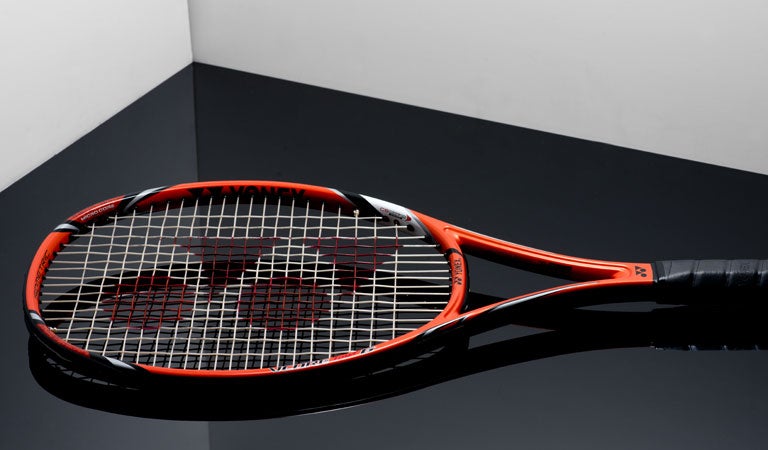 Yonex VCORE Tour G 310 Scores
Power
69
Comfort
84
Touch/Feel
85
Serves
84
Groundstrokes
74
Returns
73
Slice
82
Topspin
75
Volleys
77
Overall
78
Upsides
Control
Solid feel
Stable
Summary
While there seems to be a bit more excitement around the 330 gram version of the VCORE Tour G that Stan Wawrinka used to win his first Grand Slam, the lighter VCORE Tour G 310 may appeal to a wider group of players and be the more versatile of the two racquets. Our playtesters enjoyed the solid, plush feel and the exceptional precision. Serves were their favorite shot to hit with this racquet, and the whole team found enough power, control and spin to help them be effective and consistent. However, even though this is the lighter of the two versions, we still found a lack of maneuverability that affected the racquet's performance, primarily on groundstrokes and volleys. It proved difficult at times for our team to swing the VCORE TOur G 310 quickly enough to handle an opponent's harder hit shot, and this certainly affected a couple of the playtesters' overall opinions of the racquet. However, for players who place an emphasis on control and feel (like one of our playtesters on this test), this new Tour G 310 is sure to impress!
Groundstrokes - Score: 74
Our playtesters found the VCORE Tour G 310 to be pretty demanding from the baseline, requiring a lot of strength to get it moving through the contact zone. Although it may be a little heavier than what Karly is used to, she loved the amount of control she got with it. She said, "This racquet was made for my style of play. I hit much better with a control-oriented racquet that lets me generate my own pace, and the VCORE Tour G 310 does exactly that. It's pretty low-powered, which allowed me to hit with a lot of control and made placing the ball where I wanted extremely easy. I loved how I could take big rips at the ball without worrying about overhitting. Considering its lighter weight, this racquet felt surprisingly stable and solid. Compared to other racquets in the same weight range, the Tour G 310 drove through the ball particularly well. Although it did swing a little slower than most racquets with similar weights, the maneuverability didn't bother me too much. I'd gladly play with a little heftier racquet so I can use the weight to produce my own power and get exceptional control."
The VCORE Tour G 310 was a little heftier than what Brittany is used to as well. Swinging the racquet fatigued her a bit during longer hits, but she liked the stability, especially on her slice backhand. She explained, "This racquet is definitely way out of my wheelhouse, but I had a ton of fun hitting with it because it has the Yonex feel I truly enjoy. This racquet felt smooth and stable off the baseline. I was able to get enough spin and control to take full swings on my groundstrokes, which allowed me to really go after the ball and be aggressive with my shots. However, after about 45 minutes of playing tennis I started to feel fatigued and wasn't swinging through the ball as well, which caused the ball to land short. Lastly, I absolutely loved slicing with this racquet. My shots were staying low and penetrating, and I was using the slice both offensively and defensively."
Jason also liked the control and stability the VCORE Tour G 310 offered, but it was simply too heavy and underpowered for him. He critiqued, "Let me start with the good. This racquet provided excellent control, and I also really enjoyed the solid, yet comfortable, feel. Now what I didn't like: This is a taxing racquet to use and it lacks power. After about 30 minutes of use my arm and shoulder felt pretty fatigued. The racquet is too underpowered for me, so I felt like I had to swing hard to get the pace I wanted. I'm not really sure why this was, because the specs are all within my comfort zone."
Michelle simply never got dialed in from the baseline during this playtest. She said, "I can appreciate what this racquet offers, but I also realize it doesn't work for me. I personally don't think it's a match for someone who plays like me - flat strokes with a lot of power. I had to adust to the Yonex head shape and the smaller head size. I struggled to hit consistent groundstrokes with this racquet. I know this is more of a control-oriented racquet, and I thought I'd get more control, but I found it to be more demanding instead. I had a hard time putting balls away and found the small margin of error I hit with wasn't working with this racquet. Also, despite not using a lot of topspin on my groundstrokes, I do rely on it at times, and it wasn't there when I needed it -- or not enough of it at least. I can usually just flick my wrist to get some added spin, but I wasn't finding it with this racquet. I also felt like the VCORE Tour G 310 was a bit sensitive to whatever string it had in it. Stiffer polys felt very dead and stiff."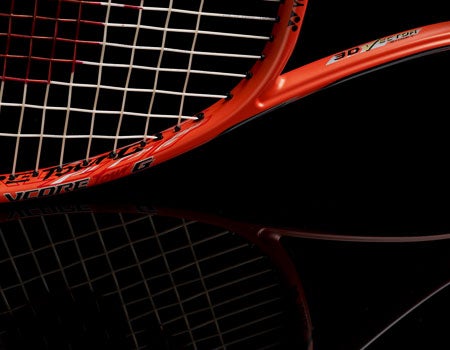 Volleys - Score: 77
Our playtest team had some mixed results when they approached the net with the VCORE Tour G 310. Brittany liked the easy depth and stability that the heft of the racquet offered, but it also contributed to a lack of maneuverability that affected her during point play. She explained, "I loved the solid and stable feel when I first hit some practice volleys. The volleys were landing deep in the court when I was moving forward. However, I was having trouble getting my racquet into place when I started playing points. I wasn't making very many volleys that I had to reach for."
Michelle had a better experience volleying than she did with her groundstrokes. She found it easy to get the VCORE Tour G 310 into position, but she also found it to be unforgiving on off-center hits. She offered, "I enjoyed volleying with this racquet. It had such a soft response and was maneuverable and comfortable at the net. I could hit a variety of balls. I never really felt uncomfortable, and I could carve out whatever I wanted at the net. I did feel like anything outside of the sweetspot was a little unpredictable, and I would have liked a bit more stability on mis-hits."
Karly's rave reviews continued. She said, "That stable feel was as apparent as ever up at net. Contact felt solid and comfortable and the stringbed was forgiving, so it didn't make too much of a difference if I hit outside of the sweetspot. I also thought the maneuverability was better when hitting volleys. The excellent control let me move the racquet faster and place my shots where I wanted. However, what I liked most about volleying with this racquet was the touch and feel. With all the forgiveness the VCORE Tour G 310 offered, taking pace off the ball for a soft touch shot was simple. I have no complaints whatsoever using the Tour G 310 at the net."
Jason appreciated the feel and responsiveness the racquet had at net, but like Michelle, he found it unstable if he missed the sweetspot. He said, "I'm not the cleanest volley striker, and this racquet let me know that. It has a small sweetspot, and balls that hit outside of it really made the racquet torsionally unstable. When I hit the sweetspot I had nice touch around the net and was able to hit my drop volleys with some success."
Serves - Score: 84
Serves proved to be one of our playtesters' favorite shots to hit with the VCORE Tour G 310, and our team all loved the precision it offered on both first and second serves. Along with control, Michelle found easy pace on her first serves and access to spin for her second serves. She said, "This is the one area where I enjoyed this racquet. I felt like I could get a lot out of this racquet on my flat first serves, and I could create a lot of kick on my second serves. I was handsomely rewarded when I went big on my first serve. I was surprised because what I was missing from my groundstrokes was there for my serves. I could really brush up and get the ball moving on kick serves, and I often threw those in to change up the pace and predictability."
It took Brittany some time to get used to the weight of the racquet on her serve, but once she did she was finding tremendous success. She offered, "I wasn't able to find my range the first time I played with the Tour G 310. However, once I was dialed in my first serve was my favorite shot to hit. I loved hitting really heavy first serves into my opponent's body, and I was able to get a lot of free points because my serves were landing deep in the box. I had to put a little extra effort into my second serves to get them over the net, but when I did I was rewarded with a heavy serve."
Karly found an ideal blend of power, control and spin on her serves. She raved, "Even with all the control I could get on groundstrokes and the superb feel up at net, serving was my favorite shot to hit with this racquet. Control was still the most prevalent characteristic, but I could also get a ton of leverage behind my shots for good power. As long as I sped up my stroke, there was enough weight and plow through to drive through the ball for lots of power. I loved being in control of both pace and placement with my serves."
Control and consistency allowed Jason to serve effectively with the VCORE Tour G 310. He said, "This was probably my favorite aspect of this racquet. I wasn't able to get any more power than usual, but I did really like the consistency. I was hitting a high percentage of my serves in, which for me is always a win, even when it's not with a ton of power. I was able to control my placement pretty well with this stick."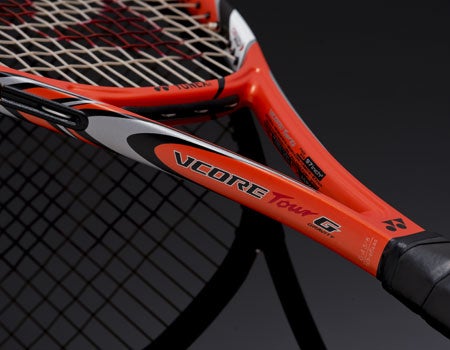 Serve Returns - Score: 73
Our playtesters struggled with the maneuverability of the VCORE Tour G 310 when returning serve. Jason was able to use the control the racquet offered when he had a little more time, but he had trouble consistently neutralizing his opponent's service game. He explained, "Again, this racquet left me wanting more power. Chipping or slicing a serve back usually resulted in a short reply, putting me immediately on the defensive. It was better when I was facing a slower second serve, and I had time to set up. I could use the great control to move the ball into the corners."
Brittany had a similar experience, saying, "Like volleys, I was having trouble at times getting my racquet in place when I was returning serves. This was especially noticeable when it was a first serve wide to my forehand side. On the other hand, when I could get my racquet into position I felt really comfortable attacking the return because I found a controlled, stable response."
Michelle, who likes to take big cuts on the return of serve, had trouble getting completely dialed in. She critiqued, "Again, I just didn't feel connected to the racquet. I never felt like I was hitting a clean return with this racquet. It felt like it was lagging behind at times, and I would have enjoyed a bit more plow through. I wasn't really rewarded when I tried to be aggressive. I felt like I had to exaggerate everything to get the ball where I wanted it. I don't think this makes the racquet bad, but I think it just proves this racquet is better suited to control-oriented players who set up the point off returns rather than people who go big off returns. I know some of my fellow playtesters have been playing awesomely with this racquet!"
Karly continued to love the precision and feel of the VCORE Tour G 310. She was able to hit her returns aggressively and successfully. She said, "Just because a racquet is low powered doesn't mean you can't return aggressively, and this racquet proved that! I relied on all the control to get on the offensive quickly. This racquet made it so easy to direct the ball and place my shots where I wanted. I also enjoyed being able to take big swings without being concerned about sending the ball long. I just had to be careful of my timing with faster servers because the mobility was a little on the slower side. The maneuverability never bothered me because of the excellent control, but I had to make sure I got my racquet out in time when returning hard serves."
Overall - Score: 78
Likes
Brittany - "I liked the control and stability as well as the solid feel this racquet offered."
Jason - "The solid and comfortable feel. Performance-wise, I thought it had very good control."
Karly - "I absolutely loved playing with this racquet, mostly because of the unbelievable control and exceptional feel and touch."
Michelle - "The soft response, and I loved it on both first and second serves!"
Dislikes
Brittany - "While the swingweight was low, I struggled with the maneuverability at times. It was too much racquet for me."
Jason - "A tiring racquet to swing. Underpowered, with a small sweetspot."
Karly - "None, really! Sure, the racquet was a little slow at times, but I thought the higher swingweight helped add more power to my shots."
Michelle - "It just doesn't suit my game style - I couldn't get a consistent feel out of it on groundstrokes and struggled putting balls away. It is still a solid racquet, just not for me!"
Comparing it to other racquets they've used, our testers said:
Brittany - "I haven't really tested a lot of racquets in this spec range, but I would say the Prince Classic Graphite 100 was very similar. Both are more control-oriented racquets that I felt I needed a little extra power. They both felt a bit sluggish compared to what I'm used to, and I wasn't able to get the racquet in place at times. Lastly, both were comfortable, and I enjoyed the feel."
Jason - "The VCORE Tour G 310 reminds me of the Volkl Organix 9 Super G. This racquet has a softer feel, though. Also, it plays similarly to the old Boris Becker Delta Core London Tour."
Karly - "It played and felt most similar to the Head Radical Midplus racquets, but I thought the VCORE Tour G 310 offered a little more pop and liveliness."
Michelle - "The Wilson Pro Staff 95 feels similar because it has a smaller head size, is control-oriented and is a bit demanding."
Technical Specifications

Length
27 inches
69 centimeters
Head Size
97 square inches
626 square centimeters
Weight
11.6 ounces
329 grams
Balance Point
12.68 inches
32 centimeters
7pts Head Light
Construction
20.5mm / 20.5mm / 20.5mm /
Composition
H.M. Graphite, Micro Core
String Pattern
16 mains / 20 crosses

Babolat RDC Ratings

Score

Grade

Flex Rating
63
Range: 0-100
Swing Weight
317
Range: 200-400
Scores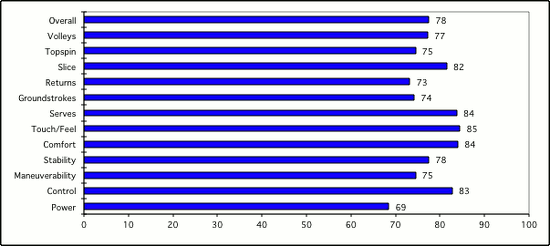 (Scores are determined by averaging individual play test scores)
Brittany's Scores
Power
6.5
Serves
8
Control
8.3
Groundstrokes
8
Maneuverability
6.7
Returns
7.8
Stability
8
Slice
8.5
Comfort
8.2
Topspin
8
Touch/Feel
8.5
Volleys
7.7
Overall
8.1
Jason's Scores
Power
6.5
Serves
8
Control
8.2
Groundstrokes
6.6
Maneuverability
7.3
Returns
6.7
Stability
6.8
Slice
7.9
Comfort
8.2
Topspin
7.5
Touch/Feel
8
Volleys
7
Overall
7.1
Karly's Scores
Power
7.8
Serves
8.5
Control
8.8
Groundstrokes
8.6
Maneuverability
7.8
Returns
8.3
Stability
8.4
Slice
8.2
Comfort
8.7
Topspin
7.8
Touch/Feel
8.8
Volleys
8.5
Overall
8.7
Michelle's Scores
Power
6.6
Serves
9
Control
7.8
Groundstrokes
6.5
Maneuverability
8
Returns
6.5
Stability
7.8
Slice
8
Comfort
8.5
Topspin
6.5
Touch/Feel
8.5
Volleys
7.7
Overall
7.1
Playtester Profiles
Brittany: Open level player with a semi-western forehand and a two-handed backhand. She currently plays with the Yonex EZONE Ai 100.
Jason: 4.0 baseliner with a semi-western forehand and two handed backhand. Currently using a Wilson Steam 99 S.
Karly: 4.0 baseline player currently playing with the Volkl Organix 10 Mid. She hits with a semi-western forehand grip and uses a two handed backhand.
Michelle: Open level baseline player with a semi-western forehand and a two handed backhand. She currently plays with the Babolat Pure Drive Roddick.

Review date: May 2014. If you found this review interesting or have further questions or comments please contact us.
All content copyright 2014 Tennis Warehouse.