Yonex VCORE Tour 97 Racquet Review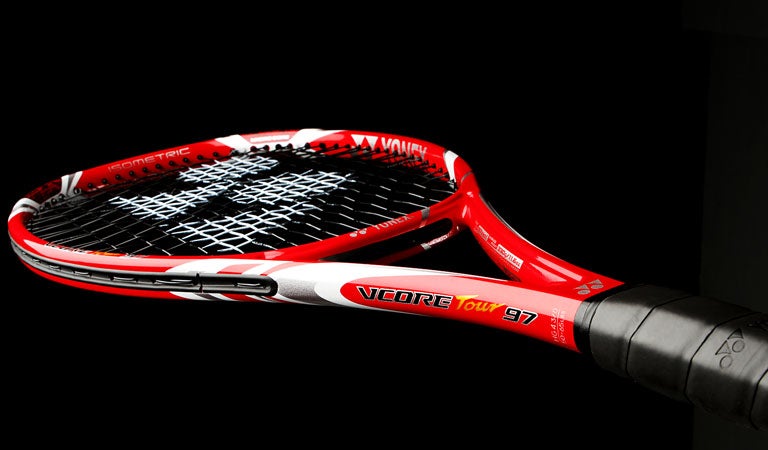 Yonex VCORE Tour 97 Scores
Comfort
81
Touch/Feel
82
Serves
83
Groundstrokes
80
Returns
79
Slice
86
Topspin
88
Volleys
81
Overall
82
Upsides
Spin-friendly
Feel
Comfort
Control
Downsides
Not as stable as expected
Summary
Yonex has graced us once again with a very solid midplus racquet in the VCORE Tour 97. Offering nice maneuverability and good spin potential, this racquet is ideal for intermediate to advanced players who like to use a lot of variety and heavy spin in their game. From the baseline, this racquet was forgiving and provided our playtesters with lots of bite on the ball, especially on the backhand slice. Once at net, the maneuverability and stability became evident. On serves and returns, the ability to generate racquet head speed and spin allowed our team slice and dice and hit with a lot of variety. The 97 version plays quite differently than the 89, being much more forgiving but a little less solid. However, if you've been a fan of the Yonex midplus racquets in the past, this one won't disappoint.
Groundstrokes - Score: 80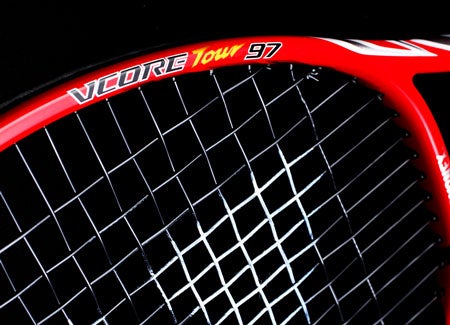 The general consensus of the VCORE Tour 97 from the baseline was that it was maneuverable and allowed for excellent access to spin. Enjoying the extra spin she could generate was Carol, who said, "It's a very comfortable racquet. I really enjoyed drilling with this racquet. It was very smooth, and I loved the feel of the ball off the stringbed. It allowed me to be very consistent off the baseline, with good clearance over the net that I think can be attributed to the added spin. The backhand slice is a shot that stood out with this racquet. I really enjoyed the plow through this racquet provided and how well it maneuvered around the court. In point play the racquet provided all of these things, but I wasn't able to get enough pop on the ball to be aggressive. I found the ball landing short in the court and having to hit an extra few shots to end points."
Also enjoying the spin, especially on his backhand slice, was Chris. He said, "Offering easy access to spin and a generous sweetspot, this racquet was fairly impressive from the baseline. I probably would have liked it more, but my enjoyment of this racquet was somewhat tainted by my experiences with the VCORE Tour 89. This one just didn't come through the contact zone with the speed or solidity of the mid. I found it more forgiving when hitting with heavy topspin, as I had more racquet face to play with, but this one was simply outshone by the mid in all other aspects. In comparison, this one felt a little clunky. Still, comfort was good, and the racquet offered nice feel on my slice backhand."
Troy also liked the feel of this racquet on his backhand slice. He offered, "What I found to be most impressive from the beginning of this test was the amount of stability and plow through this racquet provided on my groundstrokes. The weight and balance of this racquet is nearly identical to my own racquets, so swinging this racquet came naturally. Like most of the Yonex racquets I've tried before, I found it easy to generate loads of topspin. The one thing that bothered me with this stick was the lack of precision, which was more noticeable when comparing this racquet to the 89 square inch version. I never felt fully confident hitting close to the lines because my range was slightly off due to the lack of feel. I found my backhand slice to be effective because the mass of this frame allowed me to knife through the ball with ease."
Jose really enjoyed his ability to swing fast with this racquet. He said, "It was really easy to generate racquet speed from the baseline, and I had no problem getting the racquet on every ball. Usually, with a control racquet like this I have problems generating enough power to get the ball deep, but that was not the case with this racquet. It was really easy to generate the racquet head speed to get enough power and hit deep shots."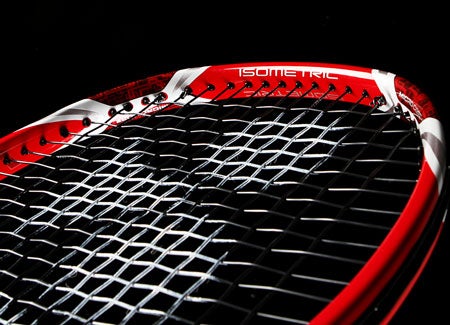 Volleys - Score: 81
Our playtesters all had different things they liked about the VCORE Tour 97 at net, but all of them seemed to find that it suited their needs. Troy liked the stability the racquet had to offer but didn't get the feel he likes. He said, "I was able to get good depth on my volleys with this stick in hand. The mass of this racquet provided good stability and made it easy to return the heaviest of shots. As was the case on groundstrokes, the feel wasn't quite there for me, and I wasn't comfortable with touch volleys or going for the lines. I enjoyed the maneuverability and found I could get good depth on volleys, but the feel was a bit harsh."
Carol on the other hand liked the feel of the racquet on her volleys. She said, "This was a very comfortable racquet with ample feel at the net. I wasn't going to power through anyone with this racquet at net, but I was very controlled and consistent."
Jose found the racquet to be maneuverable and his volleys precise. He said, "In my opinion, any racquet that is 8 points or more head light makes it really easy to be quick at the net and hit accurate volleys. I had no problems hitting deep, or to any part of the court for that matter. All I had to do was get the racquet on the ball."
Chris thought the strengths of this racquet shone more at net than they did at the baseline. He said, "I liked this racquet more at net than I did from the baseline. It felt solid and I was able to put some nice zip on my punch volleys. Again, the feel was impressive and I felt like I could control my touch shots very well. I also found the racquet to feel much more maneuverable on a more compact stroke such as a volley, and it lost pretty much every hint of the clunkiness I found from the baseline. Strung up with a co-poly, the stringbed offered lots of bite and I was getting some nice slice when cutting under my volleys.
Serves - Score: 83
All our playtesters loved the VCORE Tour 97 on serve. Jose simply raved about it, saying, "I love this racquet in this category. It was really easy to guide the ball on my flat serve, and I could place the ball anywhere in the service box with my kick serve. Loved it!"
Getting a little extra power and spin from this racquet was Chris, who said, "Impressive power and spin made this a great racquet to serve with for me. While I never expect to blow my opponents off the court with my not so blistering mid-80mph serves, I was able to get enough weight and accuracy on first serves to start off the point aggressively. I was also able to force some errors off my opponents' returns with the pace and spin I was getting from this racquet. On second serves I found enough spin to be able to stay aggressive and hit at close to my maximum pace."
Carol loved the feel and control she got on the serve. She said, "I felt that I could reach the ceiling with this racquet. It felt very long to me on the serve, which I think can be attributed to its long neck and narrow head. Again, it was very comfortable, with great feel. I really enjoyed swinging this racquet on the serve. It was a very smooth and fluid motion for me. Like the groundstrokes, I had a lot of control but not a lot of pop on the ball."
Troy liked the extra spin and found better power. He said, "I was able to get a lot of spin on my slice and kick serves. The maneuverability of this stick helped me get some good pop on my serve, too. I found my serve to be pretty consistent, but I found myself spinning it in more than I would have liked on first serves. I didn't feel quite as comfortable being aggressive with my first serves because I was lacking precision, especially when aiming at the middle-T. Overall I found that my kick serve was my go-to, because spin came with ease and I wasn't getting the results during match play that I would have liked."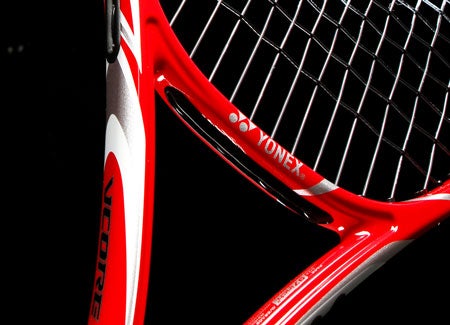 Serve Returns - Score: 79
Our team had mixed emotions about the VCORE Tour 97 on the service return. Troy thought this was where the racquet felt the best. He said, "I found that my returns were my most consistent shot with this racquet. The overall mass and maneuverability helped me get lots of pace and depth on my returns. I could be effective hitting deep returns and I was able to mix in the slice return off my backhand, which I was able to land deep and keep nice and low, thus creating a hard shot for the server to get back."
Once again, Jose liked the swing speed he was able to generate with this racquet, this time on the return of serve. He said, "Serve returns were easy, just like groundstrokes, since it was easy to generate the racquet speed to get good power out of the frame. Plus, weighing over 12 ounces does help keep the racquet from getting pushed around the court."
Chris liked this racquet for heavy topspin or chip returns, but didn't feel the racquet was stable enough on the flatter shots. He said, "This racquet felt pretty solid on returns, but again, it didn't resist twisting as well as the mid version. I also couldn't snap it through contact with the same ferocity. However, I found enough racquet head speed to return aggressively when given the opportunity and enough stability to help me keep defensive returns deep. Again, spin was easy to generate. I found I could roll the ball deep as easily as I could cut a sharp angle -- both executed with heavy spin. It was when I wanted to drive the ball flat that I missed the precision of the mid version."
The return of serve was Carol's least favorite shot with this racquet. She said, "I felt that the racquet absorbed almost too much power here, which resulted in my returns landing short in the court. This is a shot that I like to be very aggressive on and this racquet did not allow me to do this."
Overall - Score: 82
Likes
Chris - "I liked the comfort, spin and feel."
Troy - "The weight and balance was right where I like it. Easy to generate spin."
Carol - "I think this racquet has a lot of great qualities, one being the comfort level. This racquet was easy for me to pick up and drill with. I felt very connected to the ball and very controlled. The weight of this racquet was very familiar to me at just 12.3 oz strung. I never felt any shock or vibration while hitting with this racquet. Again, the comfort level is definitely unparalleled."
Jose - "The specs of this racquet were dead on to what I like. It was really easy adjusting to this frame from my own."
Dislikes
Chris - "Not as sweet as the midsize version."
Troy - "The overall lack of feel and precision."
Carol - "I started having hitting issues with this racquet in the point play. I wasn't getting enough power with this racquet to be aggressive. While I still found the comfort and control level this racquet provided, it did little for my game during points. I really disliked how short my returns of serve were landing in the court. This caused me to be on the defensive quite a bit."
Jose - "Not much I could say that I dislike. If anything, I would say the comfort is not as I would like it to be, but it still worked for me."
Comparing the racquet to others they've tried, our testers said:
Chris - "I would compare this racquet to the Head YOUTEK Speed Pro. Both offer easy access to spin and are very poly-friendly with their comfortable response. However, with both this and the Speed Pro I expected more solidness, considering the weights and fairly hefty swingweights. With the VCORE I simply preferred the mid version, and that has me thinking that a mid version of the Speed Pro would also probably be very sweet. Head, are you reading?"
Troy - "I found this racquet to compare similarly to the Babolat Pure Storm Tour GT, except the Babolat feels more dampened, whereas this Yonex feels stiffer to me. Another racquet that is similar to this frame is the Head YOUTEK IG Prestige Pro, although I felt the Prestige Pro has better control and precision."
Carol - "This is the first Yonex racquet I have ever playtested and I was pleasantly surprised. Looks alone, it is a very different racquet compared to racquets I have played with and liked playing with in the past. I found this racquet to be very comfortable and very forgiving on the court. Again, I could drill with this racquet all day long and I loved the feel and control it generated. I need my racquet to provide me with a little more power, so I think I'll be sticking with my Wilson BLX Six.One frame."
Jose - "This racquet reminded me a lot of the Head YOUTEK Speed Pro. There are a lot of similarities in the specs. I liked the VCORE Tour 97 better because it was more comfortable than the Speed, but other than that they are really similar frames."
Technical Specifications

Length
27 inches
69 centimeters
Head Size
97 square inches
626 square centimeters
Weight
12.3 ounces
349 grams
Balance Point
12.5 inches
32 centimeters
8pts Head Light
Construction
20.5mm / 20.5mm / 20mm
Composition
Micro Core / X-Fullerene
String Pattern
16 Mains / 20 Crosses

Babolat RDC Ratings

Score

Grade

Flex Rating
66
Range: 0-100
Swing Weight
332
Range: 200-400
Scores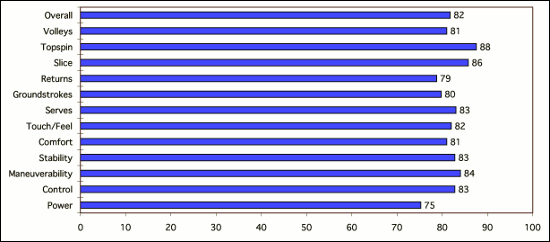 (Scores are determined by averaging individual play test scores)
Chris's Scores
Power
8.1
Serves
8.4
Control
7.9
Groundstrokes
7.7
Maneuverability
7.5
Returns
7.8
Stability
7.8
Slice
8.4
Comfort
8.4
Topspin
8.4
Touch/Feel
8.3
Volleys
7.9
Overall
7.8
Troy's Scores
Power
8
Serves
8.2
Control
7.2
Groundstrokes
7.7
Maneuverability
8.3
Returns
8.9
Stability
8.8
Slice
8.3
Comfort
7
Topspin
8.8
Touch/Feel
7.5
Volleys
8
Overall
8
Carol's Scores
Power
7
Serves
7.6
Control
9
Groundstrokes
7.5
Maneuverability
8.8
Returns
6
Stability
8.5
Slice
9.1
Comfort
9.2
Topspin
8.8
Touch/Feel
8.5
Volleys
7.5
Overall
8.3
Jose's Scores
Power
7
Serves
9
Control
9
Groundstrokes
9
Maneuverability
9
Returns
8.8
Stability
8
Slice
8.5
Comfort
7.8
Topspin
9
Touch/Feel
8.5
Volleys
9
Overall
8.6
Playtester Profiles
Chris: 5.0 all-court player currently using the Volkl C10 Pro 2012. Chris uses a full-western forehand grip, has a fast swing style and hits a one-handed backhand.
Troy: 5.0 lefty all-court player with a full Western Forehand and a two-handed backhand. Troy currently plays with a customized Head Microgel Radical Midplus.
Carol: Open level baseliner currently using a Wilson BLX Six.One 95 (16x18). Carol is an aggressive player who uses an eastern forehand grip and a two handed backhand.
Jose: 5.0 baseliner with a semi-western forehand with a 2 handed backhand. Currently using the Prince EXO3 Tour 18x20.

Review date: August 2012. If you found this review interesting or have further questions or comments please contact us.
All content copyright 2012 Tennis Warehouse.