Head Youtek Extreme MP Review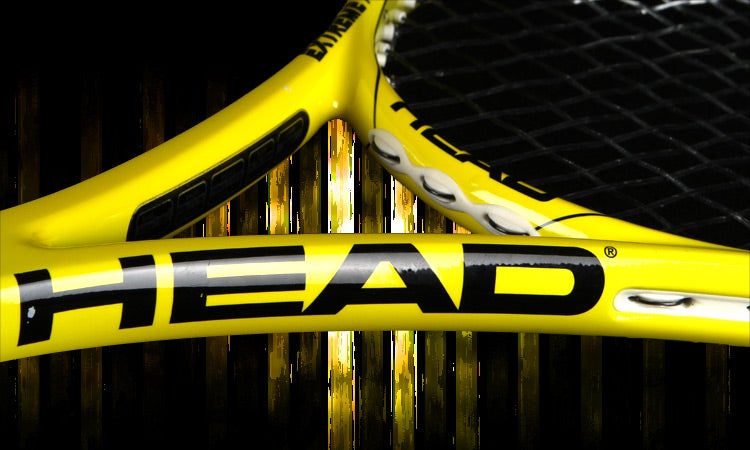 The Extreme made its debut in the HEAD racquet line-up as a member of the Microgel series. Some players favored it because of its generous power level, while others found it offered tremendous access to spin.
In 2009 the Microgel Extreme got a small update with the addition of a new grommet system. Standard grommets were replaced with new Teflon-coated grommets that allowed for greater string movement, increasing the size of the sweetspot.
Now in 2010, the Extreme gets the Youtek treatment. The Teflon grommets remain, but HEAD has now added d3o to the lay-up of the racquet. This "smart material" is supposed to react to the player's shot. The d3o should stiffen up when going for pace, offering a crisp response and more power. However, when hitting a softer shot, d3o softens up to provide more touch.

Does all this technology add up? We sent our playtesters out for a month of hitting with the Youtek Extreme Midplus to find out.
Groundstrokes - Score: 82
With a generous 8 points head light balance and 10.9 ounce strung weight, our testers were impressed with the racquet's maneuverability. Chris said, "I found this racquet very light and maneuverable from the baseline. I could really whip it around quickly and get some decent spin and pace. I couldn't really feel the extra length, which is a good thing for me, as I usually prefer standard length racquets. The racquet actually felt a little light. I would add some weight to increase stability and to provide some additional punch."
Jackson was pleased with the Youtek update, saying, "When Head first released the Extreme model I was excited to see a new racquet out with specs similar to my Pure Drive, but more elbow friendly. Unfortunately, the Microgel model wasn't up to par on court. Something about it just did not translate from paper to playing. Whatever it was, Head has fixed it in the new Youtek line. I was pleasantly surprised with how this racquet performed on court. The d3o material seemed to do what Head claims it's supposed to. I felt the racquet hold the ball on the softer shots, especially hitting low approach shots, and I felt it stiffen up for slap shots on high floaters. From the baseline, I could control the ball very well directionally and didn't have any problems hitting deep with a lot of topspin."
Sean said, "The Extreme Midplus was a really easy stick to use when it came to baseline play. I could generate fast swing speeds and take a big cut at the ball when I had time to set up for my shot. I found a great amount of control when I needed it, although it seemed to be geared toward more of a power game. For a 100 square inch frame it produced a good amount of power, which helped to end points quickly if I was given the chance."
Also enjoying the power level was Tiffani, who said, "The Youtek Extreme Midplus was easy for me to swing from the first forehand. The stock weight isn't far off from my usual setup, and it swings very quickly through the air. I was able to generate topspin more effectively with this version than with the Extreme Pro because I could swing it much more easily. One of my favorite aspects was the power level. It really came in handy when stretched out wide. It helped me get more balls back into play when I was out of position. I also found the sweetspot to be on the generous side, but once I hit outside of it, the feel was pretty harsh."
Troy offered, "What stood out the most was the power that I found with this racquet. Initially, I had to adjust my power level because my shots were landing beyond the baseline. Once I was able to dial in the power, I was hitting heavy topspin that landed deep in the court. The put-away power of this racquet was very impressive when I played on a fast hard court -- I found myself hitting winners from all areas of the court. Even though this racquet has a lot of power, it maintains a solid feel with minimal vibration. The power level is very similar to the Babolat Pure Drive GT, but I feel more connected to the ball with this racquet. I would say the only downside to this stick from the baseline was that it was a bit unstable for my liking, which I could easily fix with some lead tape placed on the hoop of the frame."
Volleys - Score: 77
Maneuverability was again a standout features for the team when it came to net play. Tiffani said, "I felt pretty comfortable at net with the Extreme Midplus because of the maneuverability. I found decent punch from the sweetspot and good directional control. There was also better touch for me with the Midplus than with the Extreme Pro. However, when the ball hit too high in the stringbed I felt a lot of feedback and lost stability."
The racquet's weight came into play in another way for Troy, who said, "I was finding the power level to work well when at the net. The racquet supplies a lot of punch on the volleys just by blocking the ball. I was finding good depth on my volleys, and was also able to maintain good touch on droppers and short angles. The lack of stability that I noticed from the baseline was evident at net as well. I noticed that the racquet would get pushed around when the ball was hit hard at me, especially when hitting slightly outside of the sweetspot. The racquet was lacking some torsional stability."
Also seeking more weight was Sean, who said, "Thanks to a very head light balance and a lighter static weight I really enjoyed the maneuverability I found at the net with this racquet. It was easy to get my racquet in position quickly and react to shots with more than enough time to spare. Unfortunately, it took a lot of effort to put my volleys back deep in the court, probably due to the lack of weight in the head. My accuracy was dead on, but without any depth some of my volleys proved ineffective."
On the other hand, Jackson said, "I found this racquet to be very maneuverable at the net. I was able to create angles and really stick my volleys. Even though this racquet was relatively lightweight, I didn't find I had a problem with frame instability at net."
"It was nice and easy to get around at net, and the feel of this one felt softer and less crisp than the Pro version," said Chris. "I felt well connected to my volleys and was finding my targets well. All in all, this was a nice stick to volley with, and I felt confident at net with it."
Serves - Score: 78
Opinions were mixed when it came to serves. One fan of the racquet on serve was Troy, who said, "I benefitted the most from the power when serving with this racquet. I was serving better with this racquet than I do with my own stick. The added power was a benefit and control was not sacrificed, helping me to hit my spots within the service box. Not only was I getting more pop on my serve, but I also felt like my slice and kick serves were accentuated. My serve was more of a weapon than it typically is, and I was finding myself on the offensive earlier in the points."
Chris agreed, "I've always enjoyed serving with the Extreme Midplus in its various iterations, and this one impressed me, too. I was able to get some nice pace and spin on the ball, and the serve was the one shot where this racquet impressed me more than the Pro."
"Performance on serves was pretty good," said Tiffani. "I struggle to generate pace myself, but I felt I could swing this quick enough to hit effective serves. Since I could only generate moderate pace with the Extreme Midplus, I usually just hit my slice serve."
Jackson needed to adjust to the racquet. He said, "The serve wasn't the greatest area for this racquet, but it wasn't the worst, either. Serves felt good coming off the strings, but the beef just wasn't there. If I did decide to switch to this racquet I'd have to add some more weight to help this shot out. The low weight of the racquet helped me generate swing speed, but, unfortunately, the lack of mass resulted in more effort being required. I wasn't getting the results I'm used to after really preparing to crush a serve; it almost felt like my timing was off in the sense that for some reason the ball did not come off the strings the way it should. This racquet worked a lot better for me with the second serve; the swing speed helped produce the spin for a great kick serve that was easy to place."
Agreeing with Jackson, Sean said, "I was on the fence as to how this frame performed on serves. I never felt absolutely comfortable when hitting big power serves with this racquet. Again, I didn't feel like there was enough mass behind my shots to feel really stable. On the other hand, if I were placing a serve or relying on a second serve, I was more than impressed. Spin production was great with the open pattern, which made kick serves a solid option as a weapon."
Serve returns - Score: 77
Maneuverability was again the word of the day on serve returns. Jackson said, "This shot was also a little shaky for me. I had no trouble returning a slow or kicking serve, but against bombs the racquet couldn't really hold its own. Heavier serves felt like they were pushing the racquet around, and I wasn't a big fan of the stability (or lack thereof) of the stick. The maneuverability was the saving grace for this shot. I was still able to hit good returns, but I don't think the ball came off as clean or with as much pop as it could have with more weight."
Sean agreed. "The area where I thought this racquet underperformed was definitely the return of serve. I felt that there just wasn't enough weight behind my shots to deliver a solid feel. Returning against players with tougher serves was difficult because my returns would either fall short or go back without any pace, which put me at a disadvantage to begin the point. I found a more solid feel on slower serves when I was able to set up and take a full swing."
Chris, though, returned with variety. He said, "I found this racquet very well suited to returning serve. It was so maneuverable I felt comfortable taking an aggressive cut at the ball. In both singles and doubles play I was returning well with this racquet. In doubles I was getting the spin needed to hit dropping cross court returns, and in singles I could hit with depth and pace."
"Like with groundstrokes, I was quite comfortable returning serve," said Tiffani. "I found it plenty easy to swing, so being aggressive was often a good play for me. However, when facing a bigger serve I did want more mass in the head because when I missed the sweetspot I noticed a drop off in comfort and power."
Enjoying his options on return was Troy, who said, "I liked the fact that I was finding good depth on my returns even when I wasn't able to take a full cut at the ball. When I was able to take a full cut I was hitting a heavy topspin ball that was landing within a foot or two of the baseline, which usually put me on the offensive. I did notice some instability any time I hit outside the sweetspot, especially when I was facing big servers."
Overall - Score: 80
If there is one attribute that resonated with our playtesters in their review of the Youtek Extreme Midplus it's maneuverability. The mobility meant extreme spin for some and a user-friendly setup for others. The quick swing speeds come from the head light balance and light static weight, so our bigger hitters did wish for additional weight to improve stability. When it came to the d3o material, our testing team did note a good power level and good touch. It seems that the racquet did offer both power and touch in the end. With its blend of spin, power and maneuverability, this one should find a popular following among intermediate through advanced level players.
Preferred String Set Up
Troy - "I preferred Volkl Cyclone 16 @ 60lbs, but any co-poly near the max will work for me."
Tiffani - "I tried it with Head ETS at 57lbs, but preferred Volkl Cyclone @ 60lbs."
Chris - "I'm a fan of Volkl Cyclone in my regular racquet and found it to work great in this one, too. I also liked Isospeed Axom Multi, both at mid tension."
Sean - "A co-poly at the tighter end of the range because it is a powerful racquet."
Jackson - "I used a co-poly while testing this racquet and really liked the performance."
Likes
Chris - "I liked the maneuverability and the pace/spin I could get. I really liked serving with this racquet."
Jackson - "I really liked the feel of this racquet from all areas of the court. Like I mentioned before, Head's technology seems to shine through on this racquet. I loved the control I got while still being able to rip winners."
Sean - "It was easy to swing and was maneuverable."
Tiffani - "The sweetspot is fairly large, and the maneuverability made this work for me in all areas of the court."
Troy - "About as powerful as they get for a 100 square inch frame. Similar to a Pure Drive, but in my opinion has a better feel. I definitely enjoyed the put-away power this stick had when playing on a fast surface. Definitely liked it strung with a co-poly toward the high end of its tension range."
Dislikes
Chris - "Nothing really. I would probably add just a little bit of weight to improve stability, but even in stock form I was impressed with this racquet."
Jackson - "I thought the racquet would've been a little nicer to hit with if it had a little more weight to it, maybe just half an ounce. My only complaint was that it had a slightly hollow feel, which I think could be improved with a little lead tape."
Sean - "It's a little too lightweight to produce a really solid feel, especially against hard hitters."
Tiffani - "When hitting high in the stringbed there was a noticeable jarring feeling and significant drop-off in power. Slightly more weight in the head would help with the stability."
Troy - "Almost too much power for me from the baseline. I would have liked more stability, which was most noticeable on volleys and return of serve."
Technical Specifications

Length
27.2 inches
69 centimeters
Head Size
100 square inches
645 square centimeters
Weight
10.9 ounces
309 grams
Balance Point
12.6 inches
32 centimeters
8pts Head Light
Construction
24mm/26mm/23mm
Composition
Graphite / d3o
String Pattern
16 Mains / 19 Crosses

Babolat RDC Ratings

Score

Grade

Flex Rating
66
Range: 0-100
Swing Weight
324
Range: 200-400
Scores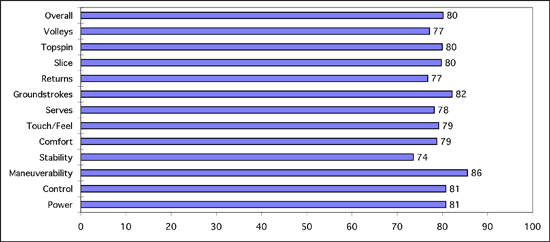 (Scores are determined by averaging individual play test scores)
Chris' Scores
Power
8
Serves
8.4
Control
7.9
Groundstrokes
7.9
Maneuverability
8.4
Returns
8.2
Stability
7.6
Slice
7.8
Comfort
7.8
Topspin
8.2
Touch/Feel
7.9
Volleys
8
Overall
7.9
Jackson's Scores
Power
8.4
Serves
7
Control
8.8
Groundstrokes
8.8
Maneuverability
9
Returns
7
Stability
7.3
Slice
8.2
Comfort
8.4
Topspin
7.8
Touch/Feel
8.2
Volleys
8
Overall
8.2
Sean's Scores
Power
7.8
Serves
7.5
Control
7.8
Groundstrokes
7.6
Maneuverability
8.4
Returns
7.2
Stability
7.3
Slice
7.8
Comfort
7.5
Topspin
7.8
Touch/Feel
7.8
Volleys
7.6
Overall
7.7
Tiffani's Scores
Power
7.8
Serves
7.8
Control
7.7
Groundstrokes
8
Maneuverability
8
Returns
8
Stability
7.6
Slice
7.6
Comfort
7.7
Topspin
8
Touch/Feel
7.7
Volleys
7.7
Overall
7.8
Troy's Scores
Power
8.4
Serves
8
Control
8.2
Groundstrokes
8.8
Maneuverability
9
Returns
8
Stability
7
Slice
8.5
Comfort
8
Topspin
8.2
Touch/Feel
8
Volleys
7.3
Overall
8.5
Playtester Profiles
Chris: 5.0 All court player currently using the Volkl Power Bridge 10 Mid. Chris uses a full-western forehand grip, has a fast swing style and hits a two-handed backhand.
Jackson: 4.5 All court player currently using a Babolat Pure Drive Team. Jackson uses a semi-western forehand grip, and hits with a two-handed backhand.
Sean: 4.5 baseliner using the Babolat Aeropro Drive Cortex. Sean has a semi-western forehand, 1 handed backhand.
Tiffani: 4.0 level baseliner with a semiwestern grip on the forehand and hits a two-handed backhand. Currently playing with the Yonex RDS 003 (08 version).
Troy: 5.0 lefty all-court player with a full Western Forehand and a two handed backhand. Troy currently plays with the Wilson K-Blade 98.

Review date: June 2010. If you found this review interesting or have further questions or comments please contact us.
All content copyright 2010 Tennis Warehouse.