Yonex Poly Tour Pro String Review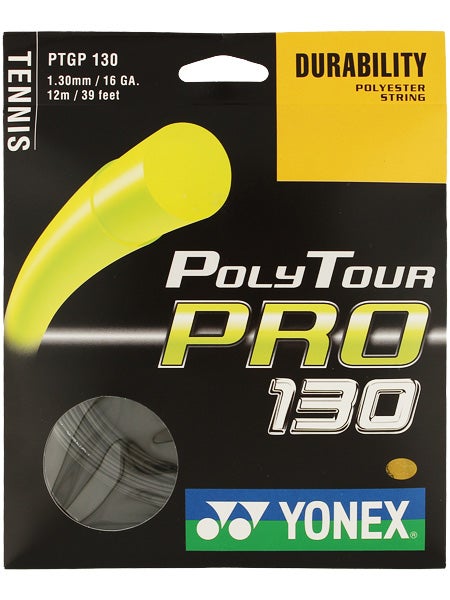 Yonex Poly Tour Pro String Scores
Power
45
Spin
79
Comfort
72
Control
86
Touch
75
String Movement
85
Playability Duration
83
Durability
85
Overall
84
Downsides
Low powered
Too firm for beginners
Summary
After a few weeks of testing Yonex Poly Tour Pro our team couldn't help but marvel at how far polyester strings have come. As you will glean from our comments, what separates this string from earlier generations of polyesters is both the friendlier feel and longer lasting playability. Thankfully, the control we've come to expect from polyester was there in spades. Our two playtesters were able to achieve maximum stroke speed without having to worry about the ball flying unpredictably. The freedom to swing big not only made it easier to finish points, it gave our testers increased access to spin, resulting in some heavy balls with explosive bounces. Our power hitters were also impressed by the fact that Poly Tour Pro held its crisp feel a little longer than comparable strings, providing a controlled response long into the playtest. Ultimately, as with many of the newer high-tech co-polys, this string finds a way to offer a little extra comfort and playability without sacrificing the amazing control for which polyester strings are known.
Power - Score: 45
We tested both the black and yellow versions of Poly Tour Pro. Neither of these colors proved very powerful for Michelle, which suited her just fine. She said, "I didn't find the black or yellow Poly Tour Pro to have much power, though I did string them tightly. This was an effective strategy because the extra control gave me confidence when I needed to swing faster and pressure my opponent. I wouldn't call either of the colors powerless, though. I could tell that they would have had more pop if I had strung them a little looser. Being able to swing all out really helped with spin, which also greatly increased my control."
Andy also found the low power level perfect for controlling his long, fast strokes. He said, "I found the power level of the black version to be about average for a poly, and the yellow version to be slightly below average. Poly Tour Pro is soft with a dead feel, kind of like Luxilon ALU Power Ice. The lower power level allowed me to really swing out and maximize the spin I could get out of the string without losing control, making it a perfect compliment to the high-powered Babolat AeroPro Drive Plus I put it in. The black color did feel crisper and slightly more powerful."
Spin - Score: 79
With its tame power level, Poly Tour Pro made it easy for our team to swing fast and load the ball with spin. Michelle definitely appreciated the extra action on her serve. She said, "I found great access to spin with both the yellow and black string. I was really able to whip through the ball and generate a lot of movement on my shots, especially on serve. The extra movement was noticeable on slices and kickers."
Though he prefers shaped polys, Andy still found plenty of spin with this one. He said, "Once again, the lower power level of the string really allowed me to swing out at the ball with confidence, and with so much racquet head speed I was able to generate a goodly amount of spin. It's not going to bite the ball quite as well as a shaped or textured string, but it does slide on itself well and provide some good snap back action at contact. It was hard to tell the difference in spin potential between the two colors, as they played quite similar in this regard."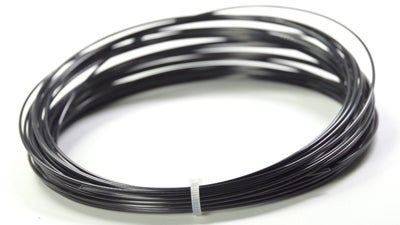 Comfort - Score: 72
Even though this is a firm string designed for advanced players, we found Poly Tour Pro to have above average comfort for a poly. In fact, Andy, with his heavy racquet and seasoned mechanics, thought it was quite soft. He said, "Comfort is one of the strengths of Poly Tour Pro. It's very soft, making it very easy on the arm. The ball seems to sink into it like a pillow at contact, giving it a nice plush feel and providing some great ball feel. The yellow played a little softer than the black, but both were on the softer side of the spectrum when it comes to polyesters. Like Polyfibre TCS, it's soft but dead. It's definitely soft enough to throw into a Prestige Mid with no problem."
Picking right up on the comfort was Michelle, who said, "I immediately found both the yellow and black strings comfortable. The yellow was a little more comfortable on off-center hits, but the difference was not significant. Overall, I didn't have any issues with stiffness. I found this string to be one of the softer polys that I've hit, but it still offered good control and spin."
Control - Score: 86
With its predictable response on fast swings, Poly Tour Pro gave our two playtesters excellent control. Andy was completely dialed-in, saying, "Poly Tour Pro offers exceptional control! I felt like I could put the ball on a dime with it! That low-powered response results in a very predictable path off the strings, so you rarely feel like the ball takes off and flies on you. This is another strength of this string."
Michelle also had great control, saying, "In addition to the low power level, both colors offered great bite for controlling the ball with spin. Knowing that the ball wasn't going to fly allowed me to stay aggressive and keep more balls in play. I strung it tight for even greater control."
Playability Duration - Score: 83
In order to improve tension maintenance, Yonex stretches Poly Tour Pro at a high temperature during production. According to Michelle, this strategy seems to be working. She said, "This string maintained tension and playability really well. Even toward the end of the second week the ball came off the stringbed very reliably. The feel changed a little, but it was still crisp and easy to control."
Andy also got a solid two weeks of playability from Poly Tour Pro. He said, "The playability has lasted for the duration of the playtest, which has been about two weeks. Once polys reach this point with no drop in performance, they pass the test for a long-lasting string."
Overall - Score: 84
What type of player would you recommend this to?
Andy - "I would recommend this string to anyone who's already used to polyester strings and knows that they like a more control-oriented poly. If you tend to be a fan of the stiff, dead polys and you want a little relief for your arm, this is a great one to try."
Michelle - "Any aggressive player or anyone who puts a lot of spin on their shots. I think it would suit almost anyone with powerful strokes, but it would enhance the game of players who already utilize a lot of spin."
Likes
Michelle - "Loved the extra spin and jump it added to my ball, particularly when using different serves. Great control. Easy access to spin and comfortable for a poly!"
Andy - "It's comfortable, controlled and has great ball feel. A lot to like here!"
Dislikes
Michelle - "None. Would love to keep trying it in different racquets at different tensions!"
Andy - "I would've liked a little more ball grab for some added spin and ball pocketing."
Comparing the string to others they've tried, our testers said:
Michelle - "This was comparable to Black Shark for me in terms of control and spin. It was softer and added a dimension to my game."
Andy - "The Poly Tour Pro played very similar to Luxilon ALU Power Ice and Polyfibre TCS, both of which are extremely comfortable, dead strings. I really enjoyed this playtest, and would definitely recommend it as a comfortable, controlled poly."
Scores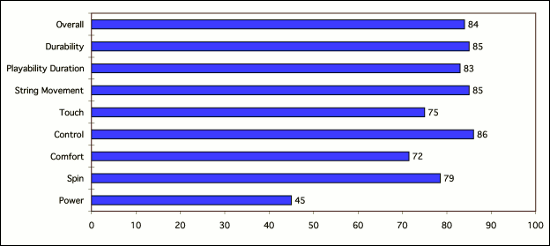 (Scores are determined by averaging individual play test scores)
Andy's Scores
Power
6
Playability Duration
8.1
Spin
8.2
Durability
9
Comfort
7.1
Control
8.2
Touch
6
String Movement
8
Overall
8.8
Michelle's Scores
Power
3
Playability Duration
8.5
Spin
7.5
Durability
8
Comfort
7.2
Control
9
Touch
9
String Movement
9
Overall
7.8
Playtester String Setups
Andy:
Playtest Racquet: Head i.Prestige Mid
Playtest Tension: 52 lbs.
Typical String: Tourna Big Hitter Black 7
Michelle:
Playtest Racquet: Babolat Pure Drive
Playtest Tension: 62 lbs.
Typical String: Polyester strung tight!

Review date: April 2013. If you found this review interesting or have further questions or comments please contact us.
All content copyright 2013 Tennis Warehouse.