Yonex EZONE Ai 100 Racquet Review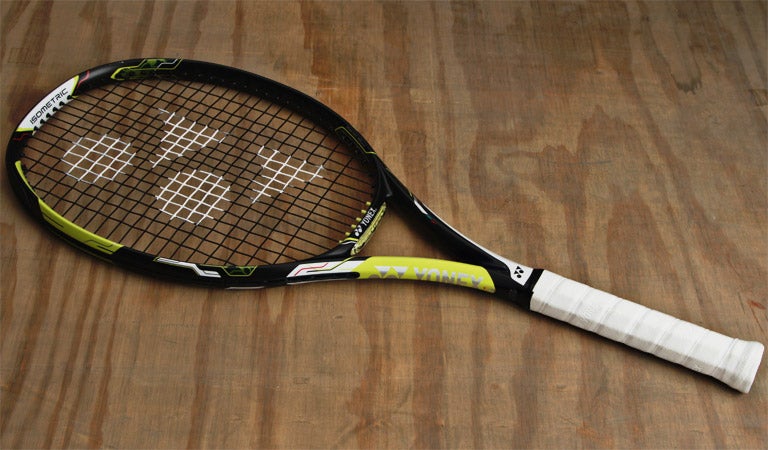 Yonex EZONE Ai 100 Scores
Power
83
Comfort
85
Touch/Feel
85
Serves
84
Groundstrokes
87
Returns
88
Slice
79
Topspin
83
Volleys
83
Overall
85
Upsides
Balance of power, spin
Maneuverability
Feel
Comfort
Downsides
Nothing we could agree on
Summary
We were excited to get our hands on the Yonex EZONE Ai 100, the replacement for the EZONE Xi 100, and we quickly found a comfortable response paired with easy access to depth and pace on our groundstrokes. Yonex has introduced a new Isometric System in the EZONE Ai 100 to help maximize the sweetspot, and it seems to work. We found this racquet to be versatile and maneuverable at the net, and we could block back big shots or add slice, touch or pace to any volley. If we had to pick an area where this racquet didn't meet our expectations, it would have to be on serve, but our testers were able to adapt quickly and still serve well. The stability was a standout feature for our playtesters when they were hitting offensive shots from all areas of the court. Overall, it was great to see such a positive response from our diverse team, and we think both offensive ball attackers and more consistent counter punchers will find a good match with the EZONE Ai 100 thanks to its blend of power, spin and control.
Groundstrokes - Score: 87
With effortless access to pace and depth paired with accuracy, the EZONE Ai 100 quickly got high marks from our playtesters when it came to groundstrokes. Chris found this racquet to be powerful, and precise. He elaborated, "I hit the EZONE Ai 100 racquet with a couple of different co-poly strings. I found the firm and controlled response of a co-poly to perfectly complement the power and comfortable feel of the racquet. I felt confident taking a big cut at the ball, and I liked the spin and directional control I was getting. The Ai 100 felt very maneuverable, and I liked the way I could get it quickly through contact on my backhand. I was able to add some additional topspin to my backhand, a shot I usually hit pretty flat, thanks to the fast and maneuverable feel of this racquet. I found it easy to get this racquet around the ball to create a sharp angle, and I liked pulling my opponent off court. On my slice the racquet felt a tad light, but I was still getting some nice spin and lots of control."
Being a big Yonex fan, Brittany was very excited to hit with this racquet, especially since her racquet of choice, the Yonex VCORE 100 S, has been discontinued. She said, "The EZONE Ai 100 had the feel that I enjoy from the very first shot, as well as a very large and forgiving sweetspot that is more toward the center of the racquet. There was a perfect amount of power and spin when for my groundstrokes. Additionally, I found pairing the racquet with a poly (my favorite was Volkl Cyclone Pink) helped even out the power with more control. I was very confident playing with this racquet and felt it complemented my game style completely. While the swingweight was a little higher than the previous version, I found that it increased the stability while only taking away slightly from the maneuverability."
"This racquet was so amazing from the baseline," began Mike, who instantly found the EZONE Ai 100 to be his new favorite racquet on groundstrokes. "It felt natural and solid, and I was able to be really consistent on both forehands and backhands. My forehand was my favorite shot; I could hit through the ball without worrying about it going long or out. I strung it up with some Volkl Cyclone, which gave me a lot more bite on the ball. This is a really nice racquet from the baseline and easy on the arm as well. I just might have to switch to it."
Tiffani has always felt in sync with 100 square inch racquets from Yonex, and she realized quickly that the EZONE Ai 100 suited her counterpunching style very well. She offered, "I've enjoyed several 100 square inch Yonex racquets from the RDS 003 to now. This one is no different. I find there is easy power and spin, as well as good comfort. I felt like I could direct the ball where I wanted it to go. In the past I've preferred the feel of the RDS and VCORE racquets to that of the EZONE series. I like the feel of this newer version better, and I think I have better control with it. My only struggles were on the backhand slice, where I felt a little hot and cold, and I felt some vibrations on shots that hit too high on the stringbed."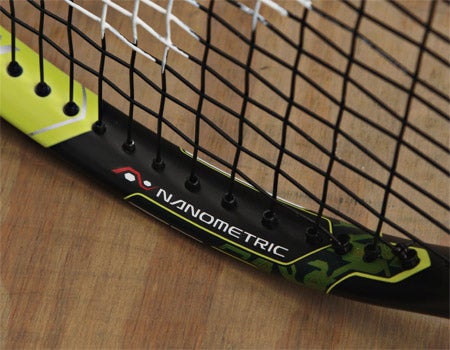 Volleys - Score: 83
The maneuverability and stability of the EZONE Ai 100 had all of our playtesters feeling confident at net. Brittany was gelling with this new Yonex on her volleys, and she found it easy to do whatever she needed to finish a point aggressively. She said, "This racquet was a blast to play with up at net. The racquet was stable enough for me to easily return any ball hit at me with pace and depth. I loved being able to place my volleys deep behind my opponent to win the point. Additionally, the feel was excellent, and I was able to angle the ball off the court with ease."
Finding all-around comfort and a solid feel at the net was Mike. He raved about the precision, saying, "I was able to really focus on placing the ball wherever I wanted. Volleys have never been so easy. The racquet felt great, and the faster the ball came at me the more solid and flexible the racquet felt. I was able to win a lot of free points at net. Overall, it was just awesome at net."
Although she doesn't always charge the net when trying to win the point, the EZONE Ai 100 had everything Tiffani looks for when volleying. She said, "I could maneuver it easily, and there was a forgiving, powerful response off the stringbed. In typical fashion, I kept it simple when up at net, but I felt comfortable going forward nonetheless."
Chris said, "I was fending volleys off my body well, and I appreciated the maneuverability during quick exchanges. Shots hit near the frame never felt overly jarring, and I always had a very good idea of the direction and depth on my volleys. I was getting some nice spin, and I found it easy to come under the ball to add some slice to help get a volley away or drop it extra short. There was also ample power to help me snap a high volley away or dispatch an overhead. While I usually prefer heavier racquets, I found myself volleying very well with this one."
Serves - Score: 84
The EZONE Ai 100 wasn't spectacular on serves, but it got the job done. Mike continued to vibe with this racquet, and he was excited that he could still hit his big flat first serves. He said, "Serving down the T was the serve I liked hitting the most, and I was hitting it very consistently. My spin serve felt good, too. My second serve was a lot more consistent, and the racquet felt soft and buttery on my arm. The EZONE Ai 100 offered great feel and a nice amount of power."
Tiffani was not disappointed on serves, but she wasn't raving about anything in particular. She explained, "To be fair, it's rare that I'm blown away by any racquet when serving because my serve lacks punch in general. I got some decent pace from the EZONE Ai 100 without any extra effort, and spin was there when I wanted it. This wasn't a game changer for me, so I stuck to my usual spin-it-in routine."
Chris also had somewhat slight praise when it came to serving with the EZONE Ai 100. He said, "I was still getting lots of pace and spin on the ball, just not the heaviness I find with my regular racquet. My slice serve was moving well, and I was getting lots of spin. I could swing the ball away from the receiver or into his/her body to help set up the point. I also liked that I could easily add a little spin to my faster serves to help keep them on target. Again, I was hitting better than expected and really enjoying this racquet despite it not being my preferred spec."
The EZONE Ai 100 has a higher swingweight than the racquet Brittany usually uses, so it took her a little while to find her groove. She said, "It took a tiny bit of extra work for me to get the racquet up over my head, but once I did I was rewarded with a solid, consistent serve. I usually get tired after awhile when I use racquets with a higher swingweight, but since it was only a small change I was able to serve all the way through my matches without any issues. I appreciated the spin when hitting second serves."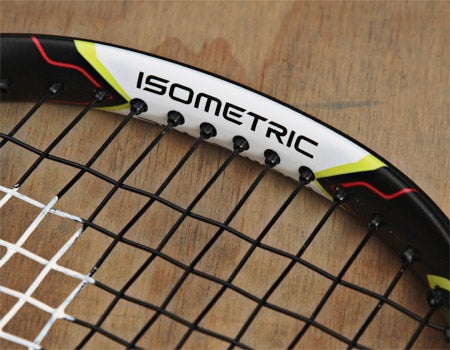 Serve Returns - Score: 88
The maneuverability, large sweetspot and stability of the EZONE Ai 100 made this racquet a dream for our playtesters on returns. They really enjoyed taking big cuts and starting the point off aggressively. Tiffani started off by explaining how the higher swingweight of this racquet worked to her advantage. She said, "Not too long ago I was enjoying racquets that had swingweights below 315. Now I'm finding that I can be more effective with racquets that have swingweights above 320. This is most apparent on my service returns, where the extra swingweight has translated into some improved stability. I could get the EZONE Ai 100 around most of the time without any issues, and I was able to smack a good return with some power. I was being more offensive with my returns with this racquet."
For Chris, this was simply an excellent racquet to return with. He offered, "I could easily get this racquet into position and then take a good rip at the ball. I found all the control I needed to swing aggressively without worrying about my returns flying long. When a strong serve came in I was able to maneuver the racquet in time to block the return back. I also liked how I could hit a low and short slice return to force my opponent into a tough shot. The feel from the racquet was great. I was finding that elusive blend of comfort and touch. It wasn't so dampened that I couldn't feel the ball on the strings, yet it was dampened enough to not feel harsh when hitting outside of the sweetspot."
The stability of the EZONE Ai 100 was really a standout feature on returns for Brittany. She explained, "No matter what serve was hit at me I was able to be consistently aggressive with my return, and I loved taking a big cut at a second serve from inside the baseline. I won a lot of free points by being able to redirect the ball back and having it land wherever I wanted, whether it was a deep backhand on the deuce side or an angled inside out forehand on the ad side."
"I could step into my shots and not be afraid of striking the ball," explained Mike. "I could attack as soon as the point started. The racquet was very maneuverable as well, so returning off both wings was easy and generating racquet head speed was a breeze. The arm-friendly response and good power were the highlights on returns."
Overall - Score: 85
Likes
Chris - "I liked the spin, control, maneuverability and comfort. There was also easy access to pace and depth. Lastly, the feel was very good. The racquet was comfortable, yet I never felt too disconnected from the contact."
Brittany - "I really liked the access to power and spin, as well as the feel."
Mike - "I liked the solid feel, power and maneuverability -- pretty much everything about the racquet."
Tiffani - "I like the balance of power and control. I also thought there was good feel."
Dislikes
Chris - "None."
Brittany - "If you twisted my arm, I would say that the Ai 100 is not as maneuverable as I would have liked."
Mike - "Nothing! The racquet felt so great that I might switch to it."
Tiffani - "To be nit picky, it was a little jarring up high in the stringbed (just north of the sweetspot), and my backhand slice wasn't where I wanted it to be."
Comparing it to other racquets they've used, our testers said:
Chris - "This racquet had better feel for me compared to the VCORE Xi 100. I liked the VCORE 100 S, but I felt the Xi update increased the comfort but took away too much feel. This one has both comfort and feel. For me, it is the best of the bunch. Outside of Yonex, I'd say it's similar to the Volkl V1 Pro because they both offer great comfort, feel, maneuverability and easy access to pace. For something similar in power but with a firmer response, the Head Graphene Instinct MP and Dunlop Biomimetic M3.0 are other options. Lastly, the Donnay Formula 100 would likely be on my demo list, as it is right in there with the others I've mentioned."
Brittany - "I found two major differences between the EZONE Ai 100 and the previous Xi version. The first is the increased swingweight. The Ai 100 has a swingweight in the high 320s, which makes the racquet more stable and slightly less maneuverable. The second difference would be their head shapes. The head shape of the Ai 100 is less extreme, which lowers the sweetspot closer to the middle of the racquet, which I prefer."
Tiffani - "This is very similar to several Yonex racquets with 100 square inch headsizes. With the easy power and spin, along with a pretty easy swing, I'm reminded of the previous VCORE 100 S, the VCORE Xi 100 and the EZONE Xi 100. Nuances in feel are what make them unique. If you like previous Yonex racquets around this spec, I think you'll like this one, too. This is my favorite of the last few iterations of the 100."
Mike - "This was the favorite racquet I've playtested by far. Everything about this racquet felt great. Good power, very arm friendly, and the cosmetics look cool -- overall just great. I definitely prefer this over any other racquet."
Technical Specifications

Length
27 inches
69 centimeters
Head Size
100 square inches
645 square centimeters
Weight
11.2 ounces
318 grams
Balance Point
13.12 inches
33 centimeters
3pts Head Light
Construction
23mm / 26mm / 22mm
Composition
H.M. Graphite
String Pattern
16 Mains / 19 Crosses

Babolat RDC Ratings

Score

Grade

Flex Rating
68
Range: 0-100
Swing Weight
327
Range: 200-400
Scores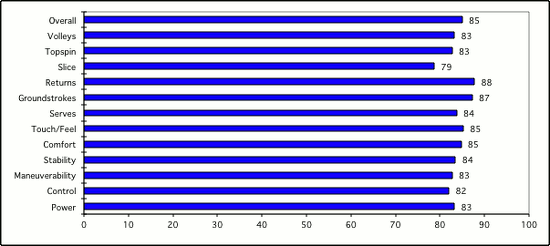 (Scores are determined by averaging individual play test scores)
Chris' Scores
Power
8.2
Serves
8
Control
7.9
Groundstrokes
8
Maneuverability
8.4
Returns
8.4
Stability
7.8
Slice
7.8
Comfort
8.5
Topspin
8.2
Touch/Feel
8
Volleys
7.8
Overall
7.9
Brittany's Scores
Power
8.3
Serves
8.9
Control
8
Groundstrokes
9.5
Maneuverability
7.5
Returns
9.3
Stability
8.8
Slice
8
Comfort
8
Topspin
8.5
Touch/Feel
9.3
Volleys
8.5
Overall
8.9
Mike's Scores
Power
8.5
Serves
8.6
Control
9
Groundstrokes
9
Maneuverability
9
Returns
9.2
Stability
8.8
Slice
8
Comfort
9.5
Topspin
8.3
Touch/Feel
8.9
Volleys
9
Overall
9.1
Tiffani's Scores
Power
8.3
Serves
8
Control
7.9
Groundstrokes
8.4
Maneuverability
8.2
Returns
8.2
Stability
8
Slice
7.7
Comfort
7.9
Topspin
8.1
Touch/Feel
7.9
Volleys
8
Overall
8.1
Playtester Profiles
Chris: 5.0 all-court player currently using the Wilson Six.One 95S. Chris uses a full-western forehand grip, has a fast swing style and hits a one-handed backhand.
Brittany: Open level player with a semi-western forehand and a two-handed backhand. She currently plays with the Yonex V-Core 100S.
Mike: 5.0 baseliner with a semi-western forehand and two-handed backhand. His current racquet of choice is a customized Prince Triple Threat Warrior.
Tiffiani: 4.0 level baseliner with a semiwestern grip on the forehand and hits a two-handed backhand. Currently playing with the Donnay Formula 100.

Review date: February 2014. If you found this review interesting or have further questions or comments please contact us.
All content copyright 2014 Tennis Warehouse.