Prince EXO3 Warrior DB Team 100 Racquet Review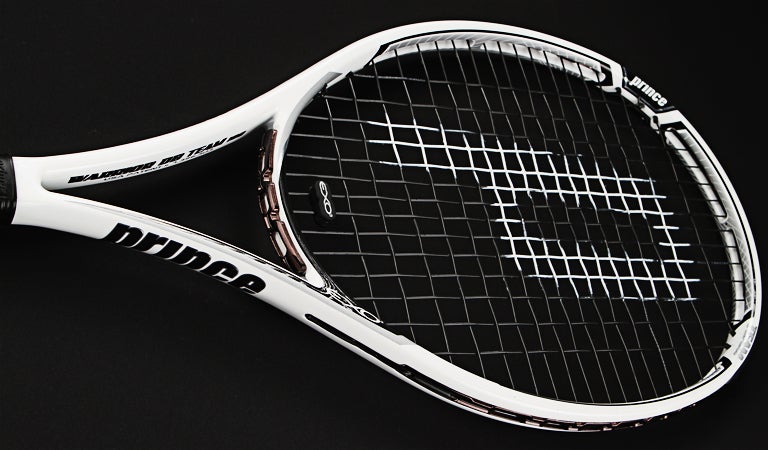 Prince EXO3 Warrior DB Team 100 Scores
Comfort
82
Touch/Feel
80
Serves
75
Groundstrokes
78
Returns
75
Slice
81
Topspin
85
Volleys
79
Overall
79
Upsides
Massive spin potential
Maneuverable
Comfortable
Downsides
Tough to generate power on serve
Summary
Lightweight and fast, the Prince EXO3 Warrior DB Team 100 is a racquet that offers impressive spin. Our team found it to be a comfortable racquet and really enjoyed the control they had over the ball. Particularly at net, the maneuverability and accuracy allowed our playtesters to really get the ball where they wanted. The lightweight feel did hurt the Warrior DB Team 100 a little bit due to a lack of stability and power. Our playtesters enjoyed the spin potential on serves, but would have liked a little more pop. Serve returns brought mixed results, with some finding powerful offensive shots, and others struggling with the weight and instability. Easy to swing and easy to maneuver, the Prince EXO3 Warrior Team DB encouraged our playtesters to hit with heavy spin from all areas of the court.
Groundstrokes - Score: 78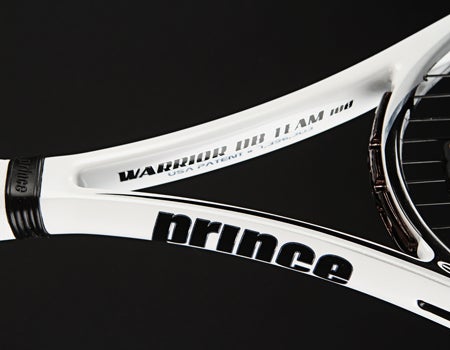 The EXO3 Warrior DB Team 100 provided impressive spin and consistency on groundstrokes. Mark was surprised by how much he liked the racquet. He said, "Admittedly, when I first learned that I was going to test this frame I thought to myself, 'I hope I hit OK with it,' because I'm accustomed to playing with heavier racquets. However, I quickly realized that the head heavy balance helped provide stability against excessive pace, and helped me hit with spin and depth. I was able to deliver aggressive replies on the forehand side from almost anywhere in the court, and my slice backhand dug in as well. For a racquet weighing in the mid-10 ounce range, the new EXO3 Warrior DB Team 100 has some heft to it when swung, and it felt stable with a polyester string in it."
Chris found the racquet to offer great spin and consistency, saying, "The combination of a very light weight and a very open string pattern made this a very, very spin-friendly racquet from the baseline. I could swing it very quickly, and I was getting a lot of hop on my topspin shots. The open pattern had the ball coming out of the stringbed at a higher angle, but I got so much spin my ball was dropping very quickly. Once I had the depth of my shots dialed in with this racquet I found I was hitting a slightly loopier ball. I enjoyed the consistency it gave me, and I found I could roll the ball from corner to corner with ease. I was getting good spin on slice shots too, although the light weight made it a little too easy to float backhands rather than knife them. On passing shots I found I could get the ball to drop at the volleyer's feet very quickly, which made for fun cross court passing angles, as well as forcing volley errors. Likewise, it was easy to get lots of spin on lobs."
Brittany had to adjust her game to suit the racquet, saying, "I have one word for this racquet: SPIN! I was able to produce so much spin on my groundstrokes that even my opponents were commenting on it. While I enjoyed the ease in hitting spin, I found I could not hit the ball flat, as the ball would launch out. I also noticed that I had changed my position on the court from aggressively on the baseline to several feet behind the baseline, which felt like a more neutral position. When I was on the defensive I had to make a conscious effort to put extra spin on the ball to keep it in play. A positive for me was the slice. I had complete confidence in it (which I don't normally), and I was able to keep it super low."
Finding the racquet really light in her hand was Tiffani. She said, "The racquet's light feel translated into easy swinging once I got it on the court. I really felt like I could whip it around pretty quickly, and that had me chomping at the bit to step in and take the ball early. However, I ran into trouble pretty quickly because it was too light to handle much incoming pace or spin. I felt like my arm had to do too much work to keep up with the power, and I found better success staying a bit behind the baseline. One last note about strings: I felt that this racquet was too light for me to use with a full bed of poly, as it sapped any extra power the light racquet had to offer."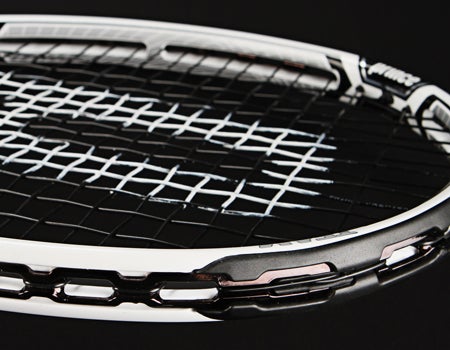 Volleys - Score: 79
Maneuverability and accuracy were key factors at net, and the playtesters liked the touch and feel this racquet provided. Mark said, "I was dangerous with the new Warrior DB Team 100 at the net until passing shots reached freeway speeds, and I liked the lighter weight and head heavy balance."
Needing a bit of time to get the feel of the racquet at net was Brittany. She said, "I had a one-hour adjustment period when it came to volleys. At first, my volleys were sailing long and I didn't have the control I wanted. Once I adjusted, I felt I could hit more volleys with more accuracy. I was surprised with the level of touch I had, as well as having the ability to put the ball away. Maneuverability was excellent up at net. My only negative would be the stability. Because the racquet is on the lighter side I felt it was pushed around a little bit, especially against penetrating passing shots."
Tiffani found the racquet to be maneuverable and comfortable. She offered, "Not being the strongest volleyer, I enjoyed this for the simple fact that it was easy to get into position. When I didn't try to get fancy and just tried to put the ball back into play, the racquet did fine. I had some issues with placement on touch volleys, but to be honest, that's not unusual for me."
Chris liked the maneuverability at net. He said, "There was just enough swingweight to keep things solid and to add some punch. Although the balance was not ideal for me, I liked the way it helped combine some stability with the fast feel. I found enough spin to help angle low volleys away, and the spin was a definite help when I was looking to scoop under a low volley and drop it just over the net with slice. I found some nice pop to help put high volleys away, and the maneuverability made it easy to take a big cut at overheads."
Serves - Score: 75
Handling the lightness of the racquet proved difficult for some, but the Warrior DB Team 100 had more than enough spin potential for every tester. Tiffani said, "The Warrior DB Team 100 was once again maneuverable. I hit mostly slice serves, and I was able to generate good spin. However, I tend to like slightly heavier racquets when I serve because they can offer more power. Here, I felt like I couldn't get anything extra from swinging harder."
Brittany liked to tap into the spin potential on both first and second serves. She said, "Like my groundstrokes, I was able to get unbelievable amounts of spin on my serve. I have always had a kick serve, but I could never get it to kick up high enough to be effective. With this racquet my problem was solved. I loved hitting second serves with this racquet. My only complaint would be that my flat first serve was nonexistent, and my most successful serve was a spin serve down the T."
Chris enjoyed the spin potential but found his placement to be inaccurate. He said, "While I found good pace and spin on serves, I struggled slightly with targeting. At first my second serves were drifting off target slightly -- mainly due to all the spin and partly due to the incredibly small feel of the handle on our test racquets, even though they were supposed to be size 4 3/8. I adjusted to the racquet as the test wore on and was able to better direct my serves. I was impressed by the spin I found, but would have liked a little more in the power department so I could hit a heavier ball."
Mark struggled a little with the weight on serves, saying, "This is where I needed the heavier racquet. The 10.4 ounce static weight of the Warrior DB Team 100 was not quite enough for me to derive power from it on serve, even though it has a head heavy balance."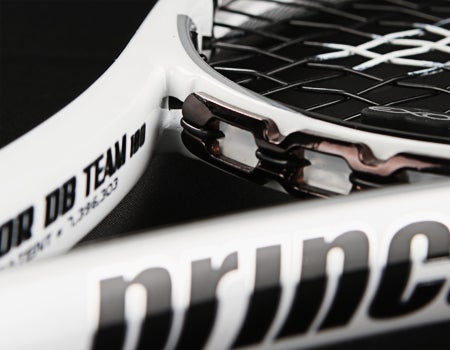 Serve Returns - Score: 75
Serve returns brought a series of mixed results, with a few of the playtesters finding really powerful, offensive shots, and others struggling with the lack of weight and loss of stability. Chris took huge rips at topspin returns with the Warrior DB Team 100. He said, "I was able to hit with depth and pace or roll a very nice angle. I also found it easy to float the ball back deep when stretched wide. Returning aggressively was lots of fun, as I found I had plenty of options and all the spin allowed me to take a huge cut at the ball and keep it in. I returned well, finding good results on both my offensive and defensive shots."
Serve returns highlighted the lack of weight in the racquet for Tiffani. She said, "Like on groundstrokes, I was really tempted to take the ball early -- inside the baseline if I could. I was able to hit a few winners off the return, however, the downside was that I could also get caught by bigger serves and really leave one short. When that happened I could really feel the weight of the serve on my arm since the racquet didn't have the guts to handle a heavy hit shot."
Brittany had mixed feelings with her return of serve, saying, "On one hand the racquet is very maneuverable and I could get my racquet in position to take big swings at the ball. On the other hand, the stability and weight of the racquet didn't always get me the results I wanted. I couldn't get as dialed in as I would have liked and my ball was either sailing long or falling short."
Mark had trouble with big serves. He said, "My return was reasonably effective in most situations, but the mid-10 ounce weight of the Warrior DB Team 100 did give me trouble on some of the bigger serves my friends like to launch at me."
Overall - Score: 79
Likes
Chris - "I liked the spin, comfort, maneuverability and stability for such a light racquet."
Mark - "It's a soft feeling frame, and I enjoyed every shot with it when paired well with a poly strung at mid range. The Double Bridge soft grommet curbed enough vibration that I did not need to use a dampener. The sweetspot is pretty generous, like all the other string port frames from Prince, so I preferred to string it a pound or two higher than I usually do with a full set of a poly. I was impressed that it had such stability against hard hitting shot makers, considering its strung weight is under 11 ounces."
Brittany - "I liked the amount of spin I could hit on my groundstrokes and serve."
Tiffani - "It's very comfortable and easy to swing, easier than the swingweight would suggest, and I could hit topspin whenever I needed it."
Dislikes
Chris - "I would add some weight so I could hit a heavier ball, and the handle felt small for a 4 3/8 grip."
Mark - "It's not that I have a real knock against the frame itself; it is very well made; but when I applied a softer multifilament string the sweetspot was so pure and large I could hardly feel the ball on the strings when I struck it in the center. I actually preferred the off center contact to get better feel on the ball. The addition of the poly changed the character of the frame quite a bit, though."
Brittany - "I felt this racquet didn't work with my flatter hitting game. There was a lack of stability on volleys and serve returns."
Tiffani - "It was too light in stock form for my game. It didn't absorb incoming power well, and I couldn't swing hard enough to generate any heavy power."
Comparing the racquet to others they've used, our testers said:
Chris - "I liked this racquet way more than the EXO3 Warrior 100. The open pattern and extra weight toward the head made it a better playing stick on just about every shot. I can't wait to test the heavier (non Team) version when it comes out later this year."
Mark - "It's difficult to directly compare the string port frames to other frames with a more traditional grommet system, but the new Warriors (all of them) play much softer, which is reflected in the lower RA."
Brittany - "It's most similar to the Prince EXO3 Warrior 100 in feel and comfort but with more spin production. The light weight is similar to the Head IG YOUTEK Radical S and Head IG YOUTEK Instinct S, especially in maneuverability and stability."
Tiffani - "I haven't played with a racquet that feels so light in the hand since the Instinct S. However, the racquets aren't that similar other than weight. This Prince was more spin friendly for me, whereas the Instinct S offered more pop. This is lighter than the EXO3 Warrior 100, but offers similar comfort and stability and is even more spin friendly."
Technical Specifications

Length
27 inches
69 centimeters
Head Size
100 square inches
645 square centimeters
Weight
10.4 ounces
295 grams
Balance Point
14 inches
36 centimeters
4pts Head Heavy
Construction
24mm Straight Beam
Composition
100% Graphite
String Pattern
14 Mains / 18 Crosses

Babolat RDC Ratings

Score

Grade

Flex Rating
63
Range: 0-100
Swing Weight
320
Range: 200-400
Scores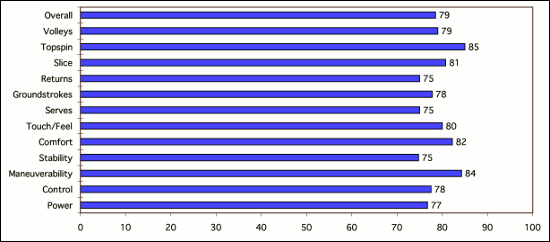 (Scores are determined by averaging individual play test scores)
Chris's Scores
Power
8
Serves
7.7
Control
7.7
Groundstrokes
7.8
Maneuverability
8.1
Returns
8
Stability
7.8
Slice
8
Comfort
8.3
Topspin
8.7
Touch/Feel
7.7
Volleys
7.7
Overall
7.8
Mark's Scores
Power
7.5
Serves
7
Control
8.8
Groundstrokes
8
Maneuverability
9
Returns
7
Stability
8
Slice
8.5
Comfort
9
Topspin
8.5
Touch/Feel
9
Volleys
8.5
Overall
8.3
Brittany's Scores
Power
7.6
Serves
7.8
Control
7.5
Groundstrokes
7.5
Maneuverability
8.3
Returns
7.3
Stability
6.8
Slice
8.1
Comfort
7.9
Topspin
8.5
Touch/Feel
7.7
Volleys
7.6
Overall
7.6
Tiffani's Scores
Power
7.6
Serves
7.5
Control
7.8
Groundstrokes
7.8
Maneuverability
8.3
Returns
7.7
Stability
7.3
Slice
7.7
Comfort
7.7
Topspin
8.3
Touch/Feel
7.6
Volleys
7.8
Overall
7.7
Playtester Profiles
Chris: 5.0 all-court player currently using the HEAD Youtek IG Prestige Midplus. Chris uses a full-western forehand grip, has a fast swing style and hits a one-handed backhand.
Mark: 5.0 lefty all-court player with a one-handed backhand. He currently plays with the Dunlop Aerogel 4D 200.
Brittany: Open level player with a semi-western forehand and a two-handed backhand. She currently plays with the Yonex V-Core 100S.
Tiffani: 4.0 level baseliner with a semiwestern grip on the forehand and hits a two-handed backhand. Currently playing with the Tecnifibre Rebound Pro.

Review date: May 2012. If you found this review interesting or have further questions or comments please contact us.
All content copyright 2012 Tennis Warehouse.