Prince EXO3 Rebel 98 Racquet Review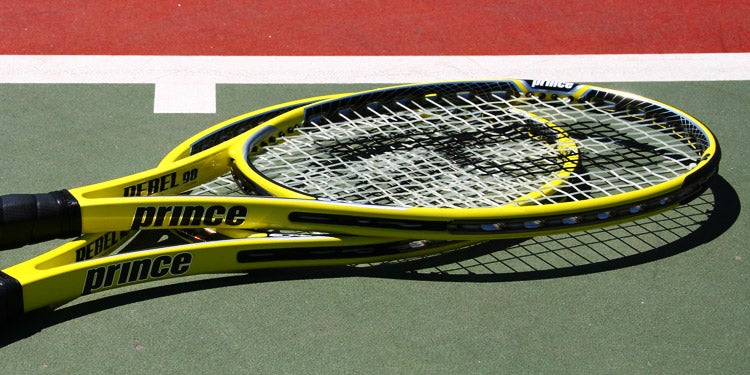 Prince EXO3 Rebel 98 Scores
Comfort
81
Touch/Feel
78
Serves
81
Groundstrokes
84
Returns
80
Slice
81
Topspin
83
Volleys
82
Overall
82
Upsides
Spin
Power
Control
Maneuverability
Stability
Downsides
Nothing we could agree on
Summary
With the second edition of the EXO3 Rebel line, Prince introduces a new headsize into the mix with a user-friendly 98 square inch option. The Prince EXO3 Rebel 98 was a favorite with our playtesters, creating great control and surprising power. Spin and depth were easily generated, with everyone enjoying the ability to be versatile from the baseline. Playing at net with the Prince EXO3 Rebel 98 brought confidence, great maneuverability and punch on the ball. Our testers were able to hit their serves with a lot of spin and consistency with this racquet. A blend of stability and maneuverability proved effective on returns, where our playtesters really enjoyed the easy access to spin, control, and power. With all court performance, the EXO3 Rebel 98 fits a variety of styles at the intermediate through advanced levels.
Groundstrokes - Score: 84
The EXO3 Rebel 98 offered a nice blend of control and surprising power, which worked out great for Mark. He said, "Off the ground, I was able to be aggressive and switch to defense easily from almost anywhere in the court. The average swingweight of 325 (Babolat RDC) put enough mass in the hoop portion of the frame to make it feel pretty stable against excessive pace, spin and depth. Angles, slice and topspin are generated in spades with the oval head shape and 16x20 string pattern."
Chris had no problems hitting with spin and depth. He said, "I thought this was a very forgiving and easy to use racquet from the ground. In some ways it reminded me of the BLX Blade 98, but whereas that racquet gets its power from its higher swingweight, this one offers a livelier feeling string pattern. Regardless, the results were similar, easy access to power and spin from the baseline. When strung with a poly type string, this racquet felt very, very spin friendly. I was able to hit with lots of topspin, which helped me roll some nice angles as well as loop the ball when I need to buy some time."
"There was surprising power to go along with the not so surprising high level of control," said Jason, who was immediately comfortable with this racquet. "I knew I'd love this racquet from the first hit. Unlike past Prince racquets, this one has a crisp, solid feel. I felt I was getting great depth and spin on my groundies. The racquet was forgiving for shots outside the sweetspot, which my arm and I appreciated."
Spencer agreed, adding, "The first thing I noticed when hitting with this one was the nice mix of power and control. When it came to string setup, it was a full bed of co-poly that seemed to be ideal, toning down some of the power while increasing spin and control. This type of setup worked well for my game, as some added power and spin are welcome. I also noticed the 98 seemed to offer a more traditional feel in comparison to other EXO3 racquets I've hit with. I felt I could rally with it endlessly, and then when looking to pull the trigger, the 98 can put the ball away. This is a racquet I would have no problem using as my primary stick."
Volleys - Score: 82
The easy access to spin and power, combined with good maneuverability, made this racquet a hit with our team. Jason volleyed with confidence. He said, "A forgiving, stable racquet is what I need up at net, and that is exactly what I got with this stick. It's maneuverable, too, so that really helped me with both reactionary volleys and overheads."
There was plenty of power for Chris. He said, "This racquet felt lively at net with a nice punch feel to it. I could snap volleys and overheads away with ease and never felt like I was giving up any control. The maneuverability was excellent with this racquet, and I liked how easy it was to get into position or to cup under the ball on touch shots."
Having no issues was Spencer. He said, "A forgiving headsize with good stability gave me good confidence at net. The 11.3 ounce strung weight and 4 points head light balance was a nice combination of maneuverability and stick. It was great for cutaways."
Mark was hitting his shots with great accuracy. He said, "The volley felt great with the EXO3 Rebel 98. I played with a low tensioned poly in it, and the pocket it created enhanced my confidence to place the volley where I wanted to. It is light enough to be maneuverable but with enough weight in the hoop to be stable on off-center hits."
Serves - Score: 81
Spin was once again the standout aspect for the Prince EXO3 Rebel 98. This racquet was ideal for Spencer. He said, "This was probably my favorite aspect. The little bit of extra power helped me just enough to get some easy points on serve. On top of that, the easy access to spin made control and kick easier to come by. I served with confidence with this 98 in my hand."
Jason had very few complaints as well. He said, "I found the racquet to offer nice pop on serves. But more importantly, I felt like I could serve with consistency. Putting a full bed of poly really added to the already good access to spin. If I could be a bit nitpicky here, ideally I'd want it to be more head light so it was even more maneuverable."
Mark just needed some time to get his serve dialed in. He said, "I am now used to the high 11 ounce static weight racquets, but after an adjustment to swinging less weight, my serve was effective for both doubles and singles. For a lighter, and more flexible racquet player's racquet, I could put a decent amount of stick on the ball for the serve."
"I served well with this one but not as well as I did with the EXO3 Rebel 95," said Chris, who wanted just a bit more mass behind his serves. "With this racquet, spin was great and the pace I was finding was decent, but those qualities didn't quite come to gather to offer the heavier serve I was able to hit with the 95. Still, I was serving well and enjoyed the control and consistency I was getting."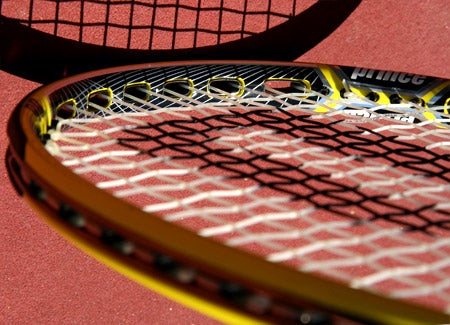 Serve Returns - Score: 80
The blend of both power and control enabled our testers to return with variety. Mark said, "It is always an adjustment from the heavier racquets to the lighter racquets for me, but for a lighter player's racquet, it felt pretty stable, which indicates a fair amount of mass in the hoop area. The EXO3 Rebel 98 has just enough weight for good plow through, and it's light enough to take an offensive cut on the service return."
Chris had a blast hitting returns in both singles and doubles play. He said, "This was an easy racquet to accelerate quickly, making it a great stick for hitting aggressive returns. I was taking a really good cut at the ball with this one and enjoyed the spin, depth and control I was finding. During doubles play I was able to step in, hit my return early and rip some nice cross court winners with this racquet. Lots of fun!"
The racquet provided Jason with a variety of options. He said, "I was really happy with how I was returning with this Rebel. It was an asset for both aggressive and defensive returns. When I wanted to take a big cut, the spin helped my shots land in. Even when shots were hit off center, I felt they were still going toward the targeted area. And when I had to lob or slice a shot back, the lively stringbed helped keep shots deep. Again, wish it was just a tad more mobile though."
Spencer said, "I tend to like returning with a stick with a little lower swing weight, but the 325 swingweight wasn't a hindrance. It was the stability I enjoyed when returning. I thought it felt quite solid, no matter the type of shot I hit."
Overall - Score: 82
Likes
Mark - "I loved how the EXO3 Rebel 98 (port grommet version) behaved with a poly in the mid to low 50 pound range. It was predictable from all parts of the court and is a racquet that I could immediately transition to; albeit with a little more weight added. Definitely one of the better frames that I have tested that follows this similar formula."
Chris - "I liked the easy access to spin, the control, power and maneuverability."
Jason - "The power was a nice surprise. I also enjoyed the access to spin an feel."
Spencer - "The solid feel, access to spin and added pop."
Dislikes
Mark - "This is most likely due to my familiarity of polys, but with a multifilament, I had a harder time keeping the ball inside the lines. The other thing is that I personally prefer a slightly heavier racquet, just not quite as much as the weight of the stock 95 version."
Chris - "Nothing. I think this one fills a much need spec that was previously missing in the EXO3 lineup."
Jason - "Not much. But a lower swingweight would take this up a notch for me."
Spencer - "No dislikes."
Technical Specifications

Length
27 inches
69 centimeters
Head Size
98 square inches
632 square centimeters
Weight
11.2 ounces
318 grams
Balance Point
13.125 inches
33 centimeters
3pts Head Light
Construction
22mm Straight Beam
Composition
Graphite
String Pattern
16 mains / 20 crosses

Babolat RDC Ratings

Score

Grade

Flex Rating
58
Range: 0-100
Swing Weight
325
Range: 200-400
Scores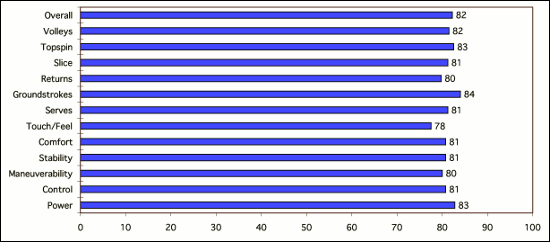 (Scores are determined by averaging individual play test scores)
Mark's Scores
Power
8.4
Serves
7.8
Control
8.5
Groundstrokes
8.5
Maneuverability
8.5
Returns
8
Stability
8.2
Slice
8.5
Comfort
8.5
Topspin
8.5
Touch/Feel
8
Volleys
8.5
Overall
8.5
Chris's Scores
Power
8.1
Serves
7.8
Control
8
Groundstrokes
8
Maneuverability
8.2
Returns
8.1
Stability
7.7
Slice
8
Comfort
8
Topspin
8.2
Touch/Feel
7.8
Volleys
8
Overall
7.9
Spencer's Scores
Power
8.4
Serves
8.6
Control
7.8
Groundstrokes
8.3
Maneuverability
7.6
Returns
7.8
Stability
7.9
Slice
7.8
Comfort
7.4
Topspin
8.1
Touch/Feel
7.2
Volleys
7.9
Overall
8.1
Jason's Scores
Power
8.2
Serves
8.3
Control
8
Groundstrokes
8.8
Maneuverability
7.7
Returns
8
Stability
8.5
Slice
8.2
Comfort
8.4
Topspin
8.2
Touch/Feel
8
Volleys
8.2
Overall
8.4
Playtester Profiles
Mark: 5.0 lefty all-court player with a one-handed backhand. He currently plays with the Dunlop Aerogel 4D 200.
Jason:4.0 baseliner with a semi-western forehand and two handed backhand. Currently using a Boris Becker Delta Core London.
Chris: 5.0 all court player currently using the Volkl Power Bridge 10 Mid. Chris uses a full-western forehand grip, has a fast swing style and hits a one-handed backhand.
Spencer: 4.5 baseline player currently using the Prince EXO3 Tour 100 16x18. Spencer uses a semi-western forehand grip, and hits with a one-handed backhand.

Review date: December 2011. If you found this review interesting or have further questions or comments please contact us.
All content copyright 2011 Tennis Warehouse.