Prince EXO3 Rebel 95 2012 Racquet Review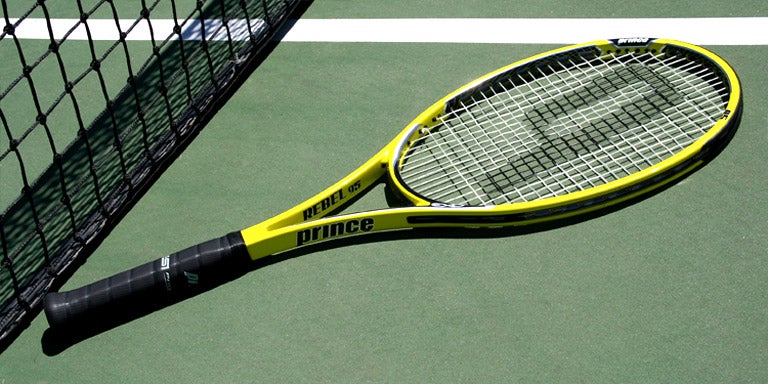 Prince EXO3 Rebel 95 2012 Scores
Comfort
84
Touch/Feel
84
Serves
86
Groundstrokes
82
Returns
78
Slice
87
Topspin
80
Volleys
84
Overall
82
Upsides
Improved maneuverability
Control
Feel
Solid
Spin
Downsides
Lacks the plow through power of the previous version
Summary
The retooled specs on this latest Prince EXO3 Rebel 95 provided our playtesters with good feel, control, and spin, making this an enjoyable racquet to play with. From the baseline, our testers found a control-oriented response, allowing them to swing aggressively. Everyone felt comfortable at net due to the great maneuverability, with fast, solid precision, and good feel. The racquet was a favorite on serve, with easy spin, good pop, and impressive control. Those same attributes had our testers being very offensive when returning. All in all, this update to the EXO3 Rebel 95 proved easier to swing, making it user friendly for a wider variety of players. Those seeking the mass of the previous version will want to add some lead to this one.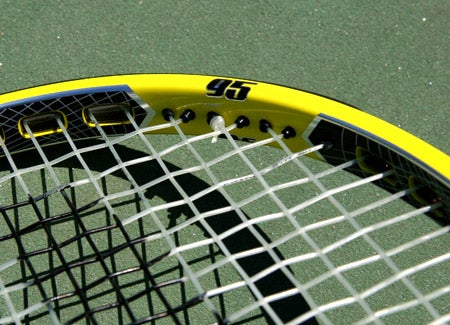 Groundstrokes - Score: 82
Also comparing it to the previous model, Troy noted improved mobility. He said, "I loved the control this racquet provided on my groundstrokes. It has a little less power than what I'm used to with my KBlade 98, but I feel it has even more control when taking an aggressive topspin cut at the ball. I noticed it was easier to maneuver than the last version of this racquet, and I felt it was easy to swing even when on a full sprint. The backhand slice with this racquet, due to its dense string pattern, really bites and stays low after the bounce. The feel of this stick is really soft on the arm, even more so with the port-hole inserts. Overall, it's a great control-oriented racquet from the baseline, but a little underpowered compared to what I'm used to."
Spencer liked the results from his backhand side. He said, "This racquet feels very good in the hand, as I like the spec range. Like the previous version, it felt very stable when hitting groundies. I felt very comfortable coming over the top on my backhand. Likewise, I was very effective slicing because this racquet clipped the ball well, and balls stayed low and skidded. Forehands, on the other hand, are where I was having some issues. Well, one issue. It was difficult for me to get any kind of consistent depth. When Prince retooled the specs from the previous version they slightly changed the dynamic. I never quite gained confidence hitting forehands."
Enjoying the combination of specs, Mark said, "I am a big fan of the dense string pattern, 12 ounce static weight, smaller headsize racquets, so this was right in my ballpark. Flexible, yet stable, the EXO3 Rebel 95 allowed me to generate enough swing speed off both sides to produce depth without too much effort. Spin production was not an issue either."
Volleys - Score: 84
All of our testers enjoyed the fast, solid feel when at net. Mark brimmed with confidence, saying, "The new Rebel 95 catered to my usual volley chicanery. It was also very stable, even with slightly mis-hit midcourt volleys. I could be pretty sneaky and effective when volleying with this racquet."
"Volleys came easy with this racquet," said Troy, who found "a ton of precision and feel." He continued, "I felt like I could move the ball around the court well when hitting my volleys. Even though it felt very maneuverable there was no issue with stability, and I never felt the racquet was getting pushed around. The soft flex of this racquet made it easy to hit a drop volley and carve up a sharp angle when needed. I found all the maneuverability and stability I needed to play some solid doubles when at the net."
A nice combination of headlight balance and heft was noted by Spencer. He said, "I liked the stability, while the balance was head light enough to offer sufficient mobility. I felt comfortable when coming to the net with this racquet, as it had enough heft to handle good paced shots with a solid response. Being at net is not my favorite place to be, but when I had to be there, this was a pretty good stick to have in hand."
Chris enjoyed the comfort and fast feel. He said, "I found the racquet to be very fast, crisp and precise at net. I felt very confident with it. There was just enough mass to avoid flutter on slightly off-center contacts and to provide ample depth and pace on well timed volleys. Comfort was excellent, and the level of feel was good. I thought this one offered the closest feel to a solid beam racquet (one without ports in it) that I've hit yet in the O Port, Speedport and EXO3 lines."
Serves - Score: 86
According to our testers, the Rebel 95 excelled in a variety of areas on serve. Spencer was thrilled with the effectiveness he found. He said, "This was my favorite aspect of testing this racquet. I loved the results of my serve with the Rebel 95. It wasn't too heavy to hinder swing speed, yet it was weighty enough to produce a heavy ball. Combined with a full poly string setup (Prince Beast XP), I was able to dial in placement, put some good kick on the ball and bring some added velocity when looking for a little extra. This was a very effective serving stick for me."
Chris had similar thoughts. He offered, "Probably one of my favorite shots with this racquet was the serve. I was able to get some nice pop on both first and second serves. Spin was also easy to generate. With ample spin and pace I had a lot of options when serving, and I was able to mix things up to keep the returner guessing."
Mark needed an adjustment period to find his range. He said, "The head shape is a little different from what I most often play with and I had to make a small adjustment on my serve. By the end of a couple of tie-breakers with colleagues, I felt pretty confident starting points with it."
The Rebel 95 left Troy with plenty of options. He said, "I felt that I was mixing it up very well on serve. It wasn't that the racquet possessed more power than what I'm used to, but the head light balance and the control-oriented stringbed allowed me to be confident in hitting big on my serve. I felt that I could put a lot of spin on my slice and kick serves, and I could attack the flat serve down-the-T with equal success. Much like the Dunlop 200s I've played with in the past, these racquets are rewarding to the players who generate a lot of racquet head speed on serve. Overall, the response of this racquet was very precise and allowed me to be aggressive on serve."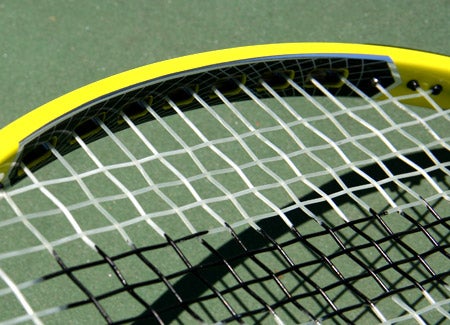 Serve Returns - Score: 78
The maneuverability and low power allowed our testers to be more offensive with returns. Troy felt this racquet allowed him to be aggressive on returns. He said, "The best aspect of this stick on returns was the maneuverability. I was able to put the racquet on the ball with ease, whether being stretched out wide or having to dodge the body serve. I felt that I had to be more aggressive because of the low-powered feel of this racquet. At times my returns were landing short, but as I adapted to this racquet I found great control and was gradually getting more and more depth. For the advanced player who likes to be aggressive on returns, this stick provides all the control you need for a full, fast swing at the ball."
Chris was confident when returning. He said, "Again, I could take full cuts at the ball with this racquet and find lots of control and spin. Depth was easier to generate on returns than groundstrokes thanks to the increased speed of the incoming ball. It made a great racquet for counter-punching returns, where I could use the pace of the serve to hit aggressively. Drives, slices, angles and even drop shots were all working well for me when returning serve."
Mark liked the consistency. He said, "As always, my return was consistent, but not a weapon. I was able to direct the return cross court or down the line with enough on the ball to keep an aggressive reply at bay."
Having trouble getting depth on forehand returns was Spencer. He said, "I thought I would return better than I did with this one. Backhands weren't a problem, but like forehand groundstrokes, I had trouble with depth when returning from the forehand side."
Overall - Score: 82
Likes
Chris - "I liked the feel, control and spin, and the performance I found at net and on serve the most."
Mark - "I really enjoyed the blend of beam forgiveness and stability, with the weight, balance and 18x20 pattern being exactly what I look for when shopping for a new frame. The string port grommets also provide a plush feel in the stringbed, allowing for a wide range of choice for string material and tension without risking arm discomfort. It behaved well with a full set of a multifilament, a hybrid of a poly/multi, or a full set of a low tensioned poly."
Troy - "The control of this racquet is superb, much like the Dunlop Biomimetic 200. A very arm-friendly feel, especially with the string port inserts."
Spencer - "The solid feel and serve effectiveness for my game."
Dislikes
Chris - "Just a tad too light in stock form. A leather grip and some weight at 10 & 2 would dial this one in perfectly for me."
Mark - "I had to look hard to find anything that I did not really benefit from. I am a function over form guy, but since I don't own a mustard company, yellow may not have been my first choice for the color scheme."
Troy - "It's a little underpowered compared to what I am used to playing with. I like the cosmetic of the previous model more than the new model."
Spencer - "The effort it takes for me to get good depth. I feel like I'm aiming to hit the ball four feet past the baseline just to get the ball to land past the service line."
Technical Specifications

Length
27 inches
69 centimeters
Head Size
95 square inches
613 square centimeters
Weight
12 ounces
346 grams
Balance Point
12.375 inches
31 centimeters
7pts Head Light
Construction
21mm Straight Beam
Composition
100% Graphite
String Pattern
18 Mains / 20 Crosses

Babolat RDC Ratings

Score

Grade

Flex Rating
56
Range: 0-100
Swing Weight
331
Range: 200-400
Scores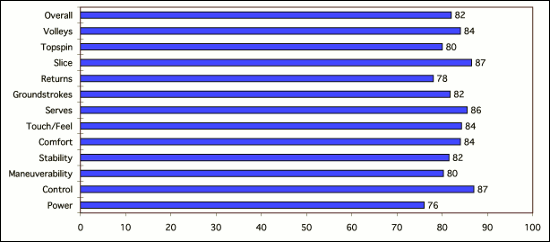 (Scores are determined by averaging individual play test scores)
Chris's Scores
Power
7.4
Serves
8.3
Control
8.3
Groundstrokes
7.9
Maneuverability
7.7
Returns
8
Stability
7.7
Slice
8.3
Comfort
8
Topspin
8
Touch/Feel
8.3
Volleys
8.2
Overall
7.9
Mark's Scores
Power
8
Serves
8.8
Control
9
Groundstrokes
8.5
Maneuverability
8.1
Returns
7.5
Stability
8.5
Slice
9
Comfort
8.5
Topspin
8.2
Touch/Feel
8.8
Volleys
8.5
Overall
8.5
Troy's Scores
Power
7.5
Serves
8.5
Control
9
Groundstrokes
8.4
Maneuverability
8.3
Returns
7.9
Stability
8
Slice
8.9
Comfort
8.6
Topspin
8
Touch/Feel
8.6
Volleys
8.5
Overall
8.4
Spencer's Scores
Power
7.5
Serves
8.6
Control
8.5
Groundstrokes
7.9
Maneuverability
8
Returns
7.8
Stability
8.4
Slice
8.4
Comfort
8.5
Topspin
7.8
Touch/Feel
8
Volleys
8.4
Overall
8
Playtester Profiles
Chris: 5.0 all court player currently using the HEAD Youtek IG Prestige Midplus. Chris uses a full-western forehand grip, has a fast swing style and hits a one-handed backhand.
Mark: 5.0 lefty all-court player with a one-handed backhand. He currently plays with the Dunlop Aerogel 4D 200.
Troy: 5.0 lefty all-court player with a full Western Forehand and a two handed backhand. Troy currently plays with a customized Wilson KBlade 98.
Spencer: 4.5 baseline player currently using the Prince EXO3 Tour 100 16x18. Spencer uses a semi-western forehand grip, and hits with a one-handed backhand.

Review date: February 2012. If you found this review interesting or have further questions or comments please contact us.
All content copyright 2012 Tennis Warehouse.