Wilson Tour Spin II Shoe Review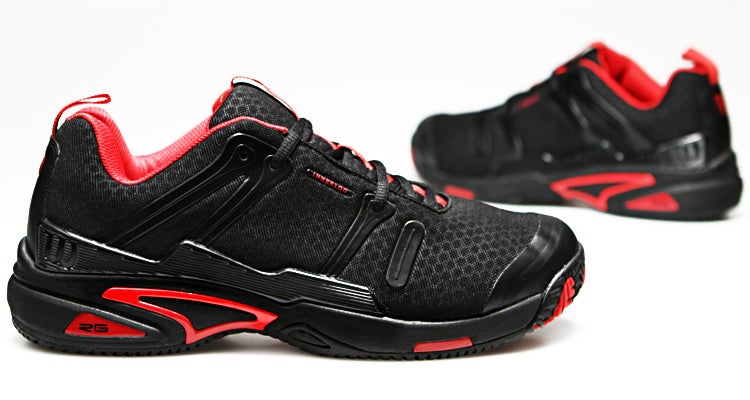 Wilson Tour Spin II Shoe Scores
Comfort
4.3
Ventilation
4.1
Arch Support
3.2
Foot Support/Stability
1.8
Overall Sole Durability
3.1
Toe Durability
2.0
Traction
3.9
Weight
4.1
Overall
2.1
Upsides
Light weight
Cushioning
Comfortable
Traction
Summary
It was clear that plush comfort and good ventilation were the shining attributes of the Wilson Tour Spin II. Along with keeping feet cool and requiring no break-in period, the 15.3 ounce (size 10.5) weight kept our testers feeling light on their feet, with good traction on court. Unfortunately, it was all downhill from there. The stability and support were compromised due to the give in the uppers, to the point that most of the test team didn't feel safe when moving laterally. Toe durability was lacking, while the overall outsole durability was questionable with some of our crew. Considering the importance of changes in direction when playing tennis, the Tour Spin II simply lacked the necessary support and stability for aggressive play. Though this was an extremely comfortable shoe to wear, it didn't feel like it was built for the serious tennis player.

It wasn't too long ago that the Wilson ProStaff tennis shoe was a favorite for many diehard tennis enthusiasts.
But this is a new generation.
Today's game is dominated by fast moving, power baseline play. Expectations in footwear are higher than ever. Tennis has always been a game of centimeters, and in many cases even millimeters, but today that same amount of ground has to be covered even faster. It is essential for equipment to meet the performance needs of a player because even the slightest hesitation can make a difference.
Wilson aims to meet the needs of the modern player with its latest version of the Tour Spin. Although the original Tour Spin offered plenty of comfort and breathability, we felt it lacked the support and stability essential to a performance tennis shoe. The Tour Spin II gets beefed up with Reactive Gel in the forefoot and heel of the midsole for better cushioning and shock absorption. Though there's some added weight, the Tour Spin II is still considered a lightweight shoe. With the additions to the Tour Spin II, can the shoe leave its footprint on the demands of today's competition?
Our playtesters took this shoe out for a month and gave it, well, a spin. Read on to see if the Tour Spin II gave them the needed footwork to cover every millimeter of the court.
Comfort - Score: 4.3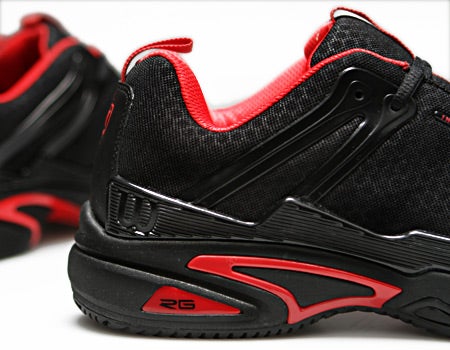 Right out of the box, the majority of our testers took note of the plush comfort in the Tour Spin II. Finding impressive comfort was Chris. He said, "Top marks from me here. The shoe was superbly comfortable. The uppers were so soft they felt like slippers. Both on court and just walking around, the cushioning felt very, very plush. I liked the level of padding around the ankle collars and generally just found them to be really comfortable to wear."
Jason was also happy with the high level of comfort. He said, "This was one of the most comfortable tennis shoes I've ever put on. The uppers are so soft and supple that there is zero need for a break-in. Even though the shoe fit a bit narrow for me, there was enough give that it didn't bother me. The Reactive Gel inserts in both the heel and forefoot helped absorb the shock from tough landings."
Granville was very pleased with the all around comfort. He said, "As always, I had replaced the insoles with my orthotic-like insoles. With those installed my foot slid right into this Tour Spin II shoe and settled into a very nice snug fit all around. The materials were all soft and supple. There was good cushioning in the heel and a nice low profile ride. My first impressions were off the charts!"
Finding a slipper-like feel was Spencer, saying, "The comfort straight out of the box was outstanding. The soft mesh upper, along with the plush cushioning, offered a slipper-like fit and feel. A minimalistic feel, the shoe stayed cool with ventilation and a cushy midsole. There aren't many, if any, shoes that offer this type of comfort."
Ryan was less impressed, noting a necessary break-in period. He said, "The comfort level was fairly average on this shoe. probably because it felt very soft and flexible. There was also break-in period required that lasted several sessions of hitting for at least an hour. I would say I experienced some pain because of the arch for about a week."
Ventilation - Score: 4.1
This has been the most ventilated shoe our testers have worn so far this year. Granville gave the shoe top marks in this category. He said, "The abundance of mesh on all sides kept this shoe ventilated and cool (even in the black color way). This was one of the best vented shoes I've tested this year."
Feeling his feet were always well ventilated was Spencer. He said, "With an upper that is made almost entirely of mesh, the Tour Spin II provided excellent breathability. Even in the hottest of circumstances the airflow kept my feet cool. This is a category where this shoe shined."
Jason agreed, saying, "I found these shoes to be very breathable. Generous use of mesh and perforations in the upper allowed my feet to stay cool and dry."
Finding more breathability than most others was Chris. He said, "The ventilation was great. The entire upper is mesh, so breathability was very good. The lining of the shoe blocks a little airflow, but even still, this shoe has much more than most."
Ryan felt the ventilation to be too much at times. He said, "The shoe was almost too ventilated. The mesh on the exterior allowed tons of air through to the foot, which gave a weird sensation at times."
Arch Support - Score: 3.2
The feedback with arch support varied from tester to tester.
Spencer thought the arches were just right. He said, "The arch support hit my arches correctly, thus, I had no issues with the support of these medium height arches."
Not finding the support he would have liked was Chris. He said, "The arch support was a tad low for me in these shoes. The midfoot shank was also too flimsy, and I felt some strain on my arches when pushing off aggressively when sprinting forward."
Ryan also struggled a bit with the arch support. He said, "The arch felt very strange to me after a few sessions of hitting, and I think it was because my foot was riding too high inside the shoe. I did experience some pain during the break-in period because of this."
Needing a little bit of break-in because of his low arches was Jason. He said, "I did notice the arch felt high when I initially tried on the shoe, but it quickly molded down to the nice low arch support that I liked. It really only took the first hour or so to break in."
Granville avoided any issues with use of an aftermarket insole. He said, "This is always one of those areas where the stock insole is simply a thin cushion layer. It's nothing special, simply the typical cushion layer."
Foot Support/Stability - Score: 1.8
When it came to support and stability, the Tour Spin II failed miserably. Jason lost confidence in this shoe when it came to changes of direction. He said, "I can't think of another shoe I've tested where I've given such a low score in this critical category. The uppers are soft to the point where the material would just give and move with every plant, stop and start. My feet would actually slide off the base of the shoe. I wasn't confident in going 100 percent on any of my movements because I was afraid of rolling my ankle. I get more support at an away match than I do with these shoes."
Referring to this shoe as "dangerous," Chris said, "If there was any support and stability to be had in these shoes, I was unable to find it. While they were as comfortable as slippers, they also provided the support and stability of a pair of slippers. The uppers lacked any lateral support and would just balloon out when lateral force was applied to them. When planting heavily on a lateral cut, I could feel the uppers give so much that my feet would no longer be over the outsoles, forcing the uppers to balloon out past them. The midfoot shank was way too flimsy, and there just wasn't any chassis stability. The plush cushioning also made for an elevated ride and the shoe rolled very easily. I never once felt safe playing in these shoes. Anything above a light hit was dangerous."
Spencer compared the lateral support to that of running shoes. He said, "This is where this shoe completely lacks the nuts and bolts that are necessary for an effective tennis shoe. I rely heavily, as do most tennis players, on stability and support. Since my game is not a powerful one, I have to rely on consistency and shot placement. In turn, it is essential that I can lean on my shoes to provide stability when I change direction laterally. Unfortunately, the Tour Spin II felt very suspect on lateral direction changes, as I could feel my little toes slide off the platform of the midsole. There was absolutely no support in the upper to hold my feet where they needed to be. I'm sorry to say this, but I've had better lateral support from some running shoes."
Finding plenty of support and stability while using his ankle braces and insoles was Granville. He said, "With the Tour Spin II offering a deep, low footbed, it enhanced the feeling of security by reducing the chance of rolling an ankle. While the materials are not overly stiff and supportive, They did provide ample room for my braces (and insoles). I was very impressed with the overall set-up once I had made my changes. Subsequently, the feel was contoured and supportive."
Ryan found the flexibility to be too much. He said, "They held my foot fine for the most part, but the extra cushioning did allow for a little bit of slippage from time to time. The shoe itself is very flexible, which also led to some unnecessary movement inside the shoes."
Sole Durability - Score: 3.1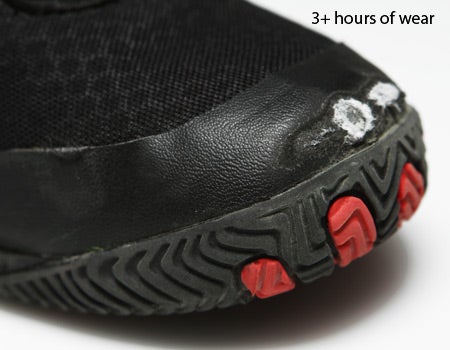 More than half our playtesters had a tough time grading this category due to not being able to go full speed because of the lack of stability. Chris didn't feel safe enough to put aggressive wear on the outsole. He said, "The outsole material proved to be very soft. I did not put many vigorous hitting hours on these shoes simply because I never felt safe playing in them, and I'm already seeing some wear. The outsoles seem built for traction rather than durability."
Feeling the same way was Jason. He said, "There has to be an * placed next to my score in this category. Yes, the outsole seemed to hold up quite well, which is why I scored it a 4/5, but I never really put the shoe through the ringer because I was afraid to wear them. Truth be told, I only wore these shoes for a total of four hits because I felt like I was going to roll an ankle every time out."
Spencer echoed Chris and Jason's comments, saying, "This category was tough to score for me. Since I couldn't play in these with the same confidence as I play in other shoes, I didn't put the stress and wear on them that I normally would with better supported, stable shoes."
Disappointed with the durability was Ryan. He said, "Frankly, it was terrible. I started to see wear extremely quickly. The outsole was not very durable at all."
Granville felt the durability was more than sufficient. He said, "The outsole maintained its tread through several hits and a tournament. I was very pleased that the outsole maintained its soft touch on the court for the duration of the test."
Toe Durability - Score: 2.0
The two testers who are toe draggers experienced quick wear in the toe.
Chris didn't take long to penetrate the toe bumper. He said, "The toe durability was pretty horrendous. After just 3 one-hour hitting sessions I was through the protective material at the toe and I had put a hole through the shoe. One more hitting session and these shoes will likely be done. Fortunately, I don't have to find out as the test is now finished and the Tour Spin II won't be seeing the courts again on my feet."
Wary of the wear after his first hitting session was Ryan. He said, "I had noticeable wear through the outer layer of the toe box after a single session (90 minutes maybe) of hitting. Watch out if you are a toe dragger."
Traction - Score: 3.9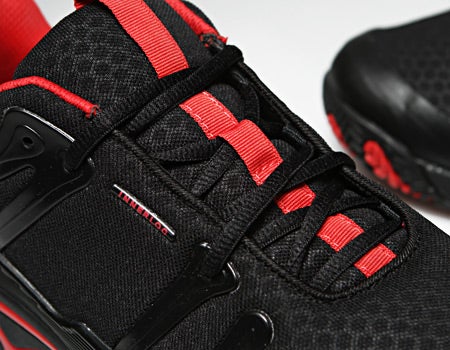 Our team found the traction to be very effective on the hard courts. Spencer felt the soft outsole offered substantial grip. He said, "For the quick starts and accelerations, as well as the slow downs and cautious stops, the outsole on the Tour Spin II was great. It gripped the hard court very well. I didn't get a chance to test them during full speed changes of direction as the lack of support and stability wouldn't allow for it, but during all other aspects I felt the tack was excellent."
Finding plenty of stick on court was Chris. He said, "The level of traction was great. The outsoles really gripped the hard courts very, very well. I had zero slippage issues and felt that the outsole pattern and composition were very traction friendly. Unfortunately, the outsole writes a check the support and stability can't cash. Great traction was wasted here by scary support that prevented full speed play."
Jason gave high marks for traction. He said, "This shoe definitely was meant for the hard courts. I was getting great traction with the modified herringbone pattern and pivot point. Changing directions is typically the best way for me to gauge how well a shoe performs, and with the Tour Spin II, I thought it passed with flying colors. But once again, the reoccurring theme was the fact I didn't push this shoe as hard as I wanted due to the lack of support and stability."
Thrilled with the traction on the hard courts was Granville. He said, "Perhaps the strongest benefit of this shoe was the sticky feel it offered on the court. This was the shoe I chose for a recent tournament (over some old favorites). It had soft and pliable uppers, and that very sticky outsole. I really like this shoe; it's my favorite Wilson shoe in years."
Ryan felt the tack caused some danger. He said, "With the combination of extreme tack and a lack of stability, I almost rolled my ankles several times."
Weight - Score: 4.1
When it came to feel, the Tour Spin II definitely felt light on court. Jason was happy with the lightweight feel. He said, "As soon as I put these shoes on I noticed how light they felt. Once on court I didn't think twice about the weight of the shoes. They felt light when I had them on to just walk in, like a running shoe."
Feeling stability was sacrificed for light weight was Chris. He said, "The shoe felt very light and fast on court, but it came at the price of any stability or durability. I would have happily settled for some additional weight to get a more substantial and safer shoe to play in. The shoe provides a feel much lighter than the listed weight, and if I had to guess I would have put them in the 13 ounce range. To use a car analogy, the shoe felt light and fast like a sports car, but wallowed and rolled in the corners like a bloated muscle car."
Ryan liked the maneuverability due to the light weight. He said, "I liked the weight of this shoe. It was fairly light and felt very maneuverable."
Liking the feel on court was Granville. He said, "This Tour Spin II felt light on my feet and is under my 'pound per shoe' rule. The mesh outer layer made it look as light as it felt."
Spencer thought they could have been lighter, given the amount of support. He said, "At just over 15 ounces (size 10.5), they felt pretty light on my feet. Again, they were slipper-like when moving around the court. Not to beat a dead horse about the lack of support and stability, but considering the lack of it, this shoe could have been much lighter."
Overall - Score: 2.1
Likes
Chris - "Comfort, cushioning, traction."
Ryan - "They look pretty snazzy for Wilson tennis shoes."
Jason - "The superior comfort, ventilation and lightweight feel. This shoe would score very high if it were being reviewed by walking-warehouse.com."
Granville - "First and foremost, I like the traction this shoe offers. A close second would be the nice fit the shoe offers my feet, even with the added insoles and ankle braces."
Spencer - "Comfort and ventilation."
Dislikes
Chris - "Support and stability were simply appalling for a tennis shoe. I honestly think I could find running shoes that were safer to play in."
Ryan - "The shoes had very few redeeming qualities."
Jason - "The total lack of support and stability is frightening considering it is meant to be a high performance tennis shoe. I'd compare this to wearing slippers out on court."
Granville - "Minor point, but the 'tiger stripes' look a bit too youth targeted."
Spencer - "There is nowhere near the support and stability needed to play tennis."
Comparing the Tour Spin II to other tennis shoes they've tested, our testers said:
Chris - "These were the worst shoes for support and stability I've ever played in. I'm just happy I made it through the test without getting injured. I wore them the minimum amount of time I could while still being able to comment on them -- simply because I always felt it was just a matter of when I got injured in them, not a matter of if."
Ryan - "The shoes were fine for casual wear but sorely lacked in performance on the court compared to other tennis shoes I've worn."
Jason "I really can't compare this to any other tennis shoe I've worn. It's more of a running or walking shoe than a tennis shoe."
Granville "This is one of my favorite shoes of the year. I chose the Tour Spin II for tournament play over my Barricades!"
Spencer "The only thing I can think to compare it to is a running shoe. Trying to do anything with lateral movement in a running shoe is a gamble. I feel the same about the Tour Spin II, unfortunately."

Playtester Foot Types:
Chris - Narrow width/High arch
Jason - Wide Width / Low arch
Granville - Narrow width/ low arch
Ryan - Medium width/ medium arch
Spencer - Medium width/Medium arch

Review date: May 2011. If you found this review interesting or have further questions or comments please contact us.
All content copyright 2011 Tennis Warehouse.