Wilson BLX Tour Tennis Racquet Review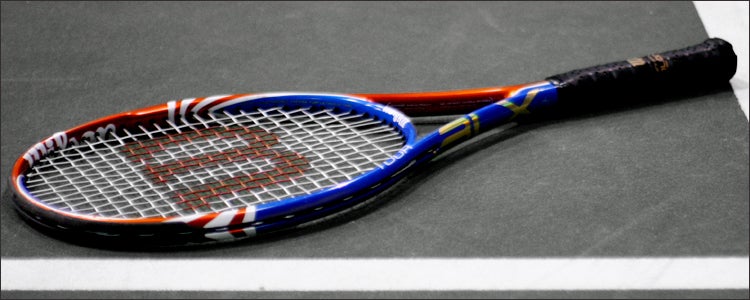 There's a reason Wilson has introduced yet another iteration of its Tour racquet.
Success.
Way back in 2001, Wilson came out with the Hammer 5.2. Spec-wise, this was certainly not a player's stick, but guess what? That sub 11 ounce racquet with a close to even balance was the racquet of choice for the 2001 #1 ranked WTA player, Lindsay Davenport.
The HTour followed the Hammer 5.2 and picked up where the 5.2 left off. Enter Justine Henin. This grand slam winner and former world number one used the HTour as her weapon of choice. She has continued using the Tour line of racquets, including the nTour, nTour Two, KTour, and most recently, the BLX Tour.
The Tour racquets have certainly had plenty of pro level support, but what has made them so successful with amateur players over the years? For starters, the combination of power and control has always made it an extremely effective 'tweener option. There's been no doubt over the years that the balance, beam thickness, length, static weight, swingweight and string pattern have all combined to make this model work not just for the pros, but plenty manageable for intermediate tennis enthusiasts as well.
The latest version of the Tour, the BLX Tour, gets Wilson's BLX technology to improve the feel and response of the racquet. Can BLX technology build on the effectiveness and heritage of this racquet? Our playtesters took it out for a month long playtest to find out if this bright orange Tour still holds the magic.
Groundstrokes - Score: 81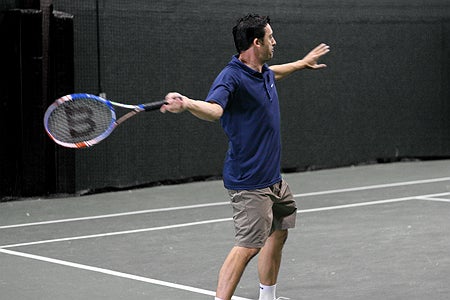 The BLX Tour really shined from the baseline. It offered a solid feel with good depth and spin, making this stick appealing and versatile for various levels of play. Spencer continued to find he was a fan of the Tour line of racquets. He said, "I've been a fan of this line of racquets since the nTour. The first thing I noticed when hitting with the nTour was how solid it felt, along with the combination of control and effortless depth. The BLX Tour is no different. This stick is extremely solid feeling from the baseline and helped my shots be more 'offensive', even when hitting defensive shots. Though the length offers an extra quarter inch, it's not something I really noticed in play. I was able to hit with good depth off both wings, while hitting low skidding slice off the backhand side. I will admit, I preferred hitting with slice from the backhand side, as I could hit penetrating shots that skidded and stayed low more consistently than with many other racquets I've tested. The close-to-even balance helped the racquet come through the ball with a nice 'thwack' at impact. Once again, I was impressed from the baseline with this latest iteration in the Tour line of racquets."
"The strongest part of my performance during this playtest was hitting groundstrokes," said Ryan S. "The racquet had the right amount of flex and feel to consistently deliver above average control and power. Adapting to this stick was not time-consuming, which was a big plus. I felt very comfortable after only a couple of hours."
Kana felt the swingweight produced a heavier ball for her, saying, "I've always favored head-light racquets, but recently switched to the Volkl V1 Classic, which specs out similarly to the BLX Tour (less than 11 oz / even balance +/-). It was an easy transition. I didn't have to tweak my strokes as much as I would if I was transitioning from a heavier, head-light racquet. What I favored more in the BLX Tour was its heavier swingweight, which my hitting partners acknowledged gave me a heavier ball in comparison to my racquet. My shots were flatter with the down the line put away being my favorite. I noticed less forgiving results when I hit outside of the sweetspot, so I really had to focus on timing since the swingweight was a lot heavier. Overall, the plow-through and stability on groundstrokes felt extremely solid, but with harder hitters the racquet was more difficult to maneuver compared to my V1 Classic."
Enjoying the stability of the BLX Tour was Danny. He offered, "First of all, I'd like to mention that the Wilson K Factor KTour was my racquet of choice a little over a year ago. At the time, the KTour was a racquet that was perfect for my game, and I loved using that racquet during practice as well as tournament play. After testing the BLX Tour and the KTour side by side, there are a few things I noticed from the baseline. I think the BLX Tour has more stability, spin potential and control from the baseline. I thought the ball would stay on the strings just a little longer than the KTour, which could be why I thought I could get more spin and stability. If I hit the ball off center with the BLX Tour, I could still get a decent amount of depth off the racquet. If I hit the ball off center with the KTour, I noticed a slight decrease in depth. I thought my variety with the BLX Tour was noticeably better as well. The range between my short angled shots versus my deep balls was easier to find than with the KTour. Last but not least, I thought the BLX Tour was very stable. I believe Wilson's BLX technology has added stability to the BLX Tour, and I've noticed it in other BLX racquets I've hit with as well."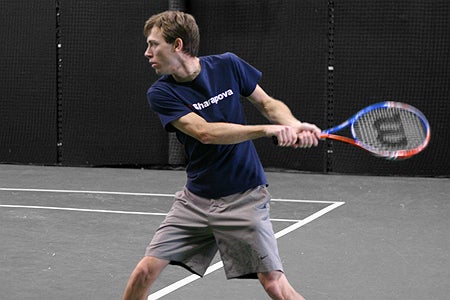 Volleys - Score: 79
At net, the BLX Tour's even balance and big sweetspot worked well for solid put away shots. In spite of an even balance, our testers still found ample maneuverability.
Feeling this racquet excelled with put away volleys was Kana, who said, "The even balance and swingweight made it easy to punch through the ball for solid execution. Rallying at the net seemed effortless, especially on the put away angle volley, because the racquet felt extremely stable. I didn't think a racquet under 11 ounces would have the torsional stability to handle hard shots, but the high swingweight balanced it out."
Spencer agreed, "'Crisp' is the word that comes to mind when volleying with this racquet. If there is anything that is lost in the touch or feel department, it is made up for with sharp, solid put away shots. Even though it's not a head light racquet per se, I'd say there is plenty of maneuverability. I particularly enjoyed this stick when playing doubles."
Enjoying the mobility, but feeling the weight of the racquet to be slightly lacking in stability, was Ryan S. He said, "Volleys were generally good and I enjoyed the racquet's maneuverability at net. Against harder hitters, I felt a little pushed back when not hitting the sweetspot, but this was a minor detail in the overall performance of the racquet when volleying."
Danny compared the BLX with the previous Tour model and liked them both, but for different reasons, saying, "I think my volleys were pretty solid with both the BLX and KTour models. I liked the maneuverability of the KTour, as it felt lighter. I also liked how I could stick or punch my volleys in the corners. If I wanted to cradle the ball for a touch volley, then the BLX Tour worked. I had more control with the BLX Tour on volleys at my feet. I like to cut the ball when they are hit at my feet for more control and depth, and I found that easier to do with the BLX Tour than the KTour."
Serves - Score: 80
This racquet offered a good combination of power and control. This provided confidence to our testers when serving. Kana was happy with the power the BLX Tour supplied on serve. She said, "I felt very comfortable serving with this racquet. I needed less effort to create a hard, flat serve. The topspin serve, which I usually try to kick up for the second serve, had great pop off the stringbed."
"I enjoyed both the power offered and the control I was able to garner," said Spencer. "I felt confident mixing up serves. I was able to use placement, pace and spin to keep opponents off guard. I liked the versatility the BLX Tour offered when serving."
Ryan S. found good variety on serve, saying, "The slightly extended length helped with serving leverage, and it performed well when trying to mix up serves with different types of spins."
Spin and control were attributes liked by Danny. He offered, "I liked the consistency on first serves. I felt my accuracy was spot on. The spin I could generate with the BLX Tour helped with control, as well as providing some extra kick or slice."
Serve Returns - Score: 79
The BLX Tour worked effectively in different ways for our testers when returning serve. Danny found the maneuverability let him step in and take the ball early. He said, "I enjoyed returning serves, and I liked how I could be aggressive while maintaining a good amount of control and consistency. The maneuverability allowed me to take a step or two into the court and take the ball earlier. Unlike the BLX Tour, my Volkl Power Bridge 10 has so much plow-through that I have to return a couple steps behind the baseline to find my range."
Spencer marveled at the versatility of this stick, saying, "I liked the options this racquet allowed when returning. I found it maneuverable enough to get the racquet in position with enough time to take a good lick at the ball on aggressive returns. I was also able to chip or block back returns with enough stuff to get the ball deep. This was one of my favorite aspects of this playtest."
Liking the maneuverability, but feeling it lacked forgiveness, was Ryan S. He offered, "I felt that I could take the racquet back quickly to prepare for returns. Again, off-center hits were not terribly forgiving, as the racquet sometimes twisted when up against powerful serves."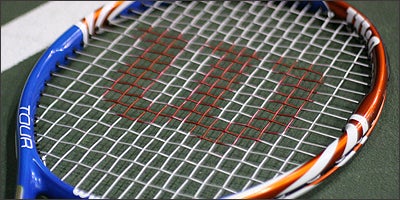 Kana felt the lighter weight gave her the tendency to swing harder when returning, saying, "It's a solid racquet, but I noticed it was tougher to maneuver when matched up against a harder server. I have a habit of swinging away, trying to hit winners on slower serves. I loved the plow-through and pop of this racquet, so on returns I tried to swing away more often than usual. Of course, inconsistency got the best of me at times."
Overall - Score: 80
History does, indeed, repeat itself, and there aren't any surprises here. Once again, Wilson did right by not trying to fix what wasn't broken. The Wilson BLX Tour has all the key attributes that have made its predecessors appealing and successful. Our testers enjoyed the harnessed power, while finding a solid and stable feel from all areas of the court. The low weight and even balance provided the same impressive maneuverability from both the baseline and net. Our testers enjoyed being able to be aggressive, without losing control. When it comes down to it, just like with its predecessors, the BLX Tour is a great all court racquet that will be an excellent choice for a wide variety of players.
Likes
Spencer - "The easy access to power and depth, with a solid feel."
Ryan S. - "A solid racquet that should appeal to players of different ability levels. Control was easy to find."
Kana - "Because of its high swingweight, the stability of the racquet was excellent. My shots were heavier than usual, and the execution of my down the line shot felt crisp."
Danny - "I like the BLX technology. I like the idea behind it and I think most of the BLX racquets Wilson has made have been solid. Having said that, I think the BLX Tour is an improved model from last year. I think it is a great choice for players who want a control-oriented racquet that will not be too heavy to swing. It was rock solid."
Dislikes
Spencer - "Did a die-hard Denver Bronco fan get to decide the paint job on this one? Thumbs down on the aesthetics, and orange is my favorite color!"
Ryan S. - "The paint job is hideous."
Kana - "Because I hit so much flatter with this racquet I felt I caught the net tape a lot on shots I feel I normally wouldn't. I also felt less ball pocketing and less forgiveness outside the sweetspot than with my current racquet."
Danny - "I am not a fan of the weight. I need a racquet that is heavier so I can get the plow-through I look for. I am also not thrilled with the cosmetics."
Technical Specifications

Length
27.25 inches
69 centimeters
Head Size
95 square inches
613 square centimeters
Weight
10.9 ounces
309 grams
Balance Point
13.625 inches
35 centimeters
Even Balance
Construction
22.5mm Straight Beam
Composition
Karophite Black / Basalt
String Pattern
16 Mains / 20 Crosses

Babolat RDC Ratings

Score
Grade
Flex Rating
63
Range: 0-100
Swing Weight
341
Range: 200-400
Wilson BLX Tour Scores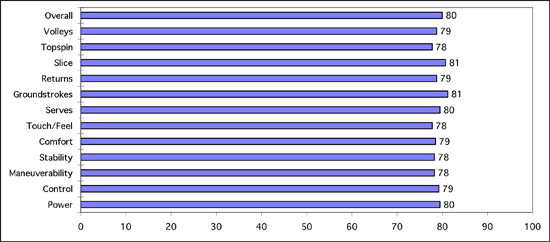 (Scores are determined by averaging individual play test scores)
Kana's Scores
Power
7.8
Serves
8.1
Control
7.5
Groundstrokes
8.2
Maneuverability
7.3
Returns
7.7
Stability
8.2
Slice
8.0
Comfort
8.0
Topspin
7.0
Touch/Feel
8.0
Volleys
8.0
Overall
7.9
Ryan's Scores
Power
8.5
Serves
8.2
Control
9
Groundstrokes
8.5
Maneuverability
8.9
Returns
8.1
Stability
7.5
Slice
8.0
Comfort
8.5
Topspin
7.0
Touch/Feel
8.5
Volleys
8.0
Overall
8.7
Danny's Scores
Power
7.5
Serves
7.5
Control
7.5
Groundstrokes
7.8
Maneuverability
7.9
Returns
7.8
Stability
7.8
Slice
7.5
Comfort
7.7
Topspin
7.6
Touch/Feel
7.6
Volleys
7.7
Overall
7.6
Spencer's Scores
Power
8.0
Serves
8.0
Control
7.7
Groundstrokes
8.0
Maneuverability
7.2
Returns
7.9
Stability
7.8
Slice
8.2
Comfort
7.2
Topspin
8.0
Touch/Feel
7.0
Volleys
7.8
Overall
7.8
Playtester Profiles
Kana: Open level baseliner with a western forehand and two-handed backhand. Currently using the Yonex RQis 1 Tour Light.
Ryan S: 4.5 baseliner with a Semi-Western Forehand and a two handed backhand. Ryan currently plays with a customized a Wilson Six-One 95 BLX.
Danny: Open baseline player currently using a Volkl Power Bridge 10 Mid. Danny uses a semi-western forehand grip, a two-handed backhand and has a long swing style.
Spencer: 4.5 Baseline player currently using a Wilson K-Blade Tour. Spencer uses a semi-western forehand grip, and hits with a one-handed backhand.

Review date: May 2010. If you found this review interesting or have further questions or comments please contact us.
All content copyright 2010 Tennis Warehouse.