Wilson BLX Tour Racquet Review

Wilson BLX Tour Scores
Comfort
79
Touch/Feel
78
Serves
79
Groundstrokes
80
Returns
82
Slice
81
Topspin
81
Volleys
78
Overall
80
Upsides
Stability
Solid feel
Power
Downsides
Nothing we could agree on
Summary
Well received by our testers, the Wilson BLX Tour is an extremely versatile racquet. A solid response, paired with the ability to create heavy spin, makes this a racquet that provides plenty of power from the baseline. Our testers, who liked the ability to flatten out shots and rip heavy balls from all over the court, also noticed heavy pace and increased velocity. At net, the BLX Tour was a favorite when hitting aggressive volleys with lots of punch, and despite the light weight, had great stability. This is an easy transition from previous versions of the Wilson Tour, particularly on service returns. A versatile and aggressive racquet, the Wilson Tour BLX is an ideal racquet for players at the 4.0 level and above and is easily customized for greater comfort and playability.
Groundstrokes - Score: 80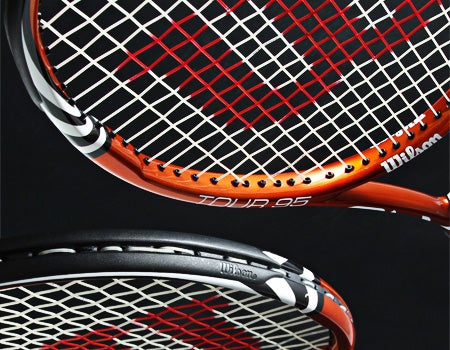 The Wilson BLX Tour got a good response from our testers, who loved the solid response and the heavy spin and pace they were able to create. Siobhan loved the BLX Tour more every time she played with it. She said, "I initially was very anti this racquet because I didn't feel like it gave me anything. After a week or two, I completely warmed up to it and now really like playing with it. When coupled with a poly this racquet gave me great spin, which made up for the lack of oomph I felt in my shots sometimes. I was able to create pretty nice power off both sides and I found it really easy to hit flat balls. My criticism would be that the racquet basically gave me exactly what I put into it, not much more. This was a problem because I could have used a little help here and there, like some extra bang, or more maneuverability to get balls up higher or deeper. Nice control though, and I loved how solidly I was hitting from all over the baseline."
Finding the Tour to be very user-friendly was Chris, who said, "This version continues the Tour line trend of good feeling racquets that are easy to use. It felt maneuverable, yet the close to even balance kept enough weight behind my shots for easy power. This one felt a tad faster to swing than the previous version and I was getting better spin because of the increase in racquet head speed. I also liked the way I could flatten out shots and still find enough control to pass a volleyer with pace and accuracy. I found a surprising amount of feel from this racquet, which, when coupled with the spin I was getting, worked well for me on drop shots and angles."
Spencer also compared the BLX Tour to the previous Wilson Tour racquets, saying, "I've liked the Tour line of racquets since the nTour, as I've felt they offer a very solid response with easy power. The latest BLX Tour is quite similar. The crisp feel and solid response were evident from the first hit, though the depth and power I was expecting wasn't up to par with past models. I think the lower swingweight may have played a part in reducing the power, but on the flip side, it felt more maneuverable. It was easy to swing off both wings, and like the previous Tour, I liked the backhand slice. The racquet clipped the ball nicely, oftentimes producing a low, skidding bounce."
Karly was another playtester who enjoyed hitting groundstrokes with the BLX Tour. She said, "I partly stuck with the nTour for so long because I loved how easy it was to get depth behind my shots, and the newer BLX Tour 95 version does the same thing. The extra length made hitting deep come naturally; I didn't have to put much effort into hitting my groundstrokes back to the baseline. The amount of power I was able to generate from the 95 square-inch head surprised me; if I didn't know the headsize from the beginning, I would've thought it was 100+ square-inches. However, a disadvantage for me was the lack of maneuverability combined with the added power. If I wasn't able to get my racquet back in time, and didn't have control over my shots, I found the ball soared far from where I was aiming."
Volleys - Score: 78
The BLX Tour was a favorite when hitting aggressive volleys with lots of punch, though it lacked a little feel and touch. Spencer liked the crisp response that he found on volleys. He said, "Punching or putting away volleys seemed almost effortless. It performed better for me in this regard than it did for touch and placement volleys, but then again, I suppose the user might have had a role in the lack of touch."
Siobhan didn't have a great time volleying, but like Spencer, did enjoy the punch the racquet provided. About volleys, she said, "Not a strength for me with this racquet. The even balance made it hard to maneuver, and when the ball came onto me fast I couldn't get my racquet back in time. This was definitely an issue because it was hard for me to put enough strength behind the racquet by myself. When I did have time I was able to get some nice punch. As for overheads, it was not good, not bad. I would have liked a little bit of added help in maneuverability or control."
Finding the racquet crisp enough to help him pop volleys away with good accuracy was Chris, saying, "Again, I enjoyed the combination of maneuverability and stability. During both singles and doubles play the racquet felt quick and precise. I would definitely add a leather grip to suit my personal taste for a more head light racquet, but this one felt good even in stock form."
Really enjoying volleys with the BLX Tour was Karly. She said, "This racquet was a ton of fun to volley with. Usually I'm hesitant to come up to the net, but with this racquet it was a different story. The racquet packed quite the punch and was very comfortable on the arm. Its power made it easy to hit quick put-away volleys that also felt solid and crisp. The slightly longer frame also helped my reach, which is always an additional bonus for me. I didn't have as hard a time with mobility when hitting volleys, which made it easier to rally with at net.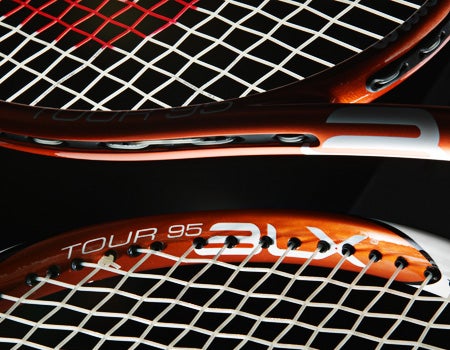 Serves - Score: 79
Our playtesters liked the spin and pace they could create, generally finding serves with the BLX Tour to have a little extra velocity. Wanting more than what the racquet gave him was Spencer. He said, "I was looking forward to some free power here, but I didn't get exactly what I was looking for. Spin and placement trumped the power in this category. This was not what I had experienced from previous models, as the extended length and swingweight had played a part in providing some extra velocity."
Karly loved the extra leverage on serve that the slightly longer racquet offered. She said, "I really felt that it helped generate more velocity and power behind my serves. I also enjoyed the amount of spin I was able to produce. Its spin-friendly frame helped boost my confidence in any serve that I decided to hit. Though I thought the maneuverability was average on the serve, the racquet was a little bit harder on my shoulder, though I don't think it affected my stroke at all."
Siobhan had a mixed review on serves. She said, "On one hand, I could get a lot of spin and pace. I felt like I was hitting my first serve really cleanly and spin was easy to generate on my second. On the other hand, I felt like there weren't many options on variation. The racquet was great for a faster, flatter serve with decent spin, but if I wanted to hit a bit more of a kick, or hit with some extra power, or give myself some height over the net, then my serve tended to go down the pipes. I had to adjust to this racquet more than I would have liked, and double faulted my way through some service games until I got the hang of it."
Chris found the ease of use continued to ring true on serve. He said, "I found easy access to both pace and spin. I liked the way the racquet came through the ball. My serves had decent weight to them -- better than I expected. While I never get the pace or power to rack up aces with any racquet, with this one I was able to force a weak return and end the point quickly. I liked the spin I was getting on my second serves, and it definitely helped me be consistent."
Serve Returns - Score: 82
Big power was provided by this racquet, making returns being a favorite shot with most of our testers. Chris loved how he could step in and rip returns. He said, "The control was there to allow me to stay aggressive and not worry about over-hitting. We had this racquet strung with Kirschbaum PLX co-poly and it proved to be very, very spin-friendly. I was able to hit short angles, roll the ball deep or attack with spin and power to keep my opponent guessing."
Service returns were a big favorite for Siobhan, who said, "This racquet handled anything coming my way beautifully. Powerful returns were my forte, especially in doubles. Getting the ball low at the server's feet was extremely easy. It was very fun hooking low, heavy returns back with this racquet."
Also finding returns a strength with this racquet was Spencer. He said, "The BLX Tour felt plenty stable considering its weight. I was happy with how it handled harder or heavier serves, yet it was light enough to be able to take a good crack at some second serves as well."
Having some issues was Karly, who said, "Returning serves was where I thought the racquet lacked the most in maneuverability, especially when hitting against hard hitters. Sometimes it was difficult to bring the racquet around in time, however, as long as I was able to make contact in the center of the stringbed, the powerful frame gave me enough pace to get the ball back without a full stroke."
Overall - Score: 80
Likes
Chris - "I liked the combo of maneuverability and stability, plus the spin, control and power."
Karly - "I really enjoyed the depth I got on my groundstrokes, as well as the stability and comfort with volleys."
Spencer - "The solid feel and ease of swing."
Siobhan - "Serve returns and the ability to rip low heavy balls."
Dislikes
Chris - "Nothing really. I would tail weight it to make it slightly more head light, but that is just due to my personal preference for feel."
Karly - "I would've liked to have seen a little more control from this powerful 95 square-inch frame. At times the lack of maneuverability made the racquet a bit inconsistent."
Spencer - "I would prefer a bit more heft, but it's still good at stock weight."
Siobhan - "Hard to maneuver at net."
Comparing the BLX Tour to other racquets our testers said:
Chris - "For me, this racquet is better than both the BLX Juice 100 and Steam. I found all the spin and power I got from those racquets, but this one has better feel, control and stability. It also felt slightly faster than the previous version, and I thought the cosmetic was an improvement."
Karly - "Compared to the older generation, the nTour, the biggest difference I noticed was the power. The newer version surprised me at first with how much more powerful it was compared to the nTour. I also thought this version improved stability and comfort."
Spencer - "It definitely has the same type of feel and response as several of the previous versions of Wilson Tour racquets, but compared to the last version it seemed to lack some of the power."
Siobhan - "This racquet was very similar to the previous versions of the Tour, and I have to say I preferred it over them. I found my shots to be cleaner and more spin friendly."
Technical Specifications

Length
27.25 inches
69 centimeters
Head Size
95 square inches
613 square centimeters
Weight
10.7 ounces
303 grams
Balance Point
13.6 inches
34.5 centimeters
1pt Head Light
Construction
22.5mm Straight Beam
Composition
Basalt
String Pattern
16 Mains / 20 Crosses

Babolat RDC Ratings

Score

Grade

Flex Rating
62
Range: 0-100
Swing Weight
321
Range: 200-400
Scores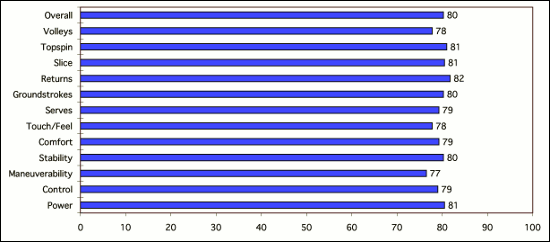 (Scores are determined by averaging individual play test scores)
Chris's Scores
Power
8.1
Serves
8
Control
8.2
Groundstrokes
8
Maneuverability
8.3
Returns
8.2
Stability
8
Slice
8
Comfort
7.8
Topspin
8.2
Touch/Feel
7.9
Volleys
8
Overall
8
Karly's Scores
Power
8.3
Serves
8
Control
7.6
Groundstrokes
8.1
Maneuverability
7.4
Returns
7.9
Stability
8.3
Slice
8
Comfort
8.4
Topspin
8.3
Touch/Feel
8.2
Volleys
8.5
Overall
8.2
Spencer's Scores
Power
7.8
Serves
7.8
Control
8
Groundstrokes
8
Maneuverability
7.9
Returns
8
Stability
8
Slice
8.2
Comfort
7.7
Topspin
7.9
Touch/Feel
7.5
Volleys
7.8
Overall
7.9
Siobhan's Scores
Power
8
Serves
7.9
Control
7.8
Groundstrokes
8
Maneuverability
7
Returns
8.6
Stability
7.8
Slice
8
Comfort
7.8
Topspin
8
Touch/Feel
7.5
Volleys
6.8
Overall
8
Playtester Profiles
Chris: 5.0 all court player currently using the HEAD Youtek IG Prestige Midplus. Chris uses a full-western forehand grip, has a fast swing style and hits a one-handed backhand.
Karly: 4.0 baseline player currently playing with the Wilson nCode nTour. She hits with a semi-western forehand grip and uses a two-handed backhand.
Spencer: 4.5 baseline player currently using the Prince EXO3 Tour 100 16x18. Spencer uses a semi-western forehand grip, and hits with a one-handed backhand.
Siobhan: Open level player with a semi western forehand and a two handed backhand. She currently plays Wilson KBlade Team.

Review date: March 2012. If you found this review interesting or have further questions or comments please contact us.
All content copyright 2012 Tennis Warehouse.