Wilson BLX Six.One Team Racquet Review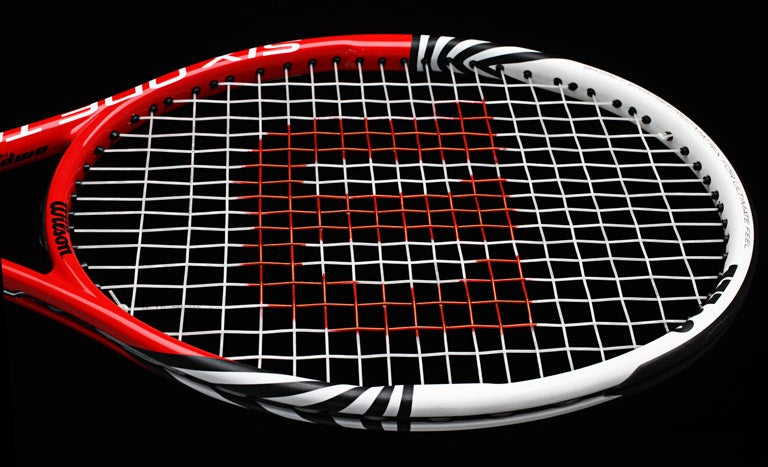 Wilson BLX Six.One Team Scores
Comfort
84
Touch/Feel
78
Serves
79
Groundstrokes
83
Returns
85
Slice
79
Topspin
80
Volleys
84
Overall
83
Upsides
Feel
Maneuverability
Control
Comfort
Downsides
Nothing we could agree on
Summary
Judging from the responses of our playtesters, the 2012 update to the Wilson BLX Six.One Team is going to turn some heads. The new Amplifeel technology uses an innovative handle system to reduce harsh vibrations, and the switch to an open string pattern has expanded the sweetspot. Together these changes add up to more comfort -- a fact not lost on our team. In addition to comfort, Wilson has kept this racquet very maneuverable, which explains why our testers were able to position the racquet so quickly and explode through contact. With its 95 square inch head and lighter weight, the new BLX Six.One Team errs on the side control. While our testers occasionally had issues with the power level and stability, none of them walked away disappointed. Ultimately, Wilson has created a very comfortable all court racquet for the intermediate to advanced player who places a premium on maneuverability, comfort and precision.
Groundstrokes - Score: 83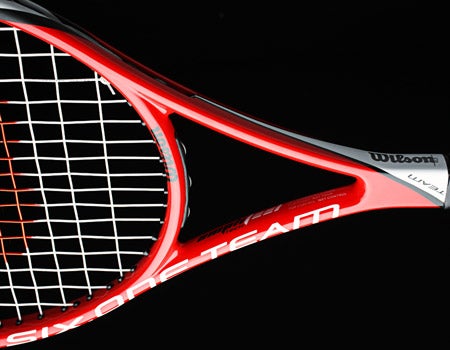 The The Wilson BLX Six.One Team proved very user-friendly from the baseline, giving our team a nice combination of comfort, spin and control. Mike had great results, saying, "This racquet required very little adjustment on groundstrokes. Forehands and backhands felt great, and the maneuverability made it easy to swing through the ball to generate speed and spin."
Appreciating the feel, Brittany settled into a groove after calibrating her strokes to the smaller headsize. She said, "The first thing I noticed when I started hitting with this racquet was the great feel, which was very easy to adjust to. I immediately felt comfortable playing with it. The slightly smaller headsize did require some adjustment. The first few days I had a couple shanks before I was able to dial in on the nice sized sweetspot. I found a good combination of power and spin off both wings. I was able to really put some juice on the ball on aggressive shots and found enough spin to keep the ball in play when I was on the defensive."
Despite wanting a tad more power, Siobhan found comfort and easy shot-making from the backcourt. She said, "I was impressed with how comfortable this racquet was. Normally it takes some time for me to adjust to a new racquet, but I fell right into a groove with this one. The specs were right where I like too, so it was easy right 'out of the box.' Sometimes racquets hamper shot-making, but this one allowed me to do whatever I liked -- I could get spin and depth without much fuss. The only downside was the lack of power, but if I kept my racquet speed up then it was great. I very much enjoyed the control, though I lost a bit when I slowed my racquet speed."
Agreeing with Siobhan, Karly was equally impressed by the control and comfort, but also wanted a little more pop. She said, "The control and comfort of this racquet were excellent. I felt like most of my shots landed within a foot of my target, which provided the necessary confidence for aggressive tennis. It was also arm-friendly, so I didn't have to ease up or stop playing, and it was very maneuverable. I thought the balance played more head light than the specs, which helped with head speed. Though the racquet was comfortable, maneuverable and made directing my shots easier, I would've liked more power from the baseline. It had control, but I had a hard time generating power on groundies. When hitting against pace it wasn't an issue, but when it came time for me to produce my own pace I had to swing for the fences to get any kind of depth."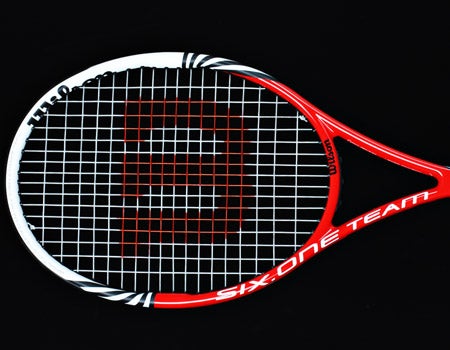 Volleys - Score: 84
Our team enjoyed the Wilson BLX Six.One Team at net. Finding that magical combination of maneuverability and stability was Siobhan. She said, "Comfortable! It was easy to maneuver and put sufficient mass behind the ball. It's pretty light, so you can move it around well, but it has enough stick to really put balls away."
Mike agreed wholeheartedly, adding, "This racquet was really easy to handle at net. The feel and weight of the racquet made it a cinch to hit drop volleys or place the ball on a dime. More importantly, the easy handling was coupled with great shock absorption, making this one of my favorite volleying sticks."
Karly also found the right blend of power, stability and maneuverability. She said, "The head light balance helped make this racquet really easy to maneuver up at net. It didn't take much energy to make contact. It was comfortable, stable and offered good control. The low power from the baseline wasn't an issue at net, and I was able to get enough pop. If I had to pick one disadvantage, I'd say the sweetspot was smaller than average, but the good maneuverability more than made up for it."
While not completely blown away, Brittany could not deny the solid overall performance at net. She said, "I have nothing bad to say on the volley front. The racquet performed exactly as expected. I liked the feel and maneuverability of this racquet. I could put the volley away deep or angle it short without any problems. I didn't find anything the racquet did extremely well at net, but it did everything well enough that I have no complaints."
Serves - Score: 79
Serving with the BLX Six.One Team was a mixed bag. The biggest fan was Mike, who was able to swing fast enough to generate some heat. He said, "Serving with this racquet was a lot of fun and gave me many free points. I was able to really power through the ball, whether going big or throwing in a kicker. I got tons of pop and of control, most likely due to the maneuverable weight."
A familiar story in tennis, there was power but little control for Karly. She said, "Serving produced the opposite effect from groundstrokes -- I got more power than control. It was really easy to crank fast serves, and the maneuverable swingweight kept my arm from getting tired. However, I think a more head-heavy balance would make the racquet less whippy and thereby add some needed control."
On the flip side, Siobhan had control but lacked power. She said, "While comfortable and clean to hit with, the lack of power showed up more on serve. I had to work a lot harder to get the pace I wanted, which didn't do my shoulder any favors. Spin serves were good, though, and I had good control."
Unable to find a groove on serves, Brittany said, "Sadly, the serve was probably the only stroke I didn't fully enjoy with this racquet. I felt like I never really hit to my full potential. I couldn't generate enough pop on my first serve, and my second serve produced only a little spin and kick."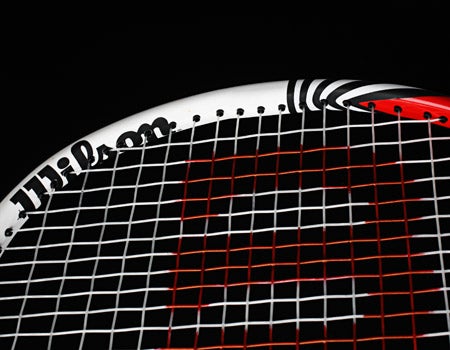 Serve Returns - Score: 85
Our testers really enjoyed the BLX Six.One Team on serve returns. Brittany found the perfect balance of power, stability and control. She said, "My serve return is my favorite shot to hit in general, and hitting it with this racquet was no exception. I found this racquet to be extremely maneuverable and stable, which produced solid, deep returns. I enjoyed this both on first serve returns, where I was able to step in and use the serve's pace to hit a return, and when I had to create my own pace on a second serve return."
Echoing Brittany's high praise, Karly said, "Returning serves was my favorite thing to do with this racquet. The BLX Six.One Team was extremely easy to swing and remained solid against heavy pace. I could get my racquet back in time while still getting control and power. No complaints on service returns. If only all racquets felt like this when returning -- it was great!"
Siobhan achieved excellent results through sound preparation. She exclaimed, "Great! If I swung early and set up well, I could really rip some good returns. Again, the control showed up well here if I kept my swing speed up."
Having mixed results was Mike, who found the maneuverability to be 95 percent a blessing and 5 percent a curse. He said, "The majority of returns felt great because I could explode fully through contact without fear of the ball flying. Not having to hold back is always good. However, I found it a little tougher to stabilize the racquet and execute a controlled response when my opponent brought the high heat."
Overall - Score: 83
Likes
Mike - "Great feel and maneuverability! It was nice being able to swing through the ball on every shot and still be able to keep it in play."
Brittany - "I liked the feel, along with the combination of power and spin I got on my groundstrokes."
Siobhan - "Excellent control and comfort - and was great with a poly (which allowed me to swing my little heart out)."
Karly - "Loved the control! I felt like a sharpshooter with this racquet. It gave me a ton of confidence."
Dislikes
Mike - "Mild complaint of racquet twisting on returns. Besides that, everything was very good. No complaints."
Brittany - "I didn't like serving with this racquet, as I wasn't able to hit all my different serves."
Siobhan - "Loss of power and control on slower swing speeds -- but that's just encouragement to keep my swing speed higher!"
Karly - "The balance - it felt more head light than it actually was. I think if more of the weight was distributed toward the top of the frame it would've helped generate more power on groundstrokes and more control on serves."
Comparing the Wilson BLX Six.One Team to other racquets they've hit, our testers said:
Mike - "This one offered better feel and comfort than last year's model. This is definitely one of my favorites."
Brittany - "I found this racquet to be similar to the Head YOUTEK IG Radical S and Tecnifibre Rebound Pro. It is similar to the Head YOUTEK IG Radical S in its power and comfort, only more stable. In terms of feel and maneuverability, this is a lot like the Tecnifibre Rebound Pro."
Siobhan - "This reminded me of a lighter Mantis Tour 305, which is also loaded with comfort and control."
Karly - "The feel, comfort and stability reminded me of the Wilson BLX Tour 2012 racquet. Both racquets felt comfortable on the arm while providing good stability."
Technical Specifications

Length
27 inches
69 centimeters
Head Size
95 square inches
613 square centimeters
Weight
10.7 ounces
303 grams
Balance Point
13.4 inches
34 centimeters
0.8pts Head Light
Construction
21mm Straight Beam
Composition
Karophite Black / Basalt
String Pattern
16 Mains / 18 Crosses

Babolat RDC Ratings

Score

Grade

Flex Rating
63
Range: 0-100
Swing Weight
318
Range: 200-400
Scores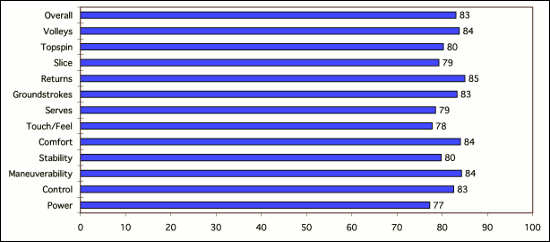 (Scores are determined by averaging individual play test scores)
Mike's Scores
Power
8.1
Serves
8.8
Control
8.5
Groundstrokes
7.8
Maneuverability
8.5
Returns
8.6
Stability
7.5
Slice
8.2
Comfort
8.5
Topspin
8
Touch/Feel
8.7
Volleys
9
Overall
8.4
Brittany's Scores
Power
8.2
Serves
7.6
Control
7.7
Groundstrokes
8.4
Maneuverability
8.5
Returns
8.5
Stability
8.2
Slice
7.8
Comfort
8
Topspin
7.7
Touch/Feel
7.8
Volleys
7.8
Overall
8.1
Siobhan's Scores
Power
7
Serves
7
Control
8.5
Groundstrokes
9
Maneuverability
8.5
Returns
8.6
Stability
8
Slice
7.8
Comfort
9
Topspin
8.6
Touch/Feel
7
Volleys
8.5
Overall
8.3
Karly's Scores
Power
7.6
Serves
8
Control
8.3
Groundstrokes
8.1
Maneuverability
8.2
Returns
8.3
Stability
8.2
Slice
7.9
Comfort
8.1
Topspin
7.8
Touch/Feel
7.6
Volleys
8.2
Overall
8.4
Playtester Profiles
Mike: 5.0 baseliner with a semi-western forehand and two-handed backhand. His current racquet of choice is a customized Prince Triple Threat Warrior.
Brittany: Open level player with a semi-western forehand and a two-handed backhand. She currently plays with the Yonex V-Core 100S.
Siobhan: Open level player with a semi western forehand and a two-handed backhand. She currently plays Wilson KBlade Team.
Karly: 4.0 baseline player currently playing with the Wilson nCode nTour. She hits with a semi-western forehand grip and uses a two handed backhand.

Review date: June 2012. If you found this review interesting or have further questions or comments please contact us.
All content copyright 2012 Tennis Warehouse.