Wilson BLX Six.One Pro Staff 95 Racquet Review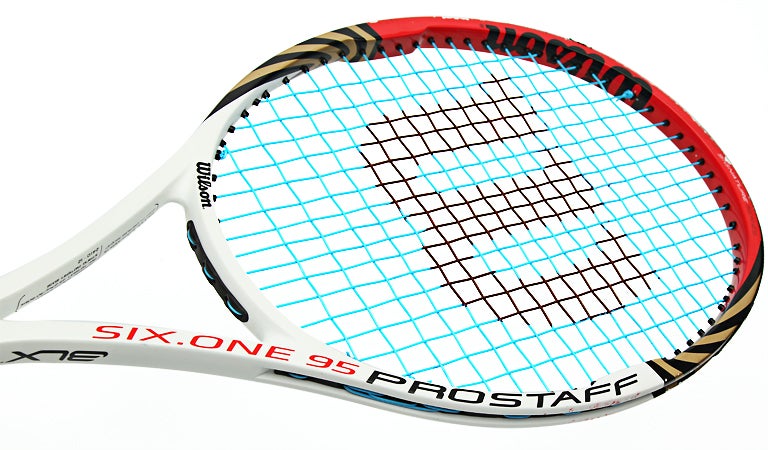 Wilson BLX Six.One Pro Staff 95 Scores
Comfort
82
Touch/Feel
86
Serves
83
Groundstrokes
77
Returns
83
Slice
84
Topspin
85
Volleys
83
Overall
81
Upsides
Maneuverability
Touch
Feel
Control
Precision
Summary
Wilson offers up a light and fast addition to the Six.One line-up with the BLX Six.One Pro Staff 95. The fast feel along with the open string pattern made for great spin for our testers from the baseline and on serve. With power lacking from the racquet's light 11.5 ounce strung weight, low 306 (RDC) swingweight and flexible 62 RA frame, our testers found spin the best form of attack. At net the racquet provided excellent maneuverability and touch. Stability was adequate, and the open string pattern helped with depth. In the hands of a skilled all court player, this racquet delivers all the feel and spin needed to move the ball and attack with variety. Stronger players will also find room to customize this racquet to their weight/balance preferences. We would start by adding a TW leather grip and some lead at the 3 & 9 o'clock positions on the hoop to increase power and plow through, while maintaining a head light balance. In stock form this racquet feels very light, very fast, very spin-friendly and very control-oriented. If that sounds like your cup of tea, we highly recommend drinking in the performance of the BLX Six.One Pro Staff 95 with some demo time.
Groundstrokes - Score: 77
From the baseline our testers noticed how fast and easy to swing the Six.One Pro Staff 95 was, while getting good access to spin and low powered precision. Chris found this version of the BLX Pro Staff 95 to be fast, but to lack mass. He said, "I was very excited to see this racquet in the 2012 Wilson line-up because at first glance it looked like the Pro Staff 6.0 95 was back. However, this racquet is much lighter and not as head light. While it is definitely more maneuverable and spin-friendly, it doesn't offer anywhere near the plow through of the old Pro Staff 6.0 95. The string pattern on this one is very open, with the last cross string so close to the throat of the frame that it seems purely there to make up the numbers rather than have an impact on playability. When strung up with a full bed of Luxilon ALU Power or another monofilament co-poly, the amount of topspin and slice I could hit was very impressive. I found pace easy to generate and the racquet to be very forgiving. I would have to customize this racquet with a TW leather grip and some lead tape to be able to say the 6.0 95 is back. In stock form it was lacking enough mass for me, and it feels too far removed from the BLX Six.One Pro Staff Tour."
Enjoying a more user-friendly feel was Jason. He said, "This version of the Six.One 95 felt more user friendly than past models, but as I found out throughout the playtest, it's still not the best racquet for me. I felt that it was too low powered and unforgiving on shots hit outside the small sweetspot. However, there were still quite a few positives. I enjoyed the maneuverability and the angled shots I was able to hit. The access to spin was great as well. I was hitting slices well off both wings. Touch was a positive. Not only was I converting a higher percentage of my drop shots, but I also felt like I was able to really dial in the depth of my lobs as well."
Jose felt at home with the low powered response. He said, "The best comparison I have to this racquet would be any of the Wilson Six.One 95 18x20 models. The Wilson Pro Staff 95 played similarly, having that control and maneuverability that the Six.One family is known for. I enjoyed every aspect of this racquet since it really allowed me to generate the power myself. The feel and control of the racquet were amazing. I was able to really crush the ball without sacrificing control on put-away shots. While I did enjoy the control, I had a hard time keeping the ball deep and getting some weight behind my shots."
The spec range suited Spencer. He said, "I was pretty excited when I learned there was going to be a 95 in the Pro Staff line. Being a fan of the 90, though smart enough to know it doesn't suit my game, I felt the 95 might be much more accommodating. When I got on the court I wasn't disappointed. I liked the spec range, and that translated onto the court. The low swingweight made racquet head speed easy to achieve, allowing for some decent pop, as well as spin. It felt very comfortable off both wings, and I felt particularly at home with the topspin backhand. It seemed to groove well with my swing. A 95 will probably never be as forgiving as I may need, but this one sure feels good."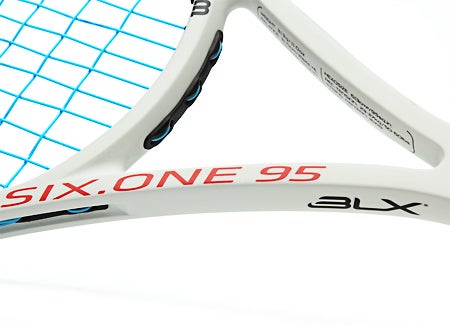 Volleys - Score: 83
Great maneuverability, along with plenty of touch and feel, were the strengths of the BLX Pro Staff 95 at net. Finding this racquet to help his net game was Jason. He said, "I enjoyed this racquet quite a bit up at net. As long as I prepared early I was rewarded with a solid volley. If I was able to get the racquet on the ball when I was stretched out wide I was usually able to get it back over with some control. I've been really trying to work on my volleys lately, and I feel like this racquet is an asset for me when I'm up near the net."
Chris liked the ball pocketing and maeuverability. He said, "A very fast racquet at net with good feel, this one was fun to wield when volleying. It doesn't have quite the punch I'd like, but the open string pattern provided a lively enough feel for easy access to depth. I found some good ball pocketing in the stringbed and was able to find my targets on touch volleys."
The touch and feel impressed Jose, who said, "The head light balance really allowed me to be quick at the net. The touch and feel behind every volley were just amazing. It was really easy for me to put the ball anywhere in the court."
Spencer liked the racquet's balanced attributes at net. He said, "The feel of this racquet at net was pretty fast. Combine that with a fairly solid feel, and it made for good volleys. I felt it offered a nice blend of enough put-away power and enough touch for delicate shots."
Serves - Score: 83
Though there wasn't a ton of power offered from the racquet, the excellent spin and control proved to be effective when serving. Getting excellent spin on serve was Chris. He said, "I liked serving with this racquet. My favorite serve to hit was a spin serve with either kick or slice. I could get about the maximum spin I can generate, and I was very happy with how it allowed me to hit to a variety of targets. On flat serves I was getting decent pace, but I wasn't hitting a penetrating ball. Again, some added weight would do wonders."
Jason liked the precision but was hoping for more power. He said, "If I could sum up this racquet in two words, they would be control and accuracy. I still felt like it lacked power, but it's not like I'm known to blow my opponents off the courts with my serves anyway. I felt like I could move the ball and place it where I wanted. I appreciated the low swingweight, as I was able to generate some nice racquet head speed."
Spencer agreed, saying, "Though I would have loved more power, I found it offered excellent control. With the open string pattern, spin access was good. That, along with the accuracy, allowed for enough variety to help keep the returner off balance."
Finding amazing accuracy was Jose. He said, "Just like any other head light control frame, it was hard for me to generate much power but the control was amazing. I was able to put the ball anywhere I wanted in the service box."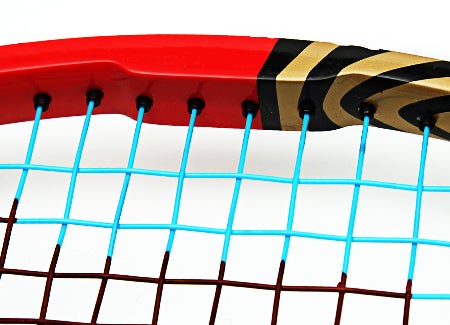 Serve Returns - Score: 83
The excellent maneuverability allowed most of our playtesters to be more aggressive on returns. Returning with high confidence was Spencer. He said, "A swingweight in the low 300s allowed for outstanding mobility. I felt very confident when returning. Whether it was slicing back a deep ball or coming over the top with some vigor, I felt I could get into the point with opportunities to dictate."
Chris found plenty of variety. He said, "The light and fast feel made it easy to take a good cut at the ball on returns. Impressively, I found decent stability when blocking the ball back. The racquet offered some nice flex, which complemented the spin-friendly string pattern. It felt like I was getting a tad more time, as the racquet flexed, to add more spin. I hit some great angle returns with this racquet and was also able to roll the ball deep with spin. When I took a good crack at the ball the racquet responded well, and I found good accuracy."
Taking advantage of the low power was Jason. He said, "Finally, the low powered response was a plus. With my returns, I could take a pretty aggressive cut at the ball and still keep it in the court. I almost had to take big swings at the ball, otherwise, they'd land well short. And when I had to slice back a return, as long as I consciously made an effort to hit it a bit harder than I typically would, it was fine."
Jose had a tough time being aggressive. He said, "Having the balance of the racquet distributed the way it was, I was able to get the racquet to a lot of balls. Unfortunately, the low swingweight made it hard for me to be offensive. I would have to get outside my comfort zone and try to generate more power myself in order to take control of the point."
Overall - Score: 81
Likes
Chris - "I liked the spin, comfort, flex, feel and forgiving nature of the racquet. It would also be easy to customize this to the spec it should be."
Jason - "I liked the feel/touch the most, and it's easier to swing than previous models."
Jose - "I love the control the racquet gave me. It really allowed me to generate my own power and crush all my put-away shots. I love control-oriented racquets that won't hold me back when I'm trying to play aggressive tennis."
Spencer - "The balance of its specs and how well it performs from all areas of the court."
Dislikes
Chris - "It was too light to be a Six.One swing index racquet for me. While I now know it is well suited to a long, fast swing, looking at Wilson's numbering history, this one should be called a 5.6 or something similar. Basically, it needs weight and a more head light balance for me if it is to live up to the name printed on the frame."
Jason - "Lack of power from all areas. Small sweetspot."
Jose - "The only dislike I had was that the racquet swingweight was way too low. I prefer playing with a swingweight of around 350 to really get some weight behind my shots."
Spencer - "A little more pop would have been nice, otherwise I really liked it."
Technical Specifications

Length
27 inches
69 centimeters
Head Size
95 square inches
613 square centimeters
Weight
11.5 ounces
326 grams
Balance Point
12.625 inches
32 centimeters
7pts Head Light
Construction
18mm Straight Beam
Composition
Karophite Black / Basalt
String Pattern
16 Mains / 19 Crosses

Babolat RDC Ratings

Score

Grade

Flex Rating
62
Range: 0-100
Swing Weight
306
Range: 200-400
Scores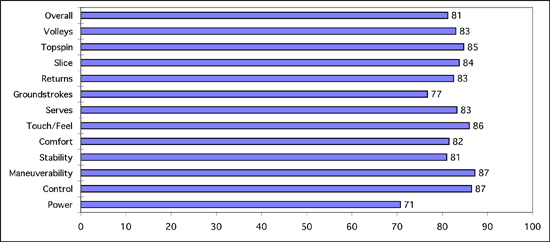 (Scores are determined by averaging individual play test scores)
Chris's Scores
Power
7.6
Serves
8
Control
8.4
Groundstrokes
8
Maneuverability
8.2
Returns
8.2
Stability
7.8
Slice
8.2
Comfort
8.3
Topspin
8.4
Touch/Feel
8.4
Volleys
8
Overall
7.8
Jason's Scores
Power
6.8
Serves
8.4
Control
8.9
Groundstrokes
7.4
Maneuverability
9
Returns
8.3
Stability
7.6
Slice
8.2
Comfort
8
Topspin
8.2
Touch/Feel
8.8
Volleys
8.2
Overall
8.1
Jose's Scores
Power
6.7
Serves
9
Control
9
Groundstrokes
7
Maneuverability
9
Returns
8
Stability
9
Slice
9
Comfort
8
Topspin
9
Touch/Feel
9
Volleys
9
Overall
8.4
Spencer's Scores
Power
7.2
Serves
7.9
Control
8.3
Groundstrokes
8.3
Maneuverability
8.7
Returns
8.5
Stability
8
Slice
8.1
Comfort
8.3
Topspin
8.3
Touch/Feel
8.2
Volleys
8
Overall
8.2
Playtester Profiles
Chris: 5.0 all court player currently using the HEAD Youtek IG Prestige Midplus. Chris uses a full-western forehand grip, has a fast swing style and hits a one-handed backhand.
Jason: 4.0 baseliner with a semi-western forehand and two handed backhand. Currently using a Boris Becker Delta Core London.
Jose: 5.0 baseliner with a semi-western forehand with a 2 handed backhand. Currently using the Prince EXO3 Tour 18x20.
Spencer: 4.5 baseline player currently using the Prince EXO3 Tour 100 16x18. Spencer uses a semi-western forehand grip, and hits with a one-handed backhand.

Review date: January 2012. If you found this review interesting or have further questions or comments please contact us.
All content copyright 2012 Tennis Warehouse.