Wilson Optimus String Review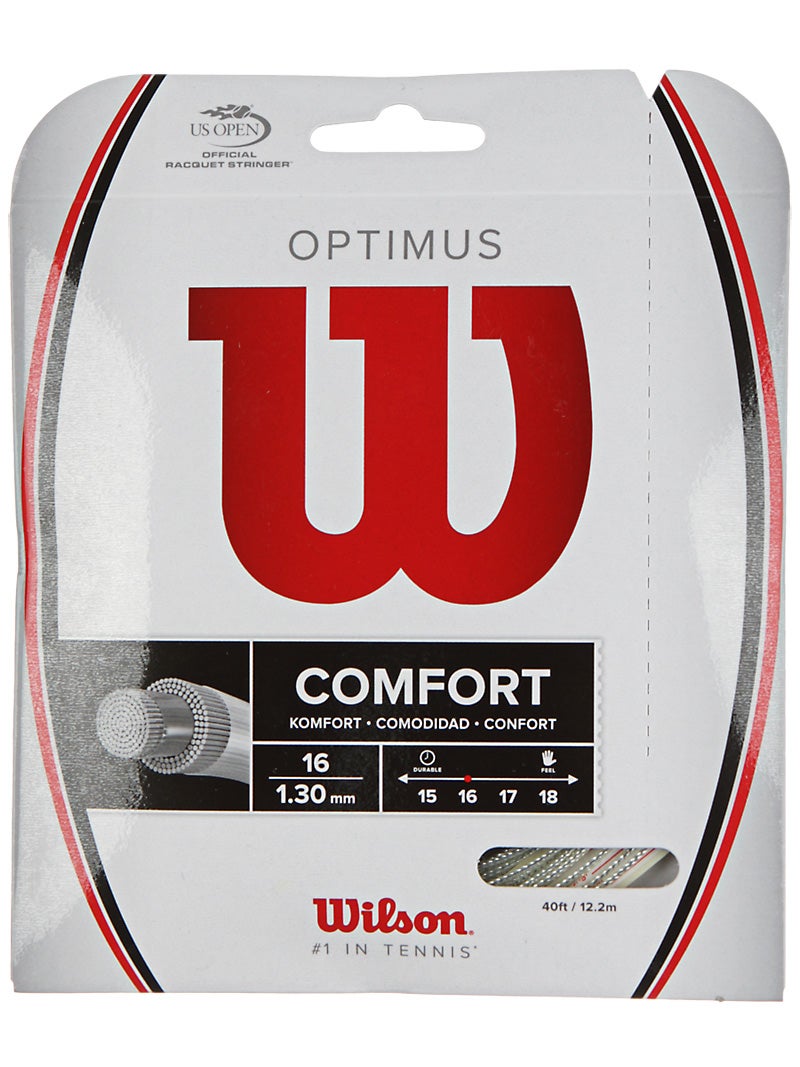 Wilson Optimus String Scores
Power
82
Spin
71
Comfort
85
Control
74
Feel
81
String Movement
63
Playability Duration
76
Durability
67
Overall
80
Upsides
Comfort
Feel
Controllable Power
Downsides
Not enough durability or spin potential for advanced poly players
Summary
When it comes to arm-friendly comfort, Wilson Optimus stacks up quite favorably against the competition. In fact, it received a lower stiffness score in our TW String Lab than Gamma Professional, Babolat Xcel, Wilson NXT or Tecnifibre NRG2 (no easy task). Even more impressive, at least for our playtest team, was how the comfort was accompanied by a refreshingly crisp and controlled response, one that avoided the pitfall of mushiness that afflicts many of the softer multifilaments. When it was strung at higher tensions we not only had more than enough responsiveness and touch around the net, but we also found Optimus to be quite predictable and precise on big groundies. As for spin, Optimus lacked the bite and snapback of a polyester, but it should be noted that one of our playtesters found above average spin for a non-poly. All in all, Optimus looks like a very versatile multi, one that should give the "soft string" crowd the typical trappings of comfort, touch and pop, while also providing just enough control and spin for those who like to take bigger cuts at the ball.
Power - Score: 82, Control - Score: 74
Both our playtesters were pleasantly surprised by the level of control they got from Optimus, which has more power than the polys they typically use. Brittany explains, "I was a little worried that putting this multifilament in my powerful Yonex VCORE 100 S was going to create too much power. I was happily relieved to find that this is a lower-powered multifilament. I had enough control to take a full, fast swing and still keep the ball deep in the court and on target. During my playtest I played several sets of doubles, and I found a solid combination of power and control when it came to serves and returns, as well as passing shots."
Chris also found a decent compromise between control and power, saying, "I would say this string offers controllable power. It is soft and pockets the ball well, but it doesn't launch the ball with massive power like some multifilaments. I had enough control to be able to swing fast most of the time without fear of overhitting. I never found the high level of control a poly monofilament based string offers, but I definitely found more control than many multis. On a power/control front, I'd say this string plays close to Babolat Xcel."
Spin - Score: 71
Not surprisingly, Optimus did not grab and rotate the ball like our playtesters' favorite polys. Even so, Chris was able to squeeze some decent spin from this string. He said, "I was pleasantly surprised by how much spin I could get on the ball with this string. It offered solid grab, and I was hitting a good level of both topspin and slice with it. For a multi, I'd say it is very spin-friendly. I found it right in there with a string like Tecnifibre NRG2. I think the controlled response also helped me get more spin on the ball. I felt confident enough to swing fast, and those fast swings resulted in a faster spinning ball. As with control, this string is not going to compete with polys on the spin front. However, it is still a decent option for the player looking to hit with spin."
"Comparing Wilson Optimus to other multifilaments, I would say it was about average in the spin potential," said Brittany. "There was definitely less spin than I would get from a polyester string. I found I had to constantly make an effort to add extra spin to my groundstrokes to keep my balls in the court."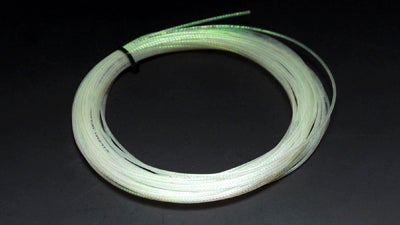 Comfort - Score: 85
The highest score awarded to Optimus was for comfort. Brittany definitely appreciated the smooth ride. She said, "I was impressed with the comfort I received from this string even when it was strung at higher tensions. Off-center hits were comfortable on my arm/elbow, and I never felt any unwanted vibrations."
Chris also picked right up on the comfort. He said, "This was a very soft and forgiving string. Even when I shanked a shot here and there, I never felt a lot of shock. When the ball hit inside the sweetspot the string felt very plush and comfortable. This string remains comfortable even at higher tensions. The comfort also came at no expense to feel. Some softer strings can feel mushy, but this string still offered ample feedback and felt nice and crisp when strung around 57 lbs."
Feel - Score: 81
Like natural gut (but to a lesser degree), Optimus manages to be soft, yet wonderfully crisp, especially at higher tensions. Chris explains, "The feel of this string offers a nice blend of being plush and crisp. It felt like the string was pocketing the ball very well at lower tensions. I had the sensation that I could feel the ball deep in the stringbed, and that offered up a combination of touch and comfort. Up around 57 lbs the string felt crisper, yet there was still ample comfort. I felt well connected to where my shots were going at both high and low tensions. I preferred the crisper response of this string at higher tensions because it got me closer to the feel of polys, which are my primary strings. Even so, I'd have to string this string up tight enough to exceed the recommended high tension of my racquet before it felt even remotely as stiff as some of my favored polys."
Also appreciating the crisp feel, Brittany commented, "Wilson Optimus was strung in my racquet at 62 lbs, a slightly higher tension than I'm used to. This gave the string a crisper feel throughout the stringbed. I found a pretty even response no matter where I hit the ball on the stringbed."
Playability Duration - Score: 76
Like all strings, the response of Optimus changes as it loses tension. However, it should be noted that in our TW String lab the tension maintenance of Optimus ranked up there with the best multis. Even so, Brittany noticed some changes after a solid week of hard hitting. She said, "I had no issues with playability for the first week of the playtest. I felt like the feel, tension and comfort stayed constant. At the beginning of the second week I noticed a slight change in power as the strings were losing tension. By the end of the second week I definitely found a lot more power and a drop in control. However, I would say the high comfort was present throughout the playtest."
Having no significant issues with playability, Chris said, "I played with this string for several weeks without durability or tension loss issues. I was playing it in the tight 18x20 string pattern, which probably helped extend both the tension and the durability. I'd say it lasted me better than Xcel on a durability front and about the same on tension hold. Put this string in one of the new Wilson Spin racquets, and I'd saw through it much quicker than a poly or thick gauge nylon monofilament. However, in a racquet with a more regular string pattern, all but heavy string breakers should enjoy plenty of life from this string."
Overall - Score: 80
What type of player would you recommend this to?
Chris - "I thought this was an exceptionally versatile string. Beginners through advanced players will find plenty on offer here. The fact that this string offers great feel, comfort and controlled power makes it also suitable for a wide variety of racquets. In a stiff powerful racquet it will add both comfort and some control. In a heavy and flexible player's racquet it will further enhance feel and open up the sweetspot. It would also make a great cross string with a poly or co-poly main string as it would add comfort without adding too much power or taking away too much spin."
Brittany - "I would recommend this to players with low to medium swing speed that are looking for a comfortable, low powered multifilament string. For players that have faster swings like myself, I would recommend using it in a hybrid as a cross."
Likes
Chris - "I absolutely love the color of this string. Everyone who saw it in my racquet raved about it. The playability more than backs up the looks, and this string is right up there with other premium multis. The level of power, comfort and spin were all favorable for me."
Brittany - "I found this string to be very comfortable. I liked the crisper feel when strung at a high tension and the decent amount of control."
Dislikes
Chris - "I had to straighten my strings after most rallies, especially once the string had been in my racquet for a couple of hitting sessions or more. When fresh, it would snap back some, but this went away as the outer layer (and pearlescent color) wore off."
Brittany - "I would have liked a little more spin out of the string, as well as a little more durability."
Comparing the string to others they've tried, our testers said:
Chris - "This string is right up there with NRG2, NXT and Xcel. On the power front it played similarly to Xcel, which puts it between NXT and NXT Control. On the spin front it was very much like NRG2."
Brittany - "I would say this is very similar to Babolat Xcel. It is a low-powered multifilament with excellent comfort and surprising control. Like with Xcel, I would have liked more spin and durability."
Scores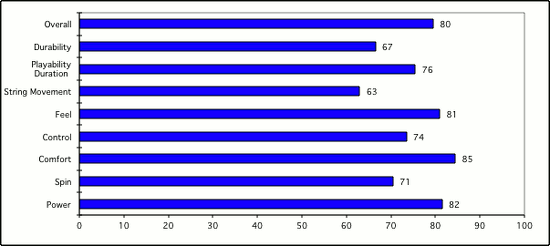 (Scores are determined by averaging individual play test scores)
Brittany's Scores
Power
8
Playability Duration
7.1
Spin
6.6
Durability
6.3
Comfort
8.5
Control
7.4
Feel
7.8
String Movement
6.8
Overall
7.8
Chris' Scores
Power
8.3
Playability Duration
8
Spin
7.5
Durability
7
Comfort
8.4
Control
7.3
Feel
8.4
String Movement
5.8
Overall
8.1
Playtester String Setups
Brittany:
Playtest Racquet: Yonex VCORE 100 S
Playtest Tension: 62 lbs.
Typical String: Poly 16g
Chris:
Playtest Racquet: The Chris Edwards Special
Playtest Tension: 55 Lbs
Typical String: Volkl Cyclone 16

Review date: March 2014. If you found this review interesting or have further questions or comments please contact us.
All content copyright 2014 Tennis Warehouse.