Wilson Juice 100S Racquet Review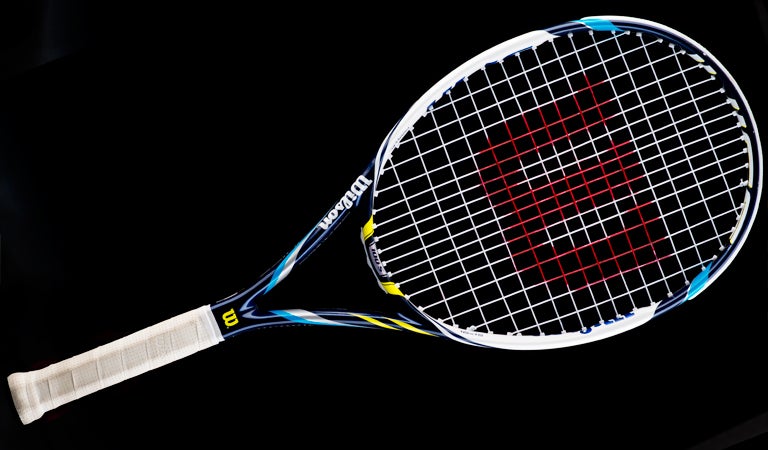 Wilson Juice 100S Scores
Power
89
Comfort
76
Touch/Feel
74
Serves
80
Groundstrokes
79
Returns
79
Slice
84
Topspin
93
Volleys
81
Overall
79
Upsides
Power and spin to spare
Forgiving
Fast feeling
Summary
Wilson introduces Spin Effect Technology to its most powerful racquet line in the Juice 100S. With an open 16x15 string pattern, this new racquet will have your shots loaded with heavy spin and lots of power. The added spin potential helps control some of the extra juice this racquet possesses. Our playtesters instantly felt the extra 'oomph' from all areas of the court, and they enjoyed how easy it was to turn on their offensive games with this racquet in hand (however, turning it off was another story). All four of our playtesters found the Juice 100S to play with a lot of power, and they were pleasantly surprised at how solidly it performed at the net. From big serves to heavy groundstrokes, this new racquet from Wilson will leave you feeling like you can go big or bigger from any spot on the court, and while it may not be best suited for players with a flatter game, we found this racquet to be easy to use at any level!
Groundstrokes - Score: 79
Our playtesters were in complete agreement over one thing: The Juice 100S is loaded with power and spin! However, this racquet left our playtesters craving a bit more of a consistent, controlled feel, and they noticed their games became a bit erratic when swinging it. Chris said, "Wow! When I had time to set up and take a good cut at the ball, I was hitting crazy shots. The only racquet that gives me close to the power and spin I generate with this one would be the Steam 105S. I must have hit some of the biggest forehands of my life with this racquet. As soon as anything was left hanging on my forehand side I was on it. The downside was that if I didn't tap into the needed spin, it was very easy to launch the ball long with this racquet. I don't hit with as much spin on my backhand, and there was quite an adjustment before I could confidently attack the ball off that wing. Even at the end of the test, I was still firing my flatter drives long and had to consciously add spin to my backhands to help keep my shots within the lines. A full bed of a low powered poly, like Luxilon 4G 1.41mm, helped, but I still had to keep the tension high to help me tame the massive power of this racquet."
Tiffani quickly found easy access to power and spin, but it came at a cost. She explained, "I hit with more power and spin with this racquet. What I didn't hit, unfortunately, was a more consistent ball. Sure, this racquet created a lot of opportunities for me off the baseline; I could hit more winners because of its power level and spin potential. However, that's not my usual game. I tend to play a more consistent, counterpunching style. The Juice 100S didn't always respond the way I thought it would, especially on my flatter shots, so I felt that I needed to change my game to fit the racquet. I gambled more and went for bigger shots, which paid off at times, but the flip side is I also had more errors. I playtested this racquet mostly with a 16g poly (Ripspin), and I still wanted more control. We switched to a thicker gauge of Luxilon 4G toward the end, and that helped some, but I still never quite found the control I needed to play my usual game."
Brittany hasn't had the greatest track record with extremely open string-patterned racquets, so this playtest presented a challenge for her. She said, "The spin-friendly string pattern doesn't complement my game, which is a flatter, more aggressive style. With that in mind, I have to say the Juice 100S is my favorite of these spin racquets. I did need a one-hour hitting session to adjust to this racquet, which is pretty standard for me when it comes to this type of racquet. As I expected, there was a ton of spin potential, and when I wanted to hit heavier, spinning groundstrokes they were dipping in right in front of the baseline. However, when I tried to hit a flatter ball I found a ton of power that had the ball flying significantly past the baseline. I never felt comfortable being completely aggressive because I never felt like I had complete control of the ball. Lastly, the racquet was excellent on slices, and I felt very comfortable hitting them (which is not always the case!)."
"Holy smokes, this racquet generates a ton of power!" exclaimed Karly. "Most of the time I like hitting with control-oriented racquets, so it took me quite a bit of time to adjust to all the power. The ball flew off the racquet no matter how slowly I swung. The stringbed felt forgiving, even if I hit outside of the sweetspot, and my shots still had good pop behind them. In addition to the easy power, the access to spin was tremendous. Whether I was hitting with slice or topspin, the racquet made it really easy to hit with spin, and a ton of it. However, the power was still too overwhelming even when I was trying to keep the ball in with that extra spin. I was hesitant when going for winners because I didn't have much control on my placement. This racquet was so much fun to just rally with because of the unbelievable power and spin. However, when it came time to go for big shots during a match, the lack of control made it hard to keep the ball in."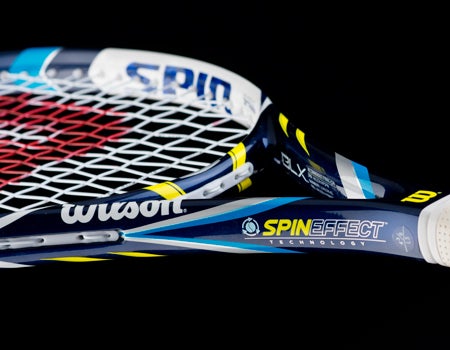 Volleys - Score: 81
In the past, spin-friendly racquets haven't necessarily been the best performers at the net, so our team was surprised at how simple it was to volley well with the Juice 100S. Brittany wasn't sure what to expect, but she was quickly relieved to find that this racquet is very easy to use at net. She said, "The Juice 100S felt stable no matter where I hit the ball on the stringbed, and I had no issues with maneuverability. However, my touch shots weren't quite as sharp as I would have liked."
Contrary to her normal preference, Karly definitely felt more comfortable at net with the Juice 100S than anywhere else on the court. She said, "It didn't have the outrageous spin factor that I found on my groundstrokes, but it still had that great power, and it was even more controllable, too. I thought the racquet was very maneuverable, so getting the racquet on the ball and hitting a hard shot back wasn't a problem. I also thought it offered decent stability, especially for how quick and light it felt. However, all the power made it tough to hit a soft drop shot. I avoided trying to take pace off the ball because it didn't have the best touch, but the racquet felt quick and stable, and it generated a ton of power."
Tiffani continued to feel the juice of this racquet up at the net. She offered, "The Juice 100S let me hit bigger shots off the baseline, and I continued feeling that power at the net. The ball just pops off the stringbed, which is fine for me most of the time. However, I already struggle with touch, and I felt that the stringbed was a little too trampoline-like for finesse shots."
Channeling some near perfect volley work was Chris, who found a lively response at the net. He said, "I was able to control the power well by adding some spin. Every now and then a reaction volley might go deeper than expected, but for the most part I was finding my targets. I liked the level of power when I was caught deep in the court or when I was at full stretch for a volley. The level of power allowed me to still punch the ball with authority even when the stars weren't aligned for me to hit the perfect volley."
Serves - Score: 80
Power and spin continued to be the name of the game when our playtesters stepped up to the line to serve with the Juice 100S. Our team came up with some bigger serves than they're used to hitting, and they really took advantage of the free points they were winning off their serve. They could also be creative with the spin on their first and second serves. Tiffani felt the racquet helped her start off points more effectively. She offered, "I'm certainly not a big server, but with this racquet my first serves were slightly improved. Pace and spin were easy to come by and it was easy to maneuver the racquet over my head, so I felt good about directional control. My second serves seemed to have a bit more spin on them than usual but not too much extra pace, so I had some sit up on me, and you guessed it, my opponents could crush those."
Finding it easy to access lots of pace and spin on his serves without much effort was Chris. He said, "My first serves had solid pace, and I found I could get the ball away from my opponents when finding the corners. I also liked adding some spin and sliding the ball into the returner's body. Even though I wouldn't say I was serving a heavy ball, the spin and pace were enough to force errors, and I even hit some service winners. On second serves I was keeping a high level of pace and getting the ball to move through the court well. I hit some good kick serves with this racquet, and I was very happy with the spin I was able to generate."
"Hitting a fast serve was a cinch," said Karly. "It was making sure it landed in that was tough, because there wasn't much control. I found myself aiming more toward the middle of the service box to give myself more room for error. I preferred hitting my second serve because of the access to spin. It was easier to control the serve by putting more spin on the ball, and once it landed the ball really kicked out because of the extreme amount of spin. If I wanted to spin the serve out wide the maneuverability and the spin technology made it a piece of cake. I just had to be careful because it was really easy to overhit with this racquet."
Brittany was pleasantly surprised when it came to serves. She was able to get into a nice rhythm and hit her first and second serves effectively. She explained, "I loved hitting first serves wide on the deuce side, and I won a lot of free points that way, but what I really loved was hitting kick second serves. I have always had a kick second serve, but this racquet took them to a whole new level. My second serve was kicking several feet higher on a consistent basis, and I felt like I was starting on the offensive even when I had to hit a second serve."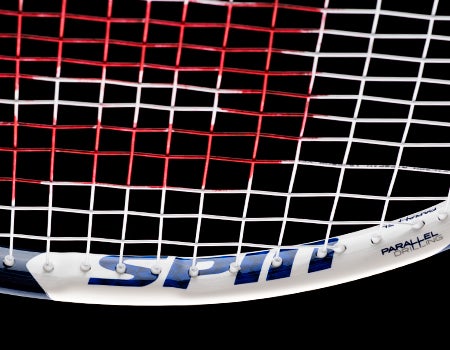 Serve Returns - Score: 79
Returning was a very similar experience to hitting groundstrokes for our playtesters -- there was power, and lots of it! While they had a blast hitting big returns, that style didn't suit every member of our playtest team, and some of them were hesitant to go for their returns. Karly was channeling her offensive game when returning, and she found that she was being much more aggressive than usual. She said, "The Juice 100S was super fast to swing, the spin was great and the power was tremendous. I was firing back hard shots without putting much effort into them. The maneuverability never slowed me down, and once I made contact the ball jumped off the strings with power. However, with all that power I had to widen my margin for error because there wasn't much control. On the positive side, because of all the power, most of the time I started the point on the offensive because of how hard I could hit the ball. I would've liked more control of my shots, but this racquet made it a lot of fun to hit a big ball back."
"Like on my groundstrokes, the Juice 100S had a lot to offer me on my returns," raved Brittany. "There was plenty of spin and it was very stable. I never felt like the racquet was being pushed around when returning. There was also a lot of power available. As I mentioned earlier, I never felt completely comfortable hitting my aggressive flat shots, and I had to consciously make an effort to add extra spin to keep the ball in the court."
The huge power and spin potential worked well for Chris' return game. He said, "Everything was just fine as long as I added spin to my shot. My flat returns were in danger of sailing long at breakneck speeds. When I hit with topspin I was able to get the ball to dip quickly and then explode off the court with more spin than I can usually develop. Slice was also plentiful, and I enjoyed knifing backhand slice returns with depth and pace."
"Maneuverability and control are two of the keys to a successful returning racquet for me," began Tiffani. "The Juice 100S excelled in maneuverability, but it left me wanting more control. I've noticed that I'm enjoying racquets with swingweights around 320, so this fit right into my range spec wise. I could get it around effectively most of the time, but like on my groundstrokes, I missed having a super consistent stringbed. When I was slightly late or hit too flat of a ball I sent the ball sailing, but when I was smack on I could hit a really offensive return and surprise myself with the high quality of shot. In a nutshell, it was fun, but not consistent enough for my flatter strokes."
Overall - Score: 79
Likes
Chris - "I liked the spin and power. This was a very forgiving and fast racquet. The sweetspot was big, and it was very easy to hit the ball with depth."
Tiffani - "With so much power and spin from the racquet, I could be more offensive."
Brittany - "I liked how easy it was to hit spin and how easy the racquet was to use."
Karly - "The racquet was so easy to swing, and it was fun to see how much spin I could put on the ball. The spin was unbelievable."
Dislikes
Chris - "There was so much power that it was very easy for me to hit the ball long unless I made sure to hit with spin."
Tiffani - "I am a consistent player by nature, so although I hit bigger with the Juice 100S, I prefer the precision I get from my racquets."
Brittany - "I never felt like I could play my game because of the massive amounts of power and spin I received from this racquet. Plus, I'm not a fan of Wilson's flared buttcap."
Karly - "The power was just too much for my taste. Other Wilson Spin Effect racquets made it easier to control the power by adding more spin, but even with that excellent spin technology the racquet was too hard to control."
Comparing it to other racquets they've used, our testers said:
Chris - "This racquet offers way more spin and power than the regular Juice 100. I can hit a strong forehand with the regular Juice, but with this one I was crushing shots. I also found a tad more power than the Steam 99S. I thought this one was getting close to the power level of the Steam 105S. The Prince Premiere 105 ESP is another racquet I consider close to this because it also offers great access to pace and spin."
Tiffani - "This is like the Juice on juice (sorry, I couldn't resist!). It's more powerful and has more spin than the standard Juice or Babolat Pure Drive, with more spin than the Babolat AeroPro Drive. The most similar racquet I've playtested would be the Wilson Steam 105S. There is ludicrous spin potential and loads of power. I do prefer the Juice 100S over the Steam 105S for its improved maneuverability and control, but I still wouldn't classify the Juice 100S as control-oriented."
Brittany - "The Juice 100S plays a lot like the non-Spin version. They have a similar feel and almost identical specs. The main difference for me would be the greater spin potential from the S and the increased control from the non-Spin version, especially when hitting a flat ball."
Karly - "The only racquet that comes to mind is the Wilson Steam 105S, which also has the Spin Effect Technology and produces incredible spin. Both racquets are fast and easy to swing, but I'd have to say the Juice 100S is more powerful and the Steam 105S offers more spin potential."
Technical Specifications

Length
27 inches
69 centimeters
Head Size
100 square inches
645 square centimeters
Weight
11.2 ounces
318 grams
Balance Point
13 inches
33 centimeters
4pts Head Light
Construction
25mm / 26.5mm / 25.5mm /
Composition
Basalt Fibers woven w/[K]arophite Black
String Pattern
16 Mains / 15 Crosses

Babolat RDC Ratings

Score

Grade

Flex Rating
74
Range: 0-100
Swing Weight
320
Range: 200-400
Scores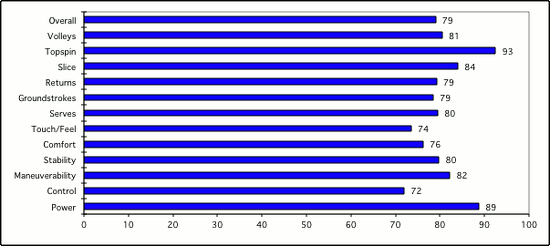 (Scores are determined by averaging individual play test scores)
Chris' Scores
Power
8.8
Serves
8.1
Control
7.5
Groundstrokes
8.3
Maneuverability
8.4
Returns
8.2
Stability
7.6
Slice
8.6
Comfort
8.3
Topspin
10
Touch/Feel
7.4
Volleys
8
Overall
8.3
Tiffani's Scores
Power
8.7
Serves
7.9
Control
6.9
Groundstrokes
7.9
Maneuverability
8
Returns
7.7
Stability
8
Slice
8.5
Comfort
7.6
Topspin
9.5
Touch/Feel
7.4
Volleys
7.8
Overall
7.6
Brittany's Scores
Power
8.8
Serves
7.9
Control
7
Groundstrokes
7.6
Maneuverability
7.9
Returns
7.8
Stability
8
Slice
8.1
Comfort
6.8
Topspin
9
Touch/Feel
7.3
Volleys
7.8
Overall
7.8
Karly's Scores
Power
9.2
Serves
7.9
Control
7.4
Groundstrokes
7.6
Maneuverability
8.6
Returns
8
Stability
8.3
Slice
8.4
Comfort
7.8
Topspin
8.5
Touch/Feel
7.3
Volleys
8.6
Overall
7.9
Playtester Profiles
Chris: 5.0 all-court player currently using the Wilson Six.One 95S. Chris uses a full-western forehand grip, has a fast swing style and hits a one-handed backhand.
Tiffani: 4.0 level baseliner with a semiwestern grip on the forehand and hits a two-handed backhand. Currently playing with the Donnay Formula 100.
Brittany: Open level player with a semi-western forehand and a two-handed backhand. She currently plays with the Yonex V-Core 100S.
Karly: 4.0 baseline player currently playing with the Volkl Organix 10 Mid. She hits with a semi-western forehand grip and uses a two handed backhand.

Review date: January 2014. If you found this review interesting or have further questions or comments please contact us.
All content copyright 2014 Tennis Warehouse.