Wilson BLX Tour Limited Racquet Review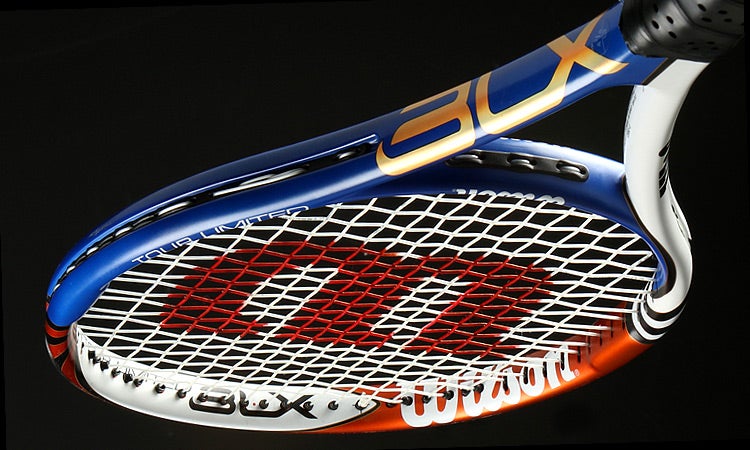 In all its iterations, the Wilson Tour has been popular with players of various levels. A great fit for club players, popular with our TW testers and used on tour by pros such as Justine Henin and Lindsay Davenport, the Wilson Tour has proved to be a versatile racquet.
With the introduction of Wilson's BLX line of racquets comes a new addition to the impressive Tour lineage: the BLX Tour Limited. Offering all the benefits of BLX technology, the BLX Tour Limited ups the ante with an extra quarter-inch of length over the 27.25-inch BLX Tour. Longer racquets offer more power potential, and the BLX Tour Limited builds on that trend with Powerhole grommet technology, a stiffer frame (73RA) and a heftier strung weight of 11.1 ounces.
The BLX Tour Limited was used by Justine Henin before her retirement in January, 2011. Although Henin has chosen to hang up her racquets, the BLX Tour Limited offers a spec that is a great fit for a modern tour level player.
Having reviewed all the Tour racquets that came before the BLX Tour Limited, our testers could not wait to hit the courts with this one. Read on for the results of our month-long playtest.
Groundstrokes - Score: 83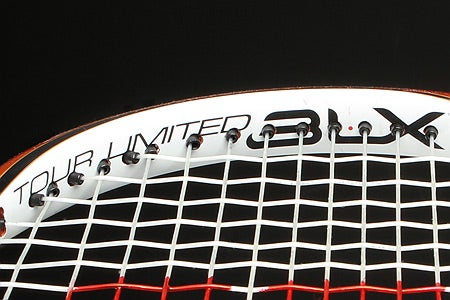 From the baseline, all of our playtesters found a lot of power and spin with the BLX Tour Limited. Sean said, "An incredibly solid feel made this racquet one of my favorites when rallying from the baseline. Once I found my rhythm, and made a few adustments, every shot seemed to have just the right amount of weight and depth. This racquet was fairly powerful, but throughout my testing I used a full polyester string setup that complemented the racquet nicely and helped to limit some of its power. Spin potential was good, although I was hitting most of my shots, in particular my forehand, flatter than I'm used to."
Suzie made comparisons to her current racquet, saying, "I liked the heavier swingweight that came with the BLX Tour Limited and felt this racquet was still maneuverable. It allowed me to hit deep shots without much effort. I could also get spin more easily with this racquet than with my Wilson KZen, which probably has to do with the 16x20 string pattern. The one thing I did not like with the groundstrokes was my slice shots. I didn't feel like the ball stayed as low to the net as I would have liked, and I couldn't find the right range on my drop shots."
"I found a ton of power and spin with this racquet," said Chris. "I'm not generally a fan of longer racquets, but I managed to adjust to this one without too much trouble. During the month of hitting I never felt as completely at home as I do with a standard length stick, but I did get pretty comfortable with it. My favorite shot was my forehand. I could take a big cut at the ball, get lots of power and weight into the shot and then control it with spin. On my backhand I preferred hitting slice. The racquet felt very solid and offered some nice bite on slice. Coming over the ball on my backhand took the biggest adjustment, but I was able to get it mostly dialed in."
Brittany offered, "This racquet is the perfect complement to my aggressive style. I felt at ease swinging through the ball. It gave me a lot of power on both my forehand and backhand. I was able to hit hard, flat groundstrokes consistently and effortlessly when I was drilling and playing matches. The racquet was very forgiving, and I felt the sweetspot was quite large."
Volleys - Score: 82
The racquet's stability was a hit with our playtesters at net. Suzie was impressed, saying, "The strongest part of my performance during this playtest was hitting volleys. The ball just flew off the racquet and landed deep in the court without much work. I normally have a problem with my volleys landing short, but with the BLX Tour Limited the balls penetrated off my racquet. I didn't get as much feel or touch on my volleys, but I got the deep placement down."
"The volleys were a surprise for me," said Brittany. "I felt the racquet was quite maneuverable. I was able to punch balls deep into the court. The tradeoff, though, was I felt my touch shots weren't as accurate."
Chris agreed. "I volleyed well with this racquet. I played a couple of doubles matches with it and enjoyed the power and stability at net. I was able to punch volleys away, and the solid response was a huge help when I was stretched wide or had to pick up a very low volley."
Sean had a different opinion. He said, "I found it much easier to hit from the baseline than at the net with this frame. With a balance point close to even I needed all the time I could get to position the racquet correctly and execute my volley. The more shots I was forced to hit at the net, the worse chance I had of winning the point, so I tried to stay aggressive, which led to more mistakes. Depth was extremely easy to find from both wings, but there was a definite lack of feel and touch when I came forward."
Serves - Score: 82
Hitting serves with this racquet resulted in some mixed reviews from our TW playtesters. Chris was thrilled with the combination of power and spin. He said, "By far my favorite shot with this racquet was my serve. I was able to up both the pace and spin of my serves. During doubles play, I was able to set up an easier first volley thanks to all the action I was getting on my serves. This was just a very, very fun racquet to serve with and reminded me somewhat of the Pure Drive Roddick Plus GT."
Enjoying the spin she was able to hit, Suzie said, "One thing I noticed about my serve is I got more spin than normal. I felt like I could really go after my serve, place it wherever I wanted and still get a lot of spin."
Brittany agreed, "I had no problem hitting second serves. I was able to generate a lot of spin on both sides of the court. I was able to hit my first serves with a lot of pace. However, I felt the control was lacking, and I wasn 't getting as much accuracy as I am used to."
It was a different story for Sean, who said, "This is one of the few racquets I really felt uncomfortable serving with. I can usually find some sort of rhythm, or adjust to the type of racquet that I'm using, but with such a high swingweight on this one I had trouble finding my timing. My first serves had some good weight behind them, but my accuracy wasn't there. I felt like I was just hitting down the middle of the service box every time. I also couldn't generate enough swing speed to put much pace or action on my second serves, so everything I hit was flat, leaving me with little room for error."
Serve returns - Score: 81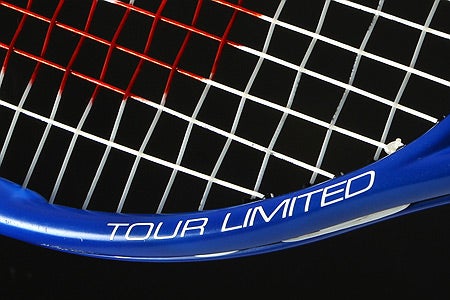 Using a variety of spin on service returns, our TW playtesters had success when returning with this racquet. Brittany said, "I really liked my returns with this racquet. My game consists of stepping in and aggressively hitting both first and second serve returns. This racquet allowed me to consistently do that. Since I like to take short backswings and take the return early, this racquet was quite effective."
Suzie was in the same boat. She said, "I really liked my serve returns. Because it was a powerful racquet, the ball would fly off a big serve and land deep. It was nice knowing I would be able to hit a deep return and start the point out aggressively, rather than on the run and on defense."
Finding success using slice, Chris said, "I was able to hit some nice returns with this stick. On my forehand side I was taking a good cut at the ball, finding ample power and spin. On my backhand I once again preferred slice. I was able to both float the ball deep during singles and knife it cross court during doubles. The racquet felt very solid, and I enjoyed the plow through I was getting."
Sean had a different opinion, saying, "Maneuverability was again a little bit of an issue, especially on fast serves where I needed to move or position the racquet quickly. I had to rely on my slice returns on both my forehand and backhand sides to start a lot of points when I just wasn 't able to set up for a full swing. I still found my returns to be effective because of the easy access to power and depth, regardless of my shot selection. I also found myself moving forward more than I normally do to take a lot of returns earlier because shorter swings seemed to be more effective."
Overall - Score: 81
After the month-long playtest our TW playtesters had a lot of praise for the Wilson BLX Tour Limited. From the baseline, they liked the solid feel as well as the easy access to depth. While the 27.5 inch length took some getting used to, the playtesters were able to adapt and benefit from the added leverage. The racquet continued to excel at the net, offering a rock solid feel with the tradeoff being a slight lack of touch for some. We found the open string pattern provided ample spin, and the extra length provided more leverage for pace on serves. In addition, our playtesters used a wide variety of shots to effectively return serves. With plenty to offer intermediate through advanced level players, we recommend you add this one to your must-demo list.
Likes
Brittany "I like the feel and power on groundstrokes and returns."
Suzie "Even though some disagree with me, I like the cosmetics! I also like the depth and power I got with my groundstrokes and volleys. This racquet is my new favorite!"
Sean "Solid feel"
Chris "I loved the power and spin."
Dislikes
Brittany "It took a little longer for me to adjust to the added length."
Suzie "I did not like my slice, drop shots or overall touch with the Tour Limited. I couldn't find the right range to get it where I wanted to land every time."
Sean "Severe lack of maneuverability for me."
Chris "I'm not a fan of the added length on my backhand side, but I was able to settle into a decent rhythm."
Technical Specifications

Length
27.5 inches
69.85 centimeters
Head Size
95 square inches
613 square centimeters
Weight
11.1 ounces
315 grams
Balance Point
13.5 inches
34 centimeters
2pts Head Light
Construction
24mm / 25mm / 25mm
Composition
Karophite Black / Basalt
String Pattern
16 Mains / 20 Crosses

Babolat RDC Ratings

Score

Grade

Flex Rating
73
Range: 0-100
Swing Weight
345
Range: 200-400
Scores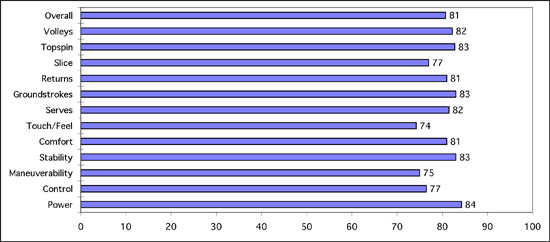 (Scores are determined by averaging individual play test scores)
Brittany's Scores
Power
8.4
Serves
8.2
Control
7.6
Groundstrokes
8.5
Maneuverability
7.9
Returns
8.6
Stability
7.7
Slice
7.6
Comfort
8.8
Topspin
7.9
Touch/Feel
7.6
Volleys
8.3
Overall
8.3
Chris' Scores
Power
8.6
Serves
8.8
Control
7.8
Groundstrokes
8.3
Maneuverability
7.5
Returns
8.2
Stability
8.5
Slice
8.5
Comfort
7.7
Topspin
8.6
Touch/Feel
7.7
Volleys
8.2
Overall
8
Suzie's Scores
Power
8.3
Serves
8.4
Control
7.4
Groundstrokes
7.9
Maneuverability
7.8
Returns
8.1
Stability
8
Slice
7
Comfort
7.9
Topspin
8.4
Touch/Feel
7.2
Volleys
9
Overall
8.2
Sean's Scores
Power
8.4
Serves
7.2
Control
7.8
Groundstrokes
8.5
Maneuverability
6.8
Returns
7.5
Stability
9
Slice
7.7
Comfort
8
Topspin
8.2
Touch/Feel
7.2
Volleys
7.4
Overall
7.8
Playtester Profiles
Chris:5.0 All court player currently using the Volkl Power Bridge 10 Mid. Chris uses a full-western forehand grip, has a fast swing style and hits a one-handed backhand.
Sean: 4.5 baseliner using the Babolat Aeropro Drive Cortex. Sean has a semi-western forehand, 1 handed backhand.
Brittany:Open level player with a semi-western forehand and a two handed backhand. She currently plays with the Prince EXO3 Black.
Suzie:Open level player with a semi-western forehand and a two handed backhand. Suzie is an aggressive baseliner with flat shots. Currently plays with the Wilson K Factor KZen (customized).

Review date: March 2011. If you found this review interesting or have further questions or comments please contact us.
All content copyright 2011 Tennis Warehouse.