Wilson BLX Blade Tour Racquet Review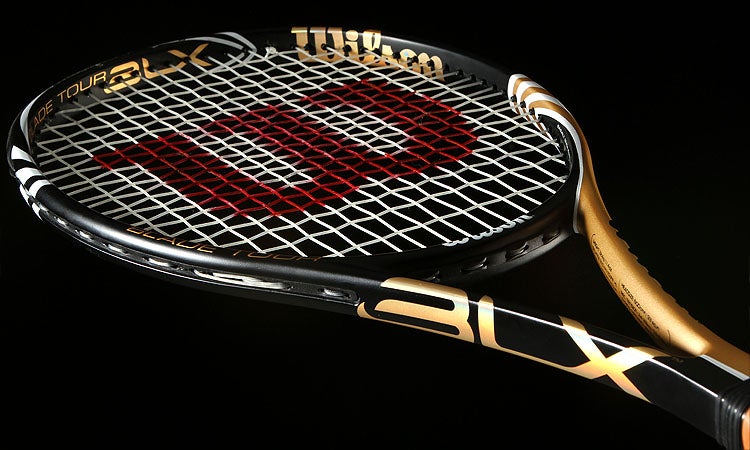 For the third time, Wilson looks to cut through its competition in the player's racquet market. This time the weapon of choice is the BLX Blade Tour.
Preceded by the popular nBlade 98 and KBlade 98 and Tour versions, the latest Blade Tour gets updated with BLX technology. Designed to provide more feel through the vibration resistant qualities of Basalt, the BLX Blade Tour is primed to take midsize racquet performance to a new level.
The previous version of the Blade Tour proved to be very popular with our testers Two of our testers used the KBlade Tour as their racquet of choice for a significant time (Spencer and Jason). Our other two testers have now reviewed all versions. Our testers definitely know how well the Blade Tour can help carve up the court.
With similar specs to the KBlade Tour, our level of anticipation was high for the BLX Blade Tour. Could it prove to be the mightiest Blade yet? Read on to find out.
Groundstrokes - Score: 75
Although the BLX Blade Tour shares very similar specs to the KBlade Tour, our team noticed substantial differences on court. Having difficulty adjusting to this racquet was Jason, who said, "The KBlade Tour was my racquet of choice when it first came out, so I had high expectations going into this playtest. This latest version disappointed. This was like a completely different racquet. It was like this racquet lost it's mojo. I wasn't able to generate the same amount of racquet head speed with this BLX version, so power and topspin were not as potent. The feel was very board-like, just a dead and muted response. Although small, there is a sweetspot, and when I did hit it, it felt better. Hitting backhand slice shots still felt pretty good and the racquet was fairly stable torsionally."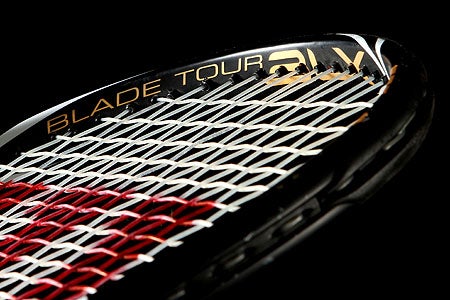 Chris also preferred the previous version. He said, "This racquet felt a tad sluggish off the ground compared to the KBlade Tour it replaces. It wasn't as fast through the hitting zone and I felt I lost both pace and spin with this BLX version. I also preferred the feel of the KBlade Tour over this one. The BLX Blade Tour felt a bit dead, even with a multifilament string, whereas the KBlade Tour felt much livelier and more forgiving. My targeting was ok with this racquet, but I never felt completely dialed in. I found myself playing safer tennis as I didn't have the confidence to press my opponents."
Spencer enjoyed the weight of the racquet, saying, "Being a big fan of the KBlade Tour, I was excited to hit with the BLX Blade Tour. From the first feed in, I wasn't finding the aspects to mirror what I remembered from the previous version. On the plus side, I enjoyed how well the racquet came through the ball. There was a good amount of plow through, offering penetrating groundies. I seemed to have more success hitting flat shots, as opposed to strokes with a lot of topspin. I was particularly fond of the backhand slice, as it felt crisp and skidded low. On the down side, I struggled with shots outside of the sweetspot. It lacked the forgiveness the KBlade Tour seemed to have, as well as the mobility."
Hitting with good pace and control was Granville. He said, "This BLX Blade Tour version has that little extra mass that really affects how the ball leaves the racquet. Once I get this racquet moving I feel the energy, mass and momentum translate into power and pace at contact. There was excellent comfort due to the mass, and the overall specs allowed me to swing away without worrying about hitting the ball long."
Volleys - Score: 80
The mass of the BLX Blade Tour allowed our playtesters to successfully control the depth and angle of their volleys. Right on time with his volleys was Granville. He said, "So solid! Don't be late! This racquet will not allow that. If you are ahead of the ball, and you're stable at impact, it feels like you can do anything with the ball. There was enough power to close out the point when serve and volleying. I also found a lot of feel on short angles and drop shots. At this weight I'd prefer a slightly more head light balance (10 points or so). With its stock balance I thought it felt very much like the BLX Six.One Tour."
"The BLX Blade Tour handled balls very well at net," said Spencer. "The maneuverability was lacking a tad, but once I got the racquet on the ball, the results were good. Whether it was punching a volley with some verve or laying a delicate angle, it did both well."
Jason had better success with his volleys. "The racquet performed better for me at the net. Because I didn't need to take full swings the racquet felt more mobile. Control was good. I was able to place the ball where I wanted when I had time to set up. Although the racquet was stable on off center shots, the big drop off in power had me struggling to get those balls over the net."
"I was most comfortable with this racquet at net," said Chris. "I was able to punch my volleys deep and I enjoyed the solid response. It didn't have the softer feel of the KBlade Tour, but I was still able to find my targets on drop volleys and angles. The head light balance kept things maneuverable, and I was volleying with a confidence I never found from the baseline."
Serves - Score: 75
Our playtesters had varied success with the BLX Blade Tour. Chris offered, "My best serves with the BLX Blade Tour were flat and slice deliveries. For some reason I was having a lousy time trying to hit kick serves. On the flat serves I was getting good pace and was able to find my targets. Likewise, I had success when adding slice, and I continued to find good targeting. I was unable to get my usual level of spin when looking to kick the ball, and that cost me on a consistency basis. When switching to the KBlade Tour it was service as normal, but I never truly found the groove with this BLX version."
Granville had a very different experience on serve. He said, "While I did not feel like I was hitting with any more power with this Blade Tour, I do think I was hitting with greater pace. My spin serves were really kicking up and out, probably due to the combination of the 18x20 pattern and the mass coming through the ball. It proved to be very comfortable, with deep pocketing in the stringbed that made it very sweet indeed."
Hitting his targets well was Spencer, who said, "I thought this stick did a good job coming through the ball. I was able to place the ball well, although I would have liked to be able to get a little more action on it than I was getting. The power was there if I reached back and fired one. I enjoyed serving with this racquet, but once again, in a side by side comparison with the KBlade Tour I prefer the mobility and forgiveness of the previous model."
Jason said, "I had a tough time getting consistent pace on my serves. Every now and then, when everything aligned, I was able to crank one. I wasn't able to whip through the contact point with as much head speed as I was used to. Again, the racquet felt board-like. For the most part, I had to stick with hitting slice serves because that was the most effective serve for me. For some reason, I had an easier time serving out wide with this racquet."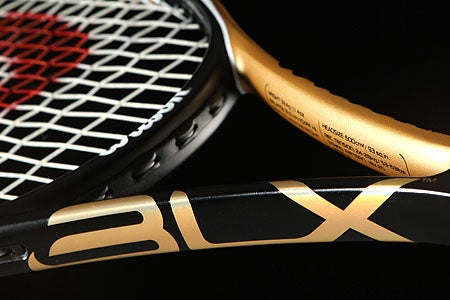 Serve returns - Score: 77
At over 12-ounces, the weight of the BLX Blade Tour was an asset for our team when returning serves. Granville was returning like a pro. He said, "I can't say enough about how the stability assisted me, especially on the serve return. If I got the stringbed on the ball, the chances were good that it was going back over the net."
The weight was a big help for Chris,too, who said, "This racquet felt very solid on returns. The stability was impressive and I was able to hit some pretty powerful returns even when my timing wasn't perfect. Again, I never found the spin or the pop of the KBlade Tour, but all in all, I was pretty happy with my returns with the BLX Blade Tour."
Spencer was happy with how he was returning. He said, "It felt like a player's stick, and I enjoyed the stability when returning. It handled pace and heavy serves well, with limited torquing. I tend to like a little more maneuverability when returning serve, but I was happy with the heft in lieu of that. The heft helped keep my returns deep."
"The weight of the racquet helped control the pace of the heavy serves," said Jason, who had mixed results. "I didn't feel like it got pushed around, which was good. Maybe a little too well. I left a lot of returns short, right around the service line, and paid the price. As with my groundstrokes, I liked slicing returns back with this racquet. It netted me the most consistent results."
Overall - Score: 76
The Wilson BLX Blade Tour is a player's racquet in every sense of the word, and it's best suited to 4.5+ level players. The thin beam, tight string pattern and head light balance had our team hitting with good control from all areas of the court. The racquet proved to be quite stable at the net, and was great for handling the harder hit passing shots. On serves, as with our groundstrokes, we were finding solid control, while power was a bit lacking. We felt this edition of the Blade Tour lost some of its feel and pop, but stability was improved and the control was still impressive.
Likes
Jason - "Good control."
Chris - "I liked the stability of the racquet."
Spencer - "The stability and leather grip."
Granville - "Mass, mass, mass. Nice cosmetics."
Dislikes
Jason "It wasn't as whippy, or as maneuverable, as the previous version, and it lacked a lively feel. It was unforgiving outside the sweetspot and I didn't like the grip shape."
Chris "For me it lacked the feel and pop of the racquet it replaces."
Spencer "The lack of forgiveness."
Granville "I would like it to be a bit lighter in the head."
Technical Specifications

Length
27 inches
69 centimeters
Head Size
93 square inches
600 square centimeters
Weight
12.1 ounces
343 grams
Balance Point
12.8 inches
32.5 centimeters
6 pts Head light
Construction
21.5mm Straight Beam
Composition
Karophite Black/Basalt
String Pattern
18 Mains / 20 Crosses

Babolat RDC Ratings

Score

Grade

Flex Rating
68
Range: 0-100
Swing Weight
338
Range: 200-400
Scores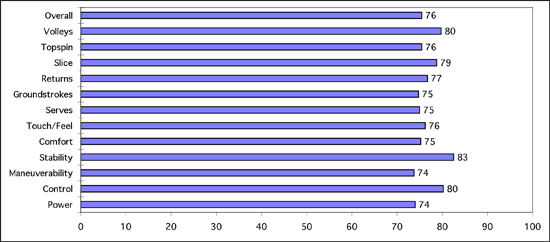 (Scores are determined by averaging individual play test scores)
Chris's Scores
Power
7
Serves
7.3
Control
7.5
Groundstrokes
7
Maneuverability
7.3
Returns
7.6
Stability
8
Slice
7.8
Comfort
7.5
Topspin
7.5
Touch/Feel
7.6
Volleys
7.8
Overall
7.4
Spencer's Scores
Power
7.8
Serves
7.7
Control
8.2
Groundstrokes
7.7
Maneuverability
7.2
Returns
7.8
Stability
8.4
Slice
8.2
Comfort
7.6
Topspin
7.4
Touch/Feel
7.9
Volleys
7.9
Overall
7.7
Jason's Scores
Power
7
Serves
7.3
Control
8.2
Groundstrokes
7.5
Maneuverability
7.5
Returns
7.5
Stability
8.2
Slice
8
Comfort
7.5
Topspin
7.8
Touch/Feel
7.1
Volleys
8.1
Overall
7.4
Granville's Scores
Power
7.8
Serves
7.7
Control
8.2
Groundstrokes
7.7
Maneuverability
7.5
Returns
7.8
Stability
8.4
Slice
7.5
Comfort
7.5
Topspin
7.5
Touch/Feel
7.9
Volleys
8.1
Overall
7.7
Playtester Profiles
Granville:5.5 all-court player currently using a Wilson K Factor Six-One Tour 95. Granville is an aggressive player who uses an eastern forehand grip and goes continental on everything else, hits with a flat swing and a one-handed backhand.
Spencer: 4.5 Baseline player currently using a Wilson K-Blade Tour. Spencer uses a semi-western forehand grip, and hits with a one-handed backhand.
Chris: 5.0 All court player currently using the Volkl Power Bridge 10 Mid. Chris uses a full-western forehand grip, has a fast swing style and hits a two-handed backhand.
Jason: 4.0 baseliner with a semi-western forehand and one handed backhand. Currently using a customized Volkl Power Bridge 9.

Review date: February 2011. If you found this review interesting or have further questions or comments please contact us.
All content copyright 2011 Tennis Warehouse.