Volkl Power Bridge 9 Racquet Review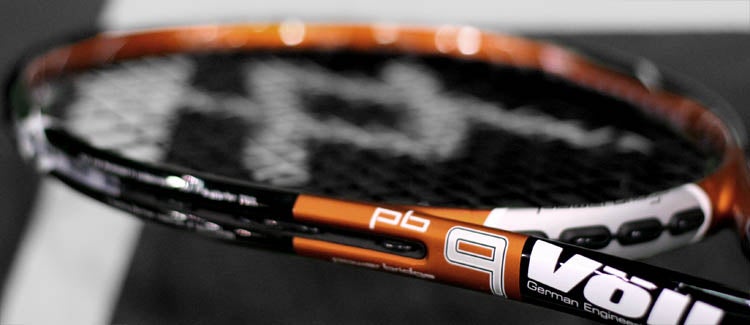 Tennis players are constantly searching for the perfect racquet to fit their game. The slightest increments and variances can make a world of difference. Sometimes the selection might be slim. Some racquets might be too heavy, some might be too light, but with the "9" series of racquets, Volkl has always aimed to please even the most demanding of players. How so? By offering a control-oriented response in a fast feeling racquet.
The Power Bridge 9 weighs in at a healthy 11.3 ounces strung, but a 6 points head light balance makes it feel light in the hand. What makes this racquet unique among control-oriented racquets is the uncommonly low swingweight of 306 (RDC). The combination of control and maneuverability has made the 9 series of racquets from Volkl popular with a variety of players.
Replacing the similarly weighted and balanced Volkl DNX 9, the Power Bridge 9 features the new Power Bridge technology. The yoke of the racquet uses a larger and denser amount of DNX, designed to offer a more powerful and stable throat piece.
To see if the latest "9" from Volkl could continue to impress all-comers, our TW playtesters hit the hard courts for a month-long playtest.
Groundstrokes - Score: 75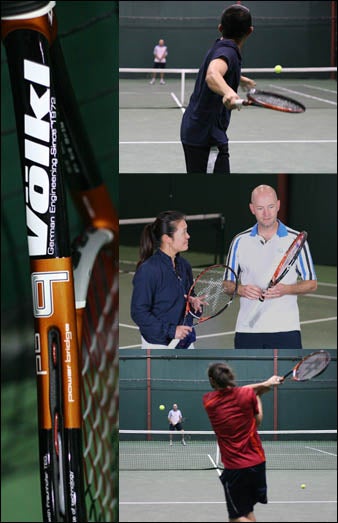 Most of our playtesters agreed that the Volkl Power Bridge 9 offered a high level of maneuverability and some great bite on the ball. Tiffani had good success with the racquet, saying, "The first thing I noticed was the feel. The Power Bridge 9 had a crisper feel than some other Volkl racquets, such as the Power Bridge 10 or C10 Pro. I don't mean to say it was harsh, because it was plenty comfortable, but it was surprisingly different. I was comfortable from the baseline and was pleased with the power level. Because this racquet was easy to get around quickly, I was able to take the ball early and feed off my opponents' power, which is very typical of my playing style. My favorite shot with this racquet was the backhand slice. I could feel the racquet load up and spit out a skidding slice."
Loving the mobility and access to spin was Jason. He said, "The first thing I noticed with this racquet was the fantastic maneuverability. It was such an easy racquet to whip around, from both the forehand and backhand sides. I loved the amount of spin I was able to put on my shots, which was especially noticeable on the backhand slice. The head light balance was great for control, but I felt there wasn't enough weight in the head to keep it from being torsionally unstable. Off-center shots dropped significantly in power, although I felt my shot would still stay relatively on target. I eventually added lead tape to offset this problem and loved the racquet after that."
"I found this racquet to be very maneuverable on groundstrokes," said Chris. "I was able to get enough racquet head speed to generate some nice spin, which really helped me with control. I would have liked either more weight to the racquet or a closer to even balance to get the swingweight higher. In stock form, the racquet got pushed around too much for me. The faster I swung, the better it felt, but there was not quite the mass needed for stability on touch shots or when blocking the ball back."
Jackson had mixed feelings about this racquet. He said, "I had a love/hate relationship with this stick off the ground. It felt great on contact and I found it easy to move the ball around the court, but I was not able to generate enough power to put real pressure on my opponent. I would set up for a shot, trying to hit the fuzz off the ball, but it would be easily returned. My offensive shots almost seemed to go over the net as defensive shots. I really paid for anything hit outside the modest sweetspot, as they would either float off or turn into a moon-ball."
Volleys - Score: 84
The crisp response and maneuverability of the Volkl Power Bridge 9 made it a hit with our TW playtesters at net. Hitting a variety of shots with success was Chris. He said, "Maneuverability was impressive at net. I was able to get the racquet in position quickly. The feel on volleys was crisp but comfortable. I felt like I was getting good targeting and could volley both deep and to short angles with good accuracy. Again, I would need to add some weight to this stick to improve stability."
"For me, the toughest volleys are when the ball is hit at my body," said Jason. "I felt the Power Bridge 9 was mobile enough to move and react with me. In other words, it didn't feel sluggish. I thought it had great feel and touch, and I was hitting my share of drop volleys with surprising success. My leaded-up racquet once again felt more stable up at net, which was needed when I was playing against the bigger hitters."
Tiffani volleyed well. She said, "This was a pleasant surprise for me at net. I tend to like softer feeling racquets at net because I feel that my touch is better with those racquets. The Power Bridge 9 had a crisper feel off the baseline, but I felt that I had good touch and feel at net. That sensation gave me the confidence to try to bleed power off shots and go for a dropper or sharp angle. I was also confident with my control when punching volleys. Though I'm not a big time net player, I enjoyed the Power Bridge 9 up there."
Jackson was volleying well. He said, "I really enjoyed the way the racquet performed at net. It was easy to maneuver and I felt prepared for any ball that was drilled at me. I found it easy to hit dipping shots and was able to place the ball with depth, even when hitting low volleys."
Serves - Score: 78
The Volkl Power Bridge 9 impressed our playtesters with its low swingweight and open string pattern. "Because it is so easy to swing, I was able to get in a groove serving with this racquet," said Jason. "The consistency was especially nice on the second serve. Once again, spin was easily accessible on both first and second serves. The spin was even more evident when I joined the low tension experiment and tried stringing my racquet at 35 pounds."
Pleased, but not satisfied, with his serving was Jackson. He said, "I was pretty impartial to this stick off the serves. I was able to hit deep in the service box and hit with enough spin to place kickers in both corners. Flat serves felt great when I hit the sweetspot, but they still didn't have enough velocity on them to make my opponent's knees shake."
Tiffani was on the fence. She said, "It was a middle of the road experience for me on serve. My serve has never been a weapon, and I always hope that a racquet can help me out in the power department. I was expecting to generate more power because I found the Power Bridge 9 pretty powerful off the baseline. It was plenty easy for me to swing over my head, though, so even though the racquet didn't transform my serve into a weapon, I got good consistency with OK pace and spin."
"This was such an easy racquet to swing. I was getting lots of spin from all the racquet head speed I could generate," said Chris, who was wishing for additional mass. "However, I think there is lots of room to add weight without reducing head speed or spin, which would let me get more court penetration on my serves. It was easy to be consistent on serve with this racquet and I felt confident swinging aggressively."
Serve Returns - Score: 76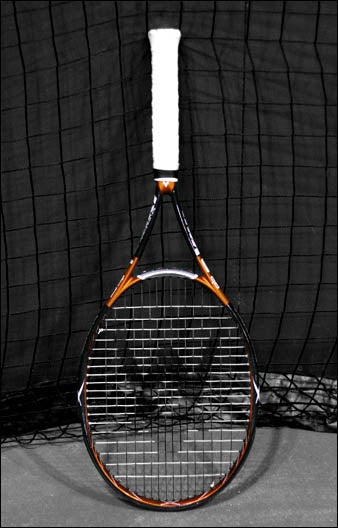 The lack of weight had our playtest team a bit disappointed with the performance on service returns. Jackson was having trouble getting on the offensive. He said, "I would have liked a little more weight on the racquet in this department, or possibly just have it distributed differently. I didn't feel like the racquet had enough stability or crushing power to return heavy serves with any hope of dictating the point."
Jason agreed, adding, "For the most part, the Power Bridge 9 performed very well when I was returning serves. But the lack of weight and head stability was magnified when I was trying to return shots where I was stretched out wide. I couldn't really block back a serve deep enough to not immediately be put on the defensive. Returns that weren't hit cleanly ended up floating inside the service line. But the redeeming factor for me was the fact that I could take big cuts at the slower second serves, really putting me on the offensive from a defensive position."
Chris was returning serves was great success. He said, "My favorite shot with this racquet was the return of serve. I was able to take a good cut at returns and get plenty of spin to keep my shots in. When looking to slice or chip the ball, I was getting all the feel I needed to give my shots good direction. This was a fun racquet to return with and would probably be even better for me with some added weight."
"Just as with groundstrokes, I thought the maneuverability was excellent. Getting the racquet around in time was never an issue, so most of the time I could be somewhat aggressive with my returns," said Tiffani. " I could easily block the ball back when I was playing against someone who put decent pace on the ball. I say 'somewhat aggressive,' though, because I felt sometimes the ball got away from me and would fly when I least expected it."
Overall - Score: 77
The Volkl Power Bridge 9 impressed our TW playtesters with its outstanding maneuverability and access to spin. The racquet was easy to swing from all areas of the court; from groundstrokes to volleys to serves. We loved the crisp, yet comfortable feel the racquet offered. On the spin front, our entire playtest team agreed that this was a great stick for hitting a killer slice. Three of our playtesters wanted to add some additional weight to increase power and stability. For one playtester, that's exactly what he did and has made the switch to the Power Bridge 9 as his racquet of choice. An impressive update to the DNX 9, we recommend this as a must demo for the intermediate player looking for a solid racquet with room for personal customization.
Likes
Tiffani "I don't know what it is, but for me, the Power Bridge 9 was a slice machine. Cosmetics are pretty sweet, too."
Jason "It's a great racquet for my shoulder problems. A comfortable racquet with a solid and crisp feel. I loved the maneuverability and the access to spin."
Chris "I liked the spin I was able to get. The feel was crisp, yet comfortable, and I felt well connected to my shots. I also liked the shape of the handle."
Jackson "The maneuverability of the racquet was really the saving grace for me. I spent a lot more time than I usually do at the net and the racquet really helped to make me feel like I was in my element. I felt my inner doubles player coming back out and definitely won a greater percentage of points at the net vs. from the baseline. Slices and touch shots were also a big plus for me with this racquet; those who know me are aware of my shaky hands, but I really felt like a surgeon when slicing my backhand or hitting drop shots."
Dislikes
Tiffani "As usual, I struggled with the Volkl pallet shape. When it comes to Volkl grip shapes, I prefer the Attiva grip."
Jason "I thought that if the Power Bridge 9 was going to be 6-7 points head light, it should also be heavier than 11.3 ounces, which it wasn't. The sweetspot felt smaller than usual for a 98 square inch head."
Chris "Not heavy enough for me. I either needed the racquet to be closer to an even balance or heavier for added stability."
Jackson "The lack of power on rally points was pretty disappointing and caused me a lot of grief. I was scrambling more than I'm used to and I found it even harder hitting big shots on the run. I had to rely on placement and finish the points at the net, which put me a little out of my comfort zone."
Technical Specifications

Length
27 inches
69 centimeters
Head Size
98 square inches
632 square centimeters
Weight
11.3 ounces
320 grams
Balance Point
12.8 inches
33 centimeters
6pts Head Light
Construction
21.0 mm Straight Beam
Composition
DNX / Graphite / Fiberglass
String Pattern
16 Mains / 19 Crosses

Babolat RDC Ratings

Score

Grade

Flex Rating
66
Range: 0-100
Swing Weight
306
Range: 200-400
Volkl Power Bridge 9 Scores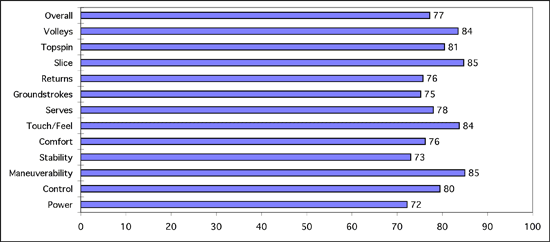 (Scores are determined by averaging individual play test scores)
Chris' Scores
Power
7.4
Serves
7.7
Control
8
Groundstrokes
7.6
Maneuverability
8.4
Returns
7.7
Stability
7
Slice
7.9
Comfort
7.7
Topspin
8
Touch/Feel
8
Volleys
8
Overall
7.7
Jason's Scores
Power
7
Serves
8
Control
8
Groundstrokes
8
Maneuverability
8.6
Returns
7.9
Stability
7.5
Slice
8.5
Comfort
8
Topspin
8.5
Touch/Feel
8.2
Volleys
7.8
Overall
8
Jackson's Scores
Power
7
Serves
7.5
Control
8
Groundstrokes
6.7
Maneuverability
9
Returns
7
Stability
7.2
Slice
9
Comfort
7
Topspin
7.7
Touch/Feel
9.3
Volleys
9.8
Overall
7.3
Tiffani's Scores
Power
7.5
Serves
8
Control
7.8
Groundstrokes
7.8
Maneuverability
8
Returns
7.7
Stability
7.5
Slice
8.5
Comfort
7.8
Topspin
8
Touch/Feel
8
Volleys
7.8
Overall
7.9
Playtester Profiles
Chris: 5.0 All court player currently using the Volkl Power Bridge 10 Mid. Chris uses a full-western forehand grip, has a fast swing style and hits a two-handed backhand.
Jason: 4.0 baseliner with a semi-western forehand and one handed backhand. Currently using a customized Volkl Power Bridge 9.
Jackson: 4.5 All court player currently using a Babolat Pure Drive Team. Jackson uses a semi-western forehand grip, and hits with a two-handed backhand.
Tiffani: 4.0 level baseliner with a semiwestern grip on the forehand and hits a two-handed backhand. Currently playing with the Yonex RDS 003 (08 version).

Review date: May 2010. If you found this review interesting or have further questions or comments please contact us.
All content copyright 2010 Tennis Warehouse.