Volkl Power Bridge 8 315 Review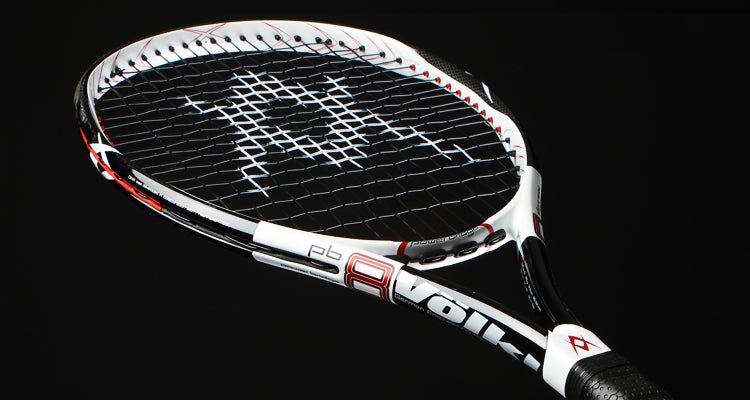 For many, a racquet like Volkl's Power Bridge 8 295 is the perfect platform racquet for customization. Light, fast and powerful, such a racquet can become a scalpel with a little added weight.
With the all new Power Bridge 8 315, Volkl have taken matters into their own hands and are basically offering an off the shelf, customized Power Bridge 8 295.
Bumping weight to 11.4 ounces, the Power Bridge 8 315 offers some added mass for power, yet actually has a lower swingweight compared to the lighter Power Bridge 8 295.
With that additional weight, bigger hitting players can expect to also find improved stability, and thus more comfort -- something all players enjoy. Many of the other specs are identical between the two versions of the Power Bridge 8. The headsize is 100 square inches with a 16x18 string pattern, and the stiffness rating on the Babolat RDC is 70 for the heavier version and 69 for the lighter one.
The lower swingweight of the heavier version comes from less of its mass being located in the hoop and shaft of the frame. The Power Bridge 8 315 is measured at 8 points head light with a 302 swingweight, compared to a 320 swingweight for the Power Bridge 8 295 (thanks to a 4 points head light balance). That's an interesting spec difference: a heavier static weight, but a lighter swingweight.
To see how this heavier, but potentially faster swinging version of the Power Bridge 8 performed on court, we sent out our team for a month-long playtest. Was there more power, stability and comfort? Read on to find out.
Groundstrokes - Score: 82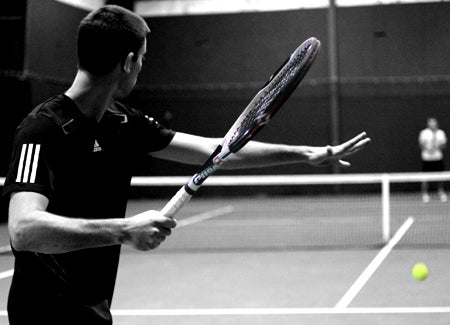 With the 8 points head light balance in mind, our testers were expecting a maneuverable racquet. Sean found the racquet played like its specs would indicate. "Transitioning from my AeroPro Drive, I felt right at home using this racquet, especially on my groundstrokes. With its maneuverable feel I was able to play with a lot more variety from the baseline than I've been used to. Instead of just cranking every shot, I was able to effectively use drop shots, lobs and slices to construct points more efficiently. In addition to some added feel, this racquet also packed some great punch when I needed to reach for some added power. My favorite attribute was, by far, the spin I was producing with the open 16x18 string pattern. I had success with both of the string setups I tried, which included an all polyester and an all multifilament string job. I have a feeling the right hybrid setup in this racquet would have been absolutely perfect for me."
Kana played with a variety of string setups. She concluded, "When I first hit with this, it was strung with polyester string at a higher than normal tension for me. My initial response was that it was the least favorite Volkl racquet I've hit with. Not only did it feel stiff, but it also felt very unforgiving on the arm, which was very surprising considering it has the Sensor Tour Handle System. I figured part of the reason for the feel was due to the poly, so I tried it out with a synthetic gut. It was a bit more forgiving, yet still had a stiff feel. The power seemed to be pretty low, and I really had to come up through the ball since I hit so flat. Changing my swing caused me to have a loopier shot than normal. After a few more hitting sessions I became more comfortable with my strokes and the playability of the racquet. It became surprisingly controllable after I made a few adjustments."
Ryan said, "Groundstrokes were very easy and fluid with this racquet. I had no trouble generating plenty of controlled power, which is a very rare feature for a racquet to have. I could place the ball very accurately most of the time, and the swingweight felt extremely comfortable and natural. I rarely thought about the racquet while playing at the baseline because it performed well right away, and this allowed me to focus on the points."
Tiffani found power, saying, "This racquet never let me down when it came to generating pace. I noticed that I could hit flat with good depth and pace, or I could easily hit topspin shots with equally good depth and pace. I felt I really had to go after the ball to hit a slice, otherwise the ball tended to float on me. The feel of this Power Bridge 8 315 is firm, so I preferred a softer synthetic string setup. When it was strung with a poly it was too firm for my liking. The performance was there, and the firmness didn't result in any discomfort, but I prefer a softer feel."
It was a tale of two racquets for Jackson, who said, "If I wanted to do any kind of damage from the baseline with this frame I had to be spot on with my timing. If I was spot on, the stick definitely rewarded me. However, if I was moving slow or just not on my 'A' game, hitting outside the sweetspot amplified my lack of effort. Most of the shots I hit off-center resulted in minor torsion problems, as well as sending a light, loopy ball over the net, making a sweet treat for my opponent. With proper technique, timing and aggressiveness this racquet could help me put up some scary winners. My favorite shot, by far, was the cross court forehand. The maneuverability made it easy to produce the spin necessary for the angle and the stiffness of the frame added authority to the shot."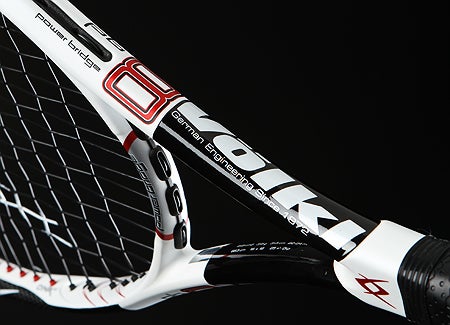 Volleys - Score: 81
The maneuverability again came into play at the net. Kana said, "The racquet was easy to maneuver, especially when I was out of position. The stiffness wasn't as much of a problem as it was on the groundstrokes, because it was easier to punch a shot and not feel vibrations. The racquet felt very crisp when closing on the net and executing shots."
Ryan concurred, saying, "The racquet was very maneuverable, both at the baseline and at net. I didn't feel anything particularly special about the response from the racquet (vibration, feedback, etc.), but was able to place most volleys where I wanted them with a decent amount of power. Touch was not terrific on trick shots, drop volleys or short slices."
Finding himself at home at the net, Jackson said, "I thought this racquet shined at net. Again, I appreciated the head light feel and the resulting maneuverability of this racquet. I think the weight and balance made the racquet feel natural in my hands, allowing me to stretch out and control the face of the racquet. I wish the racquet had a little more touch; I found that the stiffness of the frame caused the ball to really hop off the stringbed. The shots that I was able to finesse over the net didn't have the greatest feel, and as a result, consistently trying to hit them became a bit of a gamble."
Sean raved, "Although I'm still working to become more comfortable up at net, this racquet gave me a lot of confidence with my volleys. Even with a strung weight above 11 ounces, this racquet felt lightning fast in my hands when positioning myself for both forehand and backhand volleys. When contacting the ball it felt stable and solid, not to mention the ease of placing the shot with precision. I was completely impressed with the feel and touch that the racquet had around net, which makes this one of the best all court racquets I've tried."
"I was surprised by the maneuverable feel of the Power Bridge 8 315 at net," said Tiffani. "The balance made it manageable for me. On the other hand, I noticed that if I caught the ball high up in the stringbed the stability was compromised some. Again, the firm feel made me most comfortable punching volleys back, and had me shying away from trying touch shots."
Serves - Score: 82
Our team concurred that the Power Bridge 8 315 excelled on the serve. Jackson said, "I think the weight and balance worked well in this area, and this time the stiffness also played a nice role. Just as with the volleys, I felt the racquet naturally helped my serve, making wrist snap and pronation a breeze. I felt like I could hit each corner of the service box, or go into the body without hesitation. The stiffness helped generate some pop, which I think was lacking due to the head light feel, but I didn't feel like the ball was leaving the racquet with as much weight as I'd like."
Big serving Sean offered, "My serve continued to be one of my more effective shots with this racquet, although I was again doing the most damage with my shot variety. Rather than depending on pure power, the 315 allowed me to control and place my serves extremely well. Using wide slice serves and kick serves to create weak returns allowed me to easily come in behind my shots to finish the point quickly. I found it difficult to hit first serves with as much power as my current racquet. Second serves were both consistent and effective, thanks to the great spin potential this racquet offered."
Kana was also comfortable stepping up to serve with this Volkl racquet in hand. She said, "Partly because of the open string pattern, I could generate much more spin than I usually can with other racquets. Since the balance was more head light, I could really swing up toward the ball and allow the momentum of the racquet head speed to snap through the ball. This racquet allowed me to feel very comfortable trying to go for more spin on my second serve."
Ryan found the racquet an easy fit, saying, "I enjoyed the amount of power I was able to get out of the Power Bridge 8 315 on serves -- likely due to its weight. Serving is the area where adjusting to different racquets usually takes me the longest, but I was pleasantly surprised to find this not true with this Volkl. Again, the racquet felt very natural swinging through serves. I did not find variation of serves or spin generation to be a problem."
Note: Because of pregnancy, Tiffani has not been playing matches.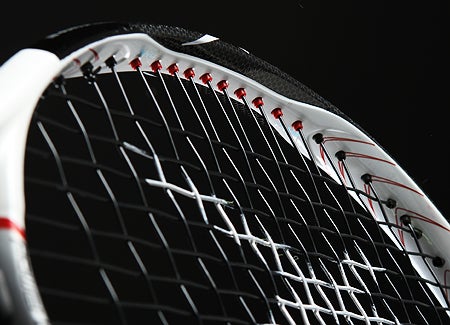 Serve returns - Score: 77
Reactions were mixed when it came to returns. Ryan sought control, saying, "Serve returns were pretty standard. I was able to get the racquet into position fast, which, for me, is the most important feature of a racquet on returns. Sometimes there was a little too much power off returns."
Kana also struggled, saying, "This is where I felt there could be more mass in the head of the racquet. It felt a little unstable and jarring, especially trying to aggressively return a heavy serve. I felt like I was popping the ball up too much, to the point where my opponent could easily put it away if they were a strong server."
The racquet demanded precision from Jackson, who said, "This was probably the most inconsistent shot I had with this racquet. I found the shots that were hit properly had an addictive quality. However, the racquet punished me for any laziness or lack of concentration, and pushed me to be more consistent with my strokes."
Sean, though, was right at home. He said, "My returns were solid from both my forehand and backhand wings throughout my testing. I was able to control my forehand return consistently, which is sometimes a problem with my wristy forehand swing. Every once in a while I go for a bigger return and this racquet definitely didn't disappoint. The racquet came through when I needed to flatten out that forehand shot. On the other hand, I tend to slice more of my backhand returns deep into the court and it performed just as well on those types of shots."
Overall - Score: 80
Sometimes a racquet doesn't play like the specs would indicate, but our playtesters felt that the Power Bridge 8 315's 8 points head light balance really was evident from all areas of the court. This made it easy for our team to hit groundstrokes, volleys and serves. From the baseline it was easy to control the power with spin, and our team was able to hit a wide variety of serves. The 315 was "lightning fast" at the net, making it easy to get it into position on volleys. Because it's so head light there's plenty of room to add weight for more more stability and power. Best of all, because this racquet is so maneuverable in stock form, it can be beefed up considerably without feeling sluggish. For the intermediate through advanced player, the Power Bridge 8 315 will please with power, spin, maneuverability and a crisp feel.
Likes
Jackson "The natural feel of the racquet and the head speed I was able to generate."
Kana "I could really whip the racquet up to the ball and snap it through on my serve."
Ryan "Great power, control and swingweight, and the racquet was easy to adjust to."
Sean "Exceptional feel plus enough power and spin potential to please most anyone."
Tiffani "I felt like I didn't need to do much to get good pace on the ball, and it was very maneuverable."
Dislikes
Jackson "Off-center shots felt jarring."
Kana "The racquet was too stiff for me and could've had a higher swing weight for better stability against harder hitters."
Ryan "Beam is a little thick, feel/touch is nothing special."
Sean "None."
Tiffani "I've come to enjoy very soft racquets, and this has a feel that's too far to the firm side for me."
Technical Specifications

Length
27 inches
69 centimeters
Head Size
100 square inches
645 square centimeters
Weight
11.4 ounces
323 grams
Balance Point
12.5 inches
32 centimeters
8pts Head Light
Construction
23/24/23 Dual Taper
Composition
Graphite/DNX
String Pattern
16 Mains / 18 Crosses

Babolat RDC Ratings

Score

Grade

Flex Rating
70
Range: 0-100
Swing Weight
302
Range: 200-400
Scores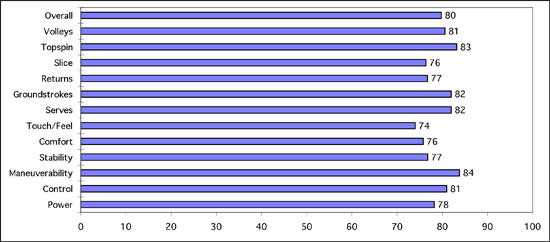 (Scores are determined by averaging individual play test scores)
Jackson's Scores
Power
7.9
Serves
8.4
Control
8
Groundstrokes
8.2
Maneuverability
8.8
Returns
7
Stability
7.2
Slice
6.7
Comfort
6.8
Topspin
8.7
Touch/Feel
7
Volleys
8.8
Overall
7.7
Kana's Scores
Power
7.6
Serves
7.8
Control
7.5
Groundstrokes
7.6
Maneuverability
7.8
Returns
7.2
Stability
7.2
Slice
7.5
Comfort
7
Topspin
7.7
Touch/Feel
7
Volleys
7.6
Overall
7.5
Ryan's Scores
Power
7.9
Serves
8.4
Control
8.6
Groundstrokes
9
Maneuverability
8.5
Returns
8.5
Stability
8
Slice
8.5
Comfort
8.5
Topspin
8.7
Touch/Feel
8
Volleys
8
Overall
8.7
Sean's Scores
Power
7.8
Serves
8.2
Control
8.6
Groundstrokes
8.5
Maneuverability
8.8
Returns
8
Stability
8.5
Slice
8.2
Comfort
8.6
Topspin
8.7
Touch/Feel
8
Volleys
8.4
Overall
8.4
Tiffani's Scores
Power
7.9
Serves
-
Control
7.8
Groundstrokes
7.7
Maneuverability
8
Returns
-
Stability
7.5
Slice
7.3
Comfort
7
Topspin
7.8
Touch/Feel
7
Volleys
7.5
Overall
7.6
Playtester Profiles
Jackson:4.5 All court player currently using a Babolat Pure Drive Team. Jackson uses a semi-western forehand grip, and hits with a two-handed backhand.
Kana: Open level baseliner with a western forehand and two-handed backhand. Currently using a customized Volkl V1 Classic.
Ryan: 4.5 baseliner with a Semi-Western Forehand and a two handed backhand. Ryan currently plays with a customized a Wilson Six-One 95 BLX.
Sean: 4.5 baseliner using the Babolat Aeropro Drive Cortex. Sean has a semi-western forehand, 1 handed backhand.
Tiffani: 4.0 level baseliner with a semiwestern grip on the forehand and hits a two-handed backhand. Currently playing with the Yonex RDS 003 (08 version).

Review date: November 2010. If you found this review interesting or have further questions or comments please contact us.
All content copyright 2010 Tennis Warehouse.