Volkl Organix 9 Racquet Review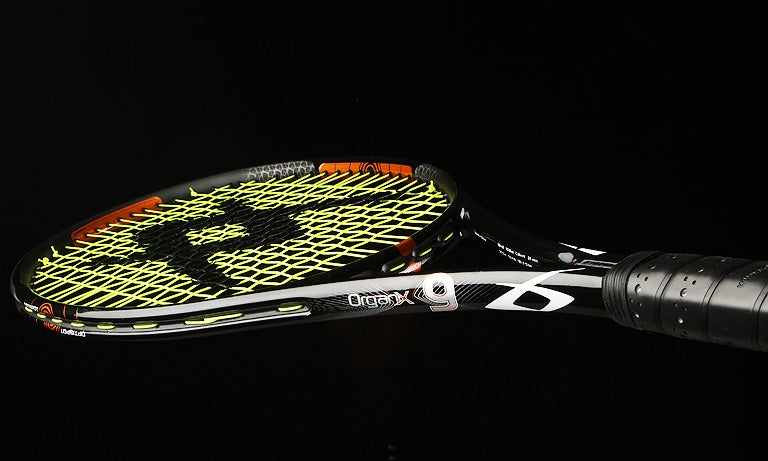 Volkl Organix 9 Scores
Comfort
83
Touch/Feel
78
Serves
75
Groundstrokes
76
Returns
77
Slice
81
Topspin
80
Volleys
80
Overall
75
Upsides
Maneuverability
Control
Easy to hit spin
Comfort
Summary
With its head light balance and open 16x19 string pattern, the Volkl Organix 9 allowed for fast swings and easy access to spin all over the court for the TW playtest squad. The BioSensor handle offered a dampened feel and a comfortable hit throughout the playtest, which translated into good touch and feel. The Organix 9's control-oriented response, combined with a small sweetspot, made it a demanding racquet to wield. Fast swings and hitting the sweetspot were necessary to get the best from this frame. Because of the control-oriented feel, excellent touch and quick response, the Organix 9 proves to be a good fit for aggressive all court players.
Groundstrokes - Score: 76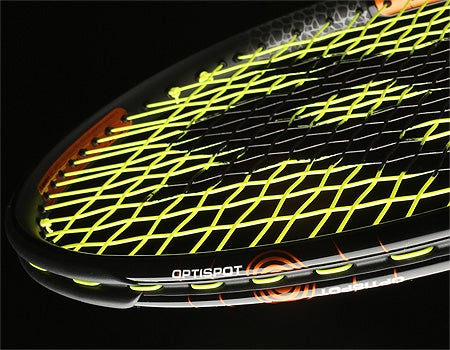 While there were some mixed opinions, the playtesters found that fast swings and sweetspot accuracy were the keys to success with the Organix 9 from the baseline. Having a mixed experience when hitting groundstrokes was Tiffani. She said, "I struggled with the Organix 9, finding myself to be off and on with it when hitting groundstrokes. I had a great time with the racquet when I was on and hitting the sweetspot and hitting with someone who generated any amount of pace. Those were the times when I could move the ball around easily and had good control. I really needed to take long, fast swings to get any power, though. Flipside: When I was on the defensive, which with my game style is quite often, the racquet wasn't forgiving and didn't offer free power when I was really stretched out for a ball or when I hit outside the sweetspot. Something that I felt I could almost always rely upon, though, was my slice. Like with the Power Bridge 9, the backhand slice was pretty reliable with the Organix 9. This newer version of the 9 also seemed to have a more dampened feel than its predecessor."
Jason felt the Organix 9 lacked power and wanted to add weight. He said, "As a former Power Bridge 9 user I came in with certain expectations, and I was slightly disappointed. I found this racquet to be underpowered, especially on any shots hit outside the sweetspot. I felt like I really had to muscle my shots to get more pace. My two other issues were the rectangular grip shape (I prefer a rounder, squarer shape) and the very muted feel. On the plus side, I did find it easy to swing and to generate spin. I liked it for slice as well as my topspin forehands. Depth control was tough to come by because of how underpowered it was, and I felt like directional control was just average. I'd definitely take some lead tape to this racquet to add power."
Siobhan found her tennis to be a little up and down with this racquet. She said, "I really liked the spin I got, and I could access that all over the court. When I hit the sweetspot the power was OK, but it was a small sweetspot, and I found the racquet generally underpowered. I had to hit that spot and keep my racquet speed really high, otherwise there was a loss of control and power, and I felt like I wasn't quite in charge. It was very comfortable to hit from the baseline and my strokes were very smooth, but I just didn't quite find my zone. That said, when I got in a nice baseline rally and I had enough time to prepare and the ball wasn't being absolutely fired at me I could play some aggressive tennis."
Brittany liked the control but didn't feel the Organix 9 suited her style of tennis. She said, "The Volkl Organix 9 racquet didn't complement my groundstrokes. I found I had a hard time getting my racquet into position quickly, which was apparent when I was hitting against flatter, harder hitters. I felt I lost some power on my groundstrokes off both wings. I struggled finding a groove on my backhand side, which is normally my best shot. However, I didn't have any trouble with control, and the weight/stability of the racquet allowed me to hit effective slices."
Volleys - Score: 80
Maneuverability and touch helped this racquet excel on volleys and smashes. Brittany really liked the Organix 9 up at net and gained confidence in her doubles play. She offered, "My favorite shot with this racquet, without question, was the volley. The racquet was very stable up at net. It offered great feel and touch, and I was able to hit the ball exactly where I wanted it to go. As an added bonus I found I was able to take good stabs at the ball and put it away efficiently. I enjoyed playing doubles with this racquet and felt very confident up at net."
Tiffani liked the quick response at net. She said, "Even though I generally feel most comfortable playing from the baseline, I actually preferred volleys to groundstrokes with the Organix 9. Of course, that's not to say I became a serve-and-volleyer! The quick response of the Organix 9 helped me get the racquet into position on time, and the racquet played softly enough to give me a chance to try to play with more touch at net."
At net Siobhan found maneuverability, and some of the power she was lacking from the baseline. She said, "One word? Enjoyable. It was maneuverable at net, and I felt like I could get decent pop on the balls. It just felt really solid, even on harder balls, which wasn't the case when I was hitting groundstrokes. The Organix 9 handled balls easily and was easy to handle. I liked playing doubles and getting to the net in singles with this racquet."
Jason also liked the maneuverability, but he wasn't getting the rhythm he wanted. "I had my ups and downs at net. I felt like the racquet was easy to get into place, and I really enjoyed it on overheads, but unless I was able to hit a clean volley (which I don't often do) the racquet was noticeably unstable torsionally and lost a lot of power."
Serves - Score: 75
All the playtesters had mixed opinions on serve, but agreed that the low powered response made it difficult to serve as well as they would have liked. Siobhan found her spin serve to be most effective. She offered, "My spin serve was my strength. The Organix 9 felt low powered, so I wasn't in a zone hitting any big first serves. Again, I noticed the way the racquet whipped through the air, which made my kick serves more aggressive, but in general my serve was not a weapon at all."
Like Siobhan, Jason struggled with the low power. He said, "This racquet just felt underpowered. When it came to just power it did me no favors on my serve, so I had to adjust and focus on hitting with consistency and spin, which this racquet was great for. I also found good placement."
Finding her first serve to be a lot stronger than her second was Brittany. She said, "I had mixed feelings when it came to serves. I felt I had to put a lot of effort into getting the racquet into motion, but if I was able to do so I achieved a hard flat first serve. I found success on my first serve by serving wide on the deuce side and into the body on the ad side. My second serve was a struggle. I wasn't able to get enough spin or depth, and felt my second serve was easy to attack."
Tiffani also found a lack of power, saying, "The Organix 9 didn't help me out much in the serve department. Though it swung pretty easily, I didn't notice a significant increase in the spin I could achieve, but there was enough. Where I struggled most was, once again, generating power. I couldn't get the ball moving with much oomph."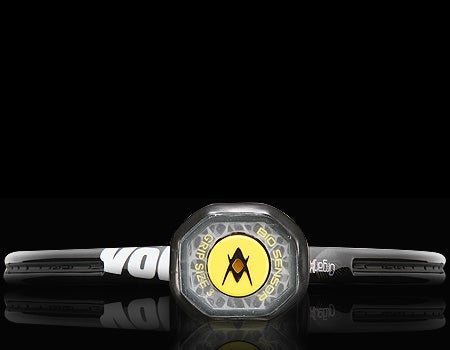 Serve Returns - Score: 77
While some of the team struggled with the small sweetspot, others found a shorter swing gave them good power and control. Jason struggled with returns, but was happy with his slice. He said, "The small sweetspot really exposed my returns. Because returns against hard hitters are so reflexive most of my shots don't go right where I want them to, and when that happened with this racquet I was immediately put on the defensive. I found the slice to be much more effective on my backhand side."
Brittany had to adjust to get good timing and more aggressive returns. She explained, "Like on my groundstrokes, I had a bit of an adjustment period on my returns, especially returning first serves. The first couple of times I was consistently late hitting the ball. Once I got used to the racquet I was able to find some success by shortening my swing even more than normal. Then I was able to get good pop and control. I had an easier time hitting second serves as I had more time to set up and really take a crack at the ball."
Tiffani liked the maneuverability of the Organix 9. She said, "I enjoyed hitting returns more than groundstrokes because most of the time the ball was coming in with more pace, so I had to do a lot less work. The racquet felt maneuverable, so getting my racquet on serves generally wasn't a problem. The one drawback was that it was hard to get depth when I hit outside the sweetspot."
Finding her returns to be a strength was Siobhan, who said, "I felt comfortable hitting returns, and I finally felt in control, which I think had to do with shortening my swing. It didn't really matter how fast the serves came, I could really swing at them and get them really deep. Returns were definitely my favorite shot to hit with this racquet. I liked that I was able to start the rally off really offensively."
Overall - Score: 75
Likes
Jason - "I found good access to spin from all areas of the court and I enjoyed the maneuverability. Also, it was easy on the arm."
Brittany - " I enjoyed the comfort from all areas of the court, as well as the touch/feel up at net."
Siobhan - "I could get on serve returns aggressively, and it was enjoyable at net."
Tiffani - "The Organix 9 was easier to swing than I expected, since it weighs a little more than I am used to (I love racquets right at 11 ounces strung). Hitting slice was also enjoyable."
Dislikes
Jason - "The rectangular handle shape, the muted feel, the small sweetspot and the underpowered response."
Brittany - "I had a hard time getting the racquet in position and found I had to put a lot of effort in to get the power I wanted."
Siobhan - "The lack of control and power from the baseline, which resulted in me getting hesitant."
Tiffani - "I really struggled to generate enough power on my own to be competitive, and the sweetspot seemed small. So basically, I need to step up my game to play with this one!"
Comparing the racquet to others they've tried, our testers said:
Jason - "It's like they took the Power Bridge 9 and added more dampening and a more rectangular grip."
Brittany - "For some reason this racquet felt very similar to the Head YOUTEK IG Prestige S. I felt I had to use the same effort to create power, but I enjoyed the feel of both racquets at the net. I had to make a conscious effort to get both racquets back early so I wasn't late hitting the ball."
Siobhan - "I struggled to find a comparison with this racquet, but I have to agree with Britt on this. I had a couple of little hit arounds with the Prestige S and the low power level was definitely there. It just took a lot more for me to hit with the pace I like because there were no hand outs."
Tiffani - "I was also on the testing team for the Power Bridge 9. I think the biggest difference between the two is feel. The Power Bridge felt crisper, whereas the Organix 9 has a more muted, dampened feel."
Technical Specifications

Length
27 inches
69 centimeters
Head Size
98 square inches
632 square centimeters
Weight
11.4 ounces
323 grams
Balance Point
12.88 inches
33 centimeters
5pts Head Light
Construction
19mm / 20mm / 20mm Tapered Beam
Composition
Organix / Carbon / Fiberglass
String Pattern
16 Mains / 19 Crosses

Babolat RDC Ratings

Score

Grade

Flex Rating
69
Range: 0-100
Swing Weight
313
Range: 200-400
Scores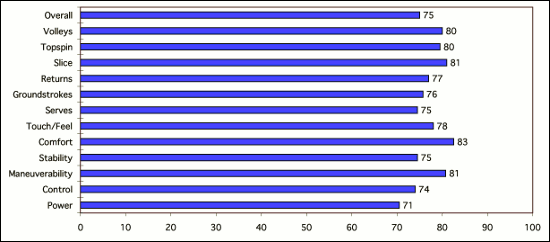 (Scores are determined by averaging individual play test scores)
Jason's Scores
Power
6.8
Serves
7.5
Control
7.8
Groundstrokes
7.8
Maneuverability
8.5
Returns
7.5
Stability
7
Slice
8.3
Comfort
8.5
Topspin
8.3
Touch/Feel
7
Volleys
7.8
Overall
7.4
Brittany's Scores
Power
7.2
Serves
7.3
Control
7.8
Groundstrokes
7.4
Maneuverability
7
Returns
7
Stability
7.6
Slice
7.8
Comfort
8
Topspin
7.5
Touch/Feel
8.2
Volleys
8.2
Overall
7.5
Siobhan's Scores
Power
7
Serves
7.5
Control
6
Groundstrokes
7.5
Maneuverability
8.5
Returns
8.5
Stability
7.5
Slice
8
Comfort
8.5
Topspin
8
Touch/Feel
8
Volleys
8
Overall
7.5
Tiffani's Scores
Power
7.2
Serves
7.5
Control
8
Groundstrokes
7.6
Maneuverability
8.3
Returns
7.8
Stability
7.7
Slice
8.3
Comfort
8
Topspin
8
Touch/Feel
8
Volleys
8
Overall
7.6
Playtester Profiles
Jason: 4.0 baseliner with a semi-western forehand and two handed backhand. Currently using a Boris Becker Delta Core London.
Brittany: Open level player with a semi-western forehand and a two-handed backhand. She currently plays with the Yonex V-Core 100S.
Siobhan: Open level player with a semi western forehand and a two-handed backhand. She currently plays Wilson KBlade Team.
Tiffani: 4.0 level baseliner with a semiwestern grip on the forehand and hits a two-handed backhand. Currently playing with the Tecnifibre Rebound Pro.

Review date: June 2012. If you found this review interesting or have further questions or comments please contact us.
All content copyright 2012 Tennis Warehouse.