Volkl Organix 8 (315g) Racquet Review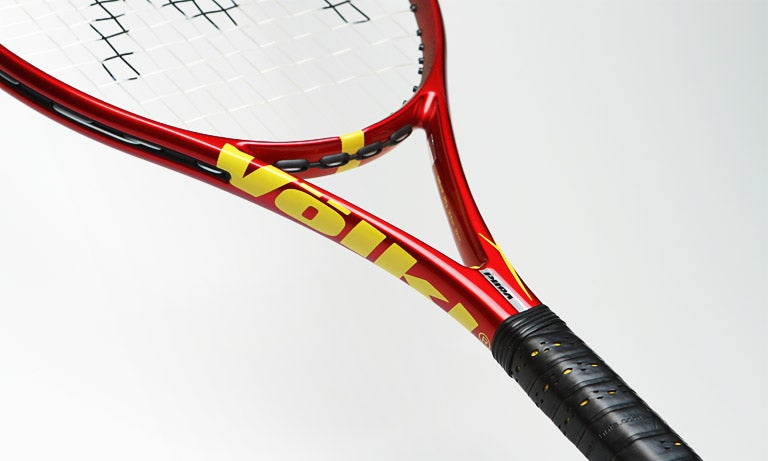 Volkl Organix 8 (315g) Scores
Comfort
79
Touch/Feel
74
Serves
80
Groundstrokes
78
Returns
75
Slice
79
Topspin
83
Volleys
81
Overall
77
Upsides
Lots of Power
Spin
Comfort
Stability
Downsides
So much power, consistency suffered
Summary
Volkl has added Opti-Spot and a Bio Sensor handle technology to the new Organix 8 (315g), but the standout feature noted by our testers was power. This racquet offers lots of power and then some. When putting the ball away and swinging aggressively, our team found enough power to ensure shots were not going to be returned. The flip side of power is control, and that's where some of our team struggled. While the open string pattern allowed easy access to spin to assist with control, flatter shots had a tendency to sail deep -- at times landing beyond the baseline. As we have found from just about every Volkl racquet we have hit, comfort was very impressive. The new handle system provided comfort without sacrificing feel. Stability was also excellent with this racquet, further improving comfort and adding some useful plow through. A solid option for 4.0+ level players, the Organix 8 (315g) brings more power to each shot than many competing racquets. If you are looking for a racquet to help you really crush the ball, this one is hard to beat.
Groundstrokes - Score: 78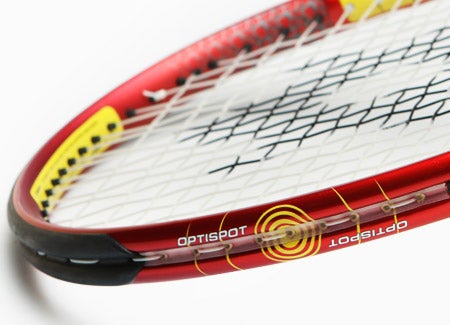 Right off the bat, our playtesters noticed the power delivered from the Volkl Organix 8 (315g) from the baseline. Sean found versatility on his groundstrokes. He said, "Once I adjusted for this racquet's power I was able to find my range from the baseline. Offering a ton of power, this racquet reminded me of a slightly heavier version of my old Babolat AeroPro Drive. Topspin and slice off both wings were easy to produce, and even caused my opponents some trouble. I had more success rallying with consistency than trying to immediately put the ball away, but when I decided to put something extra on my shot for the put-away, this racquet seriously delivered."
Having to adapt to the power was Jose. He said, "I was hitting a lot of groundstrokes deep, but sometimes sending them long. I had to adjust my swing and add spin to be more consistent with my shots, but I did have the luxury of being able to put away any balls that just sat up or were in my strike zone."
Chloe agreed. She added, "I got a lot of power off both wings, but I felt a little erratic at times and the ball would fly long. The Organix 8 (315g) almost had too much power from the baseline for me."
Spencer used a variety of strings during the playtest to find the right combination of power and control. He said, "Liking how the specs measured, I was looking forward to hitting this racquet. The first thing I noticed when I stepped on the court was the power. I first hit with a multifilament string, and though the racquet felt very solid, I had to be wary of how lively the stringbed was. This racquet's open string pattern with a multifilimant string created more power than I liked. There was a much more predictable response after I put in a polyester. I found this racquet to be string sensitive and felt the polyester string suited my game better. I got a nice combination of spin and depth on the forehand and was equally comfortable hitting a topspin or slice backhand. Another thing I noticed was that it felt heavier than what the specs would imply. That said, it did offer some nice stability."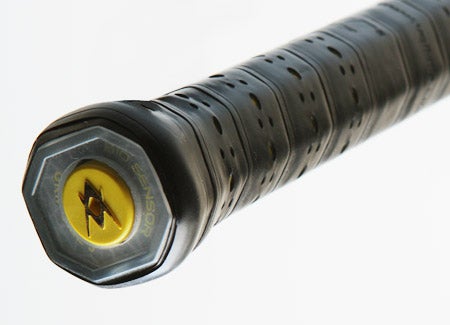 Volleys - Score: 81
Again, power came into play with our playtesters at the net. Spencer found a lot of positives on his volleys. He said, "I enjoyed the solid feel and put-away power when at net. With a stiffness rating of 70 (Babolat RDC), volleys really sprung off the stringbed, helping to end points quickly. The sizable sweetspot also helped me at net, offering some forgiveness on my off-center volleys."
Chloe had similar opinions, saying, "Solid on the volleys. I got really good pop, and a lot of spin because of the string pattern."
"I didn't have much confidence volleying with this racquet, so I tried to put the ball away immediately if I was forced to move forward," said Sean. "Maneuverability was an issue when I came forward. I found more than enough put-away power if given an easy ball, and finding depth on volleys was effortless with this racquet. However, I again found some problems consistently putting the ball where I needed it and harnessing the racquet's pop."
Jose had a little difficulty with the power of the racquet. He said, "Once again, power was the issue for me when it came to volleys. I was having a hard time keeping them in play, but when I got that easy one that I could put away, I had plenty of power to hit a winner. On the flip side, there was also plenty of power to hit it into the fence if I was too aggressive!"
Serves - Score: 80
Once again finding power, the playtesters had some mixed reviews on serves. Jose found his groove on serve, saying, "This is the only category where I didn't have to adjust at all. I was able to keep my stroke the same, and I got a good amount of power. I felt like I was crushing every single serve."
"I really enjoyed serving with the Organix 8 (315g)," said Spencer. "It gave me plenty of options. The available power helped me up my velocity when trying to sneak one up the T, while the access to spin was great for putting good action on the ball for better kickers and slice serves."
Chloe had mixed feelings. She said, "I got really nice power on the serves, but I felt that if I hit the ball off center a little it wouldn't come off with much pop."
Finding some difficulty with the weight was Sean. He said, "I felt like this racquet's weight came into play more on serves. It was less maneuverable than the Power Bridge version and had more of a clunky feel to its swing. The weight didn't necessarily cause my arm to get tired, but it did seem to slow my swing down and cause me to lose some swing speed. Second serves were far more consistent with the open string pattern, allowing me to drop slice or kick serves on a dime."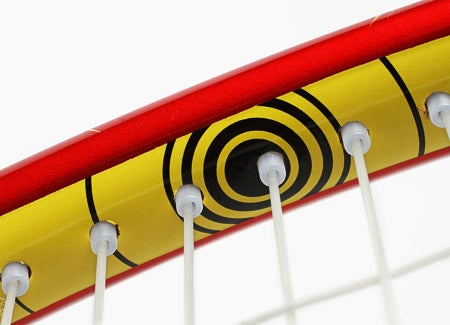 Serve Returns - Score: 75
The Tennis Warehouse playtesters had varied opinions on how the Organix 8 (315g) helped their returns. Chloe was impressed. She said, "I really enjoyed my serve return with this racquet. I could get a lot of power on the first strike, but there was too much power at times."
Spencer agreed, saying, "The forgiveness of the stringbed helped me once again. I could hit a variety of returns, but had to be careful about going for too much. If I got over zealous I could easily sail the return far past the baseline."
Needing time to familiarize himself with the racquet was Jose. He said, "My return game was good, but I had to adjust my style to allow the racquet to do most of the work for me. Once I got used to the racquet it was a lot easier to return big serves and control the power."
Sean struggled to find a rhythm. He said, "It was hard to really find much consistency with my returns. Because the racquet was so powerful, I was either hitting effective deep returns or sailing the ball long. I had to consciously try to put extra spin on my shots to get myself into the points. I had trouble keeping my flat returns in the court, but when executed properly this racquet's power won me some easy points."
Overall - Score: 77
Likes
Sean- "All of the power and spin potential you could want from a solid and comfortable midplus racquet."
Jose- "The power level was balanced with a good amount of control. Having that power really helped me put away a lot of shots or simply give my opponent a hard time right from the start."
Chloe- "I liked the power and spin that I got from the racquet. I also like the 100 square inch head size."
Spencer- "The ease of power and forgiving stringbed."
Dislikes
Sean- "A little heavy and definitely not as maneuverable as expected."
Jose- "I found it was really hard to play defense with this racquet."
Chloe- "There was too much weight for me, and I didn't like my serves because there was little room for error."
Spencer- "The handle shape is a bit too rectangular for my preferences."
Technical Specifications

Length
27 inches
69 centimeters
Head Size
100 square inches
645 square centimeters
Weight
11.6 ounces
329 grams
Balance Point
12.6 inches
32 centimeters
7.2pts Head Light
Construction
23mm - 23mm - 23mm
Composition
Organix / Carbon / Fiberglass
String Pattern
16 Mains / 18 Crosses

Babolat RDC Ratings

Score

Grade

Flex Rating
70
Range: 0-100
Swing Weight
315
Range: 200-400
Scores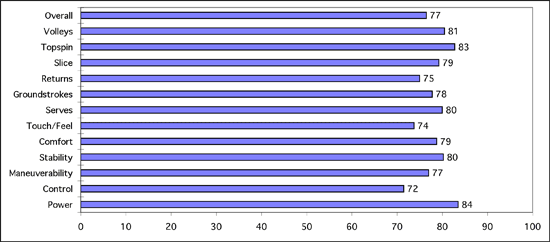 (Scores are determined by averaging individual play test scores)
Sean's Scores
Power
8.5
Serves
8
Control
7.2
Groundstrokes
8.5
Maneuverability
8
Returns
7.6
Stability
8.5
Slice
8.2
Comfort
8.6
Topspin
8.8
Touch/Feel
7.6
Volleys
8
Overall
8.1
Jose's Scores
Power
8
Serves
8.5
Control
7
Groundstrokes
7
Maneuverability
8
Returns
7
Stability
7.5
Slice
7
Comfort
7
Topspin
8
Touch/Feel
7.2
Volleys
7.5
Overall
7.1
Chloe's Scores
Power
8.5
Serves
7
Control
7
Groundstrokes
8
Maneuverability
7
Returns
8
Stability
8
Slice
9
Comfort
8.5
Topspin
8.3
Touch/Feel
7.5
Volleys
8.7
Overall
7.5
Spencer's Scores
Power
8.4
Serves
8.5
Control
7.4
Groundstrokes
7.6
Maneuverability
7.8
Returns
7.4
Stability
8.1
Slice
7.5
Comfort
7.4
Topspin
8
Touch/Feel
7.2
Volleys
8
Overall
7.9
Playtester Profiles
Sean: 4.5 baseliner using the HEAD Youtek Prestige Pro. Sean has a semi-western forehand, 1 handed backhand.
Jose: 5.0 baseliner with a semi-western forehand with a 2 handed backhand. Currently using the Prince EXO3 Tour 18x20.
Chloe: 5.0 baseliner with a semi-western forehand and two-handed backhand. Currently plays with a Babolat Pure Drive Plus Team.
Spencer: 4.5 baseline player currently using the Prince EXO3 Tour 100 16x18. Spencer uses a semi-western forehand grip, and hits with a one-handed backhand.

Review date: December 2011. If you found this review interesting or have further questions or comments please contact us.
All content copyright 2011 Tennis Warehouse.