Volkl Organix 8 Super G 315 Racquet Review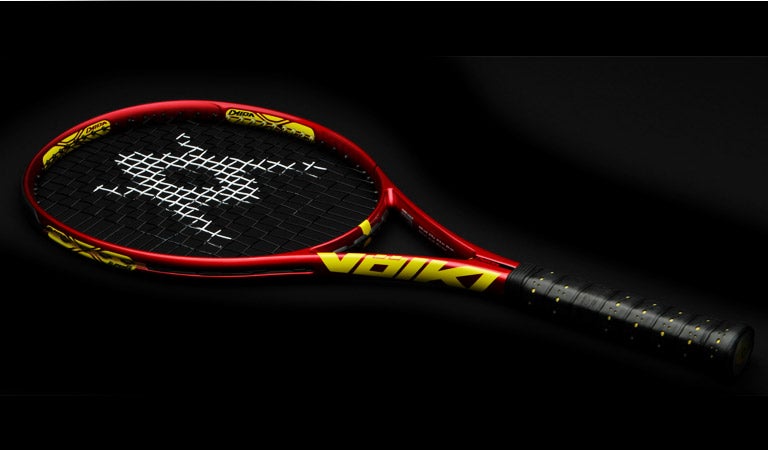 Volkl Organix 8 Super G (315g)
Power
80
Comfort
82
Touch/Feel
82
Serves
82
Groundstrokes
81
Returns
83
Slice
81
Topspin
81
Volleys
82
Overall
82
Upsides
Solid, crisp feel
Maneuverability
Access to spin
Downsides
Nothing we could agree on
Summary
The Volkl Organix 8 Super G (315g) features a flashy paint job and updated technology. With the new Super Grommet System, Volkl adds a flexible material called V-Sponse to the Speed Grommets, which allows the strings to move in all directions and provides greater dampening and energy transfer. On the court, our team found a comfortably crisp feel with a nice blend of power and control. Spin was easy to find on groundstrokes and serves, and the maneuverability was good at the net. Most of our playtesters enjoyed the Organix 8 Super G the most when playing doubles. Extra pop and spin when serving made tennis even more dynamic for our playtesters. They could access big first serves or make their heavy spin second serves jump off the court. Players with advanced games and quick swings will really enjoy this bold update from Volkl.
Groundstrokes - Score: 81
The Organix 8 Super G (315g) racquet felt stable, crisp and powerful from the baseline, which was perfect for our team of aggressive baseliners. Having playtested the Organix 7 and the previous Organix 8, Chris offered comparisons, saying, "I much preferred this racquet over the Organix 7 (310g) because it was much easier for me to hit my topspin backhand. I felt like I could get the racquet through contact faster thanks to it being a standard 27 inches in length. I also found more control here than with the previous Organix 8 -- which also rings true with the new and old 300g versions of the 8. This update just felt more predictable compared to its predecessor. I was able to hit more aggressively with it and found I could trust the response much more. I was able to get close to the power that I get with the Babolat Pure Drive Roddick, but this one feels just a tad faster. The result was slightly better access to spin, but not quite as much pace."
Michelle went into this playtest knowing she would enjoy hitting with this updated Organix 8. She explained, "When I started this playtest I was playtesting a bunch of blacked out Volkl updates -- and this is the one I ended up never putting down. The heavier 315g frame suited my game well. I was drilling my groundstrokes through the court and could throw some spin in without a problem. There was power, but controlled power, which has been the theme for me in 2014! This racquet was also really quick off the baseline, so I could hold my own during big rallies. I've said this before, but I like the craftsmanship of Volkl racquets, and this one has that great feel paired with a stiffer layup (which I enjoy), and it maintains a comfortable response. Oh, and the paint job on this one?! Love it as much as I loved hitting with this racquet!"
Jason found the open string pattern and the maneuverability to be a winning combination. He said, "This is a solid playing racquet that swings quickly through the air. It really allowed me to not only hit with lots of spin, but also with sharper angles. The power was there when I hit the sweetspot, but I would consider this a more control-oriented racquet than a rocket launcher. I did feel like the power dropped off considerably on shots hit outside the sweetspot."
Brittany also found controlled power and a stable feel. "The Organix 8 Super G (315g) didn't have as much power as the lighter version that I playtested, but I really cracked the ball when I hit the sweetspot dead center. I did have to make a slight adjustment to keep the ball deep; I was hitting the ball short (around the service line) at the start of the playtest. I found the depth I wanted once I started to really swing through my shots and added spin. My slices were better (compared to 300g version), and I was able to keep them low and penetrating."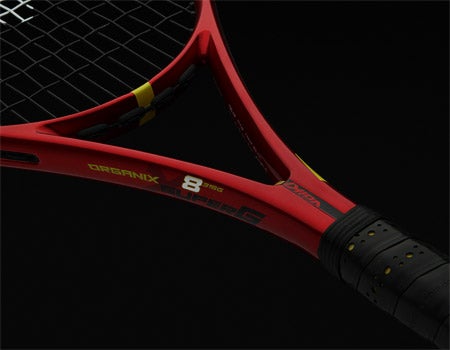 Volleys - Score: 82
Most of our playtesters really liked the maneuverable and crisp response of the Organix 8 Super G (315g) at the net. This racquet quickly became one of Michelle's favorite racquets to play doubles with because of how well it performed for her at net. She elaborated, "Both Brittany and I played several sets of doubles with both versions of these updated Organix 8s, and we both found success using the 8s at net. Volleys were awesome because the racquet is so maneuverable. It was easy to put balls away and just as easy to block back balls being drilled at me. I could even use this racquet to play some touch volleys or get those dippers back in play."
It's no secret that Jason doesn't love finishing points at the net, and unfortunately, he didn't feel much chemistry with this racquet when he was up there. He offered, "I didn't like it as much up at net because I wasn't hitting it as cleanly as I did at the baseline, which is a knock on me more than a knock on the racquet. My not-so-clean volleys were making the racquet twist in my hand, and my shots had a noticeable drop off in depth and power. Although, I did enjoy the touch around the net and the ease of hitting an angled volley."
"Volleys were so much fun to hit with this racquet," said Brittany. "It was maneuverable, had a crisp feel and was stable. I loved playing doubles with it and felt very comfortable at net, whether I was up there for doubles or closing the point out in singles. My swinging volleys and overheads felt stable, and they kept me on the offensive."
The firm and crisp response had Chris dialed in at net. He said, "I found great directional control, and I was loving the rock solid feel. Punching volleys deep was easy -- even when I had to volley from deep in the court or at a stretch. I hit the racquet strung both with a multi and a co-poly and much preferred the response with a poly. The increase in control was significant, and I didn't have to give up much power. I was able to react quickly on some hard hit passing attempts and use the crisp response to redirect the ball for a winner. While this racquet lacks the plush feel of a traditional player's racquet, its power, crisp response and stable feel worked great at net."
Serves - Score: 82
Brittany definitely found her groove when serving with the heavier of the two Organix 8 Super G racquets. She offered, "I had full access to all the serves I like to hit; the flat serve down the T, the slice into the body or a kick second serve. I enjoyed the extra plow through I was receiving from the extra weight."
Chris continued to find a great fit with the Organix 8 Super G. He said, "I was getting some solid power from this racquet. I thought it felt plenty comfortable, too, even when strung in the high 50s with a poly. The mass of the racquet came through the ball nicely. It felt like I was getting some nice penetration through the court, and I seemed to be hitting a pretty heavy serve. I was able to give my opponents some issues, and found I could easily add some extra heat to catch them off guard. I got a little more spin out of the 300g version of this racquet, but all in all I felt like I served better with this one."
The whippy feel was a benefit for Jason. He explained, "I felt like I could really put good spin on my serves by keeping the head speed up. This was a really nice racquet to serve consistently with, and the control and placement were solid as well."
Michelle found success serving with the Organix 8 Super G in doubles. She noted, "When the sun was brutal I could take a little off my first serve by hitting a second serve as my first serve -- which worked great! This racquet really gave me the confidence to hit slice and kick serves, and I could really key in on my targets. When I was ready to take my serve up a notch I could get some good pop, however, I really enjoyed this racquet the most when playing around with my slice and kick serves."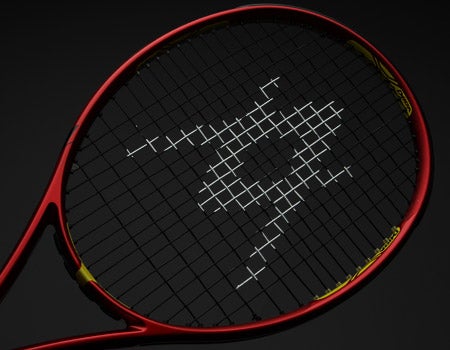 Serve Returns - Score: 83
Our playtesters could really tap into their offensive games when returning with the Organix 8 Super G (315g). They all felt the racquet was maneuverable and stable, allowing them to go after their returns. "For those of you who are aggressive returners, this racquet is for you," stated Jason. "I felt like I could take a swing at almost any serve I saw because of its maneuverability. I didn't have to worry about overhitting because this isn't the most powerful racquet, which is a good thing. The open string pattern helped keep my shots in the court. I did have a little trouble chipping shots back, as they were landing shorter than usual."
The return is a big part of Michelle's game, and she usually enjoys a racquet that is stable and fast so she can really accelerate through her swing. The Organix 8 Super G (315g) fit the bill. She said, "I could tee off and go for big returns, or I could be smart and use this racquet to execute some solid dipping or slice returns."
Brittany also found returning with this racquet to be a blast. She offered, "With the extra stability I was really able to go after any serve that was hit at me. I loved returning in doubles because I was able to keep the ball low and in front of the server. The maneuverability was an excellent feature of this racquet and really had a positive impact on my returns."
Chris found the Organix 8 Super G (315g) easy to get around when returning. He said, "I was able to attack well with the Organix 8 Super G (315g) and found I could trust the level of power I was getting. I had success rolling the ball deep and driving it to the corners when I was willing to take a bigger risk. This racquet also felt solid on my slice backhand. I was getting lots of bite from the stringbed, which allowed me to swing fast yet still keep a good level of control."
Overall - Score: 82
Likes
Chris - "I liked the solid and crisp feel. The power level was very good, and I felt like I could really trust the pace and depth I was going to get on each swing."
Michelle - "I loved this one right down to the paint job! It was easy to swing out with, and I liked the stiffness level and the comfortable response. It was maneuverable and quick off the baseline and at net, and I loved hitting a big kicker with it."
Jason - "The maneuverability and access to spin were standout aspects for me. It has a much firmer, more solid feel than other Volkl racquets I've tested, but it's still friendly enough on the arm."
Brittany - "I thought this racquet did everything well, and I enjoyed the maneuverability, comfort and crisp feel."
Dislikes
Chris - "None."
Michelle - "None. I had fun with this playtest! Lately, it's my go-to doubles racquet!"
Jason - "The drop-off in performance when the ball hit outside the sweetest was quite noticeable."
Brittany - "I would have liked a little bit more power."
Comparing it to other racquets they've used, our testers said:
Chris - "A really solid playing stick, this one is right in there with the likes of the Babolat Pure Drive Roddick and Head YOUTEK IG Extreme Pro 2.0. It feels firm and crisp like the Roddick yet is a little more maneuverable like the Extreme. I would likely weight this one up to get even more plow through, but I'd keep the head light balance the same to retain the maneuverability."
Michelle - "I'd compare it to the Babolat Pure Drive Roddick, but this Volkl has a softer feel and I can generate a heavier ball with the Roddick. I would also compare it to the Babolat AeroPro Drive, because I can really generate some heavy spin with both of them."
Jason - "It has the same whippy feel as the Head Graphene Instinct MP."
Brittany - "Compared to the 300g version, I found this one to have more control and a more stable feel from the baseline and up at net. I enjoyed the extra plow through I received from the 315g while serving. Lastly, they had a pretty similar feel and were comfortable and maneuverable."
Technical Specifications

Length
27 inches
69 centimeters
Head Size
100 square inches
645 square centimeters
Weight
11.5 ounces
326 grams
Balance Point
12.8 inches
33 centimeters
6pts Head Light
Construction
23.5mm / 23.5mm / 23.5mm
Composition
Organix / Carbon / Fiberglass
String Pattern
16 Mains / 18 Crosses

Babolat RDC Ratings

Score

Grade

Flex Rating
72
Range: 0-100
Swing Weight
315
Range: 200-400
Scores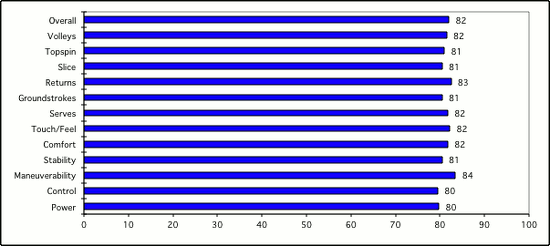 (Scores are determined by averaging individual play test scores)
Chris' Scores
Power
8.3
Serves
8.3
Control
8
Groundstrokes
8.1
Maneuverability
7.7
Returns
8.3
Stability
8.3
Slice
8.2
Comfort
8.3
Topspin
8
Touch/Feel
8.2
Volleys
8.2
Overall
8
Michelle's Scores
Power
8
Serves
8.6
Control
7.8
Groundstrokes
8.4
Maneuverability
8.7
Returns
8.8
Stability
8.6
Slice
8.6
Comfort
8.5
Topspin
8.5
Touch/Feel
8.5
Volleys
8.8
Overall
8.7
Jason's Scores
Power
7.8
Serves
8.2
Control
8.2
Groundstrokes
7.9
Maneuverability
8.5
Returns
8
Stability
7.9
Slice
7.8
Comfort
8
Topspin
8.2
Touch/Feel
8.2
Volleys
7.6
Overall
8.1
Brittany's Scores
Power
7.8
Serves
7.6
Control
7.8
Groundstrokes
7.8
Maneuverability
8.5
Returns
7.9
Stability
7.4
Slice
7.6
Comfort
7.9
Topspin
7.7
Touch/Feel
8
Volleys
8
Overall
7.9
Playtester Profiles
Chris: 5.0 all-court player currently using the Wilson Six.One 95S. Chris uses a full-western forehand grip, has a fast swing style and hits a one-handed backhand.
Michelle: Open level baseline player with a semi-western forehand and a two handed backhand. She currently plays with the Babolat Pure Drive Roddick.
Jason: 4.0 baseliner with a semi-western forehand and two handed backhand. Currently using a Wilson Steam 99 S.
Brittany: Open level player with a semi-western forehand and a two-handed backhand. She currently plays with the Yonex V-Core 100S.

Review date: March 2014. If you found this review interesting or have further questions or comments please contact us.
All content copyright 2014 Tennis Warehouse.