Volkl Organix 8 Super G 300g Racquet Review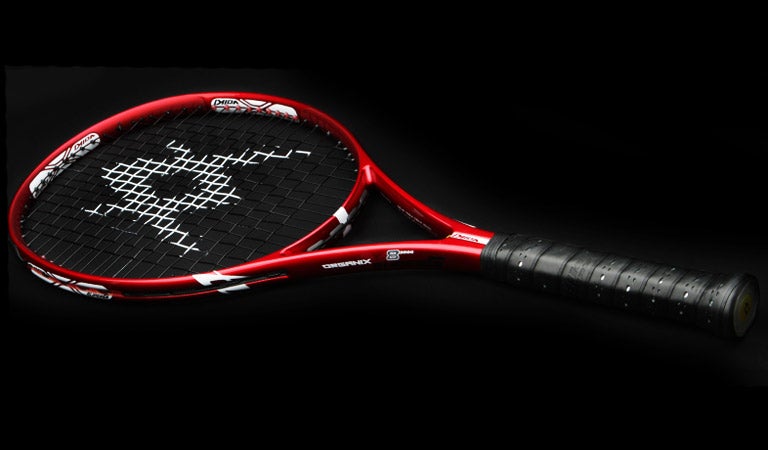 Volkl Organix 8 Super G 300g
Power
84
Comfort
77
Touch/Feel
78
Serves
76
Groundstrokes
80
Returns
77
Slice
79
Topspin
81
Volleys
79
Overall
77
Upsides
Maneuverability
Effective combination of power & spin
Downsides
Nothing we could agree on
Summary
You are likely to hear a lot more about the Babolat AeroPro Drive than the Organix 8 Super G (300g), but after playtesting the 8 we think it deserves a seat at the same table. Both of these racquets offer a wonderfully crisp response, and they both have a fast, lively and precise feel that complements the modern power game. With a strung weight of 11 ounces, our crew was quick to notice the 8's maneuverability. We found it very easy to swing fast and generate spin. The majority of our team discovered plenty of power, if not perfect control. While some of our playtesters yearned for a little more heft and stability, it's pretty clear that this racquet has a lot to offer to those who want a speedy and spin friendly weapon with an easy learning curve.
Groundstrokes - Score: 80
Our team was able to rip some penetrating groundstrokes with the Organix 8 Super G (300g). For Chris, this racquet's control was a crucial part of the equation. He explained, "This Super G update offered me way more control than the previous version of the 8 300g. The power from the previous Organix 8 300g racquet was too much for me. With this racquet I was much more confident on my groundstrokes because I was not launching the ball long. I had much more control and feel on touch shots, lobs and angles. When strung with a poly like Volkl Cyclone, this racquet offered a really nice blend of power, spin and control. I could drive through my slice and felt confident enough to aim deep into the corners with no fear of overhitting. I can't emphasize enough how much more control and confidence I had with the 8 Super G. Best of all, I still found enough power to hit winners or to push my opponent back off the baseline. I am very fond of the Organix 7 295g, too. While this racquet was not as forgiving or as powerful, I definitely had a better connection to the ball. The level of spin I was getting was solid. I didn't get the kind of spin I find with one of the myriad of spin technology racquets now available from Prince or Wilson, but I was getting enough to make my shots dip inside the lines on passing shots and big groundies."
Tiffani also found a nice combination of pace and spin, especially when using the right string. She offered, "Lately it's been all about spin, it seems, and this racquet delivers on that front, along with having a powerful response. It doesn't take much effort to get the ball moving with the Organix 8 Super G (300g). Spin was not as evident as it is with the super open string patterns we're seeing now, but I get plenty of topspin with my usual stroke -- and I found a predictable response. I also enjoyed hitting my backhand slice, especially when the racquet was strung with a grippy co-poly. When I first hit with this racquet it was strung with a soft multifilament, and that string setup paired with Volkl's dampening technologies was too much. I much preferred this racquet when it was strung with a shaped co-poly. This racquet may have an RA of 69, but it doesn't feel like it. There was plenty of comfort for me."
The specs of this racquet were very close to what Brittany normally uses, so it was no surprise that she quickly found a groove. She said, "The first thing I noticed with this racquet was how easy it was to use from the very first shot. In the words of a very wise friend, the specs are right in my wheelhouse. The racquet was incredibly maneuverable, and I was able to create a lot of racquet head speed. There was an excellent combination of power and spin from the baseline. I had enough power to be aggressive and set the point up, but I also had enough spin to keep the ball in the court or pull my opponent off the court with a more angled groundstroke. My attempts to hit penetrating slices floated more than I would have liked."
Though he had plenty of power and spin, Andy, with his long, fast strokes, could have used more control. He said, "This thing can pack a punch from the baseline! It has a stiff, crisp feel with a very lively sweetspot. On top of that, it's fast through the air and easy to swing, so when you connect, you CONNECT! Access to spin was nice, too, especially once we put a stiff, shaped co-poly string in it. It was a little uncomfortable when I hit outside of the sweetspot, which is very uncharacteristic of Volkl racquets in general. I also wasn't getting great control out of it because it's so light and powerful."
Volleys - Score: 79
Despite some reports of instability on off center hits, the majority of our team found the Organix 8 Super G (300g) to be wonderfully fast, crisp and user friendly at net. Brittany was dialed in, saying, "I found it to be very maneuverable at the net. I had no problems getting the racquet in position for anything that was hit at me, whether it be a passing shot or a volley. I loved the crisp feel and was able to accurately redirect the ball wherever I wanted. I did wish for a bit more stability though, especially when I was hitting with players that hit heavier shots."
Tiffani also appreciated the response of this racquet around the net. She continued, "I liked the blend of maneuverability and power at the net. I could move the racquet into position without problems and effectively punch volleys deep into the court. If I had one knock against it, I would say I noticed some flutter when the ball hit outside the sweetspot -- but that's typical of racquets in this spec range."
Andy found the racquet very easy to use around the net, but noticed some instability on off center impact. He explained, "You really don't have to do a whole lot to produce a well-hit, deep volley. Just stick that racquet out and let the launching pad of a sweetspot do the work. There's also some nice touch and feel for finesse shots. Once again, I did feel a slight lack of control, and a little more weight in the hoop would've provided better stability on shots hit off-center."
Mirroring his experience from the baseline, Chris found a near perfect balance of features at the net. He said, "I liked the feel of this racquet at net. It was crisp and solid without feeling uncomfortable. The response from the stringbed was pleasingly firm, and I felt well connected to where my volleys were going. I also found it to be very maneuverable. I was able to get it into position quickly and easily. When I was able to close tightly on the net, I found it easy to get the ball away. I had enough power to punch volleys for winners and enough touch for drop volleys and angles. Adding some spin was easy because the maneuverable response made it easy to cup under the ball. I was really digging the crisp feel, and everything just came together nicely at net for me."
Serves - Score: 76
Light, lively and spin friendly, the Organix 8 Super G (300g) was easy to swing on serves. This was a blessing and a curse for Andy. He explained, "I was getting some major power and spin with this racquet, to the point where my goal on first serves was just to see how big and heavy I could hit it. However, I once again had trouble with control because it was so fast through the air and so powerful at contact. I didn't feel like I could hit my spots consistently, and I got tentative on my second serves."
Brittany could have used a little more mass on serves, saying, "I struggled finding a groove with my serve. I never say this, but I could have used a little bit more weight. I got a lot of racquet head speed but didn't really have any 'oomph' behind my serves. I was having a hard time finding a serve I enjoyed hitting and found the most success with slice serves into the body. I was occasionally able to hit a big flat serve, but not as consistently as I would have liked. My second serves were sitting up a little too much for my liking."
Despite the fact that he typically plays with a heavier racquet, Chris was again impressed by how effectively this light racquet performed. He said, "I continued to enjoy this racquet when it came to serving. Again, I found the blend of power and control to be spot on. There was enough oomph to help me hit some nice service winners and aces. My serves down the T had good heat on them. When I added spin to the ball I could open up the court by pulling my opponent wide. The level of spin I was getting was solid and very predictable. I didn't miss any of the power of the previous version because I was serving with greater consistency and accuracy. Racquets in this range usually leave me wanting for more mass, but I liked this one just fine in stock form. I liked the racquet head speed I was getting. An old shoulder injury stops me from getting a deep racquet drop down my back on serves, but I found I could still accelerate this racquet enough to develop plenty of pace and spin."
Though she didn't break Venus William's 130 MPH serving record, Tiffani was satisfied with the Organix 8 Super G (300g) on serves. She said, "It was business as usual for me on serve, which is to say that I wasn't blowing anything by anyone. Still, I was happy with the performance, and I found better than average pace and spin from the racquet. Let's just say I should take a bucket of balls out to hit more serves, and this would be a good candidate to do that with because I never got tired swinging this racquet above my head."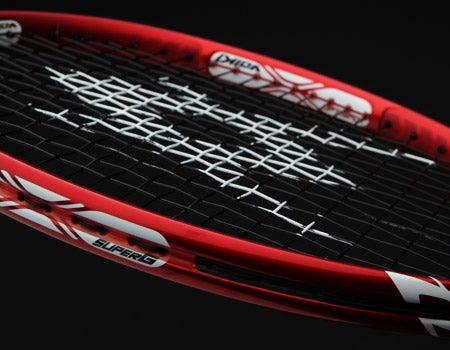 Serve Returns - Score: 77
The Organix 8 Super G (300g), with its maneuverability and responsive feel, had our team going after their returns with aplomb. With the right string setup, Tiffani's confidence got better and better. She said, "The sweetspot felt generous and the swing was fast. Together, these attributes made returning pretty easy with this racquet. I also liked the power level. I could take the offensive, but I could also be pretty confident that I wasn't going to overhit (that is, when it was strung with a more control-oriented string)."
Chris had all the ingredients he needed to confidently pick his targets. He raved, "One of my favorite shots to hit with this racquet was the return. I was swinging aggressively and loved aiming deep to the corners of the court. The racquet felt solid, yet it was fast and easy to get around. The crisp response had me feeling connected to where the ball was going. A poly string was the way to go for me because it upped both the control and the spin I could get with this racquet. The resulting feel was crisp and precise. The response on slice and block returns was predictable, and I found it easy to control depth."
Already a strength of Brittany's game, her returns were even more exceptional with the 8 in hand. She said, "The maneuverability really helped my returns, and it was a very fun racquet to return with. I think my favorite thing to do was to attack second serves and start the point off on the offensive. In fact, if I could I would return all day with this racquet and not serve."
While others had success, Andy had trouble taming the power. He explained, "This racquet was just too light and uncontrollable for me on return of serves. I really had to focus to get my returns to where I wanted them to go. The racquet is forgiving, and with its power it was a lot of fun when stretched wide to just unload on returns to see how hard I could hit them."
Overall - Score: 77
Likes
Chris - "My favorite version of the 8 yet. This one offered a much better blend of power and control."
Tiffani - "I liked the comfort and maneuverability, and the blend of power and spin."
Brittany - "I enjoyed the power and spin combination from the baseline, along with the maneuverability and comfort."
Andy - "It's very powerful, spin-friendly and responsive."
Dislikes
Chris - "None."
Tiffani - "Nothing noteworthy."
Brittany - "I found it to be unstable and lacking in control at times."
Andy - "I thought it got uncomfortable when I hit outside of the sweetspot, and I also wasn't getting enough control."
Comparing it to other racquets they've used, our testers said:
Chris - "It feels faster and more mobile than the 315g version, and I felt like I had better control of the tip of this racquet. I would also put it right up there with the likes of the Babolat AeroPro Drive and Head YOUTEK IG Extreme MP 2.0. Like the Head Extreme, this one had a level of comfort that is missing in the AeroPro Drive. The Donnay Formula 100 would be another option to consider because it offers much of the same power and spin with similar control and comfort. Compared to the Organix 7 295g that I like to hit, this one offers a more controlled response but has a smaller sweetspot and not quite as much free power."
Tiffani - "I prefer this Super G version to the previous Organix 8. I wasn't a big fan of the feel of the original Organix 8. It felt stiffer to me. This is more comfortable in my opinion, and it offers lots of spin and easy power. It's a lot like the Donnay Formula 100. Both are comfortable and spin friendly, with the Formula 100 offering a bit more power and the Organix Super G a bit more control."
Brittany - "Compared to the 315g version, I found this one to have much more power from all areas of the court. I also found it slightly more unstable on returns and volleys compared to the heavier version. They had a pretty similar feel; comfortable and maneuverable."
Andy - "It's similar to the Dunlop M5.0 in that it's stiff, crisp, powerful, spin-friendly and fast through the air. I'd also put it in the same class as the Babolat Pure Drive Lite, with just a little more heft and power."
Technical Specifications

Length
27 inches
69 centimeters
Head Size
100 square inches
645 square centimeters
Weight
11 ounces
320 grams
Balance Point
6pts Head Light
Construction
23mm / 23mm / 23mm /
Composition
Organix / Carbon / Fiberglass
String Pattern
16 mains / 18 crosses

Babolat RDC Ratings

Score

Grade

Flex Rating
69
Range: 0-100
Swing Weight
312
Range: 200-400
Scores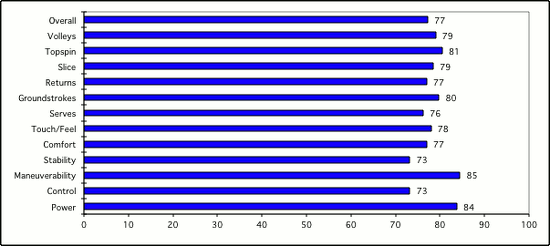 (Scores are determined by averaging individual play test scores)
Chris' Scores
Power
8.1
Serves
8.1
Control
8
Groundstrokes
8.3
Maneuverability
8.3
Returns
8.5
Stability
7.9
Slice
8
Comfort
8.2
Topspin
8.3
Touch/Feel
8.1
Volleys
8.3
Overall
8.2
Tiffani's Scores
Power
8
Serves
8
Control
8.2
Groundstrokes
8.5
Maneuverability
8.3
Returns
8.4
Stability
7.7
Slice
8.3
Comfort
8
Topspin
8.2
Touch/Feel
8.1
Volleys
8.1
Overall
8.1
Brittany's Scores
Power
8.4
Serves
7.9
Control
7.1
Groundstrokes
7.6
Maneuverability
8.5
Returns
7.9
Stability
6.7
Slice
7.1
Comfort
8.1
Topspin
7.7
Touch/Feel
8
Volleys
7.5
Overall
7.6
Andy's Scores
Power
9
Serves
6.5
Control
6
Groundstrokes
7.5
Maneuverability
8.7
Returns
6
Stability
7
Slice
8
Comfort
6.5
Topspin
8
Touch/Feel
7
Volleys
7.7
Overall
7
Playtester Profiles
Chris: 5.0 all-court player currently using the Wilson Six.One 95S. Chris uses a full-western forehand grip, has a fast swing style and hits a one-handed backhand.
Tiffani: 4.0 level baseliner with a semiwestern grip on the forehand and hits a two-handed backhand. Currently playing with the Donnay Formula 100.
Brittany: Open level player with a semi-western forehand and a two-handed backhand. She currently plays with the Yonex V-Core 100S.
Andy: Open level all court player with a semi-western forehand grip and a two handed backhand. Andy currently using a Wilson Blade 98 18x20.

Review date: March 2014. If you found this review interesting or have further questions or comments please contact us.
All content copyright 2014 Tennis Warehouse.