Volkl Cyclone 16 String Review

Volkl Cyclone 16 Scores
Power
67
Spin
92
Comfort
83
Control
93
Touch
81
String Movement
91
Playability Duration
78
Durability
89
Overall
89
Upsides
Spin
Control
Durability
High playability for a co-poly
Downsides
Too firm and underpowered for beginners or those with compact strokes
Summary
Our playtest team found Volkl Cyclone to be a very user-friendly co-poly with no real downsides. Unlike some strings that require either an onerous break-in period or constant tinkering with swing speed and tension, we thought Cyclone's playability was exceptional right "out of the box." This doesn't mean that Cyclone is for everybody. It's still a co-poly, which makes it more suitable for stronger players with long, fast strokes. However, the fact that all our testers were satisfied with the comfort and power level suggests that this string should not only have wide appeal in the poly community, but it might work well for rising intermediates who want to make the jump into a control string. Ultimately, for those who like a crisp response, Cyclone not only offers a truly impressive combination of spin, control and playability, it also boasts one of the most impressive price-to-value ratios on the market.
Power - Score: 67
As a poly-based string, Volkl Cyclone is not meant for players who want or need a lot of power from their stringbed. However, according to our team, it's not completely lifeless like some durability strings. Chris found the perfect balance between power and control. He said, "I love the power level of this string. It offers decent pop for a poly-based monofilament. I like to string it low, which further ups the power potential. Even at extremely low tensions I find the power level of this string to remain very controllable."
Also finding controllable power was Troy. He said, "I found Cyclone to be medium powered for a co-poly. The ball seemed to jump off the stringbed more than with some of the stiffer polys. The power was very controllable from the baseline, unlike multifilament nylons. I have tried this string at tensions ranging from 40-60 pounds, and I never seem to lose control (even at low tensions), perhaps because the pocketing and grip help me guide the ball with such ease."
Mark discovered that Cyclone's power lived up to its poly pedigree. He said, "With a poly I hope for and anticipate a low powered/high control string, and Cyclone delivered that in spades. At 51 pounds in a 95 square inch head and 18x20 pattern, Cyclone created a deep pocket (lots of string contact around the ball), with very little launch off the string bed. This is exactly what I like in a poly."
Agreeing with Mark, Mike found Cyclone's power level to be perfectly in line with a control string. He said, "This string does offer some power, but it's not really meant to generate power. I'm sure if you lowered the tension it would feel a little more powerful."
Spin - Score: 92
With its incredible bite and pocketing, our playtesters could not have been more enthusiastic about the spin potential of Volkl Cyclone. It's not hard to see why this is Chris' go-to string. He said, "The grab on the ball is strong. I simply love the spin I find when hitting with Cyclone. I can get the ball to dip inside the lines on topspin shots even when hitting loopy and with pace. I find I can add pace to topspin lobs and still keep them high and well inside the baseline. Angles and passing shots come off the stringbed with enough spin to help me get the ball well away from my opponent but still well within the lines. I can drive my slice very hard and low, as well as kill the pace in the ball on drop shots."
Mike agreed with Chris, saying, "Probably my favorite string for spin. Shaped polys make it easy to be consistent, and they really allow me to swing fully through the ball. I don't have to hold back. The bite of this string is borderline incredible, if you ask me."
Mark put Cyclone's sharp edges to work. He said, "In terms of spin, the multi-sided (decagonal) profile of the Volkl Cyclone does a fantastic job grabbing hold of the fur on a tennis ball. Access to spin was pretty cheap, with the price of admission being a mere $8.00 for the string and a loopy swing style."
"In my opinion this is one of the most spin friendly co-polys on the market," said Troy, adding to the chorus of accolades. "The gear shape of this string seems to tear the felt off the ball quickly during baseline drills. I find that I get good pocketing, especially strung between 40-50 pounds, which seems to add kick to my topspin. My favorite shot with this string is my lefty forehand crosscourt. I find I can really get it to hook out wide, which helps me pull my opponent off the court."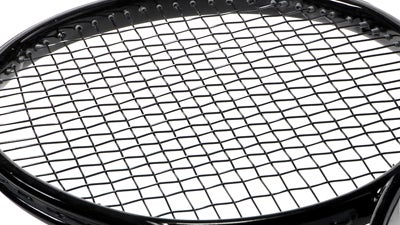 Comfort - Score: 83
Made from firm material, Volkl Cyclone is not designed for the "soft string" crowd. However, nobody from our team had any issues with impact shock, especially Mike. He said, "I thought the string was really arm-friendly for a co-poly, which made hitting the ball easy. I experienced comfort on every stroke. It was an easy adjustment for my consistent game."
For Mark, the key to comfort with polys is tension. He said, "In the low 50 pound range, Cyclone was very comfy on my arm and shoulder. I feel that the complaints about pain associated with most polys are from players like myself (old guy) who grew up using higher tensions to control the more elastic string materials, who don't know that the favorable traits from a poly are best realized at lower tensions. It's the higher tensions that cause the arm discomfort. Once I started to drop tension a light went off, so to speak."
Agreeing with Mark was Troy, who also lost no control stringing low for comfort. He said, "This string has a nice firm feel to it, giving it a medium comfort level. When strung at 40 pounds I felt that the pocketing was great and it didn't give me any arm shock. This string is great in hybrids for maximum comfort, but if you're a poly lover like myself, you can get great performance in a full set at low tensions."
Chris knew just what to expect. He said, "I have hit this string in lots and lots of different racquets, as it is my go-to string, so I use it a lot for racquet testing. I have never had any comfort issues with it. There are softer co-polys out there, but for me this one is comfortable enough while still feeling nice and crisp."
Control - Score: 93
It's unanimous! Our playtesters loved the control of Volkl Cyclone. Mike was aided by the spin-friendly shape. He said, "Consistency was not an issue. Controlling the ball was simple due to the shape of the string. Volleys were my favorite shot with this string because of the easy placement. If I wanted to be fancy I could hit a drop volley. Control was never an issue with this string. I loved it."
Also finding great control was Mark. He said, "I found myself going for bigger and bigger shots because the response was so precise. At 51 pounds the trajectory was very predictable. I like the fact that I can string it low without giving away much control."
Chris noticed how well the specs complemented each other. He said, "Along with spin, control is one of my favorite aspects of this string. For me, control and spin go hand in hand because it is the vast amount of spin I find with it that makes it a great control string. I can hit my targets accurately with this string because it offers controllable power and enough spin to keep the ball from flying long."
No less enthused was Troy. He said, "I found control to be superb with this string. The ball rotation I generated really increased my control. Though Cyclone feels more lively than stiffer strings like Solinco Tour Bite, I don't seem to lose any control. I gained so much trust in this string on short angle passing shots that I felt comfortable placing the ball within inches of the lines."
Playability Duration - Score: 78
Like all strings, Volkl Cyclone loses tension and playability over time. While some of our playtesters noticed some loss in performance, everybody was satisfied with how long it lasted. Finding good control and spin for the entire test was Mark. He said, "I strung it low and have yet to break it after 12+ hours of use. The tension seems to have only dropped a little."
For Mike, Cyclone went the distance. He said, "The string held its tension and playability throughout the playtest. It didn't break. I would say it's one of the better co-polys in terms of overall playability. It held its characteristics longer than any co-poly string I've used so far."
"I like the feel of this string even after it has been in the racquet for repeated hitting sessions," said Chris, who got his standard two weeks from Cyclone. He added, "As with just about every co-poly I hit, I cut it out around the two-week mark. Considering the cost of the string, I feel like I get great value compared to other co-polys because this one lasts my required minimum and costs less than many others."
Troy lost some power after a few sessions, but the overall performance remained high. He said, "After about 10 hours of play this string lost some of its pop. I felt the string still had decent control and spin, but the ball wasn't coming off the stringbed with as much pace."
Overall - Score: 89
Likes
Mark - "I really like the Cyclone in both 16 and 17 gauge for its spin and low power. Combine all that with the price and durability and the the Volkl Cyclone becomes a top notch choice for me - a fan of almost all things poly."
Chris - "Spin, control, power level and price."
Mike - "Spin potential, tension maintenance and durability."
Troy - "Just about everything! All-around it's my favorite poly, giving me the best blend of power, control, and spin. For the price it's a no-brainer!"
Dislikes
Mark - "There really isn't much to criticize. The price used to be even lower, but it's still a great deal."
Chris - "None."
Mike - "Other than the fact that I didn't get a set of pink Cyclone to test, nothing."
Troy - "I prefer the 17 gauge version with my dense string pattern."
Comparing the string to others they've tried, our testers said:
Mark - "I find that many black colored polys play similar, as the ink's color does affect characteristics a bit. I feel the Cyclone plays similar to the RPM Blast, Signum Tornado, Luxilon Savage Black and the Tecnifibre Black Code."
Chris - "Signum Pro Poly Plasma gets close in feel and MSV Co-Focus offers similar power, but both of those I hit in thinner gauges. In my book, Cyclone offers all the control and spin of Luxilon ALU Power Rough, but with slightly more comfort and at a much better price. I also find the pink version to have a tad more pop than the black Cyclone we tested."
Mike - "Compared to the last playtest we did for Kirschbaum Pro Line X, this string had a lot better spin. Volkl Cyclone is the easiest poly I've played with and it holds tension a lot better."
Troy - "I feel that it's not as soft as Kirschbaum Pro Line II or Babolat RPM Blast, but not as stiff as Solinco Tour Bite or Prince Beast XP."
Scores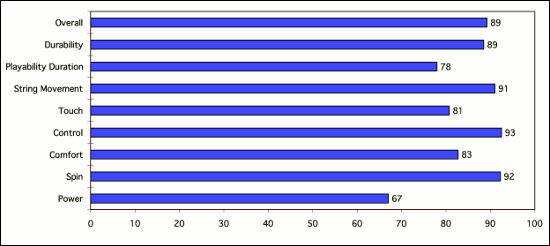 (Scores are determined by averaging individual play test scores)
Mark's Scores
Power
5
Playability Duration
8
Spin
9
Durability
9
Comfort
9
Control
9
Touch
6
String Movement
9
Overall
8.5
Chris's Scores
Power
6.2
Playability Duration
7
Spin
9.4
Durability
9.5
Comfort
7.6
Control
9.5
Touch
9.5
String Movement
9.8
Overall
9.1
Mike's Scores
Power
7
Playability Duration
8
Spin
9
Durability
8
Comfort
8.5
Control
9
Touch
8.9
String Movement
9
Overall
9.3
Troy's Scores
Power
8.6
Playability Duration
8.2
Spin
9.5
Durability
8.9
Comfort
8
Control
9.5
Touch
7.9
String Movement
8.6
Overall
8.8
Playtester String Setups

Review date: July 2012. If you found this review interesting or have further questions or comments please contact us.
All content copyright 2012 Tennis Warehouse.