Tourna Black Zone String Review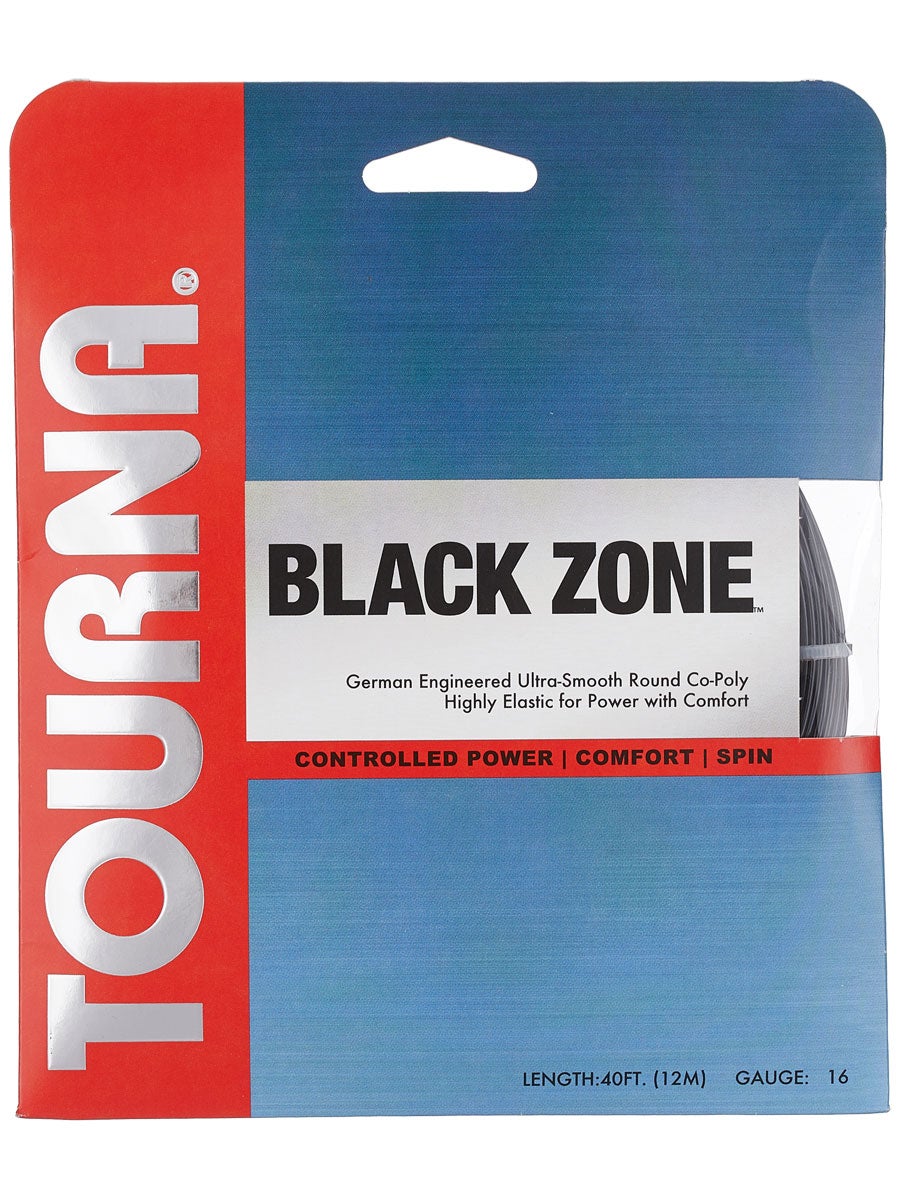 Tourna Black Zone String Scores
Power
59
Spin
87
Comfort
72
Control
94
Feel
91
String Movement
93
Playability Duration
78
Durability
91
Overall
86
Upsides
Control
Spin
Durability
Great Feel for a firm control string
Downsides
Too firm and underpowered for beginners
Summary
With the introduction of Black Zone, Tourna delivers a German-engineered co-poly that blends a very stiff base material (called PETP) with some carefully chosen additives designed to increase elasticity, comfort and feel. For our team, this recipe not only translated into exceptional control on full swings, but it also managed to keep Black Zone from feeling dead or too stiff on slower strokes and off-center contact. In other words, we think Tourna got the feel just right. Another noteworthy feature was the spin potential. This string's combination of bite, control and pocketing made it extremely easy for us to control the ball with spin. This co-poly is probably too firm for the player who needs the comfort and power of a pillowy multifilament, but for big hitters with solid mechanics, Black Zone offers a combination of control, durability and spin that is hard to argue with, especially when you consider the price.
Power - Score: 59, Control - Score: 94
Our playtesters awarded Black Zone a near perfect score for control. Although the power was decidedly on the low end, we never felt like the response was dead (as is the case with many traditional control strings). For Brittany (and her huge strokes), this co-poly allowed her to attack the ball with confidence. She said, "I strung Black Zone at 56 lbs in one of my favorite racquets, the Yonex EZONE Ai 100. The standout feature of this string for me was easily the control. I had complete confidence taking full, aggressive swings and having the balls. While this string doesn't have a lot of power, it had just enough to satisfy my needs."
Chris found the perfect balance between control and power -- with a heavy emphasis on control. He said, "I really liked the response of this string. I got great control from it, and it complemented the response of my racquet perfectly. I was finding all the power I wanted, yet the control-oriented response of the string meant I didn't have to worry about hitting long. I could feel the ball sink nicely into the stringbed at contact, and I always felt in control of my shot. This string really helped me on low approach shots; I could swing aggressively at them, get lots of spin and find the control I needed to keep my shot within the lines. I felt very connected to my shots from the baseline, and I loved how I could trust the control I was getting. I played some very consistent tennis with this string in my racquets."
Spin - Score: 87
Neither shaped nor textured, Black Zone doesn't rip into the felt like Solinco Tour Bite or Kirschbaum Black Shark. This didn't bother Chris, who had all the ingredients he needed to produce very effective spin. He explained, "I got some great spin from this string. It seemed to pocket the ball well and spit it out of the stringbed with ample spin. Another factor that made it very spin-friendly for me was the level of control. I was able to take very fast and aggressive swings at the ball, and that enabled me to generate lots of spin on my shots. It complemented the Spin Effect technology on my racquet very well. Most polys offer lots of spin in my racquet, but this one definitely upped the spin I was getting."
In full agreement with Chris, Brittany had no problems generating some heavy RPMs with this slick co-poly. She said, "I was really happy with the spin I was receiving from this string. I liked how the string was snapping back into place, allowing me to hit sharper, shorter angles that allowed me to pull my opponents off the court or pass them up at net."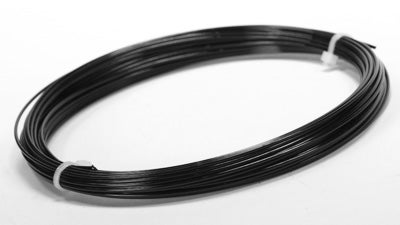 Comfort - Score: 72
Tourna didn't design Black Zone with the kind of elasticity they built into Big Hitter Black 7, which is one of the most comfortable co-polys on the market. However, according to our team, Tourna still managed to deliver a control string with above average comfort. Brittany explained, "I was surprised to find above average comfort with this string compared to other polyester strings. I was getting the same response whether I was hitting in the sweetspot, outside the sweetspot or closer to the frame, and I experienced no extra vibrations."
"For a control-oriented co-poly string, I have to say this one felt pretty comfortable," said Chris. "The response had some softness to it and that helped keep it forgiving. For the first two weeks of play the string remained comfortable. Moving into the third week the string was less forgiving, and that was the signifier for me to restring. Keep it fresh, and this string delivers ample comfort for poly players."
Feel - Score: 91
Like most modern co-polys, Black Zone blends a stiff polyester base with additives to improve feel. The trick is to craft a response that is firm but not harsh, and comfortable without being mushy (which sometimes makes the player feel disconnected from the ball). For Chris, Tourna got it right. He commented, "I loved the feel of this string. It allowed the ball to sink into the stringbed, yet it didn't feel too lively. I felt very connected to my shots, and I found I could trust the response. "
Also appreciating the feel, Brittany said, "I liked the crisp, responsive feel I received from this string. I felt I was receiving the same response from the string from all areas of the stringbed. I enjoyed the feel from the very start of the playtest until it wrapped up three weeks later."
Playability Duration - Score: 78
Like all strings, Black Zone loses tension over time, after which the feel and response changes. Some players, like Brittany, actually appreciate a little tension loss because it softens up the stringbed. However, Brittany liked the feel of this co-poly from the first hit. She said, "Surprisingly, I actually liked the feel of the string right off the stringing machine. I usually like the string to settle for about a week before it gets comfortable. I also found a consistent response from the string throughout the playtest."
Black Zone went the distance for Chris, who said, "This string passed the two-week test for me, but I was done with it shortly after. It felt great for the first week, dropped off a little during the second and then became less forgiving in the third week. I don't look to get more than two weeks of play from a poly-based string, so all was fine here for me. Considering the price, I felt like I was getting a lot of bang for my buck."
Overall - Score: 86
What type of player would you recommend this to?
Chris - "This is a great playing co-poly at a great price. It is definitely on my go-to list. If you like lots of control and spin from your co-polys with a little comfort thrown in, Black Zone should be on your list."
Brittany - "A player who has full, fast strokes and is looking for a control-oriented string with above average comfort."
Likes
Chris - "I loved the control, feel and spin. It was just a perfect fit for what I look for in a string. This is now one of my favored co-polys."
Brittany - "I liked the control, feel and spin potential I got out of this string."
Dislikes
Chris - "None."
Brittany - "Nothing!"
Comparing the string to others they've tried, our testers said:
Chris - "This string played very similarly to my favorite string, Volkl Cyclone. I feel like I could switch between the two without missing a beat. Both offer great control and seem to enhance my connection to the ball."
Brittany - "I would say Black Zone plays like a softer version of Luxilon Adrenaline. I would compare the feel to Head Sonic Pro Edge because they both were comfortably crisp and spin friendly."
Scores
(Scores are determined by averaging individual play test scores)
Chris' Scores
Power
6.3
Playability Duration
7
Spin
9.4
Durability
9.5
Comfort
7.6
Control
9.5
Feel
9.5
String Movement
9.8
Overall
9
Brittany's Scores
Power
5.5
Playability Duration
8.5
Spin
8
Durability
8.7
Comfort
6.7
Control
9.2
Feel
8.6
String Movement
8.8
Overall
8.2
Playtester String Setups
Brittany:
Playtest Racquet: Yonex EZONE Ai 100
Playtest Tension: 57 lbs
Typical String: Polyester 16g
Chris:
Playtest Racquet: Wilson Six.One 95S
Playtest Tension: 57 lbs
Typical String: Volkl Cyclone 16

Review date: May 2014. If you found this review interesting or have further questions or comments please contact us.
All content copyright 2014 Tennis Warehouse.