Yonex V Core 98 D Racquet Review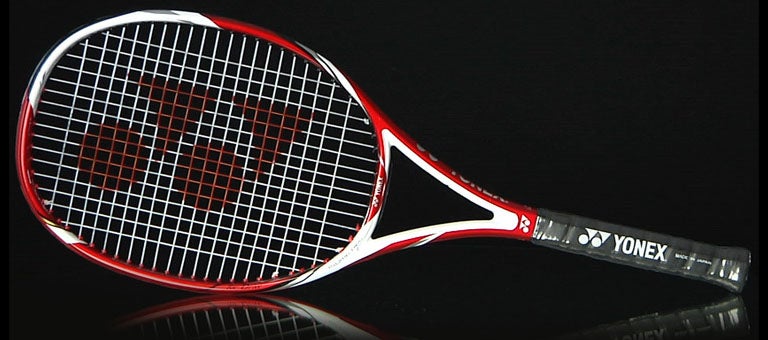 Yonex V Core 98 D Scores
Comfort
76
Touch/Feel
76
Serves
76
Groundstrokes
80
Returns
79
Slice
78
Topspin
79
Volleys
80
Overall
79
Upsides
Control
Maneuverability
Access to spin
Power
Downsides
Stiff feel for those with arm problems
Summary
With surprising power, the Yonex V Core 98 D provided plenty of pop from all areas of the court. At the baseline, the maneuverability, spin and power had our team hitting heavier shots and sharper angles than they were used to. It was very easy to use at net thanks to the low swingweight. There was enough mass behind each volley that the racquet felt stable, even on off-center shots. Our testers also felt the racquet made it easy to put away sitters and overheads. The added spin our playtesters found on their serves was a highlight. Most of our team felt the racquet added power to their serves, as well. We found this racquet to be quite versatile, with a fantastic blend of power and control. No matter the stroke, or area on the court, this racquet was solid. A slight downside would be the stiffness, as a couple of playtesters noted slight soreness in both their elbows and shoulders during the playtest. Overall, though, we were very impressed with the V Core 98 D. We recommend all 4.0+ players put this racquet at the top of their demo lists.

With the release of the V Core series of racquets, Yonex aimed to garner a larger piece of the intermediate/advanced player pie. The V Core line ranged from the nearly 12-ounce 95D to the 10.4-ounce 98 Team.
The Yonex V Core 98 D fits nicely in the middle of the V Core range, weighing 11.3 ounces (strung), with a 98 square inch head size and a 6 point head light balance. The 98 D, along with the rest of the V Core series, has some new technology. The V Core line gets its name from the 3D Vector Shaft. According to Yonex, the deeper grooves in the shaft will improve racquet stiffness and reduce twisting, resulting in 20 percent more face stability than a conventional racquet. The D in V Core 98 D stands for "drive." Designed for players who like to hit deep into the court, the grommets prevent the strings from moving to maintain higher face tension.
How would these new technologies fare on the court? Our team took the V Core 98 D out for a month-long playtest to find out.
Groundstrokes - Score: 80
The combination of power, spin and maneuverability had our team raving about the Yonex V Core 98 D's performance from the baseline. Hitting with plenty of pace was Brittany. She said, "The first thing that surprised me about this racquet was how much power I received off the baseline. It was very easy to produce a lot of pace off both wings whether I was on the offensive or defensive. The 98 doesn't have as much power as the V Core 100S, but was balanced out with plenty of control. I felt I could swing aggressively, yet maintain accurate placement when aiming anywhere on the court."
Suzie had to adjust to the additional power. She said, "The racquet felt extremely stable when I first starting hitting groundstrokes during the warm-up. My shots were landing deep, and I had a lot of control when I was rallying. However, during match play I realized my forehand was flying a little longer than normal, and I needed to put more spin on my shots to adjust for the extra power I got with the V Core 98. Overall, groundstrokes felt good, but not extremely special for me."
Jason found no faults. He said, "The 'D' in 98 D stands for 'drive,' as in this racquet's ability to drive the ball deep into the court. After hitting with this racquet for a few sessions I can say it is aptly named. I was hitting with tons of pace and spin with this stick. Because of the low swingweight, I found myself hitting sharper angles than I'm used to. It was nice to be able to win points by either pulling my opponent off the court or by using the pace the racquet provided to hit winners. But don't let my comments about the unusual high level of power fool you, the control I was able to find was right up there with some of my favorite 11+ ounce racquets."
"I've been a big fan of Yonex racquets, and currently the V Core 98 is my favorite Yonex racquet I've tested," said Kana, who noticed added spin on her shots. "The first noticeable difference was how sharp I could cut my angles and roll the ball short into the service box. It felt maneuverable, and I had great control on both sides. I could flatten it out whenever I wanted, but noticed I could generate more spin than usual. It felt a little stiff, but with the open string pattern in the Isometric head shape, it felt a little more cushioned than I would've thought with a 65 RA rating."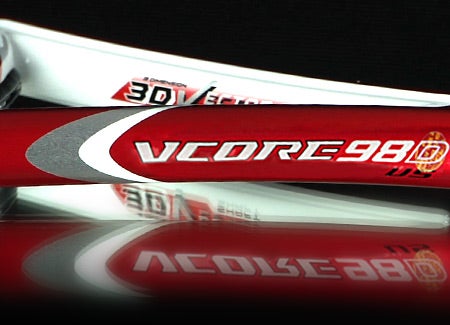 Volleys - Score: 80
Our team enjoyed the solid feel up at net. Finding herself volleying more than usual was Kana. She said, "This is probably where I could feel the stiffness the most, especially on reaction volleys. Nevertheless, I could really feel the ball with this racquet, which gave me confidence to come to the net and close out points. I could also take a big cut or loosen up my hands for nice touch."
Brittany felt the racquet excelled up at net. She said, "I thought this racquet had a rather large sweetspot, so volleys had a solid, crisp feel. The racquet felt extremely stable and maneuverable when hitting reaction volleys in quick exchanges. I was able to hit put-away volleys with depth and placement."
Suzie agreed, adding, "My volleys felt extremely crisp with this racquet. I was punching the ball, and my net game was the best it has been in awhile. I had control, depth and power at the net. The racquet is extremely maneuverable and easy to swing and punch."
"I found that the nicely sized sweetspot was good for keeping the racquet fairly torsionally stable up at net," said Jason. "Although, when I really shanked a ball, I could feel it in my elbow and shoulder, which is probably the combination of the stiff frame and polyester strings. I felt the racquet was plenty maneuverable, and it was easy to easy to hit overheads with power. I did have a bit of trouble hitting touch and drop volleys with this racquet, though."
Serves - Score: 76
The Yonex V Core 98 D impressed our playtesters with the amount of spin they could impart on their serves. This racquet worked out great for Brittany. She said, "There was a solid combination of power and the ability to place the ball anywhere in the box with this racquet. I had complete confidence going after flat first serves. I also enjoyed the amount of spin I could generate on second serves. In my doubles matches, I had a lot of success hitting kick second serves out wide to the ad side."
Jason was confident serving with variety. He said, "It was very easy for me to get into a groove with this racquet. I thought it was very versatile. I was able to hit with nice pace when I wanted, but also slice the ball with great results. It was just a very easy racquet to serve consistently with. And because of the mass, putting pace on the ball or hitting a heavier slice serve was not a problem."
Serving with more kick than Naga Viper salsa was Kana. "If I tossed the ball farther behind my head I could easily maneuver the racquet to brush up into the ball more. The open string pattern let me have more kick on my first and second serves."
Suzie couldn't find the power she was used to. She said, "The serve was my least favorite shot with this racquet. My serve is my strength because of how powerful and aggressively I serve, but I did not feel confident serving with the V Core. My serve did not get the extra pop with this racquet and I had to adjust my powerful flat serve to be more of a spin and placement serve."
Serve Returns - Score: 79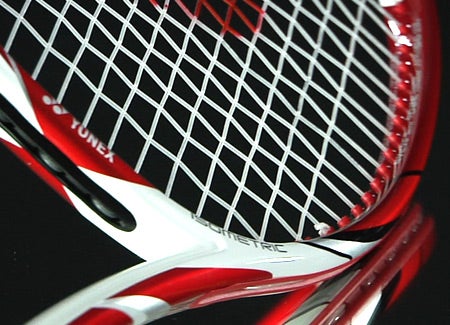 The solid response and easy access to spin had our team returning with great confidence. Jason was happy with how he was returning. He said, "Whether I had time to actually take a full swing at a return or was blocking shots back, this racquet was able to get the ball back with depth. The access to spin just added to the potency of the return, because my shots had enough topspin to dip into the court, landing near the baseline."
Needing to get acclimated was Suzie, who said, "At first my returns were landing a few inches deep and I was getting frustrated. Once I adjusted my return and put more spin on it, I found great range and felt comfortable with the return. I realized I didn't have to swing as hard as I normally do. If I let the racquet do the work the ball would land deep near the baseline."
Brittany was able to return aggressively. She said, "Returns were my absolute favorite shot to hit with this racquet. I played a lot of doubles with this racquet, and I had zero trouble returning any type of serve that was hit at me. I would step in, take the ball early, and accurately place it low and crosscourt to the server or take the ball up the line to surprise the player up at net. The racquet felt very stable returning big first serves."
Kana agreed, adding, "I could really load up on serves that were in my comfort zone and pop up those that I needed to react more defensively to. The racquet was extremely stable and allowed me to plow through the ball for a more aggressive return."
Overall - Score: 79
Likes
Brittany "I loved playing doubles with this racquet and especially enjoyed hitting return of serves!"
Suzie "I liked how maneuverable this racquet felt (probably due to the low swingweight). It had a nice combination of power and control, and I liked that my balls landed deeper than normal. My favorite part was definitely my crisp volleys."
Jason "The power, control, maneuverability, feel and spin."
Kana "This racquet had great maneuverability, as well as control, especially on my angle shots."
Dislikes
Brittany "Nothing really to dislike!"
Suzie "My serve didn't get that extra pop or power I am used to. I also did not like adding more spin to my returns and baseline game because I have been playing a flat, aggressive style my whole life."
Jason "The stiff feel isn't too arm friendly, and the small butt cap."
Kana "I would've preferred the frame to be less stiff and the butt cap to protude more."
Technical Specifications

Length
27 inches
69 centimeters
Head Size
98 square inches
632 square centimeters
Weight
11.3 ounces
320 grams
Balance Point
12.75 inches
32 centimeters
6pts Head Light
Construction
22.5mm / 22.5mm / 22mm
Composition
H.M. Graphite / X-Fullerene
String Pattern
16 Mains / 20 Crosses

Babolat RDC Ratings

Score

Grade

Flex Rating
65
Range: 0-100
Swing Weight
309
Range: 200-400
Scores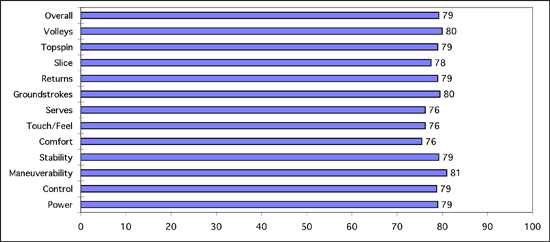 (Scores are determined by averaging individual play test scores)
Brittany's Scores
Power
8.2
Serves
8.1
Control
8.2
Groundstrokes
8.1
Maneuverability
8.1
Returns
8.7
Stability
8
Slice
7.8
Comfort
8
Topspin
7.9
Touch/Feel
7.8
Volleys
8
Overall
8.3
Suzie's Scores
Power
7.6
Serves
6.7
Control
7.3
Groundstrokes
7.2
Maneuverability
7.6
Returns
6.9
Stability
7.3
Slice
7.2
Comfort
7
Topspin
7.3
Touch/Feel
7
Volleys
8.2
Overall
7.2
Jason's Scores
Power
8
Serves
7.9
Control
8
Groundstrokes
8.5
Maneuverability
8.7
Returns
8
Stability
8.4
Slice
8
Comfort
7.6
Topspin
8.4
Touch/Feel
7.7
Volleys
8
Overall
8.3
Kana's Scores
Power
7.8
Serves
7.8
Control
8
Groundstrokes
8
Maneuverability
8
Returns
8
Stability
8
Slice
8
Comfort
7.6
Topspin
8
Touch/Feel
8
Volleys
7.8
Overall
7.9
Playtester Profiles
Brittany: Open level player with a semi-western forehand and a two handed backhand. She currently plays with the Yonex V-Core 100S.
Suzie: Open level player with a semi-western forehand and a two handed backhand. Suzie is an aggressive baseliner with flat shots. Currently plays with the Wilson K Factor KZen (customized).
Jason: 4.0 baseliner with a semi-western forehand and two handed backhand. Currently using a Boris Becker Delta Core London.
Kana: Open level baseliner with a western forehand and two-handed backhand. Currently using a customized Volkl V1 Classic.

Review date: June 2011. If you found this review interesting or have further questions or comments please contact us.
All content copyright 2011 Tennis Warehouse.