Yonex V Core 95 D Racquet Review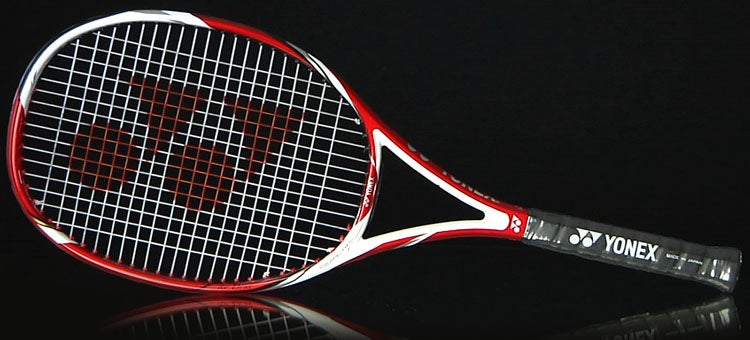 Yonex V Core 95 D Scores
Comfort
83
Touch/Feel
72
Serves
80
Groundstrokes
77
Returns
79
Slice
76
Topspin
82
Volleys
82
Overall
81
Downsides
Feel may be too muted for some
Sensitive to string set-up
Summary
When all is said and done, the Yonex V Core 95 D has many attributes of a player's racquet, but with a surprising amount of power. The hallmarks of a player's racquet, weight, head light balance and good stability, are there, and provide good playability on court. Though the swingweight might be somewhat low for a player's racquet, the plow through remains, offering a very stable feel coming through the ball. The extra power was a surprising element for most of our testers, who are accustomed to low power when hitting with such a stick. This extra power was welcomed by some, but not all, of our playtesters. The soft, muted feel also stood out for our testing team. Again, it had its advantages and disadvantages, depending on personal preference. Overall, the Yonex V Core 95 D provided high level performance for the intermediate to advanced level player.

Lleyton Hewitt has been to the summit of tennis. A former Grand Slam champion and world No. 1, Hewitt knows what it takes to be the best. Talent, mental toughness, fitness, work ethic and intelligence, as well as equipment, all factor in. In this case, he has chosen the Yonex V Core 95 D. In today's game, power and precision are essential to success, and this stick gives him what he's looking for.
V Core uses a 3D Vector shaft. The specific shape of the frame in the throat provides greater stability with less torque, allowing shots to stay on target better, according to Yonex. Couple that with the X-Fullerene technology in the upper hoop, which provides a stiffer response for more power, and the V Core 95 D achieves the highly sought after combination of power and control. The D part of the equation are the "Drive" grommets that keep string movement to a minimum. They help maintain higher face tension, which keeps the ball flatter after impact.
Technology on paper almost always sounds good. But, as they say, 'the proof is in the pudding'. Our playtesters took this racquet out for a month-long playtest to see if it helped them produce the shots to make them want to shout, "Come on!".
Groundstrokes - Score: 77
For a 95 square inch racquet with player's specs, the V Core 95 D supplied plenty of power. Spencer noticed some surprising power with this player's racquet. He said, "When I think of a 95 square inch player's stick I don't usually associate power with it. In this case, there was plenty of power to be had. The weight and balance gave the racquet a nice feel, and It seemed easy to put a good swing on the ball. It makes sense now what the D stands for in Yonex V Core 95 D. Drive. The plow through created by the weight of the racquet and the power from the V Core technology led to some nice winners from the baseline. However, depending on the string set-up, there was a fine line between a nice winner and a ball sailing past the baseline. I experienced both. I did find that a lower powered, traditional feeling poly complemented the frame nicely. It mellowed the power a bit, allowing me to hit out with better consistency."
In agreement was Chris, who added, "I was surprised by the power I found with this racquet. It has to be the most powerful 95 square inch player's racquet I've ever hit. I felt like I hit my groundstrokes very hard. When getting the ball wide of my opponent there was often enough pace to force an error or find a winner. Luckily, I was able to find enough spin to keep all the power under control -- most of the time. When I was pushed wide or deep, I found enough power to help my keep my shots deep. Another aspect of the racquet that really stood out was the dampened response. The racquet felt very comfortable, but for me it was overly dampened. I never felt truly connected to my shots and found the racquet lacking in the feel department."
Granville found his groove with a high performance polyester. He said, "This racquet was smooth like butter (depending on your set-up). Once we upgraded the string to a performance soft poly, this V Core 95 D became a considerable weapon in my hand. Soft at impact, I could feel the racquet and stringbed reacting to the tennis ball and replying with depth and power. In addition, this V Core 95 D is comfortable. Once I got in the groove, it seemed the harder I hit the ball the better it felt, and the more depth and power I was being rewarded with."
Liking the plow through was Jose. "I could really feel the plow through on every forehand and backhand. It was easy to generate enough racquet speed to get power on all my groundstrokes. This stick has been one of my favorites so far. It has all the control I need from a racquet, so I don't feel I need to hold back on my shots. It was also very maneuverable. The 7 points head light balance helped the 12 ounce static weight when it came to mobility. Though there was good plow through, I would have liked a little more power. I would lower the tension just to get a little bit more power on my shots. In my eyes, it's an ideal player's racquet."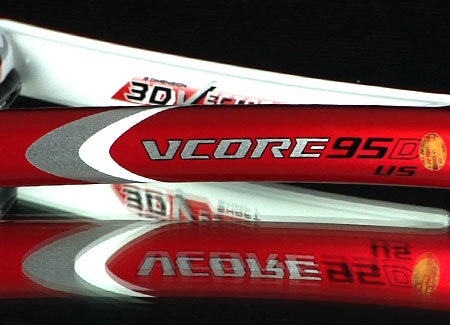 Volleys - Score: 82
A soft response and solid feel at net made volleying enjoyable. Granville enjoyed the responsiveness at net. He said, "The soft response carried over to the volley, offering a very soft and forgiving feel. My preference would be a slightly more crisp response but that could be another set-up issue, as I don't always get to string these demos to my string type and tension preferences. The racquet is very responsive, offering soft touch and feel. I could bleed off the pace and create openings in the court that just aren't there with other racquets."
Liking the comfort and stability was Chris. He said, "I liked the blend of maneuverability and stability I found in this racquet. I was able to punch volleys away easily thanks to the power I was finding. Again, the racquet felt incredibly soft and dampened. Comfort was high, but I felt a little disconnected from my shots."
Jose was happy with the maneuverability, saying, "With the racquet being so maneuverable it was easy to react to most volleys. The feel and touch weren't as great as I would have wanted, but overall I would say it's a small adjustment I would need to make."
Noting the forgiveness at net was Spencer. He said, "Though the head is on the smaller side, there was still a surprising amount of forgiveness. The headlight balance and stability of the V Core 95 D helped produce solid volleys. The head light maneuverability and soft response made this racquet comfortable at net."
Serves - Score: 80
Our testers noted more power than expected on serve, though some struggled with consistency. Jose found the mass offered plenty of power. He said, "With the weight and balance being close to what I'm used to, it was really comfortable when serving. I didn't have to make any adjustments to my serve. Once again, the plow through was there, and the mass gave me the power I needed to generate the big serves that are so effective for my game."
Feeling some added power was Granville. He said, "I really enjoyed serving with this racquet. It offered 'soft power,' allowing a comfortable response and the ball came flying off the stringbed. The harder I served, the harder it felt like I could serve. It was power on demand with the V Core 95 D. I felt I was able to get more power with this racquet than my regular racquet."
Spencer felt the small head provided a lot of power. He said, "This racquet offered more pop than other 95 square inch head size racquets I've hit. Where there might have been a bit more pop than I'd like from the baseline at times, I welcomed it on serve."
Looking for more consistency was Chris, who said, "I struggled to find my range at times when serving with this racquet. When I hit my targets, my serves had good pace and spin. However, I was unable to be as consistent as I would have liked. It felt easy to overhit my second serve, and I had to take some pace off my serves at times to find my consistency."
Serve Returns - Score: 79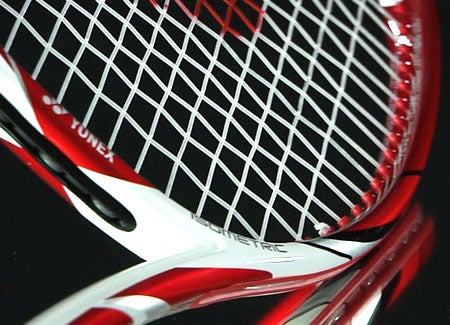 The combination of mass and maneuverability made our crew's returns effective. Chris returned well with this racquet. He said, "When I was blocking returns back I used the power of this racquet to good effect. On the whole, I returned well. I was able to take a nice aggressive swing at the ball. My targeting was good, but I would have liked a crisper feel to really zone in on where I was hitting."
Finding the ball pocketing created effective returns was Granville . He said, "Part of that soft feel comes from the pocketing of the ball in the stringbed. This enhances the offensive serve return by offering that slightest extra moment to make adjustments. The soft string bed also provides a large sweet spot and extra power."
Jose liked the combination of heft and maneuverability. He said, "The serve returns were there. Once again, it was easy to get a racquet on fast serves and crush the slow serves, as well. Having such a maneuverable racquet with mass behind it made it easy for me to be confident returning serves."
Spencer was able to hit a variety of returns. He said, "Much like when I was serving, I was happy with the power I got on my returns. I was able to take a little off my swing if need be and still get the ball back with effective depth. The stability and mass also made chipping and slicing back returns effective."
Overall - Score: 81
Likes
Chris "I liked the power and the spin I found from all areas of the court. I also thought this was a great looking racquet."
Granville "Good power and control. VERY comfortable."
Jose "I really like the specs of this racquet, as they suit my style of game. The plow through was there, with an ideal static weight. The swingweight was not too high, so it was easy to generate good racquet head speed."
Spencer "A player's racquet specs with some added power."
Dislikes
Chris "It felt too dampened for me, and I would have preferred more feel."
Granville "Need more time to find any."
Jose "The feel and touch were not as great as I would have expected. With the small head size and the maneuverability, I expected a lot more feel and touch out of the racquet."
Spencer "Depending on the string set-up and tension, I've found that it can be a bit temperamental."
Technical Specifications

Length
27 inches
69 centimeters
Head Size
95 square inches
613 square centimeters
Weight
11.9 ounces
337 grams
Balance Point
12.625 inches
32 centimeters
7pts Head Light
Construction
21.5mm Tapered Beam
Composition
H.M. Graphite / X-Fullerene
String Pattern
16 Mains / 20 Crosses

Babolat RDC Ratings

Score

Grade

Flex Rating
63
Range: 0-100
Swing Weight
317
Range: 200-400
Scores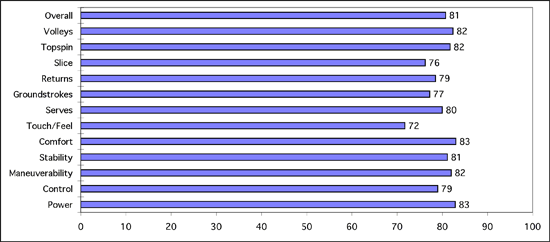 (Scores are determined by averaging individual play test scores)
Chris's Scores
Power
8.5
Serves
7.5
Control
7.3
Groundstrokes
7.6
Maneuverability
7.8
Returns
7.8
Stability
8
Slice
7.9
Comfort
8.4
Topspin
8.2
Touch/Feel
7
Volleys
8
Overall
7.8
Granville's Scores
Power
8.25
Serves
8.5
Control
8.5
Groundstrokes
8.4
Maneuverability
8.5
Returns
8.5
Stability
8.25
Slice
8.5
Comfort
8.4
Topspin
8.5
Touch/Feel
7.9
Volleys
8.75
Overall
8.4
Jose's Scores
Power
8
Serves
8
Control
8
Groundstrokes
7
Maneuverability
8.5
Returns
7
Stability
8
Slice
6
Comfort
8
Topspin
8
Touch/Feel
6
Volleys
8
Overall
8
Spencer's Scores
Power
8.4
Serves
8
Control
7.8
Groundstrokes
7.9
Maneuverability
8
Returns
8.1
Stability
8.2
Slice
8.1
Comfort
8.4
Topspin
8
Touch/Feel
7.8
Volleys
8.2
Overall
8.1
Playtester Profiles
Chris: 5.0 all court player currently using the Volkl Power Bridge 10 Mid. Chris uses a full-western forehand grip, has a fast swing style and hits a one-handed backhand.
Granville: 5.5 all-court player currently using a Wilson K Factor Six-One Tour 95. Granville is an aggressive player who uses an eastern forehand grip and goes continental on everything else, hits with a flat swing and a one-handed backhand.
Jose: 5.0 baseliner with a semi-western forehand with a 2 handed backhand. Currently using the Prince Exo3 Tour 18x20.
Spencer: 4.5 baseline player currently using the Prince EXO3 Tour 100 16x18. Spencer uses a semi-western forehand grip, and hits with a one-handed backhand.

Review date: June 2011. If you found this review interesting or have further questions or comments please contact us.
All content copyright 2011 Tennis Warehouse.