Polyfibre TCS String Review

Polyfibre TCS String Scores
Power
58
Spin
86
Comfort
80
Control
74
Touch
81
String Movement
81
Playability Duration
37
Durability
79
Overall
80
Summary
Polyfibre TCS has long been one of the "go to" co-polys of the TW playtest staff. For this reason we were excited to see how it would hold up under the rigors of an intensive playtest. After several weeks of hard hitting we can confidently report that TCS did not disappoint. Our playtest team continues to be impressed by how much comfort Polyfibre managed to pack into this monofilament. Of course, since TCS is made primarily from a firm substance (polyester), it's not likely to satisfy the player who requires the ultra plush feel and power of natural gut or a soft multi. However, we think it's a great option for big hitters who want the control and durability of a poly minus the excessive shock and vibration. And there's also plenty of spin to be had. Indeed, TCS gave our team the kind of pocketing, ball rotation and high-arching trajectory that traps opponents behind the baseline. For all its strengths, though, TCS definitely has a downside. Each of our playtesters reported poor tension maintenance (a very common complaint against polys). Ultimately, while TCS is not perfect, it's awfully hard to find a string with such a unique blend of control, spin, durability and comfort.
Power - Score: 58
Our team did not reach a consensus on the exact power level of TCS. For Chris the power was on the moderate side, but that wasn't the whole story. He said, "TCS offers easy access to depth, but for me it is not necessarily due to the power level of the string. With TCS I find the launch angle on a topspin shot to be a tad higher. The added height to my shots sends the ball deep. Fortunately, its spin-friendly response tends to make it dip right inside the baseline. I wouldn't say I hit a harder, faster paced shot with this string, but I definitely average more depth on my groundstrokes. I would compare the power level to something like a Poly Star Classic or other Polyfibre strings like Hightec, which also pocket the ball well and provide good depth without much addition to pace."
Finding very little power was Michelle, who said, "I tried TCS at 60 lbs and in the low 50s. I didn't find this string to be powerful. Lowering the tension made the pocketing feel deeper and even softer, but not more powerful. I felt like the tension dropped faster when it was strung at a higher tension, which at first was a bit off-putting. I was able to figure out how the string played the longer I had it in my frames. Overall, I felt like it actually muted some of my power, which is the one part I didn't love."
In contrast to his fellow playtesters, Jason found TCS to be quite lively. He said, "One of the more powerful polyester strings I've tested. For a poly, this string provides plenty of pop. I tried this string in a variety of racquets with tighter string patterns than my Steam 99S (16x15 pattern), and I thought ball pocketing was great in all of them."
Spin - Score: 86
When it came to the spin-potential of TCS, each playtester was amazed at how effectively (and abruptly) the ball came down. Summing it up perfectly, Jason said, "Hellooooo spin! It's not textured and not shaped, yet I find this string to give me as much, if not more spin than any other string out there. It's amazing watching a ball that I thought I hit long drop in at the last nano-second."
"I have always found this to be a very spin-friendly string," said Chris, who enjoyed an expanded range of trajectories and angles. He added, "Once I got used to the higher launch angle and depth, I could swing aggressively and trust the string to help me find the spin needed to keep the ball inside the lines. TCS is one of those strings that seems to magically help the ball dip and drop just inside the lines. I also noted that any sidespin I put on the ball was accentuated with this string, and I saw my ball move around a tad more. Despite this string not winning in the lab tests, it is one of the more spin-friendly strings on the court. When playing doubles against opponents who were using TCS I had to be careful not to let passing attempts that looked like they were going long go by, as most often they would dip inside the baseline. When it was my turn to hit passing shots I found I could go a solid six-feet over the net with lots of pace and still get the ball to drop way inside the baseline."
Michelle, our resident flat ball hitter, could not deny the exceptional pocketing and big spin of TCS. She said, "Going into this play test I wasn't sure what to expect out of this string. I enjoyed it a bit more once I realized the amount of spin-control it added to my shots. I was able to use the string to my advantage by really taking big cuts and adding extra whip to my shots, knowing they would stay right within the baseline instead of flying out by inches like they normally would. I could really learn what the string did to the ball even when I was playing against people with using TCS. Playing against Chris when he was using the TCS was tough because his balls were landing so deep in the court and jumping. There were times when I thought his shot was going out and the TCS helped keep the ball in. Great spin potential. I liked the string a lot more once I figured out how to use TCS with my game, because I could access what it had to offer."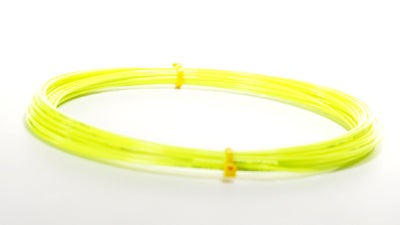 Comfort - Score: 80
TCS gave our team about as much comfort as a poly-based string can give. In fact, Michelle was hard-pressed to think of a more comfortable string. She said, "Probably the most comfortable string I've ever used! The ball pocketing and plush feel was refreshing. So soft and easy to hit with. A nice change compared to the stiff polys I usually use. I could hit as big as I wanted and I never had any discomfort. I tried this string at various tensions in a few different frames, and the comfort was consistent no matter what tension my racquets were strung at. Once I really got into the playtest I became a little frustrated with the low powered comfort feeling. I felt like I had lost some control once I had hit with it for more than 4 hours - it felt very much like a rubber band to me and my shots were getting erratic. Again, once I learned what TCS could do for me I was able to play into the string's strengths a bit. I could enjoy the comfort while accessing the spin instead of trying to flatten everything out, which was resulting in some erratic launch angles."
Jason and his tendons were very happy with TCS. He said, "I know this is a soft poly because I can use it all day long and it doesn't aggravate my elbow or shoulder. It has a very soft feel, and it doesn't have that harsh feedback that the stiffer polyester strings have."
"This is a very soft string considering it is poly based," said Chris, who also enjoyed the smooth ride. He added, "It pockets the ball extremely well and has a somewhat soft and muted feel to it. I tend to favor crisper poly strings, but I like the way this soft string pockets the ball and offers lots of spin. I never had any comfort issues despite stringing it at 60 lbs in a very stiff racquet. Off center hits never felt excessively jarring and anything near the center felt plush."
Control - Score: 74
Our playtesters had good control with TCS, despite the fact that it lacks the crisp and ultra low-powered predictability of a Babolat Pro Hurricane or Kirschbaum Super Smash. Even Chris, who tends to prefer stiffer polys, found quite a groove. He said, "The somewhat unique feel of this string takes an adjustment. The adjustment mostly comes on offensive groundstrokes, as one has to learn to trust that the ball will drop in on a full, fast swing despite traveling higher than one is used to seeing. I like the crisp response of polys as they connect you to the ball, however, this one is soft and muted. Despite the soft response, I found plenty of control thanks to the excellent spin. The deep ball pocketing comes into play on touch shots, and I found I could find my targets very well on drop shots."
Jason was also happy with the control he found. He said, "Even with all the spin potential and the great ball pocketing for power, I still found the control to be excellent. There wasn't a drop off in control just because it excelled in power and spin."
The control was good for Michelle, but fleeting. She said, "I had great control for the first 4 hours. The added spin definitely controlled the balls I hit. Once I had hit with it for a few hours I felt the control began to become a bit erratic. I experienced one session on the court where I was missing by 10 feet. I definitely noticed that the tension maintenance wasn't great with this string. I was definitely feeling the difference in response between a racquet freshly strung at 60 lbs and a racquet I'd played with for a few hours. Also, because this string is so comfortable and it pockets so well, I don't know if it is well suited for a big hitter like myself. I felt like I really had to work hard and slug through the ball to get my power going after a few hours of play with this string."
Playability Duration - Score: 37
The biggest downside of poly-based strings is that they lose tension and resilience faster than most other string materials. According to our playtest team, TCS is the rule, not the exception. Maintaining tension was definitely an issue for Michelle. She said, "For me, TCS played the best when it was freshly strung. I struggled to enjoy the string after about 4 hours. However, the enjoyment came back after it sat in my racquet for about a week. It maintained its comfort throughout, no matter how old or fresh the string was. I did feel like the tension dropped pretty quickly with TCS, and the tighter the string was, the quicker it dropped."
Jason's powerful forehand has bagged out many a poly, including TCS. He said, "Ahh, the achilles heel of the string. It's amazing for spin, control, ball pocketing and power, but the thing it doesn't do well is maintain tension. And by 'doesn't do well,' I mean it's horrible. Sad. Within a couple of days I could notice a drop in tension. After a week the playability had changed, and in 2 weeks I'm cutting the strings out."
"The biggest downside for this string is the tension maintenance," said Chris, who was in total agreement with Michelle and Jason. "Tension drops off quickly and I found control suffered as the tension dropped. I would string up with TCS on a Thursday night, play a 3 day tournament and then cut it out on Monday, as it would be spent. I could hit it for a week of one-hour sessions here at TW and then would cut it out. I usually expect a poly to last me two weeks of one-hour hitting sessions, but not this one."
Overall - Score: 80
What type or player would you recommend this to?
Chris - "This string is a good option for a player looking for lots of spin. Those players seeking a more comfortable co-poly type string should also try this one. Lastly, this is a string for players who don't mind restringing often, as tension maintenance is not good."
Jason - "Anyone wanting uber-spin! But seriously, I think this is a great option for not only players with full swings, but also for the player that's a little hesitant to get into the polyester world because of the stiffness. It's soft enough that it doesn't give me, a person with a history of arm issues, any problems at all."
Michelle - "Anyone who has ever suffered from arm problems but is still looking for the control of a spin-friendly poly."
Likes
Michelle - "It's so comfortable. It felt so soft and cushioned, I've never experienced a soft poly like TCS. Great ball pocketing."
Jason - "Spin, control, feel, ball pocketing. Basically everything about the playability."
Chris - "I love the spin and ball pocketing. I'm also a fan of how comfortable this string is for a poly based offering."
Dislikes
Michelle - "The tension dropped too fast for me. I also felt like it muted some of my power, which I didn't love."
Jason - "Tension maintenance."
Chris - "The tension maintenance is bloody terrible."
Comparing the string to others they've tried, our testers said:
Michelle - "Softer and easier on my arm than any poly I've used!"
Jason - "Yonex Poly Tour Pro, Volkl Cyclone Tour, Kirschbaum P2, Weiss Cannon Silverstring."
Chris -"TCS only really compares to other Polyfibre strings. It has a fairly unique feel. Others strings get close in power level or spin, but none offer a similar overall package like TCS. Outside of Polyfibre, Poly Star probably comes the closest, as it offers a soft and dampened feel with good ball pocketing. The tension didn't hold up too well when I hit Poly Star, either."
Scores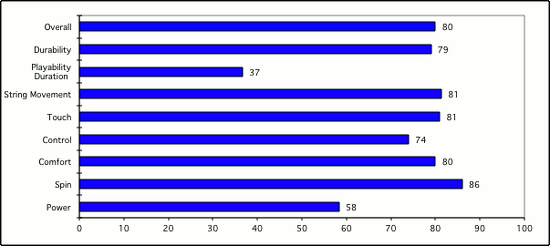 (Scores are determined by averaging individual play test scores)
Michelle's Scores
Power
4
Playability Duration
5
Spin
7
Durability
7
Comfort
8
Control
6
Touch
8
String Movement
6
Overall
7
Jason's Scores
Power
7.5
Playability Duration
3
Spin
9
Durability
8
Comfort
8
Control
8
Touch
8
String Movement
9
Overall
9
Chris' Scores
Power
6
Playability Duration
3
Spin
9.8
Durability
8.7
Comfort
8
Control
8.2
Touch
8.3
String Movement
9.4
Overall
8
Playtester String Setups
Michelle:
Racquet: Babolat Pure Drive
Playtest Tension: 60 lbs
Usual String: Traditional Polys
Jason:
Racquet: Wilson Steam 99S
Playtest Tension: 62 lbs
Usual String: Polyfibre TCS 16g
Chris:
Racquet: Babolat Pure Drive Roddick
Playtest Tension: 60 lbs
Usual String: Volkl Cyclone 16g

Review date: June 2013. If you found this review interesting or have further questions or comments please contact us.
All content copyright 2013 Tennis Warehouse.