Slazenger V98 Team Racquet Review

Slazenger V98 Team Scores
Comfort
79
Touch/Feel
78
Serves
75
Groundstrokes
79
Returns
75
Slice
82
Topspin
79
Volleys
80
Overall
79
Upsides
Maneuverability
Easy access to spin
Feel
Downsides
Nothing we could agree on
Summary
After putting the Slazenger V98 Team to the test on the courts, our TW playtesters walked away pleased with this powerful and crisp new racquet. The V98 Team tips the scales at only 10.9 ounces strung, but with an even balance the racquet impressed with its plow through and stability. The testers also enjoyed the racquet's maneuverability. The open 16x19 string pattern added plenty of bite and spin to the ball from the baseline. With its lighter weight, the V98 Team was easy to swing, which our team took advantage of at net. The premier feature of this racquet was its versatility. Our playtesters could take good cuts at the ball off the ground and use the maneuverability to their advantage at the net. All in all, the V98 Team offered a fast, solid feel while delivering all-court versatility.
Groundstrokes - Score: 79
Our playtesters had some fun with the Slazenger V98 Team's power and versatility from the baseline. Andy really enjoyed the plow through of this racquet on his groundstrokes. He said, "The specs were a little different than what I'm used to at 10.9 ounces strung with an even balance, but all the weight in the hoop really helped drive through the ball at impact. All I had to do was start my swing and let the racquet do the rest. Slices felt great because of all the weight in the hoop. I would have liked a little more control, but this stick could hold up against the heaviest of hitters."
The cosmetics of this Slazenger caught Mark's eye first, and he was just as pleased with how it felt in his hands. He said, "At first glance I decided that I liked the aesthetics of the new Slazenger V98 Team, with its matte finish. I started out with short court groundstrokes, and although it is a pretty light setup at 10.9 ounces, I could feel some weight at the tip, and the even balance/329 swing weight reflected my sentiment. Within 15 minutes I felt like I was easily changing the direction of the ball, with a reasonably high level of spin and depth. There was even enough mass to help with my slice off the backhand."
Chris found this racquet suited his game and thought it was a nice, maneuverable option, saying, "It suited my playing style well. I found I could take the ball early and control the direction of my shots well. The maneuverable response also made it easy to generate spin, as I could accelerate the racquet very quickly. There was just enough mass to help me hit a knifing slice, yet enough mobility to whip the racquet around on a topspin stroke." Chris liked the racquet best when it was either strung low with a poly or strung around mid tension with a multifilament string. He added, "Both setups really opened up the sweetspot of the racquet, improved comfort and felt great."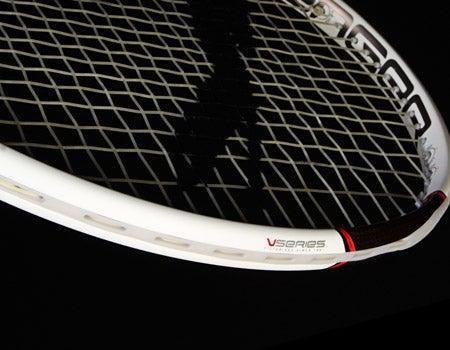 Volleys - Score: 80
Our playtesters continued to praise the V98 Team when using it at the net. Mark said, "The beam felt firm, but not stiff, at contact of the volley. The mass at the tip of the frame helped keep the stretch volley stable, and there wasn't a twangy sound when making contact outside of the sweetspot."
Chris found this to be a solid racquet at net that enhanced his doubles game. He offered, "I played a lot of doubles with it and enjoyed serving and volleying with it in singles. I felt like I could move the racquet around very quickly and get some nice punch on my volleys. Stability was decent, and I felt like I could handle heavy hitting without much issue. I liked the level of control and the precise response on angle and drop volleys. Again, keeping the string tension low improved both the feel and response of this racquet, as the sweetspot felt bigger, the feel was softer and power was better."
Agreeing that the racquet volleyed really well, Andy said, "The even balance made this racquet very stable and solid around the net. On low and stretch volleys I felt like all I had to do was get my racquet in position, and I could punch it back deep with ease. I also found it comfortable even when I made contact outside of the sweetspot. In typical Slazenger fashion, this racquet was most enjoyable at net."
Serves - Score: 75
This racquet was not short on power, although there were a few areas our playtesters were cautious about when it came to their serves. Chris continued to praise this racquet and didn't seem to have any issues with his serves, saying, "I found easy power and very good spin. I was able to snap the racquet through contact very well, which helped me find all that pace and spin. It felt like the racquet was coming through contact well, and the racquet felt solid and stable. I liked adding slice to my serves with this racquet. I was getting a lot of spin and a lot of break on the ball."
Mark, however, felt a bit of a challenge. He explained, "I was able to be consistent, but I felt like I was swinging too fast through contact. Slowing my motion down didn't enhance my success against players like Troy, who hits with quite a bit of spin and depth off my serve."
"Lots of weight in the hoop made this racquet feel like a hammer when serving," said Andy. "Once I got the racquet moving its momentum took over, and I could generate power and spin with ease. At times I felt a little out of control; I didn't feel like I could be too precise when trying to locate my serve, but I guess that's the trade-off for great access to power and spin."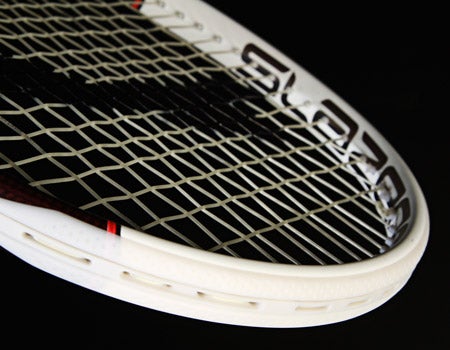 Serve Returns - Score: 75
The plow through and control continued to be a strong asset for the V98 Team on returns. Andy said, "The weight in the head made it a little tough to maneuver and control on returns, though it was forgiving and had great plow through. I never felt like I could be backed up on the return because the racquet comes through the ball so well at impact. However, sometimes I felt like I would get the racquet swinging and it would just get away from me. The weight of the hoop would take over, and the ball would often sail on me."
Chris rounded out his review by singing the praises of this racquet's response on serve returns, "This was a very good racquet for me to return with. I had good control when looking to float a slice backhand deep, as well as when taking an aggressive swing. I felt confident going for my shots, and I was finding my targets well. Again, the racquet felt fast and easy to swing. There was just enough stability thanks to the even balance, and I enjoyed the solid feel at contact."
While Chris seemed to think this racquet was dynamic on serve returns, Mark disagreed, saying, "I liked the way the V98 Team felt, but the lack of mass made my chip returns less effective."
Overall - Score: 79
Likes
Andy - "Great plow through and super solid on both groundstrokes and serves. Good ball feel as well."
Chris - "I liked the fast, spin-friendly feel of the racquet. It felt very good when strung low (about 48 lbs) with a co-poly like Volkl Cyclone or up to 55 lbs with Wilson NXT."
Mark - "I loved the aesthetics and the V98 Team's versatility. Being evenly balanced, this is a high quality frame perfect to modify with some weight."
Dislikes
Andy - "Sometimes I felt a little out of control. The even balance, which I'm not really used to, made the tip of the racquet a little hard to have total command over."
Chris - "I did not like the feel of this racquet when it was strung up tightly because the power would drop off too quickly on shots hit outside the sweetspot."
Mark - "Just a little on the light side for me in stock form."
Comparing this racquet to others they've tried, our testers said:
Andy - "The feel of this racquet is similar to the new Dunlop line; it's crisp, lively and powerful. It's also modern feeling. However, the weight and balance are different from what I'm used to. It would be most similar to an old Hammer by Wilson and the Dunlop Biomimetic 500."
Chris - "This racquet is similar to the Dunlop Biomimetic M2.0 in that they both feel fast, are easy to find spin with and offer a crisp feel. I also like both when strung low. I found a tad more liveliness to the response and a little more bite on topspin shots than I did with the V98 Tour."
Mark - "The Slazenger V98 Team is reminiscent of the Dunlop Biomimetic 300, Head Graphene Speed Midplus, Babolat Pure Storm GT (but with an open pattern), Head IG/Graphene Instinct Midplus and the Wilson Steam 99/99S. In my opinion, these racquets sort of blur the line between frame categories. Are they lighter player's frames or stable 'tweeners?"
Technical Specifications

Length
27 inches
69 centimeters
Head Size
98 square inches
632 square centimeters
Weight
10.9 ounces
309 grams
Balance Point
13.5 inches
34.3 centimeters
0pts EB
Construction
22mm Straight Beam
Composition
Graphite / 3K Carbon
String Pattern
16 Mains / 19 Crosses

Babolat RDC Ratings

Score

Grade

Flex Rating
64
Range: 0-100
Swing Weight
329
Range: 200-400
Scores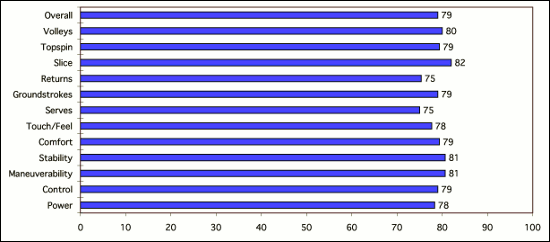 (Scores are determined by averaging individual play test scores)
Andy's Scores
Power
7.8
Serves
7.5
Control
7
Groundstrokes
7.7
Maneuverability
7.5
Returns
7
Stability
8.4
Slice
8.5
Comfort
7.5
Topspin
7
Touch/Feel
7.5
Volleys
8
Overall
7.3
Chris' Scores
Power
7.7
Serves
8
Control
8.2
Groundstrokes
8
Maneuverability
8.2
Returns
8.1
Stability
7.8
Slice
8.1
Comfort
7.8
Topspin
8.3
Touch/Feel
7.8
Volleys
8
Overall
8.2
Mark's Scores
Power
8
Serves
7
Control
8.5
Groundstrokes
8
Maneuverability
8.5
Returns
7.5
Stability
8
Slice
8
Comfort
8.5
Topspin
8.5
Touch/Feel
8
Volleys
8
Overall
8.2
Playtester Profiles
Andy: Open level all court player with a semi-western forehand grip and a two handed backhand. Andy currently using a Yonex RDiS 100 Mid.
Chris: 5.0 all-court player currently using the Volkl C10 Pro 2012. Chris uses a full-western forehand grip, has a fast swing style and hits a one-handed backhand.
Mark: 5.0 lefty all-court player with a one-handed backhand. He currently plays with the Dunlop Aerogel 4D 200.

Review date: April 2013. If you found this review interesting or have further questions or comments please contact us.
All content copyright 2013 Tennis Warehouse.