Slazenger V100 Tour Racquet Review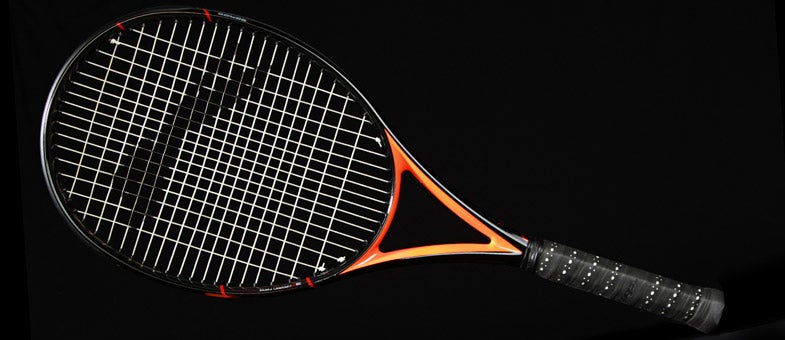 Slazenger V100 Tour Scores
Comfort
75
Touch/Feel
80
Serves
83
Groundstrokes
80
Returns
80
Slice
81
Topspin
81
Volleys
83
Overall
80
Upsides
Power
Stability
Maneuverability
Access to spin
Downsides
Unforgiving outside of sweetspot
String sensitive
Summary
Our TW playtesters bragged about the power, plow through and maneuverability of the Slazenger V100 Tour after their month-long playtest. A fast swinging racquet that can be used as an all-court weapon, the V100 Tour is a great option for any intermediate to advanced player. With an open 16x19 string pattern, our playtesters said this racquet offers ample power and pop, along with good access to spin. This racquet performed well from all areas of the court. It was easy to generate speed and topspin from the baseline, and there was enough precision and weight for volleying.
Groundstrokes - Score: 80
Our playtest team found the V100 Tour to be equipped with adequate maneuverability and ample access to spin and power. Chris thought that generating spin was easy, and he found that this racquet worked well for both his topspin and slice. He said, "The V100 Tour packed some useful power from the baseline. I was able to take the ball on the rise well, thanks to the fast feel. Maneuverability was really impressive, yet the close to even balance helped keep the racquet stable at impact because of the ample mass up in the hoop. That combination made this a really good counter-punching racquet for me, and I found myself stepping in and using my opponent's pace."
Karly really enjoyed the stability and plow through that this racquet offered. She commented, "The frame felt so solid, and the racquet was never shaky in my hand, even if I was being pushed around on the court by a harder hitter. I also thought the balance was great. There was enough mass toward the head of the racquet to drive through the ball, helping create that stable feel, but that weight didn't make the swingweight feel too heavy. Putting pace on the ball was easy and didn't take much effort. This was just a powerful, solid racquet to hit with back at the baseline, but I thought it was harder on my arm than most frames. My arm started to get sore about an hour into hitting with it, which is faster than usual. I also had a harder time generating topspin. Slice wasn't a problem, but producing topspin took a little more effort than usual."
Jason enjoyed good access to spin on both his topspin and slice balls, offering, "There was enough mass to get the ball deep, and the mass helped absorb the pace of harder hit shots. The racquet felt whippy and fast through the air, and because of that I was able to pull my opponents off the court with some sharp angled shots from my forehand wing. I liked how big the sweetspot was, but once I went outside of that sweetspot the drop in power was noticeable. Another upside for me was the directional control, although the one shot I couldn't consistently hit was the down-the-line forehand."
Brittany was excited to playtest the V100 Tour because the specs were right in her wheelhouse. Her only concern was maneuverability, since this racquet has a higher swingweight than what she usually enjoys, but she said, "Once I started hitting my worries quickly faded, and I found this racquet to be maneuverable enough for me. I also enjoyed the effortless power and enough spin to keep the ball from flying on both sides. Depth was also a positive, as was the placement of my groundstrokes. Like the V100 Team, I found this to be a tad uncomfortable when I hit outside the sweetspot."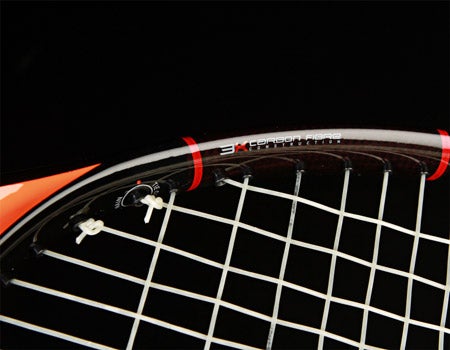 Volleys - Score: 83
The testers were pleased at net, but most felt it was vital to hit the sweetspot. Jason said, "I liked everything about this racquet up at net. It had nice ball pocketing, with good touch and spin. It was maneuverable enough for me to get the racquet in position quickly, but a lot of the performance goes out the window when a shot is hit out of that sweetspot. There's a drop in power, control and overall playability."
This racquet felt fast and crisp in the hands of Chris at the net. He said, "I was able to punch my volleys away and found the racquet to feel very precise. There was ample mass up in the hoop of the racquet to keep it stable. I liked the string tension low because it improved feel and comfort with no sacrifice in control. I played the racquet with both a co-poly and a multi, and it felt good with both types of string. I would favor a soft co-poly like Dunlop Black Widow in this racquet strung around 50 lbs."
Agreeing with Chris was Brittany, who enjoyed the concise feel of this racquet at the net. She said, "I felt in control when hitting volleys, and the racquet felt stable in my hand. I could react quickly to the ball, put the ball away deep in the court and even finesse a volley short cross court. My one critique would be when I hit the ball a little above the sweetspot. I noticed a big drop in power and the ball felt dead coming off the strings."
Echoing these sentiments was Karly, who loved coming up to the net with this racquet. She said, "The frame was so stable, and my volleys felt crisp. However, that was as long as I hit it in the sweetspot. I noticed it more up at net, but if I hit the ball outside of the sweetspot my shots felt extremely dead. There was a completely different feel outside of the sweetspot. Fortunately, the sweetspot was bigger than most so it wasn't too much of an issue. I found a good combination of power and control, and I found the racquet's maneuverability to be manageable."
Serves - Score: 83
The V100 helped our playtesters take control on serves. Brittany found that the combination of power, placement and consistency was a winning combo in her hands when it came time to serve with the V100 Tour. She said, "My first serve was very successful when I hit into the body or served out wide on the ad side (up the T as well). I had a lot of confidence hitting second serves. I found just enough access to spin to get my ball up over the net and into the box. My one negative would be the same as my complaint on volleys; if I made contact with the ball on the higher side of the sweetspot I lost a ton of power and the ball felt 'dead' coming off my racquet."
Stability and power with manageable control were the highlights for Karly. She offered, "This racquet was exceptionally stable, and I could use the weight to generate good power. Because I could use that weight to drive through the ball I found good control as well. Power definitely outshone the control, but I thought the power was manageable."
"Even though this racquet has more mass than the V100 Team, I didn't feel like I could hit as big a serve as I could with that lighter version," said Jason. "What I did like, however, was the access to spin, which is great for me since I rarely hit a flat serve, even on my first serve. I also felt like I could control the placement of my ball well."
Chris echoed the other playtesters, adding, "I was getting good access to both pace and spin on serves. This racquet packed quite a bit more pop for me than the V98 Tour thanks to the more powerful beam design and more open string pattern. I was able to move the ball around the box and vary my targeting, as well as add pace and/or spin as needed. I liked the feel the racquet offered, and I felt very in control while serving."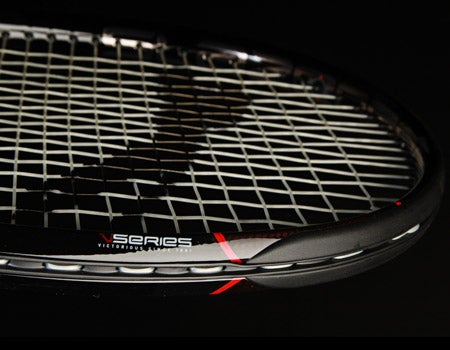 Serve Returns - Score: 80
The V100 Tour had a blend of stability, maneuverability and power that made it a weapon on returns. Karly took pleasure in the solid feel she found from all areas of the court, and returning serves was no exception. She said, "That great stability stood out the most to me. I loved how I was able to drive through the ball without the racquet shaking in my hands, even when returning hard hit serves. It was also fairly easy to generate good pace behind my returns. The power came naturally."
Consistency was what Jason found when returning with this racquet. He offered. "I felt comfortable returning, whether they were hard first serves or softer, more spin oriented second serves. The combination of maneuverability and spin allowed me to take a bigger cut at the ball and still keep it in the court."
Agreeing that the V100 Tour was a reliable racquet to return with was Chris. He said, "It was an easy racquet to maneuver, and I found I could accelerate it very quickly. The result was solid pace and spin when I was stepping in and driving the ball. When I was hitting a more defensive return I liked the stability and control I found. I could guide the ball deep or drop it short and low to give the server a tough second shot."
Rounding out the playtesters' opinions was Brittany, who said, "This is where I feel the V100 Tour outshone its lighter counterpart (V100 Team). I found more stability on all my returns, whether the serve had more pace or was heavier and kicked up above my head. I could really attack the serve and start the point off on the offensive. Additionally, I could place my returns wherever I wanted."
Overall - Score: 80
Likes
Chris - "I liked the power, spin, control maneuverability and crisp feel. It is also a great looking racquet."
Karly - "The stability and ease of power really stood out the most for me."
Jason - "Good access to spin, maneuverable and good control."
Brittany - "I liked the feel of this racquet and the access to power."
Dislikes
Chris - "I did not like this racquet when strung tightly because it felt unforgiving and made the sweetspot feel small."
Karly - "The frame felt too stiff. My wrist was usually sore after hitting with it."
Jason - "Too stiff for me. Unforgiving outside the sweetspot. Seems to be a bit string sensitive."
Brittany - "I didn't the drop in power and feel when the ball was hit outside the sweetspot."
Comparing this racquet to others they've tried, our testers said:
Chris - "This one fits right in there with the other Slazenger V series racquets. It offers a tad more power than the 98s and is a little more solid than the V100 Team. It reminded me somewhat of a Wilson BLX Tour because it is close to even balance and offers a crisp feel. The Babolat AeroPro Team GT is also close in feel and power to this one."
Karly - "It reminded me the most of the Mantis 300, mainly because of the solid feel both the racquets offered."
Jason - "The Dunlop Biomimetic F5.0 Tour."
Brittany - "This definitely compares to the Slazenger V100 Team, but it has more stability. It is also very similar to the Dunlop M5.0 in terms of feel, power, control and spin."
Technical Specifications

Length
27 inches
69 centimeters
Head Size
100 square inches
645 square centimeters
Weight
11.1 ounces
315 grams
Balance Point
13.25 inches
34 centimeters
2pts Head Light
Construction
25mm / 25mm / 24.5mm
Composition
3K Carbon / Graphite
String Pattern
16 Mains / 19 Crosses

Babolat RDC Ratings

Score

Grade

Flex Rating
71
Range: 0-100
Swing Weight
323
Range: 200-400
Scores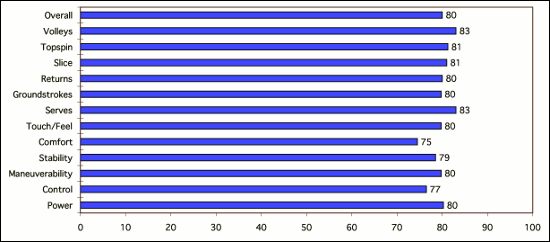 (Scores are determined by averaging individual play test scores)
Chris' Scores
Power
8.2
Serves
8.2
Control
7.9
Groundstrokes
8.1
Maneuverability
8.4
Returns
8.2
Stability
7.8
Slice
8.3
Comfort
7.8
Topspin
8.3
Touch/Feel
7.9
Volleys
8.3
Overall
8.1
Karly's Scores
Power
8.2
Serves
8.3
Control
7.9
Groundstrokes
8.1
Maneuverability
7.8
Returns
7.9
Stability
7.6
Slice
8.3
Comfort
7.2
Topspin
7.9
Touch/Feel
7.7
Volleys
8.4
Overall
8.1
Jason's Scores
Power
7.4
Serves
7.9
Control
7.8
Groundstrokes
7.9
Maneuverability
8
Returns
8
Stability
8.2
Slice
8
Comfort
7.3
Topspin
8.5
Touch/Feel
8.2
Volleys
8.2
Overall
7.9
Brittany's Scores
Power
8.3
Serves
8.8
Control
7
Groundstrokes
7.8
Maneuverability
7.7
Returns
7.9
Stability
7.8
Slice
7.8
Comfort
7.5
Topspin
7.8
Touch/Feel
8.1
Volleys
8.3
Overall
7.9
Playtester Profiles
Chris: 5.0 all-court player currently using the Volkl C10 Pro 2012. Chris uses a full-western forehand grip, has a fast swing style and hits a one-handed backhand.
Karly: 4.0 baseline player currently playing with the Wilson nCode nTour. She hits with a semi-western forehand grip and uses a two handed backhand.
Jason: 4.0 baseliner with a semi-western forehand and two handed backhand. Currently using a Wilson Steam 99 S.
Brittany: Open level player with a semi-western forehand and a two-handed backhand. She currently plays with the Yonex V-Core 100S.

Review date: March 2013. If you found this review interesting or have further questions or comments please contact us.
All content copyright 2013 Tennis Warehouse.