Wilson Steam 99 2013 Racquet Review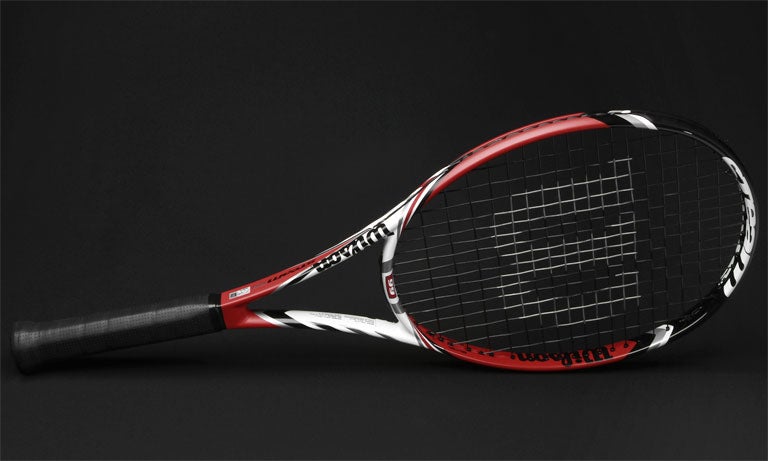 Wilson Steam 99 2013 Scores
Comfort
73
Touch/Feel
76
Serves
84
Groundstrokes
82
Returns
75
Slice
83
Topspin
88
Volleys
79
Overall
80
Summary
With all the hype centered around Wilson's racquets that feature the revolutionary Spin Effect technology, the Steam 99 slipped under the radar in the playtesting office. However, this racquet has definitely become a crowd pleaser. All of our playtesters agree that this version of the Steam is a very solid racquet, providing lots of pop and spin with a crisp, stable feel. Those who had hit the previous version also commented that this one was a nice upgrade in most aspects. Our team found a lot of power and spin from all over the court, from heavy groundstrokes to put-away volleys. Spin helped one playtester find all areas of the service box on serve, while the maneuverability really helped another playtester on returns. Overall, this was a solid offering from Wilson with lots of power and spin, and would be a great racquet for intermediate to advanced players looking for a slightly more powerful 'tweener' style racquet.
Groundstrokes - Score: 82
From the baseline our playtesters found great power and spin with the new Steam 99, and playtesters who had played with the previous version found it to be a big improvement. Troy enjoyed the spin and pace he found when swinging aggressively. He said, "I was pleasantly surprised with the balance of power and control I was getting with this racquet from the baseline. I could generate a lot of topspin because I could swing aggressively without the ball flying long. When hitting this Steam 99 alongside the Steam 105S I was much more dialed into my shots and felt more comfortable hitting near the lines. I did find this racquet to be a bit more unstable during heavy exchanges from the baseline than some of the heftier player's style racquets I typically play with. I also felt that my slice backhand wasn't penetrating through the court as much as I would have liked."
Jason really enjoyed this racquet from the baseline, saying, "I have to admit that I was skeptical of this racquet going into the playtest. I was very underwhelmed by the original Steam and was hoping this new version would offer significant improvements. It did. This Steam 99 offered surprising stability and pop that was lacking in the last version. The ball pocketing and spin were very good; not as good as the 99S, but still very spin friendly. The swingweight did present somewhat of an issue in that it took a lot of energy and effort for me to play with this racquet. When I was fresh I could manage, but when I was tired I was hitting late. The one plus side of the higher swingweight was that it improved my backhand. I was able to hit a bigger ball and the swingweight didn't bother me as much."
Sean was obsessing over the spin potential of this new Steam but craved slightly more comfort. He said, "I found both good and bad results from the baseline with this racquet. After realizing that this racquet could produce ridiculous amounts of spin, I was able to direct my shots accordingly and really find some angles that I'm not used to hitting. I also liked that it was hard to overhit with this racquet, especially with a polyester string setup and the ability to bring the ball into the court with spin. On the other hand, I truly disliked how stiff this racquet felt. The sweetspot felt very small and any off-center hit was jarring to my arm."
Though it isn't what he would typically lean toward, Mark found this racquet to be a nice change from what he would normally use. He offered, "I thought I had moved away from open string patterns for the most part and really did not expect to love this racquet. My swing style is pretty loopy, and I feel that dense patterns help flatten out my shots. I started out volleying with the Steam 99 and then moved to groundstrokes. Within five minutes my initial bias was gone. With the 16x18 pattern and a low-tensioned poly I felt a very deep ball pocket, which let me play a more ping-pong style of game. I would consider myself a better table tennis player than tennis player, and I felt almost too comfortable with this racquet. The individuals whom I mostly play with commented on the extra spin and confidence I exhibit with this racquet, which is unusual."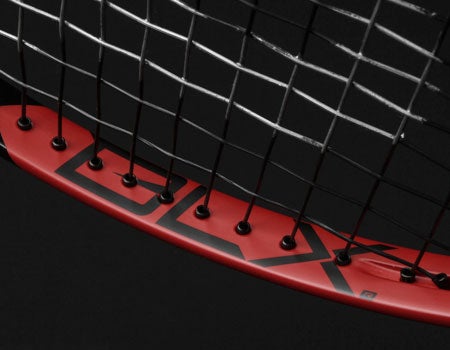 Volleys - Score: 79
Most of our playtesters enjoyed the pop the Steam 99 provided around the net but wanted a little more feel for touch or angle volleys. Mark liked it around the net but seemed to lose control at times. He said, "Overall, I felt very comfortable volleying with the Steam 99, but every once in a while I would contact the ball for a volley in such a way that the ball would fly off the open pattern a little unpredictably."
Jason was putting away high volleys with ease with this racquet. He said, "The response up at net was very solid. The 330ish swingweight did help stabilize it, even on off-center shots. I liked it for overheads, as well as for touch volleys, and the mass in the hoop helped me put the ball away with ease when I had the opportunity."
Sean was dialed in around the net but wanted a little bigger sweetspot for more forgiveness on off-center hits. He said, "My net play was stable and consistent for the most part with this racquet. It took some effort for me to keep my volleys deep in the court because it didn't offer a huge amount of power. I would definitely consider stringing this racquet with a hybrid setup to enlarge the sweetspot and gain some pop. There were a couple of instances when I would have enjoyed a little more maneuverability on reaction volleys and overheads. I also disliked the smaller sweetspot because it was anything but forgiving, and the ball had no life when hit anywhere but dead center."
Like Sean, Troy felt a little instability on off-center hits. He offered, "I wasn't overly impressed with this racquet when at the net. The lack of feel was evident when I found myself in a position to put the ball away. I didn't have the confidence to carve up a sharp angle or drop the volley short. The racquet tended to flutter in my hand if the ball was hit hard at me. On the plus side, the easy power that this racquet possessed made it easy to get depth on my volleys -- which I enjoyed during doubles play."
Serves - Score: 84
For the most part the Steam 99 shone on serve, offering lots of power and spin potential. Troy was finding greater success on all of his serves with this racquet. He said, "The combination of power and maneuverability helped me get some extra pop on my serves. I found all my serves, whether flat or spin, to be enhanced with this racquet. I felt dialed in to my targets, whether going for a kick serve out wide on the deuce side or going for the flat serve down-the-T. I felt that I was generating more racquet head speed than usual due to this racquet being lighter than what I typically play with, and I felt that my first serve had a few more MPHs on it!"
Serving was Sean's favorite shot with this new Steam 99. He ws able to use the spin to find all areas of the service box with ease. "I had much more success with my serves than any other shot by far," he said. "I felt that I could easily move my serve around in the box with great accuracy thanks to the massive amounts of spin this racquet was producing. I actually had trouble with my spin serves at first. I was hitting every ball into the net in my first session because I wasn't accustomed to a racquet grabbing the ball so well. After adjusting for the spin I was able to hit out with the confidence that the ball would drop into the box."
Jason's skepticism of the higher swingweight was put to rest after slicing and dicing up his opponents with this racquet. He said, "This racquet (along with the Steam 99S) really has me rethinking my issue with higher swingweight racquets on the serve. I was worried I'd struggle, but I was actually quite consistent with it. I was slicing the majority of my serves in, but the extra spin and pace I got kept me from being put into a defensive position. Serving out wide wasn't as easy, but that was about it for negatives."
Because Mark likes a little more weight in his racquet, he wasn't as crazy about this racquet on serve. He offered, "I felt that a little more weight would have helped my serve. Even though the swingweight is in the 330s, I prefer serving with racquets weighing closer to 12 ounces."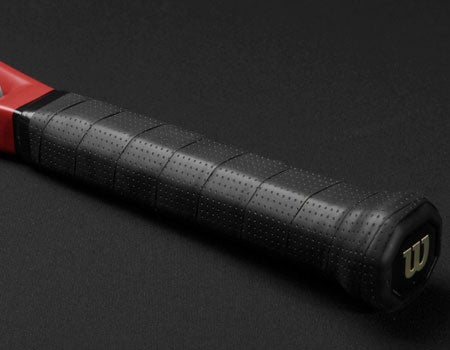 Serve Returns - Score: 75
The playtesters had mixed emotions when it came to returning serve with the Steam 99, but they all agreed that there was ample power and spin. Mark really liked returning with this racquet, and found it quite maneuverable. He said, "I loved the feel, weight and balance of this racquet on serve returns. I generally chip most of my returns back, but the Steam 99 is light enough for me to take a more aggressive cut at the serve."
Troy also enjoyed the maneuverability, but wanted a little more heft to the racquet to increase the plow through. He said, "I found the maneuverability of this racquet helped me return a lot of serves with ease, but the lack of overall mass in this racquet was noticeable when facing heavy first serves. I felt like I wasn't getting the plow through to push the server back. In doubles I found good control, which helped me steer the ball away from the net man. The lack of depth and stability against big servers was the big downfall on returns."
The smaller sweetspot was once again apparent to Sean. He said, "This is definitely one of the hardest shots to hit consistently with this racquet due to a smaller sweetspot. Unlike other shots, I didn't have nearly enough time to get my racquet in the correct position to hit every shot in the middle of the stringbed, which was needed to find a solid hit. I was forced to play safer shots to start rallies because I didn't have enough confidence in my returns to hit out and play aggressively. When I was able to hit a good return it was effective because of the depth and spin, which made it difficult for my opponent to dictate the point early."
Jason, on the other hand, struggled with the maneuverability of the Steam 99 , but when he made solid contact on the return he loved the result. He offered, "This was the one area where the swingweight was a problem. I was spraying my shots wide a lot of the times when returning against bigger servers. I really had to be cognizant of shortening up my swing, which is something I am not used to doing. When I did have time to set up I really enjoyed it. I could hit a ball with both pace and spin and be in attack mode."
Overall - Score: 80
Likes
Mark - "I really like the angle at which the ball leaves the stringbed, which is different than my dense patterned racquets. I thought my shots would land short, but the open pattern easily grabs the tennis ball, which also lets the string stretch more, giving me access to lots of controllable pace and spin. I feel this open patterned frame is perfect for a full set of poly, and because of the gaps between the strings any arm discomfort from playing with a poly should be minimal. I loved the string movement from the poly that I got from such an open pattern, and a deep ball pocket was easily developed without an excessive level of swing speed needed to get it."
Troy - "I enjoyed the balance of power and control from the baseline, and the added power on my serves."
Jason - "The spin, ball pocketing, control and stability."
Sean - "The amazing amount of spin potential."
Dislikes
Mark - "Just a bit light on serves."
Troy - "The lack of stability was noticeable on shorter, more compact strokes, such as volleys and returns. It might benefit from some tail-weighting to get it into the 12 oz. range."
Jason - "The high stiffness rating had me reaching for the ice pack after each hit. The higher swingweight affected my game if I wasn't fresh and energized."
Sean - "The very stiff feel and the very small sweetspot."
Comparing the racquet to others they've tried, our testers said:
Mark - "The Wilson Steam 99 plays a bit like the Donnay Pro One 16x19, along with the 16x18 version of the Prince EXO3 Tour 100 and Head IG Radical. However, the Prince and Head frames have beams that are more flexible than the new Steam 99.
Troy - "I found the blend of power and control in this racquet to compare well with the Babolat AeroPro Drive GT and older versions of the Head Instinct, such as the Liquidmetal. Within the Wilson line, this racquet has more power than the BLX Blade 98, while possessing more control than the BLX Juice 100. I actually prefer this version more than the Steam 99S because I get better control and I have more experience playing with racquets with denser string patterns."
Jason - "It's similar to the Steam 99S, but I couldn't hit with as much spin."
Sean - "This frame really reminded me of the Head Speed MP 16x19, but with a little stiffer feel and less maneuverability."
Technical Specifications

Length
27 inches
69 centimeters
Head Size
99 square inches
639 square centimeters
Weight
11.3 ounces
320 grams
Balance Point
13.125 inches
33 centimeters
3 Pts Head Light
Construction
22.5mm / 24mm / 23.5mm
Composition
Basalt
String Pattern
16 Mains / 18 Crosses

Babolat RDC Ratings

Score

Grade

Flex Rating
70
Range: 0-100
Swing Weight
328
Range: 200-400
Scores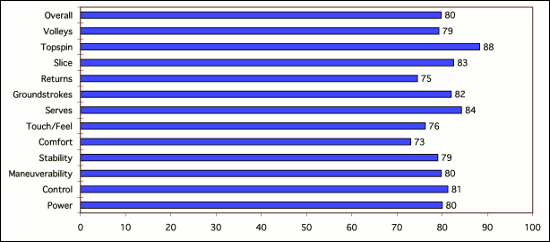 (Scores are determined by averaging individual play test scores)
Mark's Scores
Power
8.5
Serves
8.5
Control
8.5
Groundstrokes
9
Maneuverability
8.5
Returns
8
Stability
8.5
Slice
9
Comfort
8
Topspin
9
Touch/Feel
8.5
Volleys
8.7
Overall
8.5
Troy's Scores
Power
8
Serves
8.8
Control
8.2
Groundstrokes
8
Maneuverability
8.5
Returns
7.3
Stability
7.5
Slice
7
Comfort
7.3
Topspin
8.5
Touch/Feel
7.2
Volleys
7
Overall
7.8
Jason's Scores
Power
8
Serves
8.4
Control
8
Groundstrokes
8.4
Maneuverability
7.5
Returns
7.7
Stability
8.4
Slice
8
Comfort
7.4
Topspin
8.8
Touch/Feel
8
Volleys
8.4
Overall
8
Sean's Scores
Power
7.5
Serves
8
Control
7.8
Groundstrokes
7.4
Maneuverability
7.4
Returns
6.8
Stability
7.2
Slice
9
Comfort
6.5
Topspin
9
Touch/Feel
6.8
Volleys
7.6
Overall
7.6
Playtester Profiles
Mark: 5.0 lefty all-court player with a one-handed backhand. He currently plays with the Dunlop Aerogel 4D 200.
Troy: Open level all court player with a semi-western forehand grip and a two handed backhand. Andy currently using a Yonex RDiS 100 Mid.
Jason: 4.0 baseliner with a semi-western forehand and two handed backhand. Currently using a customized Boris Becker Delta Core NYC.
Sean: 4.5 baseliner using the HEAD Youtek Prestige Pro. Sean has a semi-western forehand, 1 handed backhand.

Review date: January 2013. If you found this review interesting or have further questions or comments please contact us.
All content copyright 2013 Tennis Warehouse.