Wilson Steam 96 2013 Racquet Review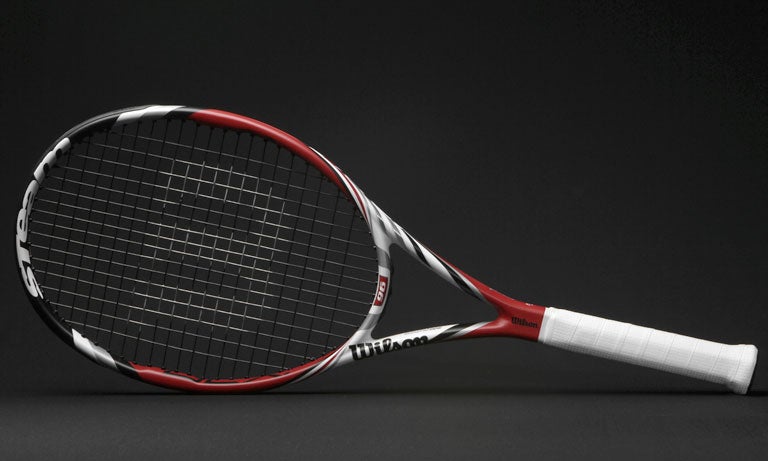 Wilson Steam 96 2013 Scores
Comfort
72
Touch/Feel
74
Serves
80
Groundstrokes
77
Returns
75
Slice
77
Topspin
78
Volleys
73
Overall
75
Upsides
Control
Crisp Feel
Stability
Spin
Downsides
May feel stiff to some
Smallish sweetspot
Summary
The Wilson Steam 96 stands as an option for hard hitters looking for a control-oriented package. If you're looking to take charge of the court, the Steam 96 competes, and the Amplifeel technology provides a clean and enhanced feel. With an extended length of 27.25 inches, the Steam 96 is designed to offer all-court versatility. Some of our playtesters enjoyed the plush feel and control offered by this racquet, but others wished for a more consistent response. The smaller sweetspot made it difficult for some playtesters to develop consistent power, but all the playtesters liked the pace and response they found when they hit in the sweetspot. All in all, the Steam 96 provided a tempting mix of power and precision.
Groundstrokes - Score: 77
Some playtesters wished for a little more consistent response, while others liked the plush feel and control offered by the racquet. Enjoying the spin potential and response was Chris. He said, "I liked the combination of a decent swingweight and the light and easy to maneuver weight. The racquet felt surprisingly plush considering its stiffness. I liked the overall feel from the stringbed and found the racquet to feel pretty forgiving even when using a stiffer poly string. I would add some weight to the handle of this racquet to beef it up without hampering its maneuverability, but even in stock form I was getting ample pace on my shots. It was only when I was hitting against one of the bigger hitters, like Andy, that I found the racquet to start to suffer in the stability department. I think some lead tape would be an easy fix for this one. Spin was easy to generate. While this racquet it is not nearly as spin friendly as the 99S and 105S Steams, with their monster spin, I felt like I was getting pretty good spin compared with most racquets. I liked the level of feel I was getting on my slice backhand, and that gave me the confidence to knife aggressively through the ball."
It took Siobhan longer than normal to adjust to this racquet. She offered, "The headsize is smaller than the headsize of the racquet I've been playing with, so the sweetspot felt smaller, too. This made the response a bit inconsistent. Inside the sweetspot I found adequate control and power, but outside of the sweetspot there was a pretty big drop-off. I really felt like I had to swing pretty hard to get the power that I wanted, but I liked my placement. The feel is different than what I am used to; it had a muted response, even more so than the 99S. It was less lively than I am used to, and I didn't feel like I was as in touch with the ball as I would like. The spin was fine. I could whip my forehand and get the spin I wanted, and I found it to be manageably maneuverable around the baseline. "
Karly, who liked the extra length and the precise response of the Steam 96, said, "I'm the type of player who prefers control-oriented racquets, and that's exactly what the Steam 96 is. Control came with ease, and I was more confident in my shot placement when hitting from the baseline. I felt like I could really dial in and hit my shots with more precision. I also loved the depth and leverage I could get with this racquet. I thought the extra length helped make it easier to keep the ball low and deep in the court. Unfortunately, power wasn't the racquet's strongest suit. However, I felt like the amount of control and depth I could get made up for the lower power level. I also had a bit of a hard time with the stiffness of the racquet. The racquet wasn't uncomfortable, but the swingweight tired out my arm faster than other racquets. I also noticed that my arm was left feeling sorer than usual after each hit."
Brittany found the Steam 96 to lack power outside of the sweetspot. She said, "This was an interesting racquet for me to try because the specs are a little out of my range, but still manageable. After my first hit I noticed that I had to put effort into creating my own power and depth. The only exception would be when I was hitting with a big hitter; then I could redirect the power and use it on my shot. The racquet was very stable so I had no problems doing this. The sweetspot was on the smaller side, but when I did hit in the sweetspot I had a surprising amount of power. Hitting outside of the sweetspot felt very unforgiving and jarring."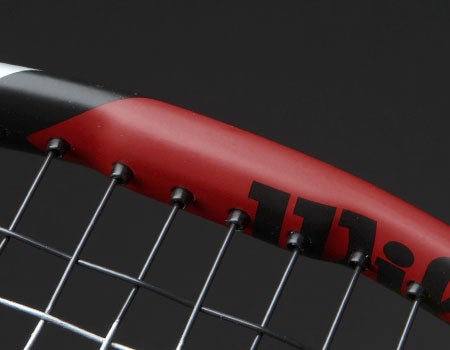 Volleys - Score: 73
Our playtesters took time to adjust to the Steam 96 up at net, and while they would have liked more stability and a bigger sweetspot, they felt the racquet responded crisply. Noticing the small sweetspot but enjoying the pace she could create was Karly. She said, "I felt like I was able to get more power up at net than at the baseline. My volleys had good pop and the racquet felt crisp, not to mention I could get great reach with this racquet. The maneuverability was decent, but I felt like the small sweetspot was more prominent at the net. If I hit a volley outside the sweetspot the racquet felt very unstable, so I really had to concentrate on hitting in the center."
Brittany struggled a bit with her volleys. She offered, "While the racquet was stable, which I appreciated, I couldn't get a good feel. I had trouble placing the ball and never really felt comfortable up at net. The maneuverability was OK, but I didn't feel as quick at net as I would have liked."
"I would have liked more mass in this racquet at net," said Chris. "In many ways -- feel, grip on the ball, crispness-- it reminded me of my beloved Slazenger Pro Braided, but this racquet lacked the stability and head light feel. I found the Steam 96 to feel just fine on medium paced shots, but when the ball was really cracked at me I found I had to really punch through the shot to stop the racquet from fluttering at impact. The instability made it tough during doubles when I had to dig out a low volley off a hard hit return. I never felt as confident holding the racquet with a loose grip for touch volleys, and I had to grip it tightly to help keep it stable, which limited my options. When the ball wasn't zinging around quite as quickly I really enjoyed the feel and crisp response. I found this to be a very accurate racquet with some nice pop to get high volleys away."
Siobhan focused on punching through the volleys. She offered, "I definitely felt more comfortable with the feel up at net in slower rallies, and when I hit everything right, the clean response allowed me to put volleys away. Again, the sweetspot is too small, and I struggled to find the control I wanted. I lost the feeling of maneuverability here (I think because of the specs and the extra length) and sometimes felt caught up by it at net, which, when combined with the instability, made it a little hard to handle. I also noticed the stiffness and felt a little jarred sometimes. As an end note, the extra length did allow me to reach out for balls better, which helped me feel like I could cover more area at net."
Serves - Score: 80
Serving was the favorite shot of all our playtesters because they felt like the racquet finally offered pace, control and spin in enjoyable amounts. Siobhan experienced more control, but found the racquet's stiffness uncomfortable. She said, "I have a short swing and a high ball toss on my serve, so I didn't have any problem with maneuverability on my serve. The stiffness was really noticeable for me, which is interesting, because I normally don't mind stiff racquets. My control was better here, and I felt like my placement was pretty accurate. I definitely would have liked to see more power, as there was no pop or explosive feel off the strings."
Serving with the Steam 96 was top-notch for Karly. She said, "This was my favorite thing to do with this racquet. My serves had great power and leverage behind them, and they hit deep within the service box. I also found it really easy to generate spin. My kick serves seemed to have more spin behind them than usual, which I think could be attributed to the higher swingweight. However, that higher swingweight left my shoulder feeling noticeably more tired than usual. During long matches serving with this racquet was more tiring on my arm."
Brittany noted more control on her serve with the Steam 96, saying, "This was my favorite shot to hit with the racquet, hands down. My placement was perfect on all my serves whether they were out wide on the deuce side or down the T on the ad side. My favorite first serve to hit was out wide on the ad side. For some reason, I was really dialed in on that serve. I was very confident hitting second serves as well because I had enough spin to keep the serve in the service box consistently."
Responsive control and pace were definitely more accessible on serves for Chris. He said, "Serving was my favorite shot with this racquet. I was getting good pace on my serves and found my accuracy to be totally dialed in. I liked sliding my serve out wide on the deuce side, as well as adding some pace down the T. When serving to the ad side I was getting enough spin to find a good angle wide, and again, the pace was there when going down the T or into the returner's body. The racquet felt really crisp and responsive, and I liked the pop and spin I was getting."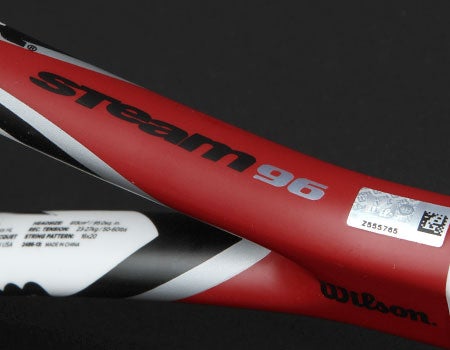 Serve Returns - Score: 75
Control and spin were prevalent for some of the testers on serve returns, although others wished for more. Keeping her swing short was Brittany. She said, "The racquet was effective when blocking serves back. It was stable, and with a little extra spin I was able to place it wherever I wanted. Like groundstrokes, the smaller sweetspot came into play. I struggled on off-center shots because they were quite jarring and unpredictable."
"It was really hard to get the power I wanted here," said Siobhan. "The same sweetspot issue happened again, and it was tough to hit the ball back to the other end with the consistency of depth that I wanted. I sometimes found myself running out of time to get my racquet around, so I had to shorten my swing a lot. I did find some added control when I shortened my stroke, which was an added bonus."
Chris enjoyed returning with the Steam 96. He explained, "I had good results with this racquet on returns, especially if I kept my head speed up. It felt maneuverable, and I found I could catch up to some tougher serves and stay aggressive since I could snap the racquet around quickly. Again, I was getting lots of spin, and that helped me drive the ball with more pace or roll a sharp angle. I could float defensive returns deep with good accuracy and feel thanks to the racquet's crisp and clean response. I found the stability to be ok as long as I kept the tip speed up and hit the return quickly. On off-center hits, or when the serve was really big and I was stretched wide, I found the racquet to flutter."
Karly also found her groove on returns. She said, "Like groundstrokes, the high level of control came into play more than the power. It was harder for me to generate power off returns, but I loved the precision I could get. I could hit sharp angles, and I got great leverage to return it deep in the court. One of the biggest disadvantages for me was the maneuverability. There were times when it was tough swinging against fast servers because it was harder to get the racquet back in time."
Overall - Score: 75
Likes
Chris - "I liked the feel, the spin and the accuracy I found with this racquet."
Siobhan - "On serves, and when I hit the sweetspot, I liked the placement and control."
Karly - "I loved the amount of control and depth this racquet could produce."
Brittany - "I liked the stability and control, especially on serves."
Dislikes
Chris - "This one is just a little lead tape and a leather grip away from being a really good racquet for me. The swingweight is right where I like it, but I would like more weight and a more head light balance."
Siobhan - "The deader, less crisp response."
Karly - "The stiffness and swingweight left my arm sorer than when I play with other racquets."
Brittany - "The small sweetspot was a struggle for me, and I wasn't able to get as much power as I would have liked."
Comparing the racquet to others they've tried, our testers said:
Chris - "I was reminded of the BLX Tour, as the balance felt fairly close to even and the swingweight and firm feel felt similar. This racquet is pleasingly crisp, and that's something I've liked in the recent Tours, including the BLX version. I could also make this racquet feel very similar to a Slazenger Pro Braided by simply adding a leather grip and some lead tape to the handle."
Siobhan - "I would have to compare this to the Wilson BLX Tour. The specs are similar, but the 96 is stiffer, and the higher swingweight makes it less maneuverable. They both swing similarly, and I feel that I would probably like the 96 more, like my BLX Tour playtest, if I played with it more and adjusted to the headsize and shape."
Karly - "Definitely the Wilson Tour series. They all have very close specifications and similar characteristics -- most notably the maneuverability, control and lower power level of the frames."
Brittany - "I would compare this to the Dunlop Biomimetic 500, Wilson Steam 100 and Gamma RZR 98. The Wilson Steam 100 has a very similar feel and and a comparable blend of power and control. The Gamma RZR 98 had a similarly small sweetspot, and was stiff and a bit unpredictable on off-center shots. Lastly, the stability and low power reminded me of the Dunlop Biomimetic 500."
Technical Specifications

Length
27.5 inches
70 centimeters
Head Size
96 square inches
619 square centimeters
Weight
11.1 ounces
315 grams
Balance Point
13.625 inches
35 centimeters
Even Balance
Construction
22.5mm / 22.5mm / 22.5mm
Composition
Basalt
String Pattern
16 Mains / 20 Crosses

Babolat RDC Ratings

Score

Grade

Flex Rating
70
Range: 0-100
Swing Weight
330
Range: 200-400
Scores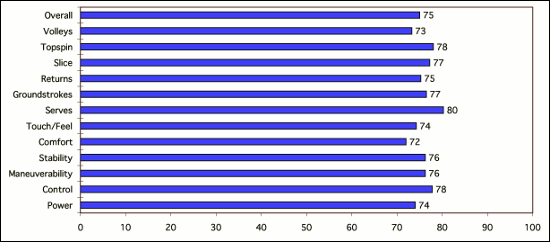 (Scores are determined by averaging individual play test scores)
Chris' Scores
Power
7.9
Serves
8.3
Control
8.2
Groundstrokes
8
Maneuverability
8.4
Returns
7.8
Stability
7.6
Slice
8.3
Comfort
7.8
Topspin
8.2
Touch/Feel
7.9
Volleys
7.7
Overall
7.9
Siobhan's Scores
Power
6.9
Serves
7.5
Control
7
Groundstrokes
7
Maneuverability
7
Returns
7
Stability
7
Slice
7.3
Comfort
6
Topspin
7
Touch/Feel
6.8
Volleys
6.3
Overall
6.5
Karly's Scores
Power
7.9
Serves
8.2
Control
8.4
Groundstrokes
8.1
Maneuverability
7.7
Returns
7.9
Stability
7.9
Slice
8
Comfort
8
Topspin
8.2
Touch/Feel
7.9
Volleys
8.1
Overall
8.2
Brittany's Scores
Power
6.9
Serves
8.1
Control
7.5
Groundstrokes
7.5
Maneuverability
7.4
Returns
7.4
Stability
8
Slice
7.3
Comfort
7
Topspin
7.8
Touch/Feel
7.1
Volleys
7.2
Overall
7.4
Playtester Profiles
Chris: 5.0 all-court player currently using the Volkl C10 Pro 2012. Chris uses a full-western forehand grip, has a fast swing style and hits a one-handed backhand.
Siobhan: Open level player with a semi western forehand and a two-handed backhand. She currently plays Wilson KBlade Team.
Karly: 4.0 baseline player currently playing with the Wilson nCode nTour. She hits with a semi-western forehand grip and uses a two handed backhand.
Brittany: Open level player with a semi-western forehand and a two-handed backhand. She currently plays with the Yonex V-Core 100S.

Review date: January 2013. If you found this review interesting or have further questions or comments please contact us.
All content copyright 2013 Tennis Warehouse.