Head YOUTEK Graphene Speed Pro Racquet Review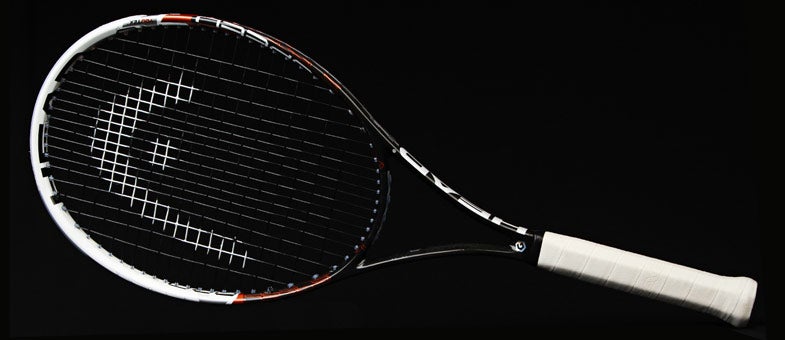 Head YOUTEK Graphene Speed Pro Scores
Comfort
79
Touch/Feel
83
Serves
83
Groundstrokes
89
Returns
87
Slice
82
Topspin
86
Volleys
83
Overall
86
Upsides
Stability
Maneuverability
Power
Spin
Downsides
Nothing we could agree on
Summary
The new Head Graphene Speed Pro passed the test of world No. 1 Novak Djokovic, as he just won the 2013 Australian Open with it as we write this, but we really wanted to know how it would perform for us mere mortals. After a month of playtesting we're happy to report that it passed with flying colors. The Graphene Speed Pro replaced the YOUTEK IG Speed MP 18x20 and features Head's revolutionary Graphene technology. The Graphene technology helps redistribute weight toward the ends of the frame, creating a more solid and maneuverable racquet. Our playtesters agreed that this was the best installment of the Speed line yet. It has the most solid feel all over the court, it continues to be maneuverable, and it has that always-sought-after blend of power and control. This racquet really shone when returning serve, where the improved stability was apparent and the power and spin helped our team break serve with ease. All in all, like Novak, we loved the new Graphene Speed Pro, and we are pretty sure you will, too.
Groundstrokes - Score: 89
The Graphene Speed Pro quickly became a favorite when hitting groundstrokes. Our playtesters loved the solid feel and the blend of power and control. "This has been one of my favorite racquets to play with from the baseline recently," said Andy. "It's super maneuverable but still possesses plenty of stability and plow through. It has plenty of access to pop and spin, but I still felt that I could be precise with all my shots. I found this racquet to have some of the best access to topspin of any racquet that I've hit with in a while, aside from the Wilson Steam 99S, and I thought it was comparable to the Babolat AeroPro Drive. The feel of this racquet is a nice blend between crisp and comfortable, and it feels plenty lively. There was a lot to like and not much to dislike when hitting groundstrokes with this new Speed."
Chris thought this version of the Speed was the best yet, saying, "From the very first hit I thought Head had really improved the response of this racquet. This was, by a long, long way, the best playing Speed I've hit. It felt so much more solid compared to the previous two versions. The previous version felt unstable off center and it always felt like power dropped off very quickly outside of the sweetspot. This Graphene version has none of that. The power was not only much better, but also much more consistent. When catching the ball off center I could still get decent depth and pace. Comfort also felt improved -- I think mostly due to the more solid feel. I felt like I could hit a much bigger ball with this version. It also felt good to go in stock form, whereas with previous versions I have always needed some lead tape. As with previous versions, I found it very easy to get spin. If you think an 18x20 string pattern is not spin friendly, hitting with this racquet will change your mind. I found lots of it on both topspin and slice shots."
Troy found power and precision from the baseline. He said, "I found the blend of control and power to be very enjoyable on my groundstrokes. I found great directional control when moving my opponent side to side, as well as a noticeable amount of added power in this racquet compared to its predecessor. With the blend of power and control I was hitting heavy groundstrokes to the corners of the court, which allowed me to dictate the points well. I also enjoyed the increased feel of this version compared to the previous model. I felt more confident when attempting a touch shot, feeling more connected to the ball compared to the previous version of this racquet. With the dense string pattern I found the backhand slice to work well and penetrate the court with ease. The one downside I found with this racquet was that it felt a bit jarring on the arm when hitting outside the sweetspot."
Mark was a fan of previous versions of the Speed, and the new Graphene version didn't disappoint. He said, "I know that the current Graphene Speed Pro is not really the successor to the older YOUTEK version (the YOUTEK IG version was only available in Europe), but I could not help but make the comparison because I used to play with that racquet. At first swing (the forehand), I noticed an ease of maneuverability. After a few minutes of warming up, which takes me to 'battle mode,' I really liked its stability, and because I have been playing with extremely open patterned frames lately, I was surprised at its easy access to spin. The backhand slice dug in beautifully, and by the end of the first session I got the feeling I could play well from anywhere in the court with this racquet."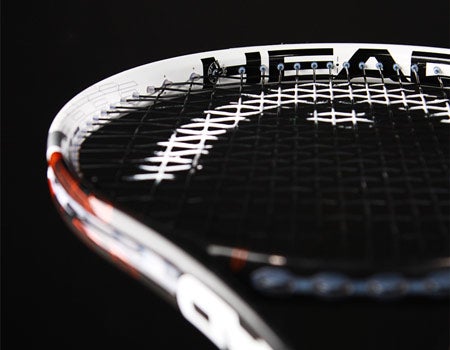 Volleys - Score: 83
The crisp feel and improved stability also made this new Speed a great racquet around the net. Chris could access his entire arsenal with this racquet. He said, "This was an easy to maneuver racquet at net. I could punch volleys away, yet I also liked the feel and control. I liked how the racquet came through the ball when I was looking to snap a high volley away. I was getting ample power and the stability felt excellent. On touch volleys I felt equally dialed in. I found good accuracy on angle and drop volleys and enjoyed playing doubles with this racquet because I had so much variety with my volleys."
Mark found increased stability to be the standout characteristic of the Graphene Speed Pro in the forecourt. He offered, "Short court groundstrokes and volleys were consistent, with no real need to adjust my swing much to keep the ball in play. Even on the stretch, where the ball is at the tip of the frame, the Graphene Speed Pro felt stable. Since I don't always make contact at the center of the stringbed this is always a frame test of mine; if it's reasonably stable with ball contact at the tip, it is an indicator that it is a high quality racquet."
Enjoying the precision and feel was Troy, who said, "I felt a good connection to the ball when moving my way into the net. With the increased power I found it easy to stick volleys with good depth, causing a tough return for my opponents. The amount of mass this racquet possesses allows for good stability against heavy shots hit to me at net. The control of this racquet helped me feel confident when coming to the net and going for volleys near the lines, and I felt as though I could create some sharp angles."
Andy also liked this racquet around the net, but he felt the racquet lacked some stability on certain shots. He said, "The new Speed Pro also felt good around the net, but it didn't perform quite as well as it did from the baseline. There was the same nice feel and a good blend of power, spin and control, but the racquet lacked a bit of stability when making contact off center. I found if I didn't hit the sweetspot, the racquet would turn a bit in my hand at contact. But this was a small unfavorable characteristic, and for the most part the racquet performed nicely on volleys and overheads."
Serves - Score: 83
Our playtesters also really enjoyed serving with the Graphene Speed Pro. Feeling like the racquet helped him on his various serves was Troy, who offered, "I was confidently hitting my targets when serving with this racquet and felt like I could mix up my serves well. My flat serves up the middle were consistent, and I could hit some heavy slice and kick serves. I liked that the sub-12 ounce mass helped me get a lot of racquet head speed. I found a bit more pop on my serve compared with the previous model of this racquet and my current racquet of choice."
Chris recognized the spin potential as the most impressive element of this racquet when serving. He noted, "Pace on serve was decent for me. Spin was more impressive. I was able to get lots of bite on the ball, which allowed me to aim deep and keep my pace up -- even in tight situations. It felt very easy to snap the tip of the racquet through contact, which let me find enough pace. The racquet also felt maneuverable when brushing up the back of the ball to add some spin."
Echoing Chris' sentiments was Andy, who also loved the action he could get on his well-hit serves. He said, "Serving was great with this racquet; the shining aspect was the spin potential you could get on slice and kick serves. I found that when I accelerated the racquet quickly (which was easy due to the great combination of maneuverability and heft), I could get my serves jumping and diving off the court. I could also be very precise while getting plenty of juice on my flatter first serves."
Rounding out the crew was Mark, who liked the end result of his first and second serves. He said, "The frame I played with had Head FXP Tour in it, which is a multifilament string. Although I tend to prefer polys, I liked the grip and tempered power the 18x20 stringbed provided on serve. I was definitely able to set up some weak responses from my opponent with my first serve, and I could get my second serve close to freeway speeds, with a bit of spin as well."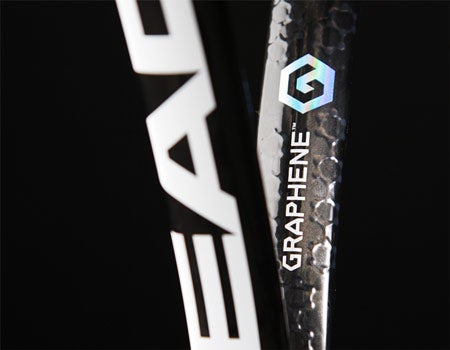 Serve Returns - Score: 87
This racquet performed well all over the court, but our playtesters' favorite shot to hit with it might have been the return of serve. "You'd expect this racquet to perform when returning serve because it's the racquet of choice for arguably the best returner on the ATP tour, Novak Djokovic, and it certainly does," said Andy. "It has lots of maneuverability while remaining stable when stretched wide. Once again, I had great access to power and spin while maintaining plenty of control. This stick will help unlock your potential on service returns."
Chris also loved returning with the new Speed Pro. He said, "My favorite shot with this racquet was the return. I could take a big cut with my forehand and get a great combination of spin and power on my returns. When I was forced off balance the comfort and stable response came into play. I was able to chip the ball back deep, and I liked the fact that even shanked returns with a full poly stringbed never felt excessively jarring."
Mark had every return working with this racquet. He said, "I loved the backhand slice and topspin return with the Graphene Speed Pro. My usual forehand chip return was also effective."
Troy was breaking serve more often than he normally does with this racquet. He said, "I was returning serve with good command over the ball as well as good depth. I found that the 100 square inch headsize provided a forgiving sweetspot, and there was enough control to be aggressive on my returns. When needing to I could slice the backhand return deep and low, creating a difficult return for my opponents. The weight and balance of this stick created good maneuverability, as well as enough plow through to keep the ball deep. Overall, I found this racquet to help me break serve more often!"
Overall - Score: 86
Likes
Chris - "I liked the power, spin, feel, touch and comfort. This version also felt way more solid and stable, with better power outside of the sweetspot, than previous versions."
Andy - "I found great feel and great access to power and spin, without losing control. It also has plenty of maneuverability without losing too much stability."
Mark - "I could play a tournament with it, even with a multifilament in it. The paint scheme is pretty middle of the road, which I like, and for the 11.7 oz, 328 average strung swingweight, I was a little surprised at how easy the Graphene Speed Pro was to swing. This racquet's dense string pattern gets me thinking toward the 18x20s again."
Troy - "The weight and balance feels good in hand, possessing much better plow through than the previous version. I found great precision from all areas of the court."
Dislikes
Chris - "Nothing really. I would add a leather grip and play around with the string setup, but the racquet itself felt good -- power, comfort, stability and touch were all there."
Andy - "None."
Mark - "Yet another high quality racquet in my range that I have to contemplate switching to. I liked it a lot."
Troy - "The only knock I have on this racquet was the slight arm-discomfort I experienced on my groundstrokes. This is something that can be fixed with string choice."
Comparing the racquet to others they've tried, our testers said:
Chris - "I would consider the Wilson Blade 98 18x20 a direct competitor, as is the Head Youtek IG Prestige Midplus and the ProKennex Black Ace 98."
Andy - "This has been one of my favorite racquets of late, and I could easily switch to this without much of an adjustment. I have not hit the previous versions a whole lot, so I'm going to leave the comparison to the YOUTEK IG version to the guys that have hit those a little more. To me, it feels a lot like the new Wilson Blade 98 18x20, with a similar feel but with a little more forgiveness and maneuverability."
Mark - "The new Graphene Speed Pro is not too far off of the original YOUTEK Speed 18x20, IG YOUTEK Speed 18x20, the Prince Exo3 Tour 100 18x20 (with string hole inserts), the Donnay Pro One 97 (18x20) and Dunlop Biomimetic F3.0 Tour, which are all physically comparable to each other."
Troy - "I felt like this racquet played just as good as my current racquet of choice (customized Microgel Radical MP). It has more power but is not as comfortable on the arm. It's a much better racquet for me compared to the previous version, possessing more power, stability, and feel. I found a blend of power and control that some of the older Head Instinct's possessed, such as the Liquidmetal."
Technical Specifications

Length
27 inches
69 centimeters
Head Size
100 square inches
645 square centimeters
Weight
11.7 ounces
332 grams
Balance Point
12.75 inches
32 centimeters
6 Pts Head Light
Construction
22.5mm / 22.5mm / 21.5mm
Composition
Graphene
String Pattern
18 Mains / 20 Crosses

Babolat RDC Ratings

Score

Grade

Flex Rating
68
Range: 0-100
Swing Weight
328
Range: 200-400
Scores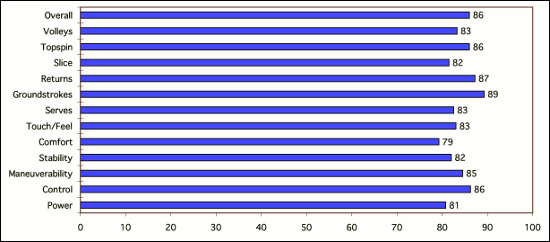 (Scores are determined by averaging individual play test scores)
Chris's Scores
Power
7.8
Serves
8
Control
8
Groundstrokes
8
Maneuverability
8
Returns
8.4
Stability
8
Slice
8.4
Comfort
8.3
Topspin
8.4
Touch/Feel
8
Volleys
8.3
Overall
8.1
Andy's Scores
Power
8
Serves
8
Control
8.5
Groundstrokes
9.5
Maneuverability
9
Returns
9.5
Stability
7.5
Slice
7
Comfort
8
Topspin
9
Touch/Feel
8.5
Volleys
7.5
Overall
9
Mark's Scores
Power
8.3
Serves
8
Control
9
Groundstrokes
9
Maneuverability
8.5
Returns
8
Stability
8.5
Slice
8.5
Comfort
8.5
Topspin
9
Touch/Feel
8.2
Volleys
9
Overall
8.8
Troy's Scores
Power
8.2
Serves
9
Control
9
Groundstrokes
9.2
Maneuverability
8.3
Returns
9
Stability
8.8
Slice
8.7
Comfort
6.9
Topspin
8
Touch/Feel
8.5
Volleys
8.5
Overall
8.5
Playtester Profiles
Chris: 5.0 all-court player currently using the Volkl C10 Pro 2012. Chris uses a full-western forehand grip, has a fast swing style and hits a one-handed backhand.
Andy: Open level all court player with a semi-western forehand grip and a two handed backhand. Andy currently using a Yonex RDiS 100 Mid.
Mark: 5.0 lefty all-court player with a one-handed backhand. He currently plays with the Dunlop Aerogel 4D 200.
Troy: 5.0 lefty all-court player with a full Western Forehand and a two-handed backhand. Troy currently plays with a customized Head Microgel Radical Midplus.

Review date: February 2013. If you found this review interesting or have further questions or comments please contact us.
All content copyright 2013 Tennis Warehouse.