Kirschbaum Super Smash Spiky String Review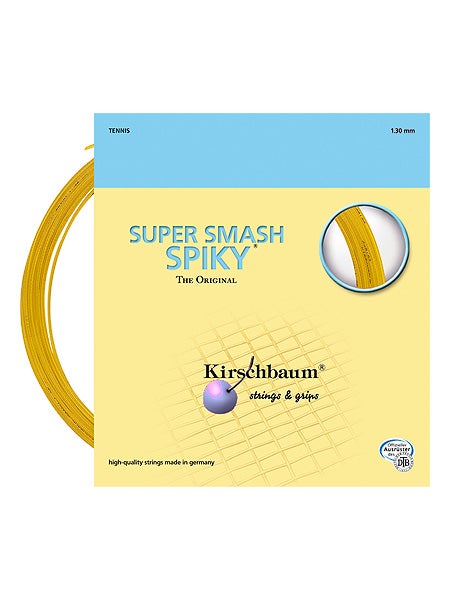 Kirschbaum Super Smash Spiky String Scores
Power
35
Spin
97
Comfort
50
Control
97
Touch
79
String Movement
79
Playability Duration
88
Durability
85
Overall
87
Summary
1997 was a good year for polyester, and it wasn't just because Gustavo Kuerten won the French Open with a groundbreaking new string manufactured by a small Belgian company called Luxilon Industries. This was also the year when the first textured poly, Kirschbaum Super Smash Spiky, was born. In honor of this fact we decided to playtest Spiky and hopefully discover why this "old school" polyester continues to enjoy such a loyal following. After several weeks of hard hitting, we figured it out. Put simply, this string offered our testers an amazing combination of durability, spin and precision. However, it should be noted that not everyone is going to appreciate the charms of this admittedly stiff and low powered poly. We found that full swings and clean mechanics were definitely required to unlock its benefits. Ultimately, though, for the advanced player who wants maximum control, especially when ratcheting up the pace, there are not many strings better at bringing the ball down on target.
Power - Score: 35
As a firm and very crisp polyester, Super Smash Spiky requires the player to supply most of the power. Which is to say, Chris loved it. He said, "This string hits the perfect power level for me for a poly based string. I found just enough power to help me get some stick on the ball, yet I never had to worry about overhitting. The power level is fairly low, and that is what I love about this string. At 55 lbs in my Volkl C10 Pro this string offered enough juice for me to find easy depth and pace. I was always able to take a full swing at the ball with the confidence that my shots would stay within the lines. The result was aggressive hitting with me supplying the power -- just the way I like it."
Andy also found this string to err on the side of control. He said, "I found Super Smash Spiky to be pretty low-powered, especially the first time playing with it. After a couple days it softened up a bit, but it's definitely a low-powered string that allows you to generate your own pace. The ball pocketing is nice, so you do get a nice high trajectory off the strings."
Spin - Score: 97
If our two playtesters have it right, Super Smash Spiky has about as much spin-potential as any player could want. This is not surprising since Spiky, with its patented dimples, was one of the first polys specifically designed for spin. Andy didn't require much convincing when it came to this string's sharp bite, saying, "Super Smash Spiky is a spin monster! A revolution leviathan! You can absolutely feel the rough surface of the string bite the ball at impact, at times almost too much! With good racquet head speed you can get the ball twisting and turning like a Dreidel during Hannukkah. Super Smash Spiky has some of the best spin potential you'll ever find!"
"The grab from this string is excellent, said Chris, who clearly had all the spin he needed. He continued, "It spits the ball out with lots of spin both on slice and topspin shots. The firm, crisp feel had me dialed in and taking a good cut at the ball. With lots of racquet head speed on every shot, getting spin was very, very easy. I think the amount of spin from what the string is doing, combined with the low powered response requiring a high swing speed, makes this an extremely spin-friendly string. My slice shots were skidding low and I found I could knife through the ball and get all the spin I needed to drive my slice backhand to my intended target. I loved the spin I found on topspin angles, lobs and passing shots. With so much spin it was easy to make things difficult for my opponents -- especially if they came to the net, as I had a myriad of options to get the ball by them."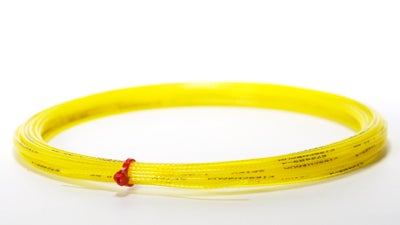 Comfort - Score: 50
As a firm and durable poly, Super Smash Spiky is not supposed to be very comfortable. Even so, Chris didn't have any issues with impact shock. He said, "This was far from soft and dampened in my racquet, but I found ample comfort. I can even string this one higher without comfort being an issue, but I found power to drop off too much when I do. I liked the way the string pocketed the ball in the sweetspot and offered a crisp and clean feel. Off center shots felt noticeably firmer, which assisted in control and stopped the ball from flying, without me ever noticing any undue racquet shock. While all poly based strings are going to be firmer rather than ultra-soft and comfy, I never had any comfort issues with this one."
Andy, who tends to prefer softer co-polys like Topspin Cyber Flash and Dunlop Black Widow, needed to lower the tension to get the right feel. He said, "This string is stiff and crisp, and Kirschbaum doesn't seem to be afraid to show it. It feels like a classic polyester (as opposed to a modern co-poly) with few additives to help it play more comfortably. I had to go with a low tension to get the comfort I needed."
Control - Score: 97
Our team gave Super Smash Spiky a near perfect score for control. Needless to say, Andy, with his massive strokes, appreciated not having to worry about overhitting. He said,"Spin and control is what you get with Super Smash Spiky. The stiff, dead response lends itself to tons of precision and confidence. With this string you know exactly where that ball is going. Control was definitely a standout feature of this string, along with the spin."
The low-powered response and ultra-predictable trajectory was perfect for Chris. He said, "Along with spin, control is my favorite characteristic of this string. I loved taking a full cut at the ball even when I was way inside the court, as I found all the control I needed to drive the ball at my target. At net the crisp and clean response made finding my targets a snap. There was a lot of grab to help me add spin and get drop volleys to drop quicker and angles to be hit sharper. I felt more confident hitting a more aggressive second serve thanks to the high level of control of this string. It seems no matter what shot I want to hit, I always found ample control. I found the response to be perfect for me and I absolutely love this string."
Playability Duration - Score: 88
Super Smash Spiky gave our team above average tension maintenance for a poly. Chris was impressed, saying, "This string lasted very well for me. It is pre-stretched, and I found that resulted in better tension stability than most other poly based offerings. I can easily keep this string in my racquet for 2-3 weeks and be happy with how it is playing. I have found similar longevity from other Kirschbaum polys, and the only other non-Kirschbaum string which comes close would be Luxilon 4G."
"Another standout feature of Super Smash Spiky was how well it maintained tension and playability," said Andy, in total agreement with Chris. He continued, "I had the chance to play it in a number of racquets, and none of them suffered a drop off in performance over time."
Overall - Score: 87
What type or player would you recommend this to?
Chris - "I think this string is a great option for the player wanting maximum control and spin. If you like to swing big and want something that will help you do that with confidence, this string will be right up you alley."
Andy - "Perfect for the big hitters who like the classic, stiff polyester feel but want a boost in spin. This is for the poly veteran."
Likes
Chris - "I loved the control, spin, crisp feel and overall response of this string. It is exactly my kind of string and I loved every minute of this test!"
Andy - "Spin, control, spin, tension/playability maintenance, and, finally, spin. Also, let's not forget spin!"
Dislikes
Chris - "None. This is pretty much a perfect string for me."
Andy - "I would've liked a little more comfort. This is an especially stiff polyester, which is a benefit to some and a deal-breaker to others."
Comparing the string to others they've tried, our testers said:
Chris - "I can use either this or Volkl Cyclone and be perfectly happy. They actually feel quite different, but the end result is similar. I would say Solinco Tour Bite offers similar grab on the ball, but Super Smash Spiky pockets the ball better and gives me even more spin. Likewise, I find similar control from Kirschbaum Competition, but this string offers superior spin potential. When it comes to the combination of spin and control, it is hard to compare it to anything else, as this string is pretty much in a class of its own."
Andy - "This reminded me a lot of Luxilon ALU Power Rough in the way it grabs the ball at impact, but it's stiffer and offers less power and more control. It has the ball feel of ALU Rough with the stiffness of Luxilon Big Banger Original or Babolat Pro Hurricane."
Scores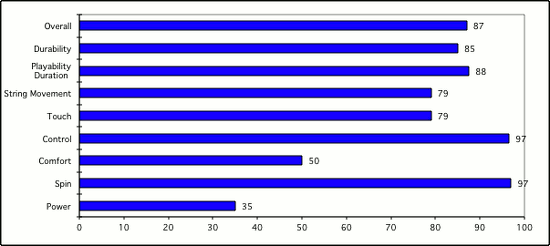 (Scores are determined by averaging individual play test scores)
Chris' Scores
Power
4
Playability Duration
8
Spin
9.9
Durability
8
Comfort
6
Control
9.9
Touch
9.3
String Movement
8.8
Overall
9.6
Andy's Scores
Power
3
Playability Duration
9.5
Spin
9.5
Durability
9
Comfort
4
Control
9.4
Touch
6.5
String Movement
7
Overall
7.8
Playtester String Setups
Chris:
Racquet: Volkl C10 Pro
Playtest Tension: 55 lbs
Usual String: Volkl Cyclone 16
Andy:
Racquet: Head Youtek IG Extreme Pro 2.0
Playtest Tension: 54 lbs
Usual String: Shaped Co-poly 17g or 18g

Review date: June 2013. If you found this review interesting or have further questions or comments please contact us.
All content copyright 2013 Tennis Warehouse.