Slazenger Pro Braided Racquet Review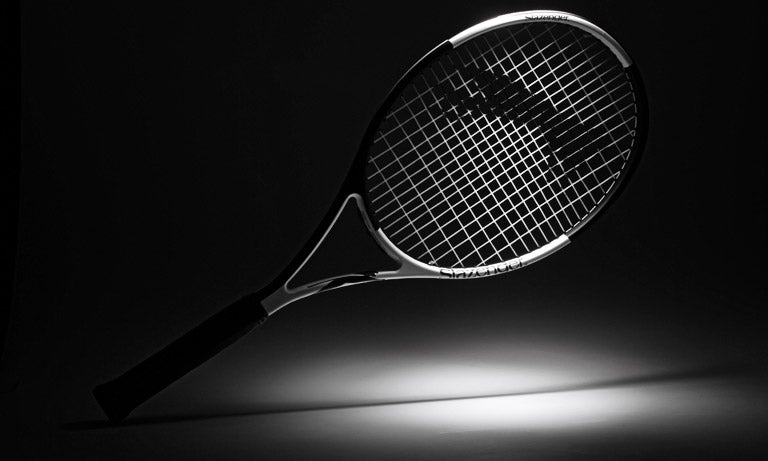 Slazenger Pro Braided Scores
Comfort
75
Touch/Feel
82
Serves
86
Groundstrokes
84
Returns
83
Slice
79
Topspin
82
Volleys
85
Overall
83
Upsides
All court playability
Spin
Control
Power
Maneuverability
Summary
With the Slazenger Pro Braided we see the return of a classic. The biggest question going into this test was, could a classic racquet compete with today's modern technology? In the case of the Pro Braided, the answer was an emphatic "yes"! Offering a light and fast feel, this racquet proved perfect for ripping powerful, heavy spin groundstrokes from all areas of the court. That performance factor alone makes this racquet a great fit for the modern player. Factor in sublime control combined with a crisp response and you have the perfect racquet to refresh your net game, too. Our testers enjoyed ample power on serves. There was enough spin to get kick serves kicking and slice serves sliding. This is a great performing stick at its stock weight, and stronger players will find ample room for weight/balance customization. All in all, the Slazenger Pro Braided proved it is still a viable option for intermediate and advanced players.
Groundstrokes - Score: 84
The Slazenger Pro Braided proved to be quite a versatile weapon from the baseline. Chris was surprised by the racquet's power. He said, "The light, mobile feel and the lively open string pattern combined to offer a very spin-friendly response from the baseline. I found it easy to get a lot of racquet head speed, even when rushed. Both slice and topspin left the stringbed with lots of bite, helping me find my targets even when swinging aggressively. This racquet had more power than I expected, considering its weight. However, it was easy to control the ball, and I didn't have to worry about over hitting. It felt like a firmer and faster Wilson Six One. Whereas Wilson's lighter version, the BLX Six.One Team, has a soft flex and dense string pattern -- providing lots of feel and control -- this racquet goes completely the other way, providing added power and a crisp response."
This racquet had plenty to offer Troy, who said, "The best aspect of this racquet when hitting groundstrokes was my ability to move the ball from corner to corner with ease. I was swinging out confidently, finding the swingweight of this racquet to match up nicely with what I'm used to. I found a nice blend of power, to provide good depth, and spin to help me mix it up and try and keep my opponent off balance. My best shot with this racquet was my two-handed backhand, which I felt I was striking cleanly and hitting effectively cross court or down the line. I felt this was a great baseline racquet for anyone who feels comfortable finding the sweetspot on a 95 square inch head."
"It was love at first hit," said Jason. "I just absolutely love the way the racquet plays from the baseline. It's easy to swing and feels fast and solid through the contact point. The open string pattern and fast swing speed contributed to the easy access to spin. For a head light, control-oriented racquet, the power level was surprisingly high. I was able to get plenty of depth on my shots. It really allowed me to hit with great variety because I felt like the racquet was able to hit any shot I wanted to hit."
Sean found this to be a great fit for his game. He said, "A great blend of both control and power was available from the baseline with this racquet. The player-oriented specs on this racquet -- combined with a higher stiffness rating -- allowed for an amazing amount of consistency. I could sit back on the baseline hitting consistent, accurate shots for as long as needed while still having the option of hitting a bigger shot. It was easy to keep the ball deep in the court with either topspin or slice without fear of overhitting."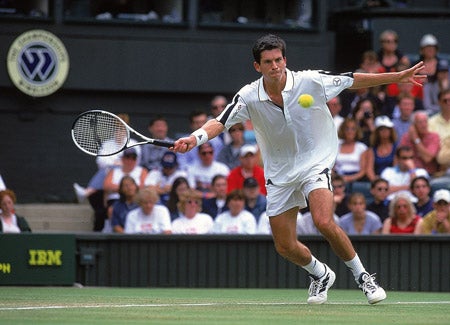 Volleys - Score: 85
Our playtesters loved the fast, maneuverable feel of the Slazenger Pro Braided. The racquet inspired confident volleying from Sean, who offered, "This racquet seemed like it was built to be used at the net, even for a baseliner like myself. It offered a light and maneuverable feel without sacrificing a solid feel on impact. This racquet excelled at putting volleys back deep into the court to keep my opponent on their heels and hitting finesse volleys that needed some control and angle. It's not often that I enjoy finding myself up at the net, but I felt confident in my ability to cover the court with this racquet."
Jason also found success at net. He said, "Could it be that a player like me, who is allergic to the net, enjoyed volleying? With this racquet, I did. It felt very crisp and solid. Because of the mobility I was able to place the racquet where it needed to be with hardly any lag time. For me, the only thing that could've made it better was some added weight in the hoop for more stability during off-center shots. I tend to hit those a lot."
Troy was able to successfully hit a variety of shots. He said, "Right away it was easy to see how this is a great racquet for a net-rusher such as Tim Henman. It was not only maneuverable, but it was also nice and firm, helping me keep the volleys deep in the court. Although it is a stiff feeling racquet, I had no problem finding acute angles and the occasional drop volley. For my preference, a little added weight from a leather grip, plus some lead tape in the head of the racquet, will make this stick even more stable and comfortable."
The mobility helped Chris at net. He said, "One of my favorite shots with this racquet was the volley. I stuck some really solid volleys during this playtest, surprising myself with the power and accuracy I found. The maneuverability made it easy to get the racquet into position and helped me find that little bit extra when I was forced to hit off balance and/or stretched wide."
Serves - Score: 86
As a group, our testers came to the conclusion that this is a solid racquet when it comes to serving. There wasn't much Troy didn't like about this racquet. He said, "I could put some extra kick on my spin serve, and I felt this racquet provided good pop when I wanted to pull the trigger on a first serve. It works well because it is relatively maneuverable, has good pop and still maintains great control. My best service games with this racquet were in doubles, and I felt that I played most consistently when serve-and-volleying. For the intermediate to advanced player, this is a racquet that may help you add some variety and power to this part of your game."
Sean was able to win some easy points on serve. He said, "When it came to serving I was more than impressed with this racquet's performance. It was easy to generate fast swing speeds, and it responded well when I needed to reach back for some extra power on a first serve. I was really able to direct my serve wherever I wanted, with incredible accuracy both on first and second serves."
Chris was able to vary his serves well. He said, "Next to volleying, serving was my favorite shot. This racquet just lent itself to both power and spin serves. I was finding some nice pace on first serves and lots of spin on second serves. I was very happy with the consistency I was finding and served with confidence the entire playtest. This racquet reminded me of a more mobile Pure Drive Roddick due to its firm, powerful feel and easy access to spin."
"I found it very easy to serve with the Pro Braided," said Jason, who served with consistency. "I don't think I was able to hit a bigger ball necessarily, but I felt quite comfortable serving with it in my hand. I typically slice most of my serves, but for some reason, I really enjoyed hitting a flat ball out wide on the ad side. I just felt like I could be steady with this racquet, and that's key for me."
Serve Returns - Score: 83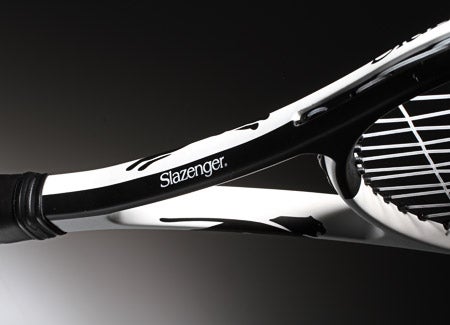 The power and maneuverability of the Slazenger Pro Braided were what impressed our testers the most. Taking advantage of the power was Jason, who noted, "I thought this racquet was quite versatile. It's maneuverable and fast so I could take full swings against slower servers or second serves and hit returns with pace and depth. Against playtesters like Carol, Sean or Brittany, whose serves come in with lots of pace, slice was more successful because I could get it back deep enough to recover and ready myself for the next shot."
Chris had similar sentiments, adding, "Everything about this racquet made it a great stick for returns. Being so light and mobile, I could accelerate it quickly, allowing me to take a good rip at the ball with hardly any backswing. There was ample power when I needed to block or float the ball deep and the open string pattern helped me control the power on more aggressive swings by adding some bite for extra spin."
The racquet allowed Sean to be the aggressor. He said, "I felt extremely comfortable with my returns off both wings. I found myself stepping into the court more with this racquet because I was confident that I could control my shots. I was taking the ball earlier and hitting flatter shots with accuracy. Against bigger serves I could slice the serve back effectively when I needed to just get myself into the point."
Troy found success in both singles and doubles play. He said, "I found a good, consistent response from this racquet while returning. Unlike most other 95 square inch headsize racquets that I've used in the past, I was getting good pop that helped me get a little extra depth on my returns. Overall, I was effective in returning, finding that I was putting good pressure on the server. In doubles I was getting good placement on returns, with the goal of keeping the ball away from the net man."
Overall - Score: 83
Likes
Sean - "I liked how this racquet performed well from all areas of the court."
Troy - "A nice feeling racquet from all areas of the court. Good control and more pop than most 95 square inch headsize racquets on the market."
Jason - "Power, control, spin, mobility, feel and touch."
Chris - "I liked the power, spin, maneuverability and control. What a combination of performance characteristics!"
Dislikes
Sean - "I felt some discomfort in my arm after long sessions, perhaps due to the frame's stiffness."
Troy - "I didn't like the feel of this racquet when it was strung tightly. I found it to feel most comfortable strung in the low 50 lbs range. I would add a leather grip with an overgrip, and some lead tape at 3 and 9 o'clock on the hoop for some added stability."
Jason - "The racquet felt just a tad too stiff for my body to handle."
Chris - "I didn't care for the black and white cosmetic when this racquet was new, but it is starting to grow on me. Right now it is walking that fine line between outdated and classic. Give it another couple of years and I'll probably love it."
Technical Specifications

Length
27 inches
69 centimeters
Head Size
95 square inches
613 square centimeters
Weight
11.5 ounces
326 grams
Balance Point
13 inches
33 centimeters
4pts Head Light
Construction
22mm Straight Beam
Composition
Braided Graphite & Kevlar
String Pattern
16 Mains / 18 Crosses

Babolat RDC Ratings

Score

Grade

Flex Rating
73
Range: 0-100
Swing Weight
330
Range: 200-400
Scores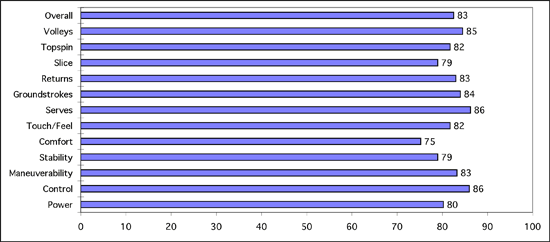 (Scores are determined by averaging individual play test scores)
Sean's Scores
Power
7.7
Serves
9
Control
8.6
Groundstrokes
8.6
Maneuverability
8
Returns
8
Stability
7.8
Slice
8
Comfort
7.9
Topspin
7.8
Touch/Feel
8.2
Volleys
8.4
Overall
8.2
Troy's Scores
Power
8.2
Serves
9
Control
8.8
Groundstrokes
8.5
Maneuverability
8.5
Returns
8.5
Stability
7.7
Slice
7.6
Comfort
7.2
Topspin
8
Touch/Feel
8.2
Volleys
8.9
Overall
8.3
Jason's Scores
Power
8
Serves
8.2
Control
9
Groundstrokes
8.5
Maneuverability
8.6
Returns
8.3
Stability
8.3
Slice
8
Comfort
7.5
Topspin
8.6
Touch/Feel
8.5
Volleys
8
Overall
8.5
Chris's Scores
Power
8.2
Serves
8.3
Control
8
Groundstrokes
8
Maneuverability
8.2
Returns
8.4
Stability
7.8
Slice
8
Comfort
7.5
Topspin
8.3
Touch/Feel
7.8
Volleys
8.5
Overall
8
Playtester Profiles
Sean: 4.5 baseliner using the HEAD Youtek Prestige Pro. Sean has a semi-western forehand, 1 handed backhand.
Troy: 5.0 lefty all-court player with a full Western Forehand and a two handed backhand. Troy currently plays with a customized Wilson KBlade 98.
Jason: 4.0 baseliner with a semi-western forehand and two handed backhand. Currently using a Boris Becker Delta Core London.
Chris: 5.0 all court player currently using the Volkl Power Bridge 10 Mid. Chris uses a full-western forehand grip, has a fast swing style and hits a one-handed backhand.

Review date: November 2011. If you found this review interesting or have further questions or comments please contact us.
All content copyright 2011 Tennis Warehouse.