Solinco Protocol 325 Racquet Review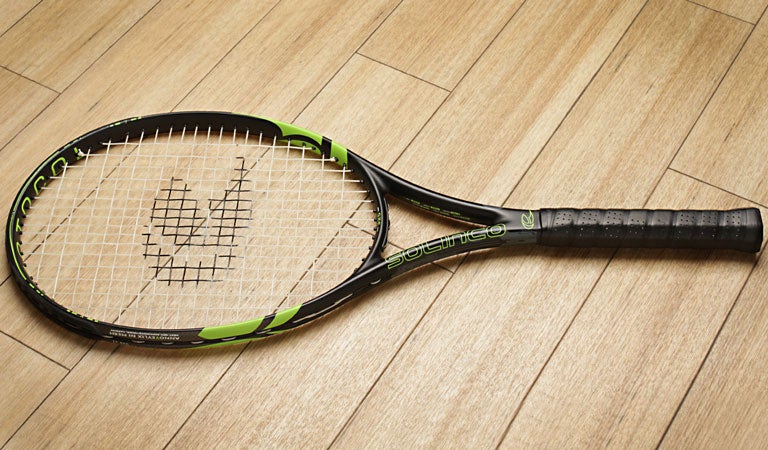 Solinco Protocol 325 Scores
Power
83
Comfort
68
Touch/Feel
72
Serves
82
Groundstrokes
76
Returns
71
Slice
79
Topspin
77
Volleys
75
Overall
75
Upsides
Powerful
Good plow through
Crisp feel
Downsides
Bit sluggish on returns
Unforgiving outside the sweetspot
Summary
The Solinco Protocol 325 fits nicely into the ever-growing class of crisp, lively modern player's racquets. The thick beam (24-26-23mm) and higher stiffness rating (67RA) combine with some nice heft (325 grams/11.5 oz unstrung) to provide easy access to power and spin for the new-age big hitter. Our playtesters found the racquet to be solid and stable all over the court, whether slugging big groundstrokes and serves or sticking aggressive volleys at the net. The one negative from that heavy static weight was a slight loss of maneuverability, which helps explain why return of serve was the stroke where our playtest team struggled the most. If you're a fan of the Pure Drive-style racquet, especially the older ones without any dampening technology, you'll like the crisp, modern feel of the Protocol 325.
Groundstrokes - Score: 76
The heft was the most apparent feature of the Solinco Protocol 325, which was a positive feature to some testers and a negative to others. Mark loved the weight and solid feel this racquet provided on his groundstrokes. He said, "With 12 ounces of high-modulus graphite, no matter what the technologies are you are going to get great plow through, and the Protocol 325 delivers with every shot. I was able to maneuver it and benefit from all that mass until I got deep into rallies or after 90 minutes of play. I had a little trouble with the inside out forehand, but all my other groundstrokes were effective against the usual suspects at TW."
The specs of the Protocol 325 are very similar to what Michelle normally plays with, so it was no surprise that she sung the racquet's praises. She said, "This racquet fits right into my wheelhouse (weight, swingweight, stiffness, etc.). Groundstrokes felt good, and I was able to attack balls and finish points while still finding access to spin when on defense. The racquet was easy to swing - I enjoyed the weight distribution in this stick, and it played into my game style. I found it to be comparable to a Donnay Formula 100 or even the Pure Drive/Pure Drive Roddick (with slightly lower power than the Babolat and a different feel). I did find that it took a bit more effort to swing through the ball and generate power, which wasn't an issue for me, but definitely noteworthy. I never felt any discomfort or soreness from this racquet despite other playtesters mentioning they felt it was on the stiff side (the stiffness rating is lower than the Pure Drives - but this racquet doesn't have the Cortex or Woofer technology). That solid, stiff feel is always right up my alley when pounding groundstrokes."
Andy enjoyed the heft and the easy power it helped create when coupled with the high stiffness rating, but he did feel that it was a bit unforgiving from the baseline. He explained, "This is a very stiff and modern feeling racquet from the baseline, and it's got some heft. When you hit the sweetspot the ball takes off, and you can hit the ball pretty big from both sides. However, I found a small sweetspot and the racquet a bit hard to maneuver. Even though it has a 100 square inch head it's not as forgiving as the Pure Drive or Extreme Pro. You feel it when you make contact outside of the sweetspot and the power drops off quite a bit."
Jason found it difficult to be consistent from the baseline. He offered, "I felt like my play from the baseline was pretty erratic with this racquet. I thought the Protocol 325 had easy access to power thanks to the 12 ounce strung weight, high stiffness rating and 330 swingweight. When I connected cleanly I was able to hit a really big ball. Because I'm not used to a 12 ounce racquet my timing was off, and when I mis-timed my shots I was no longer holding a racquet, it was more like a rocket launcher. I really struggled with shots on the run because I had trouble getting the racquet around fast enough. However, I really enjoyed slicing with this racquet. With so much mass, I felt like I was hitting my slices better than with my own racquet."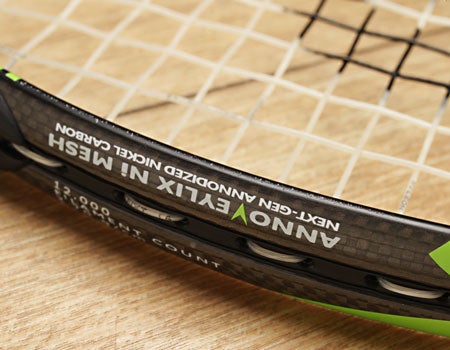 Volleys - Score: 75
The heft and stability of the Protocol 325 were even more apparent at net. Unlocking her inner Patrick Rafter, Michelle found herself successfully attacking her volleys. She offered, "I found the Protocol 325 to be very crisp at the net, and my volleys penetrated the court well. I go for placement and power over touch with my volleys most of the time. However, you can't just use this racquet to block back volleys or you may find it uncomfortable. I found that I needed to be actively aggressive to really unlock the full potential of the racquet at the net. If I made contact in the right spot, I was rewarded. However, if I happened to hit outside of the sweetspot it caused some discomfort and unwanted stiffness and vibrations, so footwork was key for me when volleying with this racquet."
Jason, who normally only comes to net to shake hands after a match, actually enjoyed this racquet more at net than he did from the baseline. He explained, "I never thought I'd like hitting volleys more than groundstrokes, but with this racquet I did. Because I don't have to take a full swing on volleys (whether I do or not is another story), my timing was much better up at net. Plenty of mass meant I could block back plenty of shots, even the harder hit ones."
It was no surprise to Mark that the racquet had the same great stability on volleys that it had on groundstrokes. He said, "I expected the Protocol 325 to have a great stability storyline all the way around, but I was surprised that I was able to move it into place as quickly as I could at net considering the 12 ounce static weight and 329 swingweight. My volley and this racquet got along very well."
Andy also appreciated the heft and stability, but he didn't find the touch and feel to his liking. He said, "When you get the racquet into position you can pop some good volleys. The heft of the racquet provides a nice amount of stability for hard hit shots, but, I again found it hard to maneuver and unforgiving outside the sweetspot. A shot outside of the sweetspot causes the racquet to flutter a bit, and I found too many volleys dropping short. In addition, the stiff frame didn't have the kind of feel I'd like for touch shots and drop volleys."
Serves - Score: 82
Our playtesters found easy access to power and spin with the Protocol 325 while serving. After a slight tactical adjustment, Jason was using less energy to produce his usual serves. He explained, "I found the 'less is more' attitude gave me the best results here. When I swung too hard I had trouble controlling where my serve was going. Even though my MPHs were higher, my consistency suffered. When I slowed down my swing I was able to generate the same pace I get with my own racquet, but with less effort. I was able to put plenty of spin on my serves thanks to the open 16x19 string pattern."
Mark was reminded of some sage advice that also allowed him to serve big with minimal effort. He said, "I got what I expected when serving with the Solinco Protocol 325, which was help with pace and spin. I once heard Pat Cash say, 'Just toss it up and give it a whack,' when asked to describe his approach to the service motion. Serving with the Protocol 325 sort of conjured up that old memory because the weight, balance and feel allowed me to develop some pace and spin on the serve with a more casual approach than if I were using a lighter setup."
All of Michelle's serves were helped by the easy pop of this racquet. She offered, "I found the Protocol 325 to shine when it came to stepping up and starting the point on my serve. It was easy for me to access power and spin while hitting my targets with ease. I found that I could really go after my flat serves with confidence, while getting good movement on my second serves."
Andy was also serving bigger, although not with as much control as he'd like. He said, "I felt like I could really bomb the serve with this Protocol. Get it moving and this heavy, modern racquet will send that ball screaming toward the service box. However, I did feel like I really had to focus to locate the serve precisely where I wanted. I didn't have the kind of pinpoint precision that I'd get from other racquets."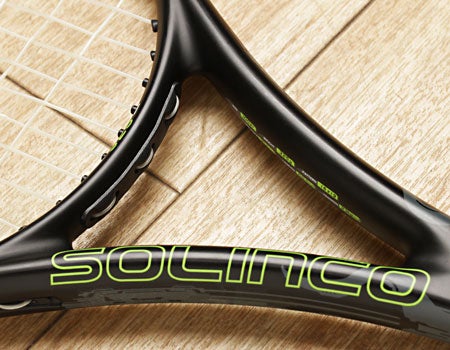 Serve Returns - Score: 71
All of our playtesters liked the Protocol 325 for defensive, chip-style returns but found the racquet a bit sluggish when trying to take big swings at the ball. "I had mixed results on returns with this racquet," said Andy. "The heft gave it some nice stability and made it easy to chip returns back deep in the court. I also thought I could generate some nice pace and depth when I was really stretched. However, the maneuverability and lack of control came into play again, and I didn't feel completely dialed in."
The racquet worked for Mark's high-percentage returns, but he felt a bit limited when going for more. He explained, "My usual return is more of a chip, which is where the Protocol 325 really shone for me, but the static weight made it tougher for me to swing through the service return."
Jason was able to return serve effectively by shortening his swing. He said, "Thanks to the weight/swing weight combo, blocking back returns was pretty easy. I could get my shots back with plenty of depth. I wasn't nearly as successful when trying to be aggressive. The racquet felt sluggish, and I was late on many returns."
Michelle also found the racquet a bit too slow on the return of serve, saying, "This is the only area that I had issues. When I was jammed by a serve the racquet was sluggish getting around my body. Compared to the Pure Drive/Pure Drive Roddick, it accelerated slightly slower on returns and could get pushed around a bit by heavier serves. It also doesn't have the most touch, so going for a slice return with this racquet wasn't a high percentage option for me."
Overall - Score: 75
Likes
Jason - "Great on my backhand slice. Plenty of power and nice spin from all areas of the court."
Mark - "I enjoy the feel of it in my hands, and the finish is pretty resistant to chipping. I liked the grip shape, which is close to the Prince/Wilson pallet shape. Also, it helped me get some extra pace on serve."
Andy - "I liked the crisp, modern feel when I made contact inside the sweetspot. I also liked the pace I could get on my serves."
Michelle - "This is my kind of racquet! Loved the weight, enjoyed the access to spin and power, and I could use it to attack and penetrate the court. I also enjoyed hitting crisp volleys at the net. It was easy to serve big and add movement on my second serve."
Dislikes
Jason - "Too stiff. It felt sluggish and erratic. Not whippy enough."
Mark - "The version I played with had the Luxilon 4G, which did add control and drain power, but on off-center contact it generated a little unwanted vibration that reached my hand."
Andy - "I found it a bit cumbersome and uncomfortable when I made contact outside of the sweetspot, which was smaller than I would have liked. I also found the racquet lacked a bit of feel."
Michelle - "There was a slight 'stiff' feel - nothing that ever caused pain or discomfort, but it just took two hitting sessions to get comfortable with the feel of the racquet. It was a bit slower to swing, which I noticed mainly when returning against bigger first serves."
Comparing it to other racquets they've used, our testers said:
Jason - "It felt like the Babolat Pure Drive Roddick, but not as user-friendly."
Mark - "You have to compare it to the Pure Drive Roddick, the Head IG Extreme Pro 2.0 and the slightly lighter IG Extreme MP 2.0. The Solinco Protocol 325 is a more arm-friendly alternative to these stiffer frames. The beam on the Protocol is firm, but not stiff. The Volkl Organix 10 MP is not too far off either, but it has a swingweight a little under 320."
Andy - "This racquet felt a lot like a Babolat Pure Drive Roddick that had been stripped of all its technology. There's no Woofer technology to expand the sweetspot, and there's no Cortex technology to provide some added comfort and feel. It has the same crisp, lively feel and easy access to power and spin, so if you're a fan of a Pure Drive-type of racquet, this will be right up your alley."
Michelle - "I would also compare it to the Pure Drive Roddick - a similar playing racquet with a different feel - the Protocol takes a bit more effort to swing and doesn't feel as comfortable as the Pure Drive Roddick. Also, I think it has less natural power."
Technical Specifications

Length
27.0 inches
69 centimeters
Head Size
100 square inches
645 square centimeters
Weight
12.0 ounces
340 grams
Balance Point
12.32 inches
31 centimeters
9pts Head Light
Construction
24mm / 26mm / 23mm
Composition
Nickel Carbon Mesh
String Pattern
16 Mains / 19 Crosses

Babolat RDC Ratings

Score

Grade

Flex Rating
67
Range: 0-100
Swing Weight
327
Range: 200-400
Scores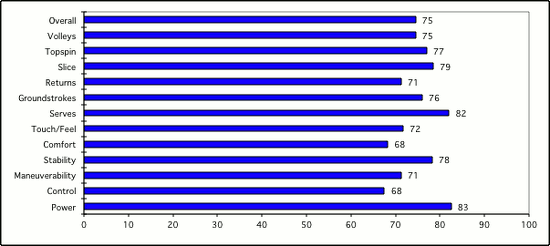 (Scores are determined by averaging individual play test scores)
Jason's Scores
Power
8.5
Serves
7.8
Control
7
Groundstrokes
6.9
Maneuverability
6.5
Returns
7.2
Stability
8.1
Slice
8.4
Comfort
6.3
Topspin
8
Touch/Feel
7.2
Volleys
7.8
Overall
7.3
Mark's Scores
Power
8
Serves
8.5
Control
7
Groundstrokes
8
Maneuverability
8
Returns
7
Stability
8.5
Slice
8
Comfort
7
Topspin
7.5
Touch/Feel
7.5
Volleys
7.5
Overall
8
Andy's Scores
Power
8.5
Serves
8
Control
5.5
Groundstrokes
7
Maneuverability
6
Returns
6.5
Stability
6.7
Slice
7.5
Comfort
6.5
Topspin
7.5
Touch/Feel
7
Volleys
7
Overall
6.5
Michelle's Scores
Power
8
Serves
8.5
Control
7.5
Groundstrokes
8.5
Maneuverability
8
Returns
7.8
Stability
8
Slice
7.5
Comfort
7.5
Topspin
7.8
Touch/Feel
7
Volleys
7.5
Overall
8
Playtester Profiles
Jason: 4.0 baseliner with a semi-western forehand and two handed backhand. Currently using a Wilson Steam 99S.
Mark: 5.0 lefty all-court player with a one-handed backhand. He currently plays with the Wilson Steam 99S.
Andy: Open level all court player with a semi-western forehand grip and a two handed backhand. Andy currently using a Wilson Blade 98 18x20.
Michelle: Open level baseline player with a semi-western forehand and a two handed backhand. She currently plays with the Babolat Pure Drive Roddick.

Review date: October 2013. If you found this review interesting or have further questions or comments please contact us.
All content copyright 2013 Tennis Warehouse.