Head Sonic Pro String Review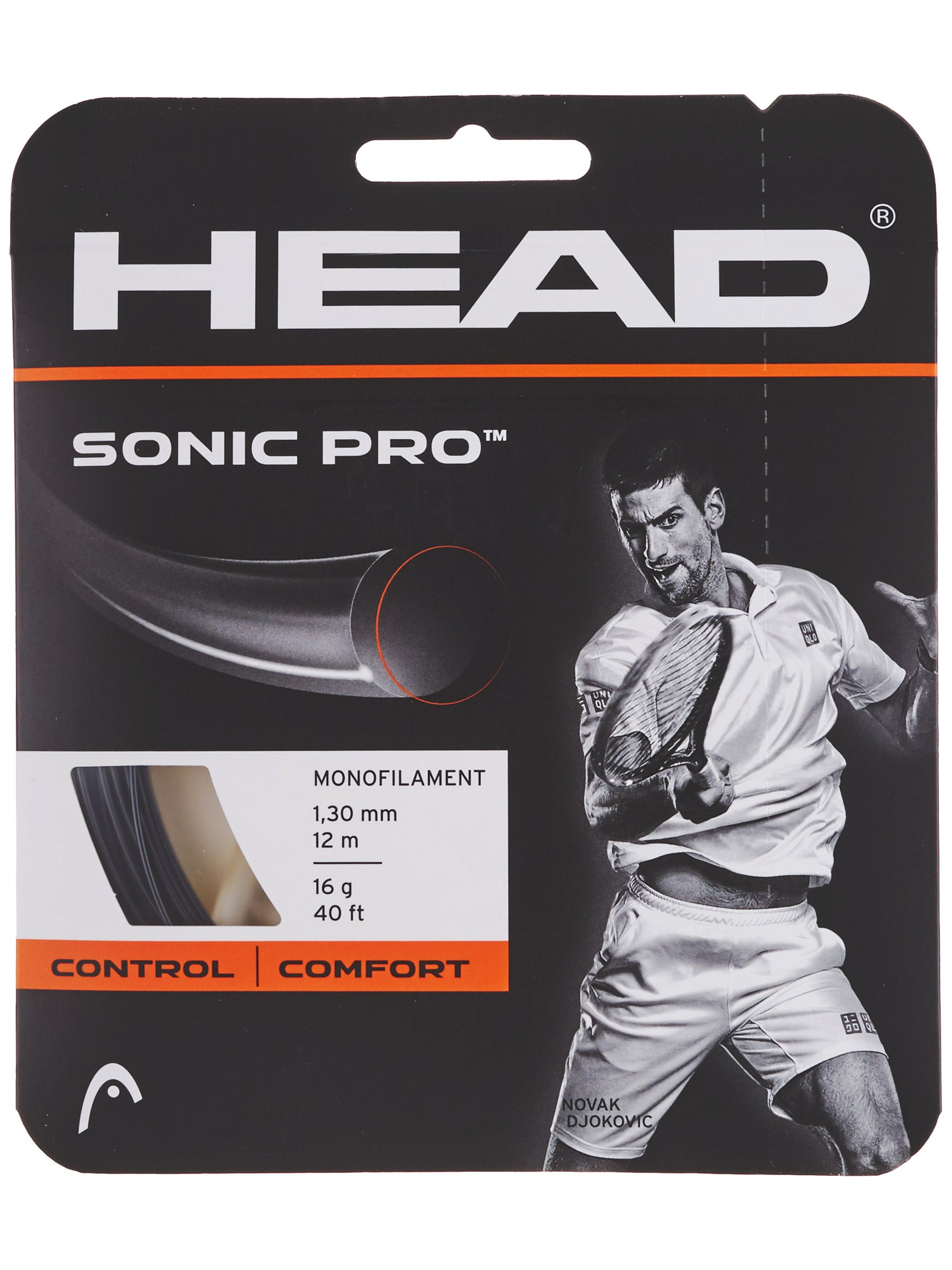 Head Sonic Pro String Scores
Power
58
Spin
78
Comfort
61
Control
80
Touch
73
String Movement
79
Playability Duration
73
Durability
82
Overall
78
Upsides
Durability
Spin
Control
Impressive playability for a firm poly
A great option for big hitters
Downsides
Too firm and underpowered for beginners
Summary
Head's signature co-poly, Sonic Pro, is part of a rapidly growing crop of control strings that build higher levels of feel, comfort and playability into a very durable package. For our playtest team, this somewhat softer construction did not compromise the crisp poly feel, but it did translate into slightly less shock on off-center hits, especially when not over-tensioned. There's also some power under the hood for the player who might want to shift more easily into offense, with the downside being a little less control for players who prefer the deader heavy duty polys. As for spin, Sonic Pro didn't have the sharp bite of its shaped offspring, Sonic Pro Edge, but there was definitely enough bite to effectively bend and shape the trajectory of our shots. Ultimately, though, what we really appreciated about Sonic Pro was its balance of performance variables. This co-poly delivered the durability and spin of a solid control string while providing just enough pop to penetrate the back court and keep our opponents off balance.
Power - Score: 58
Sonic Pro proved to be a little livelier than the polys we typically use. The slight bump in power worked just fine for Troy. He said, "I found the power level of this string to be slightly higher than average for a co-poly string. It was fairly crisp and firm right off the stringer, but after a solid hour of hitting it softened up and felt livelier. I enjoyed the power of this string because it had just enough pop while still maintaining good control."
Michelle, with her huge strokes, also found a groove with this co-poly. She said, "I found Head Sonic Pro to have medium power. Even though I prefer the deader polys, Head Sonic Pro fit right into my wheelhouse and allowed me to put some serious pressure on my opponent. I would consider this string to have as much power as I could ever want from a poly. Thankfully, the comfort level allowed me to string it a little tighter, which helped with control."
Spin - Score: 78
Although it's not the most spin-friendly string we've hit, Sonic Pro gave us enough bite and snapback to hit effective spin. Michelle was impressed, saying, "Like many of the polys that I've been testing lately, Sonic Pro has some great spin potential. As always, I appreciate this because I find the spin complements my flatter groundstrokes. I really utilized this extra spin when hitting against players who enjoyed my flatter balls and just redirected them right back to me. With Sonic Pro I was able to add extra spin and give them a different look."
Troy also got sufficient ball rotation from this string. He said, "The spin potential of this string was better than I expected from a 16 gauge. I felt that I was getting good dip on the ball when hitting a cross-court passing shot. I found my spin serves had good kick, and I was creating good angles from all areas of the court. The spin potential wasn't as good as it is in strings such as Babolat RPM Blast, Volkl Cyclone and Solinco Tour Bite, but overall I was pleased with the spin I was hitting."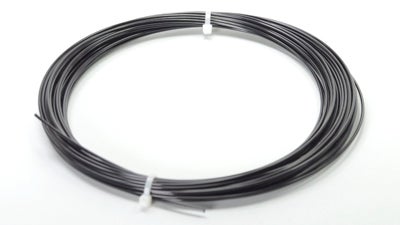 Comfort - Score: 61
Compared with the majority of polys we've tested in the TW string lab, Sonic Pro received a remarkably low stiffness score. This helps explain the comfort Troy experienced. He said, "The comfort of this co-poly string was better than average. Once the stringbed softened up, after about an hour of hitting, I found a nice dampened feel. When taking a big cut at the ball from the baseline I felt a nice ball-pocket, which is indicative of the amount of elasticity I'm getting from the string. I have found more comfort from strings such as Polyfibre TCS, Kirschbaum Pro Line II and Signum Pro Hyperion, but Head Sonic Pro was better than most poly-based strings for comfort."
The softer feel allowed Michelle to string her racquet tighter without losing the sweetspot (which is always a concern with polys). She said, "Because this string has medium power, I knew to string it up tighter in the high 50s (59 lbs), which can be a danger zone when it comes to arm pain and polys. However, Head has done a great job making sure this poly feels softer than the average poly. There were no significant dead spots, and I didn't have any arm issues after playtesting it in my Pure Drive Roddick."
Control - Score: 80
With its crisp and predictable response, Sonic Pro is definitely a control string. Even so, Michelle, with her powerful flat strokes, had occasional problems bringing the ball down. She said, "This string did offer me a decent level of control, but I could have gone for a little more (story of my life!). There were certain times when my adrenaline was flowing that I struggled to keep the ball inside the baseline and was missing by an inch or two. I would have enjoyed a tad more control from Head Sonic Pro for that reason, but I could also have strung it up a few pounds tighter to find the control I was looking for. I would say that this is more of a control-oriented string, and anyone looking for a bit more control in their game should find it here. There is always room for more control in my game!"
"This string had just the right amount of control," said Troy, who had no problem taming the pop. "This string possessed just enough control for me to swing freely with confidence. I felt connected to the ball from all areas of the court. I have found other polys, such as Solinco Tour Bite, Babolat RPM Blast and Luxilon 4G, to have slightly better control than this string, but I was far from disappointed."
Playability Duration - Score: 73
As with many of the friendlier co-polys, Sonic Pro starts to lose its playability before it snaps. Troy noticed some changes in the feel after several sessions, saying, "I found the playability of this string to be average for a co-poly. I started to notice a significant drop off in tension around 8-10 hours of play. Around 12-15 hours of play I felt that I needed to restring because of the lack of performance. I wasn't losing much control from the tension loss, but the string began to feel dead and lost some of its overall feel."
"This poly played pretty true throughout my playtest," said Michelle. "The initial drop in tension was there, but it maintained its characteristics after that. I would say that I noticed some loss of control toward the end of the playtest. While we were filming the review I started struggling with the control that I had enjoyed the weeks prior. It took a solid 2-3 weeks for the playability to break down."
Overall - Score: 78
Likes
Troy - "I liked the liveliness of this string, as well as the better than average control. Good ball-pocketing and not too hard on the arm."
Michelle - "The added control and softer feel. The fact that I could string it high and my arm didn't suffer at all."
Dislikes
Troy - "Tension maintenance wasn't its best attribute. I would have preferred testing the 17 gauge."
Michelle - "Some of the control was lost toward the end of the playtest, but that can be expected after 2-3 weeks."
Comparing the string to others they've tried, our testers said:
Troy - "I found it similar to strings like Volkl V-Pro, Kirschbaum Super Smash Orange and Tourna Big Hitter Blue. These co-polys all had a lively feel and average tension maintenance."
Michelle - "Similar to Yonex Poly Tour Pro - less bite, but a softer feel."
Scores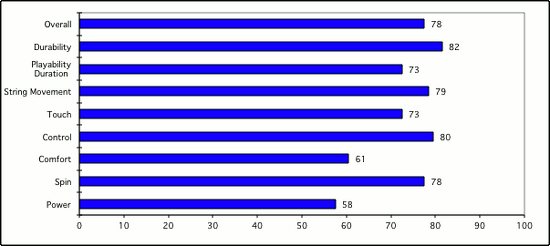 (Scores are determined by averaging individual play test scores)
Troy's Scores
Power
5.8
Playability Duration
6.5
Spin
8
Durability
9.3
Comfort
6.1
Control
8.4
Touch
7.5
String Movement
8.2
Overall
7.5
Michelle's Scores
Power
5.7
Playability Duration
8
Spin
7.5
Durability
7
Comfort
6
Control
7.5
Touch
7
String Movement
7.5
Overall
8
Playtester String Setups
Troy:
Playtest Racquet: Wilson BLX Six.One 95 (18x20)
Playtest Tension: 45 lbs
Typical String: Luxilon 4G 16L
Michelle:
Playtest Racquet: Babolat Pure Drive Roddick
Playtest Tension: 59 lbs
Typical String: Polyester 16g

Review date: September 2013. If you found this review interesting or have further questions or comments please contact us.
All content copyright 2013 Tennis Warehouse.