Kirschbaum Spiky Black Shark String Review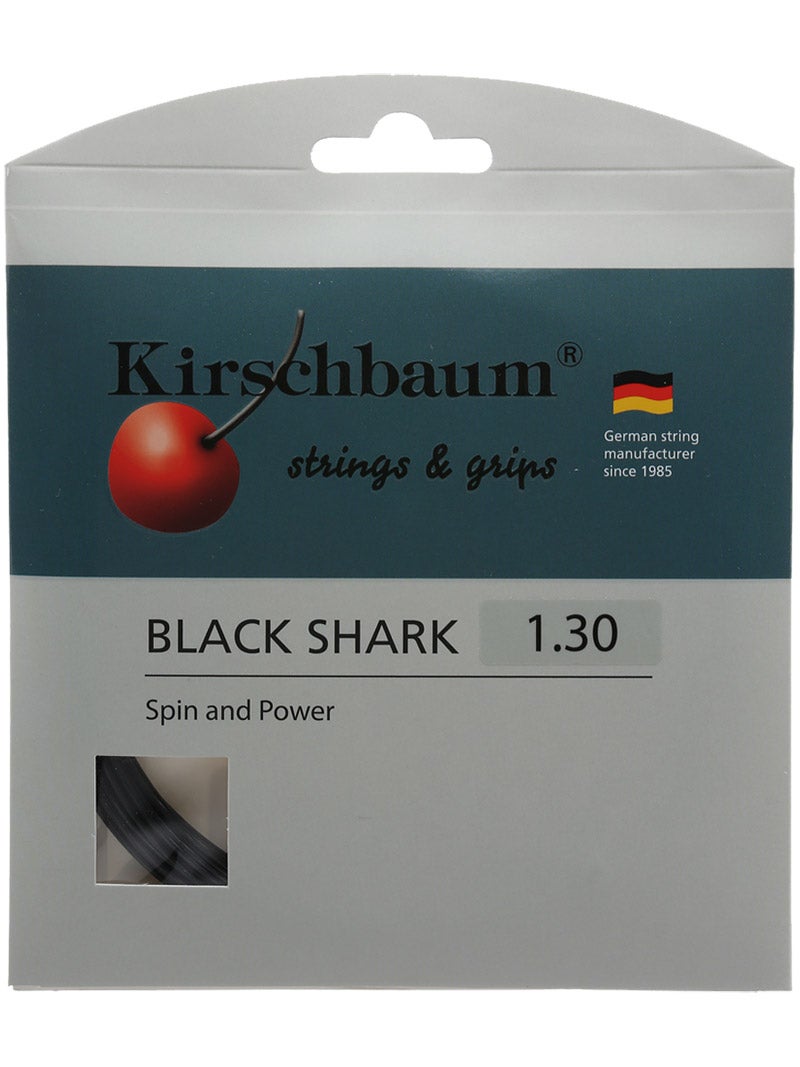 Kirschbaum Spiky Black Shark String Scores
Power
25
Spin
93
Comfort
55
Control
83
Touch
73
String Movement
85
Playability Duration
85
Durability
88
Overall
80
Upsides
Spin (spin, spin, spin!)
Control
Durability
Downsides
Very firm and low powered
Summary
Since the introduction of the industry's first textured poly, the iconic Super Smash Spiky, Kirschbaum has been steadily evolving toward Black Shark, a spin monster with eight sharp teeth. Seizing upon the trend toward more arm-friendly polys ("co-polys"), Kirschbaum constructs Black Shark with a blend of four materials, one of which is specially designed to boost comfort. This added comfort, however slight, was not lost on our playtesters, both of whom were impressed by the surprisingly low level of impact shock. Make no mistake, though, this is not a "comfort string", nor is it springy like Tourna Big Hitter Black 7 or Polyfibre TCS. To the contrary, Black Shark is firm and very low-powered, making it best suited to advanced players with meaty sticks, polished technique and big strokes. In other words, Black Shark proved absolutely perfect for adding control to the long, fast strokes of our two big hitting testers, Andy and Michelle. Ultimately, though, the biggest payoff for our team was the massive spin potential. Suffice it to say, given how hard this string rips into the ball, we think the name Black Shark is perfect.
Power - Score: 25
As a firm, pre-stretched poly based string, it is not surprising that Black Shark didn't provide much power to our team. This turned out to be great for Andy, whose fast strokes and powerful racquet didn't need any help. He said, "I found Black Shark to be a stiffer-feeling, control-oriented string with low power, which was the perfect complement to the racquets I got to try it in. It tamed the power and lively feel of the Prince TT Warrior MP, Head Youtek IG Extreme Pro 2.0 and Youtek Graphene Speed Pro, so that I could really swing out and maximize spin without losing control. In a smaller midsize racquet Black Shark might not have possessed enough pop for my liking, but in a more modern feeling racquet the power level was right on."
For Michelle, Black Shark offered exactly the kind of low-powered control her long, fast strokes need. She said, "I wouldn't say this string added any power to my game (which is a good thing), rather, the excellent control gave me the confidence to supply my own power. I liked how it blended my power with some serious spin. It felt really crisp, which improved the feel and also helped me adjust the power level. I never felt like I had to work hard to find pace because of how well this string complemented my strokes."
Spin - Score: 93
Black Shark not only received one of the top spin scores from our Tennis Warehouse string lab, but it also earned one of the highest spin scores from our playtest staff. Needless to say, Andy was more than a little impressed, saying, "The sharp edges and slick surface of Black Shark enabled it to really grab the ball and get it rotating with some serious RPMs as it left the stringbed. Its low power also allowed me to take a big cut at the ball with confidence, giving me even more spin. If you are a player who likes to hit heavy topspin from the baseline, this is a string for you!"
Even with her flat mechanics, the exceptional spin potential of Black Shark gave Michelle access to an expanded range of shots. She said, "Adding spin to my flat strokes was effortless. I hit my forehand pretty flat, but I was able to use the spin to keep my balls deep and in the court. I also utilized the spin on my backhand to throw in a higher change-up ball. When I first started using the string there were several times I was sure my balls were going out by a few inches, but they ended up staying right inside the line due to the extra spin and bite from the string. My kick and slice serves really benefited as well, and had extra movement on them when using Black Shark. I enjoyed getting free points off my kick serve, and I even used my kick as a first serve in doubles because it was more effective than my flat first serve."
Comfort - Score: 55
Unlike Kirschbaum's first generation polys, which are very firm, Black Shark is constructed with a slightly softer co-polymer blend. This helps explain why Andy had such a smooth ride. He said, "For as stiff and low powered as it is, I never found Black Shark to be uncomfortable on the arm. It possesses enough softer filaments to help dampen harsh vibrations, and I think the way it slides on itself also helps to relieve some of the discomfort."
Michelle has been known to string her stiff Babolat Pure Drive with a full bed of poly at max tension. For this reason it is not surprising that she found Black Shark comfortable. She said, "I like tight strings, and even when I upped the tension of the Black Shark it still felt really comfortable to me (I have a tendency to be immune to stiff, less comfortable setups, though). I played with it strung at 58 lbs and 60 lbs, and I had no issues with comfort or arm soreness. I found this to be a really comfortable string."
Control - Score: 83
With its low-powered response and tight grip on the ball, Black Shark gave our playtesters all the control they needed. Taking advantage of the incredible bite was Michelle, who was clearly impressed by how reliably the spin kept her shots inside the lines. She said, "The control was one of my favorite things about this string. Instead of muting my power, I felt like the control came with the addition of spin. It is exactly what I look for in a string, something that enhances my game a bit and adds some control to my game. I leave it to my strings to do a lot of the 'controlling' with the way I play. Again, I found this string helped keep balls in that I thought were going to go out. I could really feel the strings gripping the ball without having to put too much effort into adding spin to my shots."
"This string is all about control and spin!" said Andy, agreeing with Michelle. "The stiff, low-powered response means your precision will be spot on, so take aim on all your shots with confidence. With a stiffer string, the stringbed will not change as much at impact, meaning you will get a more true response as the ball leaves the strings, hence more control. Black Shark fits the bill!"
Playability Duration - Score: 85
Since it is pre-stretched at the factory, Black Shark should, in theory, hold its tension and playability a little longer. According to Andy, the theory works. He said, "I actually found Black Shark to have exceptional playability duration. I was able to test it in a number of different racquets, so at times it was sitting in a particular racquet upward of a few weeks. I found the playability to still be there when I picked up one of those racquets again after a couple weeks, and the tension hadn't changed a whole lot."
Michelle noticed some minor changes over time, but found the playability quite consistent. She said, "After two weeks I felt like I lost a negligible amount of tension (a couple pounds at most), but not enough to re-string and not enough to make a significant change in the way the strings played."
Overall - Score: 80
Who would you recommend this to?
Andy - "I would recommend Black Shark to players with longer, faster strokes who are already familiar with the world of polyester strings. Try this one if you like a control-oriented co-poly and are looking for a little extra boost in spin."
Michelle -"Big hitters and/or anyone who enjoys hitting with lots of spin or is really looking to tap into the added dimension of heavy spin. Even someone who has tried polys and hasn't enjoyed them because they're uncomfortable - I think this string will bring a new comfort level to anyone who thinks polys are traditionally uncomfortable."
Likes
Andy - "Great spin potential, control, ball feel and tension maintenance."
Michelle -"I enjoyed the easy access to spin. Knowing that this is what this string could help me with helped me play smarter on the court. Instead of just trying to bang flat balls, I was able to work the point a bit better by keeping the ball deep and changing up the height of my balls. I loved that this string helped reel in my power and had good control, enough control (and added spin) to even save some balls I overhit. The tension maintenance was an added benefit of this string. I was still benefiting from the tight strings and spin potential two weeks into using it. I liked how comfortable the string felt - no issues at all with arm soreness and I felt great ball pocketing every time I made contact."
Dislikes
Andy - "Though the string wasn't uncomfortable per se, I tend to lean towards a softer, livelier string."
Michelle - "I don't think there was much I didn't like. I was tempted to string it up tighter after trying it at 58 lbs. I enjoyed it a lot at 60 lbs and was a little curious how it would have felt at 62 lbs, but I was really happy with the string at 60 lbs."
Comparing the string to others they've tried, our testers said:
Andy - "I would put Black Shark in the same class as Babolat RPM Blast, Solinco Tour Bite and Isospeed Black Fire, all of which are low-powered, control-oriented strings with great ball grab and spin potential. It's more comfortable than Black Fire, about the same as Tour Bite and not quite as comfortable as RPM. This is a great option for the player who enjoys these types of strings."
Michelle - "It reminded me of a firmer Tourna Big Hitter Black 7 or Dunlop Black Widow."
Scores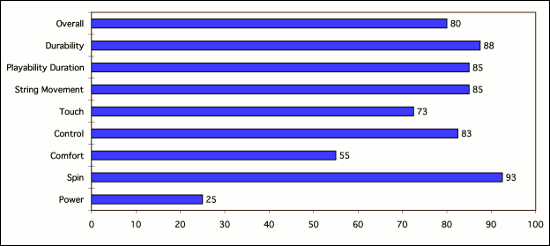 (Scores are determined by averaging individual play test scores)
Michelle's Scores
Power
3
Playability Duration
8
Spin
9
Durability
8.5
Comfort
7
Control
8
Touch
7
String Movement
8
Overall
8
Andy's Scores
Power
2
Playability Duration
9
Spin
9.5
Durability
9
Comfort
4
Control
8.5
Touch
7.5
String Movement
9
Overall
8
Playtester String Setups
Michelle:
Racquet: Babolat Pure Drive GT
Playtest Tension: 60 lbs
Usual String: Polyester
Andy:
Racquet: Head YOUTEK Graphene Speed Pro
Playtest Tension: 52 lbs
Usual String: Tourna Big Hitter Black 7 17g

Review date: April 2013. If you found this review interesting or have further questions or comments please contact us.
All content copyright 2013 Tennis Warehouse.