One Strings Spin Deeper 315g 14x19 Racquet Review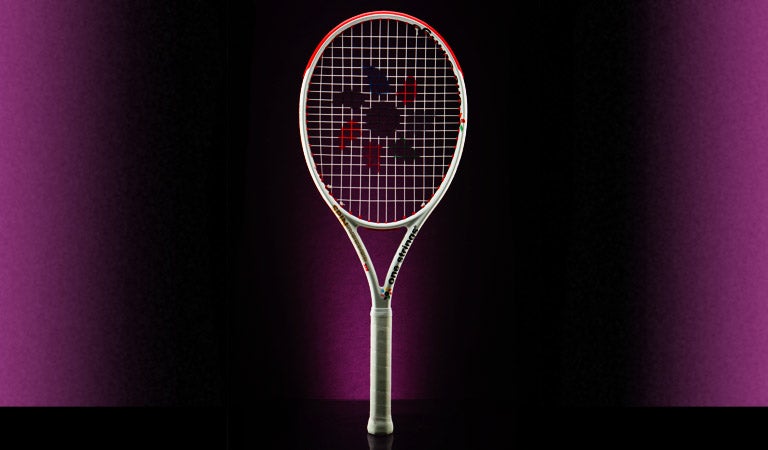 One Strings Spin Deeper 315g Scores
Power
85
Comfort
72
Touch/Feel
76
Serves
81
Groundstrokes
85
Returns
79
Slice
68
Topspin
87
Volleys
80
Overall
79
Downsides
Firm feel outside of sweetspot
Not the easiest to control
Summary
Combining an extremely open string pattern with an aerodynamic and powerful beam, a la the Babolat Pure Drive, the One Strings Spin Deeper 315g is a very lively spin monster. Italian engineers have given this racquet all the ingredients needed to hit a powerful, spin loaded ball that explodes off the court. With its grippy 14x19 string pattern, 100 sq. in. head and bright white cosmetic, this speedy stick certainly piqued our playtesters' interest. Right away, we enjoyed massive bite and huge spin. The open pattern also translated into very effective kick serves. When returning, the combination of maneuverability and power lent itself to some very offensive returns. At net, the Spin Deeper 315g moved into position without a hitch, and our playtesters had no problems blocking the ball back effectively or putting it away. The only problem our playtesters had was controlling the depth on flat strokes, an understandable limitation given the extremely open pattern. Overall, the Spin Deeper 315g looks like a no brainer for topspin players looking for big spin and plenty of power.
Groundstrokes - Score: 85
With a 14x19 string pattern and a stiffness rating of 68 RA, the Spin Deeper 315g promised power and spin, and as expected, our playtesters found both in abundance. They loved the heavy shots they could hit off the baseline, but they also realized the best way to use this racquet was to hit with spin. Mark, who is no stranger to all of the spin technologies and calls the Wilson Steam 99S his racquet of choice, was looking forward to testing this offering from One Strings. He instantly connected with the racquet and said, "Within five minutes of play I was able to apply my style of game, which is primarily placement of my groundstrokes. The average 11.6 oz weight, firm beam and 14x19 string pattern all came together for me off the ground. With the easy development of a ball pocket, I felt like I could grab the ball (even in an extended position), and send it back without much effort; no doubt the open string pattern helped with that."
Karly found quick and easy depth with extra pace. She liked that there was enough mass in the racquet head to provide good leverage behind her strokes, and she was able to consistently send balls back deep into the court. Once she got comfortable with the swingweight, she was dialed in. She offered, "Power was definitely more prominent than control, but I never felt like I had to be careful of overhitting my shots. The spin potential was excellent, and I could easily put a ton of topspin on the ball to help keep my shots from sailing long. The Spin Deeper 315g has a slightly higher swingweight than other racquets with similar weights, so it took me a little bit of time to get used to it. At first it felt like my strokes were a little sluggish, but once I adjusted to the swingweight I didn't have any issues swinging this racquet. It just took me a few hits to get my timing down with its swingweight. My biggest complaint would be the lack of vibration dampening and the unforgiving feel. When I hit outside the sweetspot there was a lack of power and a lot of shock."
"This is certainly a fun racquet to wield around the baseline," began Andy. "Racquet head speed is easy to come by, and the spin potential is great with the wide open string pattern. When going for topspin shots I was able to have good directional control and put the ball where I wanted with heavy pace and spin. I did lose some control when going for flatter shots or slices; the ball would fly on me and I'd miss long at times. I also thought the racquet got pushed around at times by bigger-hitting opponents, but overall this was fun to bang around groundstrokes."
Michelle quickly realized this racquet did a lot of things in a big way. She explained, "I could attack the ball and go big, but I also missed in a really big way when I did miss. If I didn't really commit to accelerating up and under the ball the ball would fly in unpredictable ways. I felt like I really needed to add the extra spin to get a hold of the ball and keep it in the court. I didn't feel like I could consistently get away with driving flatter balls. When I did add arch to the ball I had to be committed to accelerating or it just would fly. The stringbed and launch angle felt erratic, and I didn't feel super confident with this racquet in hand. When I was playing well and had the lead, I had it in the budget to go for it, and if I missed, I missed. But, it was tough in tighter situations because I couldn't consistently execute my strokes. Since the success of my game is made up of winners and errors, I would have liked a bit more consistency. However, I do like the stiffer setup. I just really struggled to confidently and consistently put flat balls away."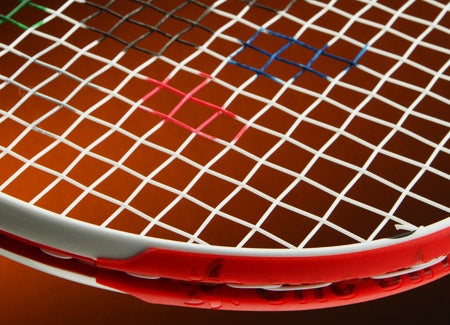 Volleys - Score: 80
The Spin Deeper 315g was maneuverable at the net, and offered decent stability and directional control on volleys, which helped when our playtesters were hitting put away volleys. "What was great about volleying with the Spin Deeper 315g was that I could use the weight of the racquet to drive through the ball to hit hard shots with good precision," stated Karly. "The amount of power and control I could get on my volleys reminded me of a heavier racquet with a smaller head size, except there was more room for error with its 100 square inch head size -- which was great! However, even with that larger head size I had to make sure to make contact within the center of the stringbed because of the unforgiving response outside the sweetspot. The closer I hit toward the frame the more unstable the racquet felt, and my shots felt dead. The uncomfortable feel and lack of power let me know immediately if I hit outside the sweetspot."
Andy was surprised at the control and feel he had around the net with this racquet. "I felt connected to the ball, and, for the most part, was able to consistently put the ball where I wanted. Like on my groundstrokes, there were occasions where I'd lose control and the ball would fly on me, but I felt it happened less often at net than it did from the baseline. It offered decent stability when reaching out for a stab volley."
This racquet got the job done at the net for Michelle. She said, "I didn't have too many issues here. It was a pretty simple racquet to volley with. I didn't do anything fancy, but it was simple to block big balls back. There isn't too much touch in the racquet, but that really isn't my game, so I'm OK with that!"
Mark said, "It did take a bit of time to adjust, but overall, I did feel connected to the racquet. It was pretty stable for most any volley scenario, including the half volley."
Serves - Score: 81
When it came to serving with the Spin Deeper 315g our playtesters found pace and spin galore! Andy used the 14x19 string pattern to make his kick serves jump even higher. He explained, "I enjoyed serving with this racquet, and it really stood out for me on my kick serves. I was getting my kick serve to jump much higher than it normally does. The maneuverability and wide open string pattern allowed me to generate tons of topspin. Flat and slice serves worked well, too, but the kick serve was the most fun to hit. Once again, power and spin were easy to generate. Control continued to be the weakness of this racquet, except when I was hitting kick serves."
Mark found that he began to serve more effectively the more time he spent with the racquet. He said, "When I started playing with the Spin Deeper 315g I wasn't able to figure out how to get more out of my serve. However, the more I practiced with it the more effective my serve became."
Michelle honed in on the spin and power this racquet had to offer. She found it easy to hit big flat serves and to get the ball to jump off the court with her second serves. She said, "Both my kick serves and slice serves really were enhanced with this racquet. It was fun to pull my opponents off the court or kick a ball up high out of their strike zone to open up the court for a put away shot."
Having no problems generating power and spin with the Spin Deeper 315g, Karly didn't have to put very much effort into hitting a big serve. She elaborated, "The power came naturally. I especially liked adding spin and going for my kick serve. This racquet offered an exceptional amount of spin and power, so I could send over some pretty tough second serves. I did find control a little harder to come by on my serves than it was from other areas of the court, although I could use the extra spin to keep the ball in."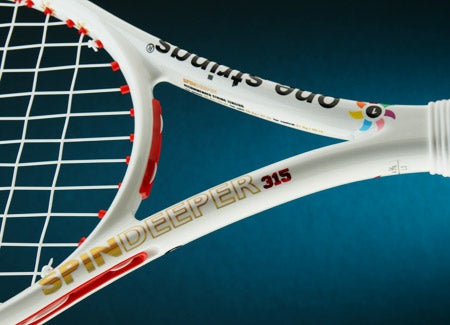 Serve Returns - Score: 79
Our playtesters were hitting massive returns with the Spin Deeper 315g when they made contact in the sweetspot." I enjoyed returning with this racquet more than hitting groundstrokes. I am a bit more disciplined and compact on my returns, and I could key in on the maneuverability that the racquet offers," began Michelle. "I really could get a hold of returns and focus on dipping and ripping balls or driving them deep. With a bigger target and my mind set on what I was doing with each return, I could start the point off pretty aggressively right off my first strike."
As long as she got her timing down and hit the sweetspot, Karly was able to fire back some powerful returns. She said, "There was a little bit of an adjustment period for me to get used to the swingweight of this mid-weight racquet, especially against faster servers, but once I adjusted my timing I could hit big shots back. Generating powerful returns was a piece of cake when I made contact in the center of the stringbed, and I could use its great spin potential to add variety to my shots and help spin the ball in. However, the Spin Deeper 315g lacked stability if I hit near the frame, and my shots lost power and landed short. With how unforgiving and inconsistent the stringbed felt, it was hard not to get frustrated if I hit outside the sweetspot."
The maneuverability and responsive feel of this racquet helped Andy return effectively. "I did find my chip returns flying on me at times, so I just made sure to go for more topspin returns than I might normally. As long as I picked a big target I was able to return offensively. I just never felt that I had the precision to go for the lines consistently."
The weight and balance of this racquet was close to ideal for Mark when he was hitting his consistent, lefty returns. He elaborated, "It had enough mass to be stable on my chip returns, but it was light enough to actually hit through the ball with topspin."
Overall - Score: 79
Likes
Mark - "The Spin Deeper 315g is a frame type that I am familiar with and like. It has a modern firm, oval beam shape down toward the 'Y' and the throat, with a forgiving angular shape in the hoop portion. I liked the easy access to power and spin with a full bed of poly."
Karly - "The power and spin. I loved being able to consistently hit deep within the court or mix up my shots with a variety of spin."
Andy - "I enjoyed the maneuverability and easy access to power and spin. The feel is quite responsive, too, and I felt very connected to my shots. This is a fun racquet to hit with for sure!"
Michelle - "Powerful and stiff...two things I enjoy in my racquets! I also like the unique paint job."
Dislikes
Mark - "As with the other wide open string pattern racquets I play with, I benefited from being able to hit the ball higher over the net. If my ball landed short it sat up perfectly for my opponents to approach the net. I suppose that is more of a 'me' thing than anything else, as I have the same issue with my Steam 99S."
Karly - "The lack of dampening technologies made this racquet hard on the arm, and it felt a lot stiffer than the actual RA rating."
Andy - "At times I felt out of control, especially on my slice backhand or chip return. I also felt the racquet got pushed around at times by big-hitting opponents."
Michelle - "I felt like there was a pretty erratic response off the stringbed, and if I didn't make contact under the ball and accelerate just right the ball had a tendency to fly. It didn't pair great with my flatter game and was a bit erratic for my tastes. With that being said, there hasn't been a spin racquet yet that I have really liked. Also, there isn't a lot of dampening in the racquet and that made it feel harsh when I hit outside the sweetspot."
Comparing it to other racquets they've used, our testers said:
Mark - "I have to mention the Wilson Steam 99S, the Steam 99, the Head YOUTEK IG 2.0 Extreme MP/Pro 2.0, Babolat Pure Drive Roddick, and the Wilson Blade 98 16x19 as comparable options."
Karly - "The Spin Deeper 315g reminded me a lot of the Gamma RZR 100 - powerful, great spin potential and similar feel. The biggest difference was the control and maneuverability. The RZR 100 was easier to swing, but the Spin Deeper 315g offered more control."
Andy - "It felt like an older-generation Babolat Pure Drive to me, with a more open, spin-friendly string pattern. It doesn't have quite the same level of power and stability that the Pure Drive has, though. I'd also compare it to the Head YOUTEK IG Extreme Pro 2.0."
Michelle - "I find it to be similar to a Babolat AeroPro Drive Plus, or even a Wilson Juice 100S. Unfortunately, it doesn't feel as solid to me and doesn't have the technologies that those racquets have to keep it comfortable."
Technical Specifications

Length
27.1 inches
69 centimeters
Head Size
100 square inches
645 square centimeters
Weight
11.6 ounces
329 grams
Balance Point
13.15 inches
33 centimeters
3pts Head Light
Construction
23.5mm / 26mm / 23mm /
Composition
Graphite
String Pattern
14 Mains / 19 Crosses

Babolat RDC Ratings

Score

Grade

Flex Rating
68
Range: 0-100
Swing Weight
327
Range: 200-400
Scores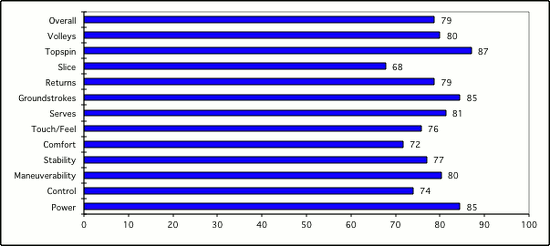 (Scores are determined by averaging individual play test scores)
Mark's Scores
Power
8.5
Serves
8.5
Control
8
Groundstrokes
9
Maneuverability
8
Returns
8.5
Stability
8.5
Slice
7.5
Comfort
7.5
Topspin
8.5
Touch/Feel
8
Volleys
8
Overall
8
Karly's Scores
Power
8.5
Serves
8
Control
8.1
Groundstrokes
8.4
Maneuverability
7.8
Returns
7.9
Stability
7.5
Slice
7.6
Comfort
6.9
Topspin
8.5
Touch/Feel
7.5
Volleys
8.3
Overall
8.2
Andy's Scores
Power
8.5
Serves
8
Control
7
Groundstrokes
8.4
Maneuverability
8.5
Returns
7.3
Stability
7
Slice
6
Comfort
7
Topspin
9.3
Touch/Feel
7.8
Volleys
7.9
Overall
7.5
Michelle's Scores
Power
8.3
Serves
8
Control
6.5
Groundstrokes
8
Maneuverability
7.8
Returns
7.8
Stability
7.8
Slice
6
Comfort
7.3
Topspin
8.5
Touch/Feel
7
Volleys
7.8
Overall
7.8
Playtester Profiles
Mark: 5.0 lefty all-court player with a one-handed backhand. He currently plays with the Wilson Steam 99S.
Karly: 4.0 baseline player currently playing with the Volkl Organix 10 Mid. She hits with a semi-western forehand grip and uses a two handed backhand.
Andy: Open level all court player with a semi-western forehand grip and a two handed backhand. Andy currently using a Wilson Blade 98 18x20.
Michelle: Open level baseline player with a semi-western forehand and a two handed backhand. She currently plays with the Babolat Pure Drive Roddick.

Review date: April 2014. If you found this review interesting or have further questions or comments please contact us.
All content copyright 2014 Tennis Warehouse.