Yonex RDS 003 2008
The Majors are where champions prove their worth, but it's also where the wild cards come to spoil their fun. The ladies' draw at the 2008 Wimbledon was full of surprises, none bigger than a third round match featuring two women wielding Yonex sticks: Ana Ivanovic and Jie Zheng.

The underdog story was set. It was a match-up of the recently crowned world No. 1 and top tournament seed vs. a wild card who came into the grass championships ranked No. 133 in the world. Ivanovic was coming off her first grand slam victory in Paris. Zheng last won a singles title in 2006.

On paper, the cards were stacked in Ivanovic's favor. But sticking with the Cinderella script, Zheng stunned Ivanovic and tennis fans with a convincing 6-1, 6-4 victory. Zheng's Wimbledon story ended in the semifinals when she met a certain Serena Williams, but not before dispensing of two more seeds, No. 15 Agnes Szavay and No. 18 Nicole Vaidisova (another Yonex player).

Zheng's weapon of choice on her Wimbledon quest: Yonex RDS 003.

If the RDS 003 could help propel a wild card past the reigning world No. 1 and deep into a Grand Slam, what could it do for our playtesters? After a month of testing, our playtesters reported back with their feedback.
Groundstrokes
At 11.1 ounces strung and 6 points head light, the RDS 003 impressed with its maneuverability. Troy felt the racquet played even lighter than its specs. "The first thing that I noticed while hitting groundstrokes was how maneuverable this racquet felt. Even though the weight of this racquet sits right above 11 ounces, it seems to play a bit lighter due to its 6 points head light balance. I was able to generate great racquet head acceleration, enjoying the whip-like effect I could create off the forehand side. I felt like the racquet was slightly unstable when hitting my two-handed backhand; not getting a solid plow-through that I need to really hit a penetrating backhand. I was finding good spin when hitting angle shots, which was due to the open stringbed and good maneuverability of this stick."
The power level of the RDS 003 surprised Chris. "I found plenty of pop from this stick off the ground. I hit toward the upper hoop of the racquet head and found this racquet to really come alive up there. I was able to get plenty of spin and the racquet felt very whippy - both maneuverable and flexible in the shaft. At times the power I was generating with this stick caught me off guard, and I was over-hitting. A co-poly string, strung at the higher end of the tension range helped me rein in some of that power, improving my confidence, consistency and accuracy with the racquet."
Tiffani found she too could whip up some good results off the ground. "It's tough for me to pick out the outstanding aspect of the RDS 003 because it excels in all areas off the ground for me. The quarter inch of extra length is great for my two-handed backhand, and I get lots of pop. I like to hit just high of dead center and feel that this racquet responds well up there. The head light balance makes it super easy for me to whip through the ball when I need to, and I can easily generate topspin, which is also great when moving forward."
The flex in the shaft made the racquet comfortable on the baseline for Jason. "Wow! What a comfortable racquet to hit with! At first, I thought it was due to the multifilament strings that we originally strung it with, but the soft, forgiving feel was still prevalent once I changed the strings to a polyester string. I found I was able to hit the ball deep and with plenty of spin. Coming from a heavier, more head light racquet, I felt this stick was great for cross court shots, but a bit sluggish on inside out forehands. My balls would tend to go wide by a few feet. What really stood out about this racquet was the spin and comfort."
Volleys
Longer than a traditional racquet at 27.25", the RDS 003 was still maneuverable for Tiffani. "Volleys aren't my strong point, so the maneuverability at net was outstanding. The extra quarter inch of length wasn't a hindrance on my net game, and I actually enjoyed it on the high volleys, being that I'm what I'd call vertically challenged. This is now my racquet of choice and part of the reason is the flex. It's flexier than my previous racquet, and I like the added feel at the net." Chris was also impressed by the maneuverability. "The racquet felt very mobile at net. I was able to stick volleys as well as place them for an angle or drop volley. I never felt hindered by the added length and found it easy to get the racquet around and into position."
Despite the racquet's light weight, Jason was surprised by its stability. "My volleys felt solid and stable, which was a little surprising, considering the relatively light weight of the racquet. I definitely did not expect such solid torsional stability from an 11-ounce racquet. I was able to maneuver the racquet around easily, a great asset for the shots right at my body."
Yonex repositioned the soft grommets from the previous version of the RDS 003 to enhance feel. Troy felt this helped the RDS 003 stand out among its 'tweener counterparts. "The amount of feel that I experienced at net with this racquet was better than most other comparable 'tweeners. I enjoyed the medium power level, which helped me get volleys deeper in the court. I also felt like I was able to hit good touch shots and angle volleys. This racquet had the maneuverability to allow me to get good underspin, making the return of my volleys more difficult. The only down side I found was that when heavy balls were being drilled at me, the racquet was getting pushed around because of a lack of heft."
Serves
With the 16/19 string pattern, Chris found the RDS 003's power and easy access to spin pleasing. "I found I was able to utilize the power I was finding with this racquet very well on serve. Even when I made the move to a more control-oriented string set-up, I was still able to get lots of pace out of the racquet. I was also very pleased with the amount of spin I was getting. This was a good serving stick and I enjoyed serving with it very much."
Troy was slicing serves so easily it was like he was using a set of Ginsu knives. "I found serving to be the most enjoyable part of having this stick in my hand. I found a good amount of pop, mixed with great maneuverability for some nice results; adding a lot of pace to my lefty slice serve. I was finding a lot more maneuverability from this racquet compared to some of the heavier player's frames I've been using lately. I could easily whip the racquet to help get more jump from my kick serve, or to help me hit a flat bomb down the T. There were no complaints from me while on serve with this one; good pop, spin and control."
Jason was spinning his way into points too. "Power was adequate, spin was above average, but what stood out was the consistency. I was confident in the fact that I could go for a big, lower percentage first serve, and if I missed, have a good chance of placing a second serve in. The spin I was able to impart on the ball truly helped me keep many of my serves in the box. At times I was erratic, but that was in no way the racquet's fault."
For Tiffani, the RDS 003 was beneficial all around. "I felt like I got pop on my serve, and I need plenty of help because this is the area where I have the toughest time generating my own power. The maneuverability again stood out, and I felt I could move my serve around easily. If a match went three sets I had plenty of juice left to keep on serving through to the end. The ease of maneuverability also helped me get some additional spin, which is welcome on my weaker second serves."
Serve Returns
Jason found the RDS 003 versatile when facing a serve. "Another feather to put in this racquet's cap. I felt that I returned very well with the RDS 003. The racquet provided good stability for when I played against big servers, while at the same time I could really tee off on the slower paced second serves. My backhand slice return yielded plenty of spin, which was a great for when I couldn't get the ball deep enough."
The ease with which Troy could generate racquet head speed helped him on returns. "Once again, maneuverability was what made this racquet more user-friendly. My favorite part of returning serve was that I could take a short, quick swipe at the ball and still find a penetrating return. The part that was not as likeable for me was that returning a heavy, fast paced serve proved the racquet to be unstable; as I found on some groundstrokes and volleys. For the most part, I found good placement and ample power for having an effective return game."
The mix of spin and maneuverability was a winning recipe for Tiffani. "Because I felt this racquet was a good fit for me all around, I was really comfortable and confident when returning with this stick. I could take aggressive swings and hit attacking returns off weaker serves, and because it's so maneuverable I could swing through quickly and get my racquet on the heaters, too. The spin-friendly set-up of the RDS 003 allowed me to hit a lot of deep returns."
Chris again found the power impressive. "I was impressed by how comfortable and solid this racquet felt when returning. Even when returning against a powerful opponent I was able to swing aggressively without fear of mishits jarring my arm. As from the baseline, I was finding plenty of power and lots of spin to help get the job done. Once I switched to the more control-oriented string set-up I was returning with good consistency, too."
Overall
While none of our playtesters is going to be playing in the Wimbledon semifinals anytime soon, the RDS 003 performed well. Power and access to spin impressed everyone, but some found that this stick needed to be held back a bit with a control-oriented string setup. The light weight of this Yonex racquet helped make this a maneuverable one for most, but it also made it somewhat unstable for the bigger hitters. Though, with the generous sweet spot, easy access to power and spin, the playtesters found the RDS 003 a standout in the 'tweener category.
The "Likes" of the racquet.
Troy "Maneuverability was a key aspect of this racquet. Someone looking for a lighter, more maneuverable version of a control-oriented racquet will benefit from this one. I found good touch and feel, which is usually absent in most 'tweeners."

Chris "I liked the power I found on serve. The spin I found from all court positions impressed me, too."

Jason "I liked the generous sweetspot and forgiving feel the racquet provided. I also enjoyed the great amount of spin I was able to generate on my groundstrokes and second serve."

Tiffani "The RDS 003 is a great fit for my game all around. Maneuverability was superb. It also had good feel and pop and offered easy access to spin. Best of all, I can whip through groundies when I need to."
The "Dislikes" of the racquet.
Troy "It was too unstable for my liking. During heavy hitting, the racquet felt like it was being pushed around. More advanced players may find that adding lead tape would make this a more stable stick."

Chris "I was finding a little too much power from the baseline, but managed to correct that with a more control-oriented string set-up."

Jason "I would've liked the racquet to be a tad more maneuverable. A few more points head light and I think all aspects of the racquet would've improved, from groundstrokes to added pop on the serve. The generous sweetspot took away from that feel and feedback that I enjoy with my own sticks."

Tiffani "Not much really."
Technical Specifications

Length
27.25 inches
69 centimeters
Head Size
100 square inches
645 square centimeters
Weight
11.1 ounces
315 grams
Balance Point
12.875 inches
33 centimeters
6pts Head Light
Construction
20-24 mm
Composition
Graphite / Elastic Ti
String Pattern
16 Mains / 19 Crosses

Babolat RDC Ratings

Score

Grade

Flex Rating
65
Range: 0-100
Swing Weight
315
Range: 200-400
Yonex RDS 003 2008 Scores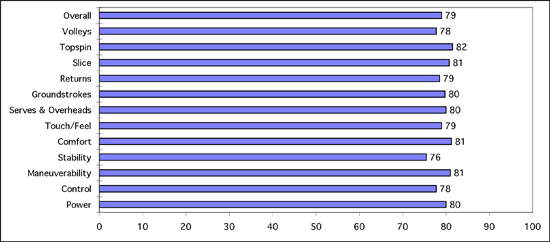 (Scores are determined by averaging individual play test scores)
Playtester Profiles

Chris
5.0 baseline player currently using the Becker Pro. Chris uses a full-western forehand grip, has a fast swing style and hits a two-handed and a one-handed backhand.
Jason
4.0 baseliner currently using a Head Microgel Radical Midplus. Jason has a fairly aggressive semi-western topspin forehand and hits a one-handed backhand.
Tiffani
4.0 level baseliner with a semiwestern grip on the forehand and hits a two-handed backhand. Currently playing with the Yonex RDS 003(08 version).
Troy
4.5 Troy plays left handed, hits a two-handed backhand and goes western on his forehand. He is a baseliner and hits with a lot of spin. Currently Playing with the Dunlop M-Fil 300

Review date: July 2008. If you found this review interesting or have further questions or comments please contact us.
All content copyright 2008 Tennis Warehouse.