Head RIP Control 16 String Review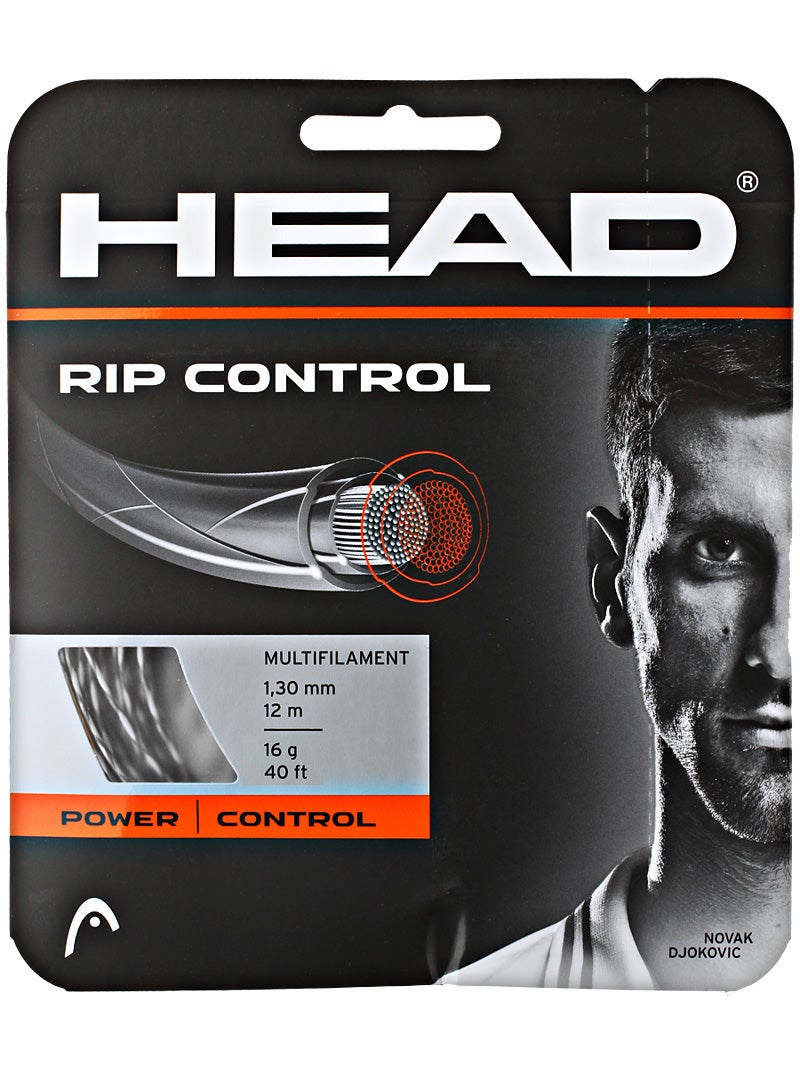 Head RIP Control 16 String Scores
Power
68
Spin
72
Comfort
84
Control
85
Touch
80
String Movement
79
Playability Duration
78
Durability
80
Overall
78
Summary
Head RIP Control is not a typical control string. This isn't to say it lacks control. In fact, we experienced remarkable precision with this string. What makes it unique is that rather than being stiff like many control strings, RIP Control is packed with an army of shock absorbing nylon filaments. This partly explains why we found it so gentle on the arm. Also enhancing the comfort is Head's polyolefin ribbon construction, which consists of several firm wraps melded into a surprisingly pliable casing. The effect of these different parts, according to our team, is a feel that is decidedly muted, as opposed to being crisp. Regarding spin potential, one of our playtesters reported finding more than enough bite, while the other struggled a little to get a grip on the ball. Ultimately, RIP Control is not only ideal for dampening the shock and power of lighter, stiffer frames, but it's also a great option for the non-poly player who wants control without having to give away an ounce of comfort.
Power - Score: 68
RIP Control did not prove very lively for our team. This fact didn't bother Brittany, whose big strokes and powerful racquet benefited from the low power level. She said, "Given its multifilament core, I was surprised with how low-powered this string was when I first hit with it. I had it strung in my powerful Yonex VCORE 100 S, and I thought they complemented each other well because RIP Control balanced out the power. Near the end of the playtest I received more pop from the string and it was easier to hit deep."
Karly found slightly more pop than Brittany, saying, "Power wasn't the string's strongest suit, but it did offer more than I was expecting. The string had a very muted feel, so I didn't get the pop that comes from some of the softer, livelier multifilaments. With a harder, faster stroke I was able to generate good pace; it just took more effort. I was also able to generate more power than I could with other control-oriented strings, but overall it was a fairly dampened string that offered moderate power."
Spin - Score: 72
With its slightly textured surface and predictable response on fast swings, RIP Control gave Brittany decent spin. She said, "I found the spin potential of this string to be on the higher end compared with other multifilament strings that I have hit with. I would even compare it to some of the polys I have hit with, but I found it fell a little short (as expected) of some of the shaped polys. For me though, I found enough spin for my game style."
Karly was decidedly less enthusiastic about the spin potential, saying, "It's easy to say that the string was lacking in the spin department. My shots were noticeably flatter than usual, and I had to put more effort into generating spin on my shots than I would've liked. I especially had a tough time putting topspin on my shots, which I usually don't have an issue with. The amount of spin the string produced was the area that could be improved the most."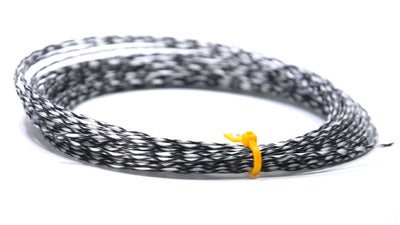 Comfort - Score: 84
Made from firmer material, control strings typically don't offer an excess of comfort. For this reason we were pleasantly surprised by RIP Control's arm-friendly feel. Brittany had no complaints, saying, "This string was very comfortable, and I thought the comfort lasted throughout the playtest. I never felt uncomfortable or felt a jarring sensation, even on off-center or awkwardly hit shots. Even though I don't have any elbow/wrist/shoulder issues, I still appreciated the comfort of the string."
Karly also found this string more comfortable than other control strings. She said, "Though it felt on the firmer side for a non-polyester, it felt dampened and muted, so it wasn't uncomfortable or hard on my arm. Taking into consideration the amount of control I received, I thought it was on the softer side for a control-oriented string. Overall, the string felt a little stiffer than your average multifilament, but it was definitely one of the more comfortable control strings."
Control - Score: 85
For our team, RIP Control lived up to its billing as a control string. No other feature scored higher. Karly was impressed, saying, "I thought this string rightfully deserves the word 'control' to be part of its name. Control was the characteristic that I thought stood out the most when hitting with this string. I felt my shot placement improved with this string, whether it was hitting a groundstroke at the baseline or a drop volley up at net. I especially enjoyed playing at the net with RIP Control because of the touch the sting offered; I felt like I could drop the ball where I wanted. Control was my favorite feature, and I enjoyed how naturally it came with this string."
Brittany also experienced exceptional control. She said, "I found control to be one of the best features of this string. I was very confident placing my shots, whether it was a serve, a groundstroke or even a put-away volley. I even found control in my depth when I wanted to either hit deep or hit a shorter more angled cross-court groundstroke."
Playability Duration - Score: 78
Both our playtesters found that RIP Control's tension loss translated into more power. This resulted in some control problems for Karly, who said, "Playability duration was something that I thought the string could've improved on. The stringbed seemed to loosen up faster than usual and lost some of its control. Over time the string became much more powerful than when it was freshly strung."
Brittany also noticed her ball flying deeper after the stringbed loosened. "This string met my playability duration expectations. I used this for a solid two weeks before I noticed some small changes. As I mentioned earlier, this string launched the ball more toward the end of the playtest, but I actually liked that feeling most of the time (though I did struggle slightly with control when on defense). I also thought the string maintained its comfort throughout the whole playtest."
Overall - Score: 78
What type of player would you recommend this to?
Karly - "I think this string would be great for a 3.5-5.0 player who doesn't break strings too often and is looking for a control-oriented string that's slightly softer than polyester but has a little more control than a synthetic gut."
Brittany - "I would recommend this to a player looking for a comfortable string while still seeking most of the benefits of a polyester string. I would also recommend this to a player who has a more powerful racquet and is looking to gain some extra control and spin."
Likes
Karly - "Touch was great, and I liked how it felt more comfortable than a polyester string while offering good control."
Brittany - "I liked the unique combination of comfort and control."
Dislikes
Karly - "I wish I didn't have to put as much effort into generating spin; my shots were noticeably flatter with this string."
Brittany - "I did not like the dampened, muted feel."
Comparing the string to others they've tried, our testers said:
Karly - "I thought it was very similar to Head Intellitour, with the only differences being that RIP Control is more control-oriented and feels firmer."
Brittany - "I definitely haven't played with too many strings that played similarly to RIP Control. One that I recently playtested, Head Intellitour hybrid, has similar feel, comfort and control."
Scores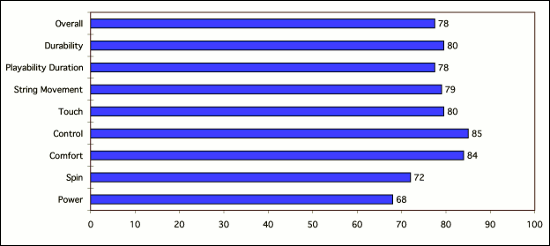 (Scores are determined by averaging individual play test scores)
Brittany's Scores
Power
6
Playability Duration
7.8
Spin
7.5
Durability
8
Comfort
9
Control
8.5
Touch
7.5
String Movement
7.9
Overall
7.7
Karly's Scores
Power
7.6
Playability Duration
7.7
Spin
6.9
Durability
7.9
Comfort
7.8
Control
8.5
Touch
8.4
String Movement
7.9
Overall
7.8
Playtester String Setups
Brittany:
Playtest Racquet: Yonex VCORE 100S
Playtest Tension: 54 lbs.
Typical String: Polyester 16
Karly:
Playtest Racquet: Wilson nTour 95
Playtest Tension: 52 lbs.
Typical String: Wilson NXT 16

Review date: March 2013. If you found this review interesting or have further questions or comments please contact us.
All content copyright 2013 Tennis Warehouse.