Prince EXO3 Ignite Team Racquet Review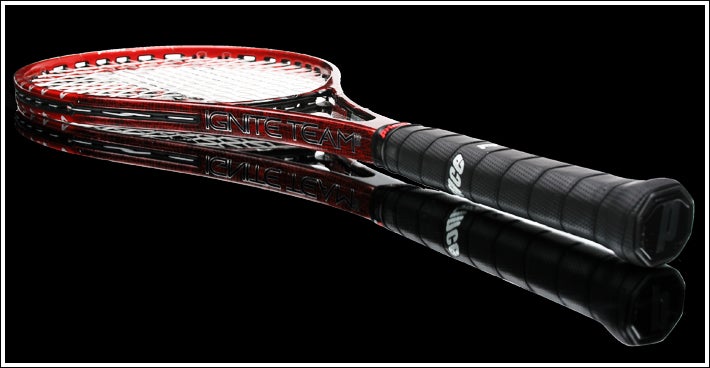 Many new racquets that come to market are updates on existing racquets or frame designs. Occasionally something completely new comes along. With the Prince EXO3 Ignite Team we see a new offering from Prince.
To find anything remotely similar to this racquet, one would have to look back to the Triple Threat Graphite Midsize (95sq. in.). However, with its crossbar stabilizer and Triple Braid lay-up, the Triple Threat Graphite offered a completely different feel.
The EXO3 Ignite Team is available in a heavier version (called the EXO3 Ignite 95), but this Team version fills a gap on the playability scale that was missing from the Prince line-up.
Offering an open string pattern (16x18), control oriented straight beam design in a box beam construction, a light and maneuverable feel and Prince's EXO3 Energy Channel technology, the EXO3 Ignite Team looks very promising on paper.
In our review of the Prince EXO3 Ignite, many of our testers found the racquet a little weighty from certain areas of the court. Here, we put the lighter weight EXO3 Ignite Team to the test. Would the racquet's more maneuverable 11-ounce strung weight be the answer to our needs? Read on to find out.
Groundstrokes - Score: 81
The Prince EXO3 Ignite Team impressed our players with its maneuverable feel and controllable power. From the baseline, Spencer was able to hit with plenty of spin with the EXO3 Ignite Team. "I enjoyed hitting with this racquet from the baseline. I felt I was able to really take a good cut at the ball without sacrificing control. The open string pattern, when combined with a healthy swing, provided good access to spin. I thought the control, both for direction and depth, was very good." Amazed at the control he was finding was Jason. "The amount of power and control I was able to generate was what impressed me most about this stick. I got the power I was expecting because of the balance and large sweetspot, but what surprised me was the control. The low swingweight allowed me to quickly put the racquet where it needed to be so I could make good contact. Slicing the ball was also easy to do, generating tons of spin. But I thought added weight would've helped "knife" the ball more, keeping it from floating as much."
Jackson found a solid blend of power and spin. "This is probably one of the few racquets I've hit where I could consistently strike the ball with a good amount of power as well as get enough spin to control the shot. Given the light weight, I was able to generate a considerable amount of power from my swing speed alone, yet didn't quite get the same plow-through feel as I would with a heavier racquet. The relatively even balance made for good maneuverability and the lower stiffness level (compared to the heavier model) helped retain aspects of control." Finding plenty of spin from the baseline was Chris. "I really liked the playability of this racquet off the ground. I was able to whip it around with ease and find some nice pace and spin. The feel was somewhat muted and comfortable, yet I still found control thanks to all the spin I was getting. Both my topspin and slice shots had plenty of bite to them. I think the spin was partly due to this being an easy racquet to swing fast, and because it has such an open string pattern."
Volleys - Score: 81
Up at net, our TW playtesters were once again praising the mobility of the EXO3 Ignite Team. Jackson loved the solid response. "Volleys came off the racquet with a firm and crisp feel, a little more feel than the heavier model. The lighter weight made this stick maneuverable at net, although I really had to stick the volley to make sure that it went back with the kind of pace I was looking for."
Chris was finding good pace and depth on his volleys. "I continued to enjoy the EXO3 Ignite Team at net. The racquet felt very responsive and easy to maneuver. The feel was a little too muted for my taste, but by using a polyester monofilament string I was able to firm it up a bit. Even with a more control oriented string, I was finding plenty of pace and depth when punching my volleys." Using this racquet to his advantage was Spencer. "The mobility of this racquet was more evident in this version of the Ignite. I was also impressed with the stability this racquet had, considering the approximate 11-ounce strung weight. I certainly liked the racquet's versatility when playing doubles."
Jason was in agreement with our other testers, praising the racquet's maneuverability. "This racquet was great up at the net. The difference between the maneuverability of this racquet versus the EXO3 Ignite was like night and day. The Ignite Team felt much more head light than it was, and therefore much more maneuverable. I was able to get a nice soft touch on the ball, as well as some spin."
Serves - Score: 77
The low swingweight of the EXO3 Ignite Team resulted in mostly positive results for our TW team. Serving well with the racquet was Chris. "When it came to serving I found it easy to whip this racquet through the contact zone, just like I had from other areas of the court. My serves had some solid pace to them and I was very pleased with the action I was getting on the ball. I felt confident that I could get enough slice to swerve the ball wide to the deuce court and keep it wide of my opponent's forehand. When going down the 'T' I had success hitting a fairly flat ball and putting some topspin on the ball to get it to kick away from the returner. Thanks to the response of this racquet, all of my serving options were firing with good consistency."
Jackson was able to be more aggressive with his 2nd serve while hitting the EXO3 Ignite Team. "I found my second-serve really benefited from the fast swing speed. My second serve had more kick to it and consistently landed deeper in the service box with this racquet. With first serves I felt I had to put more body work into them in order to generate the power I wanted." Straying from the other testers opinions was Spencer. "Serving with this stick was probably the least favorite part of this playtest for me. I didn't feel like I could get any extra power into my serves, and by the same token, wasn't comfortable with the control. I'm not a fan of the squarer handle shape, so that may be where some of the uncomfortable feeling comes from. I wasn't totally displeased, but I have been happier when serving with other similarly spec'd sticks."
***Note: Because of a previous shoulder injury, Jason did not serve throughout the month-long playtest.
Serve Returns - Score: 80
Similar to their groundstrokes, the versatility and maneuverability of the EXO3 Ignite Team allowed our playtesters to hit a variety of returns. Spencer was confident when attacking serves. "The solid feel, along with the mobility, helped make returning easier for me. I felt my returns were effective, whether slicing or coming over the top. I liked the fact that I could be aggressive, feeling like I could handle any kind of serve." Chris loved returning with this racquet. "The maneuverability made it a great stick for returning serve. I was able to quickly get the racquet set up and then accelerate through the ball for some solid spin and pace. More importantly, there was still enough racquet there for stability and comfort."
Having more mass would've helped Jason. "This was an area where I thought the lack of weight hurt the performance a bit. Hitting returns against heavy serves was harder than expected. When shots were hit outside the sweetspot, I felt the racquet become torsionally unstable. The ease of swing made up for the downfalls of instability because I could easily take rips at the ball when I had the opportunity." Jackson felt ultra-confident on returns. "This racquet made returns feel like a walk in the park. I felt like Agassi at times, and all I would have to do is stick out my arm and put the racquet in front of the ball. Directing the ball was easy, so starting the point became more about placement than hitting winners. Again, the spin was what made this possible for me, but if an opponent did hit a softer more attackable serve, this racquet could certainly put them on defense off the return."
Overall - Score: 80
At the end of the month-long playtest our TW team had lots of praise for the Prince EXO3 Ignite Team. Our testers found the mobility of the racquet to be an asset from all areas of the court. Everything, from serves to groundstrokes to returns, became easier to execute thanks to some increased racquet head speed. The maneuverability allowed our playtesters to swing freely and be aggressive with their shots. We found the open string pattern provided ample amounts of spin, helping with control and depth. The EXO3 grommet system offered feedback and a response that was not as muted as the traditional Speedport holes. While there was more feel, our testers still found the same forgiving stringbed and large sweetspot. With plenty to offer both intermediate and advanced players, this is surely a must demo racquet.
The "Likes" of the racquet.
Spencer "The solid feel and ease of swing."
Jason "The maneuverability of the racquet. I also liked the spin, and the blend between power and control."
Jackson "Very comfortable racquet to hit with. I had no problems with the racquet twisting, and the swing speed that I could generate with this stick was awesome."
Chris "I liked the maneuverability, spin-friendliness, power and control I was finding. I found this to be a very versatile racquet that seemed to always offer a strong performance, no matter where I was on the court."
The "Dislikes" of the racquet.
Spencer "The handle shape."
Jason "Not much. If anything, the racquet could use a little more weight, maybe about half an ounce."
Jackson "I didn't get the same solid or heavy feeling ball off the groundstrokes as I did with the EXO3 Ignite 95, and I had to put a little more mustard on the first serve."
Chris "I was breaking strings very quickly in this racquet, which is unusual for me as I play with monofilament polyester strings. It seemed that the spin-friendly, open string pattern took its toll on string durability."
Technical Specifications

Length
27 inches
69 centimeters
Head Size
95 square inches
613 square centimeters
Weight
11 ounces
312 grams
Balance Point
13.375 inches
34 centimeters
1pts Head Light
Construction
18mm Straight Beam
Composition
Graphite/D30
String Pattern
16 Mains / 18 Crosses

Babolat RDC Ratings

Score

Grade

Flex Rating
67
Range: 0-100
Swing Weight
334
Range: 200-400
Prince EXO3 Ignite Team Scores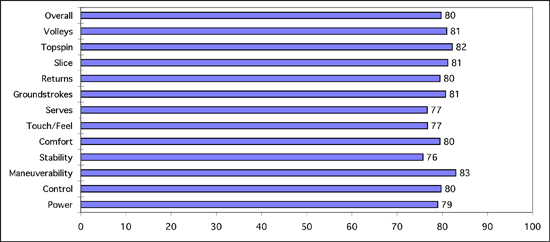 (Scores are determined by averaging individual play test scores)
Chris' Scores
Power
7.9
Serves
7.7
Control
8
Groundstrokes
7.9
Maneuverability
8.3
Returns
8
Stability
7.7
Slice
8.2
Comfort
8
Topspin
8.3
Touch/Feel
7.8
Volleys
8
Overall
7.9

Jason's Scores
Power
8
Serves
0
Control
8
Groundstrokes
8.2
Maneuverability
8.4
Returns
7.9
Stability
7.8
Slice
8.3
Comfort
8
Topspin
8.3
Touch/Feel
7.5
Volleys
8.2
Overall
8

Danny's Scores
Power
7.7
Serves
7.1
Control
7.9
Groundstrokes
8
Maneuverability
8.1
Returns
8.2
Stability
7.8
Slice
7.7
Comfort
7.8
Topspin
8
Touch/Feel
7.6
Volleys
8
Overall
8

Spencer's Scores
Power
8
Serves
8.2
Control
8
Groundstrokes
8.2
Maneuverability
8.4
Returns
7.7
Stability
7
Slice
8.3
Comfort
8
Topspin
8.3
Touch/Feel
7.8
Volleys
8.2
Overall
8
Playtester Profiles

Chris
5.0 All court player currently using the Volkl Power Bridge 10 Mid. Chris uses a full-western forehand grip, has a fast swing style and hits a one-handed backhand.
Spencer
4.5 Baseline player currently using a Wilson K-Blade Tour. Spencer uses a semi-western forehand grip, and hits with a one-handed backhand.
Jackson
4.5 All court serve and volleyer with a semi-western forehand and 2 handed backhand. Jackson currently uses the Babolat Pure Drive Team Plus.
Jason
4.0 baseliner currently using a Wilson K Blade Tour. Jason has a fairly aggressive semi-western topspin forehand and hits a one-handed backhand

Review date: October 2009. If you found this review interesting or have further questions or comments please contact us.
All content copyright 2009 Tennis Warehouse.