Prince EXO3 Ignite 95 Racquet Review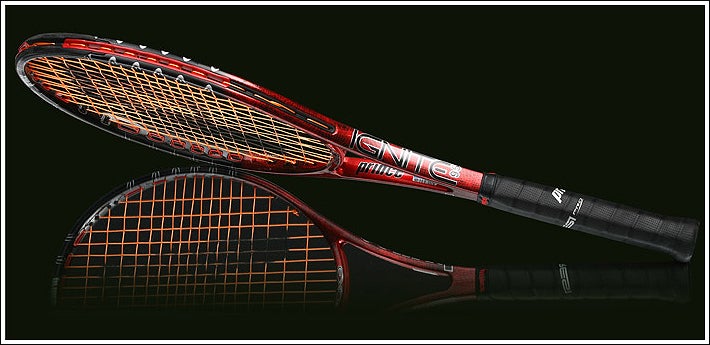 In the late 90's Patrick Rafter was on top of the tennis world. He was a two-time US Open winner and reached the number one ranking in the world. His relentless serve and volley prowess made the Aussie a fan favorite, always giving the crowd something to root for. His weapon of choice? The Precision Response racquets from Prince.
Fast forward to 2009. Adding the latest EXO3 technology, Prince has designed a racquet to resemble the cosmetics and the playing characteristics of Rafter's old stick in the Prince EXO3 Ignite 95. Granted, there are a few tweaks here and there, but the balance and weight of the Prince EXO3 Ignite 95 provide excellent stability and plow through, much like the racquet Rafter helped make popular a decade earlier.
In this new generation, where the game has become more advantageous to baseliners, will an updated version of a racquet used by a fantastic serve and volleyer be effective? Read on to find out what our playtesters had to say.
Groundstrokes - Score: 77
Typical characteristics of a player's stick were apparent when hitting groundstrokes with the EXO3 Ignite 95. With its heavy weight and head light balance, the racquet provided excellent stability and plow through. Jackson was finding the zone when hitting with the EXO3 Ignite 95. "Groundstrokes were probably my favorite shot with this racquet. The consistency and quality of my game were raised as I hit deep shots consistently, with plenty of topspin. The resulting confidence helped me to get in the zone. The shots that came off the stick boosted my confidence, which helped me hit better shots. Whether it was the racquet or my head, I was playing better tennis. The large sweetspot and open string pattern provided excellent feel and spin, while the weight of the racquet provided the power to hit crushing winners."
Also getting some solid depth with his groundstrokes was Jason. "With such mass behind every shot, I was able to hit some deep, penetrating groundstrokes. If I was able to prepare myself and be in position to strike the ball, the racquet felt great. The feel was not dampened as much as the feel of the traditional Speedport racquets, and there was plenty of bite on the ball. With a higher swingweight than I was used to, I noticed many of my shots spraying wide on balls hit deep and at my feet. The shot I enjoyed most was the backhand slice. I felt that I could not only put lots of spin on the ball, but pace as well."
Chris had mixed feelings concerning the weight and balance. "This was a hefty feeling racquet off the ground. When I had time to set up and take a good rip at the ball I was getting a lot of power and plow through, which enabled me to hit a very heavy ball. However, getting this racquet to move quickly on reaction shots was an issue. The weight felt fine, it was rather how it was distributed in the racquet that was off for me. At 11 points head light and with a swing weight only around 340 on the RDC, it wouldn't seem that this racquet would feel that hefty, but for me it did. When given time to set up, though, everything was clicking and I was generating some nice spin to go along with the depth and pace I was finding."
Enjoying the stability, but noting a lack of feel, was Spencer. "The EXO3 Ignite 95 definitely offered a solid feel on groundies. I immediately liked that response when I first started hitting. This stick offered excellent stability and came through the ball rather well. As much as I liked the solid response and stiffness, there wasn't a whole lot of feel. There were a few times I'd hit a nice ball with good results. Then other times, feeling I hit the same quality shot, the ball would sail long. I expected less power from a racquet that is so head light."
Volleys - Score: 76
Stability and put-away power stood out over maneuverability for our testers at net. Jason felt the weight of the racquet helped absorb impact at net. "I liked it better up at net than from the baseline. I felt the weight helped control my volleys and absorb the impact. I thought that grip on the ball was above average, especially when strung with polyester strings. Overall, I enjoyed volleying with this racquet, even though it was more difficult to maneuver around shots hit at the body."
Liking the solid put-away power was Spencer. "This is a very solid stick at net. There's not a whole lot you need to do other than get the racquet on the ball. It's so solid and stable that it provided plenty of punch without much effort. Once again, I felt it lacked in the feel department, but it was certainly effective on put-away shots."
Chris enjoyed the solid feel and targeting. "This stick was exceptionally solid at net. Again, I found it a little sluggish when I had to react quickly. Mobility was slightly better than from the baseline due to the more compact stroke at net, however, I felt late on fast reaction volleys. I found ample touch and feel from the stringbed, and the fact that this racquet stayed so solid seemed to help with targeting."
Feeling his volleys were crisp and clean was Jackson. "The weight of the racquet discouraged me from going to the net too much at first. However, when I did find myself in volleying position, the EXO3 Ignite 95 was able to get the job done. Volleys came off the stringbed with a very crisp and clean feel. Controlling the direction of the ball was a breeze, despite the 11 point head-light balance. The feel was a little muted, but I still got more feedback than I expected considering the racquet's stiffness. I didn't have any problem hitting a deep volley or a strategic short angle."
Serves - Score: 77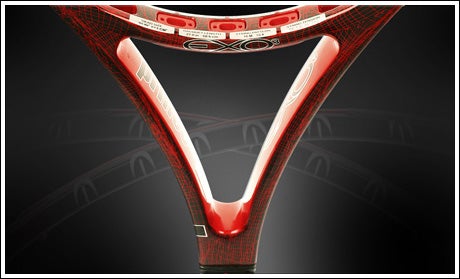 Despite the weight of the EXO3 Ignite 95, our crew was finding surprising power and penetration on serves. Spencer had consistency issues. "I felt I could get good power on the serve, but consistency wasn't the best. The heft of the racquet combined with a smooth service motion made for an effective serve, providing a heavier ball. However, the combination of the heft of this racquet and its lack of feel created varying results. It also may have been a comfort issue. I wasn't too fond of how square the handle felt. It seemed to affect me most when I was serving, for whatever reason."
The weight was a factor on serve for Chris. "Pace and spin were OK for me on serve. I think I was hampered by the fact that it took some additional effort to get this racquet through the contact zone. Apart from that I was serving OK. Not the best stick on serve for me, but far from the worst. A pretty middle of the road experience, really."
This racquet required extra effort when serving, according to Jackson. "Once the racquet got moving my serves became bombs. Again, I noticed the open string pattern on this shot, giving me the sensation of feeling the ball sink deep into the stringbed before being launched out at top speeds. This stick would definitely favor a player with a smoother service motion, as the weight definitely adds power once it gains a little momentum. It did require a little more effort for me to get the same pace on my serves that I usually do, and by the end of the match I could feel the extra effort in my shoulder."
*Jason did not serve with this racquet due to shoulder issues throughout the month-long test.
Serve Returns - Score: 77
Short, compact swings on returns proved to be the most effective and consistent stroke for our playtesters because of the stability and heft of the EXO3 Ignite 95. Jackson was finding that solid consistency. "Returns were consistent and stable coming off the racquet, and I was definitely able to capitalize off of my opponent's second serve. Anything that bounced into the strike zone was punished, but preparation was key. Anything hit just a little late resulted in a weak return, making me scramble much more to make up for the poor timing." Stability helped returns outside the sweetspot for Chris. "Stability and comfort were the standout performance aspects on returns. Shots hit outside of the sweetspot still felt pretty comfortable, and the racquet resisted twisting very well. I was impressed with the pace I could generate with barely any backswing. When blocking the ball back I found it easy to find depth, and my placement was solid. Again, this was not the most maneuverable racquet, but when the stars aligned I was crushing the ball."
Spencer had his best results with a compact swing. "Using a shorter backswing on returns proved to be the most successful for me. The stability of this stick made it easier to keep the ball on its intended track. It was a crap shoot if I tried to take a big cut on the return, as it's not easy to wield this racquet quickly."
Struggling with timing due to the heft of the racquet was Jason. "For the most part, returning serves was successful for me. I had to make an initial mental adjustment of not trying to go for too much. Just sticking the racquet out and blocking shots back resulted in better outcomes for me. The only time I could really go for a return winner was when I was looking at a slow second serve. Otherwise, I was late. The high kicker to the backhand is the hardest shot for me, and while using this racquet I struggled to generate enough pace on those returns."
Overall - Score: 76
Coming in at a strung weight over 12 ounces, the EXO3 Ignite 95 offered excellent stability and plow through. Our playtest crew agreed that when there was ample time to set up for a shot the EXO3 Ignite 95 provided good penetration, with a heavy ball. Preparation was the key when wielding this racquet. When that happened, the results were often fulfilling. On the flip side, this racquet wasn't so forgiving when having to whip the racquet through the hitting zone in a hurry. A physically strong intermediate player may be able to handle the demands of this stick to a degree, but it's the advanced player who is best suited to truly appreciate the EXO3 Ignite 95.


The "Likes" of the racquet.
Chris "I liked the power, comfort, spin and stability."

Jackson "Half-volleys and baseline pick-up shots were a breeze with proper preparation, just put your racquet back, swing, and watch the resulting defensive shot become offensive."

Jason "I enjoyed this racquet the most on volleys. The EXO3 grommets helped maintain a comfortable feel while not completely taking away the feel and feedback. This racquet rewarded me with tons of power and spin when I had time to set up for a shot."

Spencer "The plow through and put away power."
The "Dislikes" of the racquet.
Chris "Mobility. I had to work hard to whip this racquet around. I was also breaking more strings than usual."
Jackson "The beam width was a little thick for a player's style frame, and it felt a little bulky."
Jason "The lack of maneuverability had me switching up my playing style. I couldn't be as aggressive as I wanted because I don't have the strength and/or strokes to handle the higher swingweight."
Spencer "The lack of feel and wayward shots, as well as the handle shape (too square)."
Technical Specifications

Length
27 inches
69 centimeters
Head Size
95 square inches
613 square centimeters
Weight
12.2 ounces
346 grams
Balance Point
12.1 inches
31 centimeters
11.2pts Head Light
Construction
22mm Straight Beam
Composition
Graphite
String Pattern
16 Mains / 18 Crosses

Babolat RDC Ratings

Score

Grade

Flex Rating
69
Range: 0-100
Swing Weight
341
Range: 200-400
Prince EXO3 Ignite 95 Scores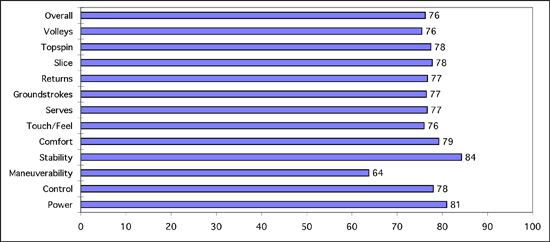 (Scores are determined by averaging individual play test scores)
Chris' Scores
Power
8
Serves
7.5
Control
7.8
Groundstrokes
7.6
Maneuverability
6
Returns
7.7
Stability
8.4
Slice
7.8
Comfort
8.2
Topspin
7.8
Touch/Feel
7.8
Volleys
7.6
Overall
7.7

Jason's Scores
Power
7.9
Serves
0
Control
8.2
Groundstrokes
7.7
Maneuverability
6.5
Returns
7.7
Stability
8.5
Slice
8
Comfort
8
Topspin
8.2
Touch/Feel
8
Volleys
7.9
Overall
7.6

Jackson's Scores
Power
8.5
Serves
8
Control
8
Groundstrokes
7.8
Maneuverability
6.5
Returns
7.9
Stability
8.3
Slice
7.7
Comfort
8
Topspin
7.8
Touch/Feel
8
Volleys
7.5
Overall
7.8

Spencer's Scores
Power
8
Serves
7.5
Control
7.2
Groundstrokes
7.5
Maneuverability
6.5
Returns
7.4
Stability
8.5
Slice
7.6
Comfort
7.5
Topspin
7.2
Touch/Feel
6.6
Volleys
7.2
Overall
7.4
Playtester Profiles

Chris
5.0 All court player currently using the Volkl Power Bridge 10 Mid. Chris uses a full-western forehand grip, has a fast swing style and hits a one-handed backhand.
Spencer
4.5 Baseline player currently using a Wilson K-Blade Tour. Spencer uses a semi-western forehand grip, and hits with a one-handed backhand.
Jackson
4.5 All court serve and volleyer with a semi-western forehand and 2 handed backhand. Jackson currently uses the Babolat Pure Drive Team Plus.
Jason
4.0 baseliner currently using a Wilson K Blade Tour. Jason has a fairly aggressive semi-western topspin forehand and hits a one-handed backhand

Review date: September 2009. If you found this review interesting or have further questions or comments please contact us.
All content copyright 2009 Tennis Warehouse.