Pacific X Force Pro Racquet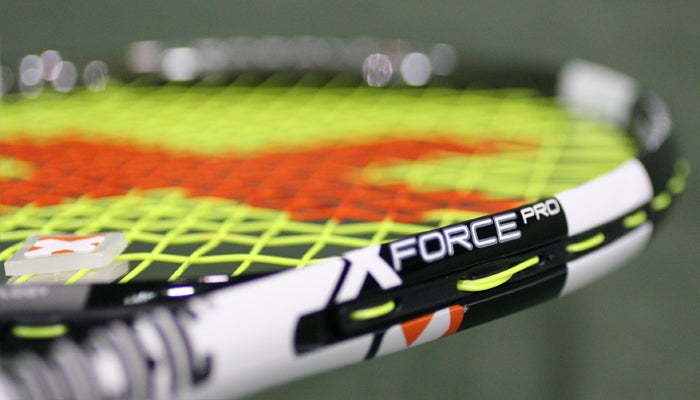 Back in July of 2009, Pacific officially entered into the racquet business when it acquired Fischer Tennis. That meant Pacific was not only the owner of Fischer racquet molds, but Fischer technology as well.
Pacific has merged the old technology with some new in its line of racquets, including its heaviest model, the Pacific X Force Pro, which is tested here. Each and every one of these racquets is guaranteed to have identical weight and balance thanks to Zero Tolerance, a technology that was first found in Fischer frames. These racquets also feature Basalt X. According to Pacific, Basalt X is a new organic material used in specific areas of the hoop to provide a softer, more forgiving feel. Pacific claims this volcanic material helps reduce shock and vibration.
Offering a head size of 98 square inches, a 320 swingweight (RDC) and an 8 points head light balance, this appears to be a reincarnation of the Fischer M Pro Number One 98 racquet. Our playtest team took this stick out for a month-long playtest to see if Pacific was able to successfully blend the past with the present. Read on for our full review.
Groundstrokes - Score: 79
The Pacific X Force Pro offers plenty of mass for hitting shots with depth and pace.
Danny liked this heavier version. He said, "I thought this 11.9 ounce version of the Pacific X Force was a better fit for my game. I think my swing style and swing speed were more suited for the Pro version. Having said that, I was able to achieve more with the Pro version compared to the lighter version. I found more plow through and stability with the Pro version. Naturally, I also found more stability (when hitting outside of the sweet-spot) with the heavier version. With the addition of power, I noticed an increase in spin potential. In a perfect world I would want this racquet to have a 16X19 string pattern rather than a 16X20 string pattern, as I prefer a more open string pattern. Overall, though, I thought this racquet was great."
"At close to 12 ounces strung, the X Force Pro offered a nice solid feel when hitting from the baseline," said Spencer, who was getting good results from all areas of the court. "I liked the depth I was getting off both wings. The 98 square inch headsize offered a forgiving sweetspot, as well. I didn't feel I needed to take big cuts at the ball to get good results. There was enough plow through power for good penetration, and good torsional stability. Both combined to keep balls headed in their intended direction."
Hitting with more power was Jason, who said, "Compared with the X Force, this racquet had much more plow through. I was able to hit some great penetrating shots with it if I had my preparation and timing down. That's a big if. Otherwise, because I felt it was sluggish, I would be hitting late on the ball. The racquet also had a surprising amount of power and pop. I was definitely able to hit some winners with this stick."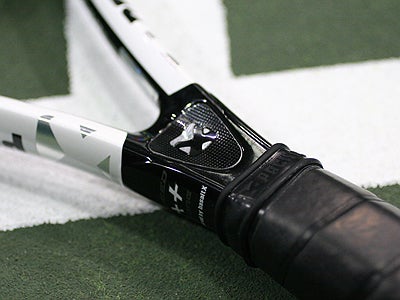 "This is without a doubt one of the softest racquets I've ever played," said Granville. "While hitting I was trying to come up with some verbs to better describe the extra soft feel -- I finally settled on the word 'numb,' as there is simply so little feedback. Balls were landing very short until I found the range. I had no worries about hitting long with this racquet, and I could blast away. I noticed, too, that the top of the hoop was of little help when I was on the dead run and wanted to curve one around my opponent. I just found it dead up there toward the top cross strings."
Volleys - Score: 81
Our team was impressed with the soft, yet solid, feel the Pacific X Force Pro had at net.
Volleying with variety was Spencer. He said, "Much like with groundstrokes, I was happy with the amount of forgiveness offered in this stringbed. When handling hard hit shots at the net, as well as punching and putting away volleys, the X Force Pro had a nice, solid feel. The headlight balance helped keep this stick pretty maneuverable, which was also a plus when coming to net for that first volley."
Jason had no complaints, saying, "The mass of the racquet helped me control and bleed pace off shots while I was up at net. Unlike with my groundstrokes and serves, the racquet didn't feel nearly as sluggish on volleys. It was actually pretty responsive. And what a soft, dampened feel this racquet has!"
For volleys, Granville found this racquet to be quite appetizing. He said, "It felt very good at net and offered delicious feel on the high and wide volleys that I could take a little swing at it. It was soft, yet responsive and very maneuverable. I did not miss one drop shot, and I found excellent feel and touch."
"I did not notice many differences between the lighter version and the heavier version when volleying," said Danny. "I noticed a difference in maneuverability, but I thought my control, consistency and accuracy was comparable to the lighter version."
Serves - Score: 78
The mass of the X Force Pro made it east to swing through the contact point on serves, helping our TW playtesters find some added pace.
Jason enjoyed the additional power. He said, "With the Pro version I definitely felt liked I picked up a few extra MPH. However, at the same time I was missing the consistency I was getting with the X Force. It still has that solid, yet soft feel, but for my money, I would take a higher serving percentage over service speed." Danny said, "I noticed an increase in consistent power when serving with this racquet. That extra ounce was a better fit for me compared to the lighter X Force. I was able to get more zip on the ball, and I noticed an increase in kick when hitting my second serves. I want to mention again that I think this is a good racquet for your arm. It is flexible for comfort, yet also feels solid and stable thanks to its weight."
The stability and solid feel seemed to come through the ball, offering good action and penetration on serve," said Spencer. "The open pattern helped get more hop on kickers out wide in the ad court. This racquet felt naturally good, and I was able to put a consistent swing on it, producing consistent results."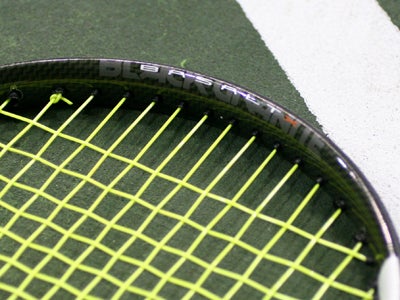 Granville wasn't experiencing the same success as the other playtesters. He said, "This is where I had the most problems. The soft feel was causing me to net many of my first serves. It was a very strange sensation. Low power, too -- I could have used some more power. My accuracy was there when I cleared the net, with excellent targeting."
Serve returns - Score: 80
For our TW playtesters, the X Force Pro was a solid racquet for mixing up returns.
Aggressively returning serves was Granville. He offered, "It really excelled here, in that I could take full swings at the ball and keep that ball on the strings for a while, allowing me some added precision. Solid, yet soft -- a nice combination for the returns."
"Returning with this racquet was rather easy, as far as mobility goes," said Spencer. "It was nice being able to handle a variety of serves. The heft of the racquet was good enough to handle high velocity serves with seemingly minimal torque. I did have to be somewhat wary taking a good swing on returns, as I would find occasional shots to fly long. I found I was most effective getting back serves when trying not to do too much."
Playing better defensively than offensively was Jason. He said, "I had mixed results with this racquet when I was hitting returns. At times, when trying to be aggressive, I found that I could easily over hit the ball and have it land long. That was probably user error, because I wasn't used to the additional power. At the same time, chipping and blocking shots back with depth was almost effortless. Even shots hit outside the sweetspot were going over the net with some depth."
"I was able to take big, confident cuts at the ball while maintaining control when returning serves," said Danny, who found this racquet to fit him just right. "For me, racquets that have a soft sponge-like feel just work for me, and the X Force Pro is one of those."
Overall - Score: 80
The X Force Pro was a solid racquet for our playtesters. Off the ground and on service returns, the mass of the racquet was essential for hitting with controlled pace and depth, even on off-center shots. Spin was easily accessible for our team from all areas of the court. Controlling volleys was not a problem for our TW playtesters, and they were able to hit a variety of volleys with success. The majority of our team found added pop on serves. The open string pattern combined with the weight to help generate great kick and slice. No matter what shot was hit, the reoccurring theme with this racquet was the soft and comfortable feel. We felt the X Force Pro lived up to Pacific's claims of reducing shock and being arm friendly. Although we feel it is suitable for intermediate players, the racquet appeared to be a better fit for our more advanced playtesters (4.5+) with stronger, more refined strokes. With the old Fischer M Pro Number One 98 as the blueprint, the X Force Pro managed to bring elements both old and new into one solid player's racquet.
Likes
Spencer - "The solid feel."
Jason - "When I had time to set up my shots had tons of pace. Very soft feel."
Granville - "Soft feel and very maneuverable. Nice cosmetic."
Danny - "I like the soft, flexible feel the racquet has. There was not much that I did not like about the X Force Pro. I cannot say that I am going to switch to it, and I don't like it as much as my Volkl Powerbridge 10 Mid, but I think it is a very solid racquet."
Dislikes
Spencer - "Lack of trust when swinging out."
Jason - "Sluggish, especially on the backhand. Forced me to really step up my timing."
Granville - "Too soft feel resulted in a lack of feel."
Danny - "I would prefer 19 cross strings. I would prefer a thinner beam as well. The thicker beam did not allow me to get the spin that I normally like."
Technical Specifications

Length
27 inches
68 centimeters
Head Size
98 square inches
632 square centimeters
Weight
11.9 ounces
337 grams
Balance Point
12.6 inches
32 centimeters
8pts Head Light
Construction
25mm/23mm/20mm
Composition
Graphite / Basalt
String Pattern
16 Mains / 20 Crosses

Babolat RDC Ratings

Score

Grade

Flex Rating
60
Range: 1-100
Swing Weight
320
Range: 200-400
Scores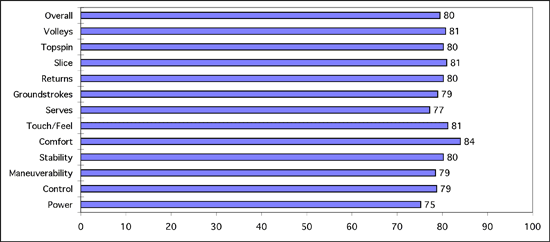 (Scores are determined by averaging individual play test scores)
Spencer's Scores
Power
8
Serves
8
Control
8
Groundstrokes
8
Maneuverability
7.6
Returns
8.5
Stability
7.9
Slice
8
Comfort
8
Topspin
7.7
Touch/Feel
7.6
Volleys
8.2
Overall
7.7
Jason's Scores
Power
8.2
Serves
7.7
Control
8
Groundstrokes
7.8
Maneuverability
7.3
Returns
7.8
Stability
8.2
Slice
8.1
Comfort
8.6
Topspin
8.2
Touch/Feel
8
Volleys
7.8
Overall
7.8
Granville's Scores
Power
6
Serves
7
Control
7.5
Groundstrokes
7.5
Maneuverability
8.5
Returns
8.5
Stability
8
Slice
8.5
Comfort
8.8
Topspin
8.5
Touch/Feel
8.8
Volleys
8.5
Overall
8.3
Danny's Scores
Power
7.8
Serves
8.2
Control
8
Groundstrokes
8.3
Maneuverability
8
Returns
8.3
Stability
8
Slice
7.8
Comfort
8.2
Topspin
7.7
Touch/Feel
8.1
Volleys
7.8
Overall
8
Playtester Profiles
Danny: Open baseline player currently using a Volkl Power Bridge 10 Mid. Danny uses a semi-western forehand grip, a two-handed backhand and has a long swing style.
Jason: 4.0 baseliner with a semi-western forehand and one handed backhand. Currently using a customized Volkl Power Bridge 9.
Granville:5.5 all-court player currently using a Wilson K Factor Six-One Tour 95. Granville is an aggressive player who uses an eastern forehand grip and goes continental on everything else, hits with a flat swing and a one-handed backhand.
Spencer: 4.5 Baseline player currently using a Wilson K-Blade Tour. Spencer uses a semi-western forehand grip, and hits with a one-handed backhand.

Review date: July 2010. If you found this review interesting or have further questions or comments please contact us.
All content copyright 2010 Tennis Warehouse.