Pacific X Feel Pro 90 Vacuum Racquet Review
Pacific X Feel Pro 90 Vacuum Scores
Comfort
86
Touch/Feel
90
Serves
79
Groundstrokes
80
Returns
77
Slice
88
Topspin
76
Volleys
86
Overall
83
Upsides
Precision
Silky Smooth Feel
Power
Touch
Summary
It is said that classics never die, and that would certainly pertain here, as this racquet offers tremendous feel with excellent control. All our testers agreed that the X Feel Pro 90 Vacuum was not a weapon to be wielded by just any player. With a healthy heft and a small but rich sweetspot, this racquet calls on a highly skilled player to make its attributes shine brightest. And when this racquet does shine, it shines brighter than most. In the sense of classic racquet feel and performance, the X Feel Pro 90 Vacuum rightfully takes its place among the likes of the Head Prestige Classic 600, Wilson ProStaff 6.0 85 and Dunlop Max 200G.

Born from the mold of the Fischer Vacuum Pro 90, the Pacific X Feel Pro 90 Vacuum brings this legendary racquet back to tennis.
Among a core group of tennis racquet enthusiasts, the Vacuum Pro 90 is revered for its sublime feel and control. Known as a racquet that feels like an extension of the arm, the Vacuum Pro 90 resides in the lofty realm of highly acclaimed racquets such as the Wilson ProStaff 85 and Head Prestige Classic.
On the pro tour, the Vacuum Pro 90 was most notably used by Michael Stich. Stich put the racquet to good use, making it to three Grand Slam singles finals and winning what is probably the most coveted championship trophy in tennis, the Wimbledon Championship, in 1991. A year later he won Wimbledon again, this time playing doubles with John McEnroe. Stich then went on to win a gold medal at the 1992 Olympic Games, again in doubles, this time as part of the German team with Boris Becker.
Twenty years later, Pacific has taken the reins and re-created that racquet with the Pacific X Feel Pro 90 Vacuum. A Tennis Warehouse exclusive, the X Feel Pro 90 Vacuum offers the same specs and low-powered feel so favored by the likes of Stich.
While maintaining a classic look and feel with its leather grip, thin straight beam and 90 square inch head size, this racquet may intimidate the lesser player. It's designed for those surgeons of the tennis court who can meet the demands of a scalpel-like racquet. If this Pacific version is at all like the Vacuum Pro 90, it should slice and dice most accurately -- and do it in a clean, concise manner.
Our team of tennis doctors spent four weeks in the O.R. to see if the X Feel Pro 90 Vacuum could heal any ailments in their respective tennis games.
Read on for their prognoses. Stat!
Groundstrokes - Score: 80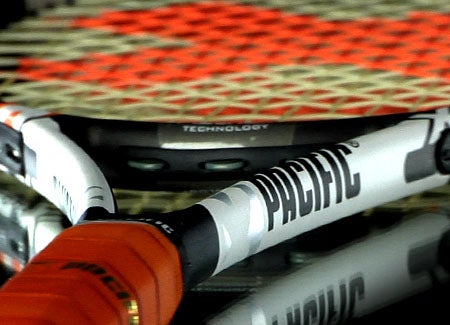 It's funny to think how 12 ounces was once considered light for a player's racquet, as the X Feel Pro 90 Vacuum is now firmly on the heftier side compared with today's racquets. Our testers put the weight to good use, loving the feel of this stick from the baseline. Finding top notch feel and control was Chris. He said, "It has been a long time since I played with the original Vacuum 90, but this latest version feels slightly firmer and more forgiving. It still offers that silky smooth response I remember, but I seemed to find more pace with this one. The feel and control I found was absolutely sublime. I could control drop shots and angles very well, and I always knew where my ball was going the instant I made contact. With a nice full, smooth swing, I could really hit through the court with lots of pace, spin and penetration. With the Pacific gut in the mains and the poly in the crosses, this racquet played amazingly well."
Granville loved the dwell time this racquet offered, saying, "Like fine tuning an automobile, the X Feel Pro 90 Vacuum took some tinkering before hitting its stride. Once dialed in, there was no stopping it. Thwap. 15 love. Thwap, thwap. 30 love, and so the story goes. I wrote this review after playing with gut mains and ridged poly crosses (the Pacific hybrid that comes with the racquet) at 52 lbs. - my ideal set-up. This set-up offers a deep, luxurious pocket in the stringbed. The racquet wants to hold the ball for a while and seemed to enjoy the millisecond of extra dwell time. It allowed me to hit with depth and behind my opponent. After a few, I'd hit it cross court, just to keep it fun. A scalpel is a scalpel, and there are simply not that many scalpels on the market anymore. This is one."
Troy felt he needed to change his game to benefit from the X Feel Pro 90 Vacuum. He said, "My first impression while at the baseline was that the racquet felt a bit under-powered for my style of play. I found that trying to hit with a lot of topspin and maintain depth was not as easy as with my own racquets. What I really enjoyed about this racquet was that I could really hit through the ball and flatten out my forehand to put pressure on my opponent. I was able to get more bite and penetration from the backhand slice, so I was hitting it more often with this stick. Overall it was not quite suited for my baseline style, but I found it more than beneficial when being aggressive and hitting flat."
Spencer noted the outstanding feel. He said, "This is a racquet for the player who can consistently hit it in the middle of the stringbed. That player, unfortunately, I am not. Well, I suppose that depends on how big the middle is. When I could prepare and put a nice, smooth swing on the ball, there are few racquets that offer such a sweet feel. The feel was excellent when coming over the top off both wings. I did have to make some adjustments as this racquet is extremely underpowered. Though it has a 16 main string set-up, I wasn't getting the topspin I like and am used to. It hits a flatter, more penetrating ball. My favorite shot from the baseline, by far, was the backhand slice. The mass of the racquet, along with the small, yet blissful sweetspot, clips the ball in such a way that it drives it low, and the ball stays low when it hits the court. When it comes to groundstrokes, there aren't too many racquets that have a sweeter feel. Unfortunately for me, the number of balls that hit the sweetspot were too few and far between, and anything outside the sweetspot was severely penalized. A player's stick, indeed. A player, I am not."
Volleys - Score: 86
Precision and feel at net were enjoyed by all. Finding scalpel-like precision at net, Granville said, "Even with this 90 square inch head size I was finding an adequate and comfortable sweetspot, and the extra dwell time to do just about anything with the ball. It felt like I had a new tool in my hand, and I was finding myself trying shots I've not considered before. This is a rare racquet that gave me a glimpse of a bigger game."
Troy was amazed with the precision at net. He said, "I was finding that I had to really focus on making contact directly in the sweetspot when up at the net. It was definitely more unforgiving than what I am used to in my 98 square inch head size. It took some adjusting to, but once I was able to dial it in, the precision and the ability to carve the ball into the corners of the court was pretty amazing. With the midsize head I felt very connected to the ball when I was able to locate the sweetspot. Touch volleys and sharp angles were easy to create, and I could put a lot of back spin on my volleys, keeping them low off the bounce."
Enjoying the instant feedback and feel was Chris. He said, "With tons of feel, great stability and ample power, this racquet felt perfect at net. I was very, very impressed when punching the ball deep and even more so on touch volleys. I found lots of comfort, yet I could still feel the ball and I knew instantly where my shot was going to land. I don't say this lightly, but this is one of the best racquets I've ever hit at net. The response was purely sublime."
Spencer felt the nice combination of touch and accuracy. He said, "The heft of a player's stick pays large dividends when at net, and the X Feel Pro 90 is no exception. To use one of Granville's descriptors, this racquet really 'pancakes' the ball with its heft and stability. Again, like with groundstrokes, I needed early preparation to reap the benefits of the racquet. When that didn't happen, the results showed. There was no masking off-center hits or when the racquet was out of position. The weight and small sweetspot exposed any lack of preparation, and that's where I suffered when volleying."
Serves - Score: 79
Our testers were very impressed with the X Feel Pro 90 Vacuum on serve. Finding good power and kick was Granville. He said, "There was little to no transition from my 95 to this 90 inch head size. I was getting all the power I could generate or expect to generate. I was really limited only by my game with this racquet. Liking the 16 mains, I can really see some extra kick on my new kicker. It makes my best serves more comfortable."
Chris felt this racquet enhanced his serves. He said, "As from other areas of the court, the smoother my swing, the better the results with Pro 90. This racquet seemed to take my good serves to another level. I was getting great pace. My serves were bouncing up higher and seemed to be penetrating better. I liked the spin I was getting. With the Pacific gut in the main strings, spin production was especially impressive. My slice serve to the deuce court was kicking wider, and I was very happy with the lift on my topspin serves."
Noticing good power on serve was Troy. He said, "Though this racquet seemed to be underpowered from other areas of the court, I felt like I was still getting a lot of pop on serve. I was able to generate a lot of racquet head speed, which allowed me to put a lot of spin and kick on serves. I was able to find the corners of the service box consistently, which helped me to mix it up and keep my opponent guessing. When I wanted to let loose on the serve and generate a lot of pace, this racquet had that, along with the precision I needed."
Spencer felt the racquet limited his variety. He said, "Like many other sticks with similar specs, it was about a smooth swing and not trying to muscle the serve. As long as I had the mindset to let the racquet do the work, I could muster some heavy, effective serves. When I got too big for my britches, thinking I could power one down the 'T' for an ace, was when I would get into trouble. Though the racquet felt good on serve, I didn't feel I could get the variety I can with other, more forgiving and spin friendly sticks."
Serve returns - Score: 77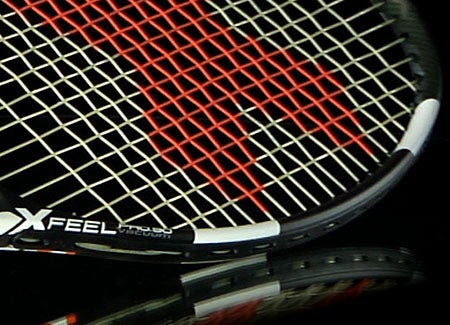 Our testers found solid technique was rewarded with impressive control, power and feel on returns. Able to use the weight and stability of the racquet effectively was Spencer. "Though this stick can be taxing on the return, I actually preferred this racquet when it came to returning against harder servers. Because I couldn't try to do too much with hard serves, I relied on effectively blocking and slicing them back. The weight and stability helped me put the ball back deep enough to keep my opponent from putting points away. It was the slower serves that I had more issues with, as I naturally would go for more on the return, oftentimes resulting in mis-hits that put me immediately on the defensive."
Granville liked his options when returning with this one. He said, "Of the many factors taken into account when it comes to evaluating a tennis racquet on one stroke, the serve return, mass and ability are among my top considerations. This racquet is not for everyone. It is heavier than most, allowing the skilled player to block a well targeted return back into the open court, low to the opponent's feet, or take the ball on the rise and crush it for a quick offensive charge. This racquet can do either, and do either very well. Its head light balance only enhanced my opportunities by making it more maneuverable. This is truly a blast from the not too distant tennis past (Head Prestige Classic, Wilson ProStaff 6.0 85 style)."
Needing some time to adjust was Chris. He said, "I found the racquet the most demanding on returns. The racquet felt superb when everything was lined up. However, it did not come around as quickly as my regular stick, and I was caught late a little too often early in the test. After a couple of weeks, I was returning much better and felt accustomed to the weight and balance of the racquet. From then on it was business as usual, and I was able to exploit the superb feel and control I had already found from other areas of the court."
Troy sought more depth and penetration when returning. He said, "I found myself having to take an aggressive cut at the ball to achieve good depth on my returns. I definitely had to be more focused and put more weight into my returns to achieve the desired effect. If I was not able to get set and drive through my returns, the ball would land short near the service line, which was putting me in a defensive mode too early, too often."
Overall - Score: 83
Likes
Chris "I loved the feel, power and spin, and the insane control. This racquet personifies precision."
Granville "The weight and balance of a truly classic performance spec. Good cosmetic, and it comes with a leather grip."
Troy "Pinpoint precision. I was hitting my backhand slice better than ever."
Spencer "The outstanding feel and traditional leather grip."
Dislikes
Chris "Once adjusted, nothing. Early on, the racquet didn't feel as fast as I would have liked, but that all came around after the first couple of weeks."
Granville "It is sensitive to string set-up. I tried three different set-ups before I tried the hybrid that comes with the racquet. I finally got it dialed with the gut/poly hybrid (gut mains, by the way)."
Troy "The lack of depth and spin production on my topspin groundstrokes. I would have have liked the swingweight to be a little higher."
Spencer "Lack of forgiveness and lack of power outside of the sweetspot. (Understanding, of course, that these are characteristics of a player's stick, and it doesn't suit a game like mine that needs some forgiveness and free power here and there.)"
Technical Specifications

Length
27 inches
69 centimeters
Head Size
90 square inches
581 square centimeters
Weight
12 ounces
340 grams
Balance Point
12.75 inches
32 centimeters
6pts Head Light
Construction
19mm Straight Beam
Composition
Graphite / Basalt
String Pattern
16 Mains / 20 Crosses

Babolat RDC Ratings

Score

Grade

Flex Rating
59
Range: 0-100
Swing Weight
326
Range: 200-400
Scores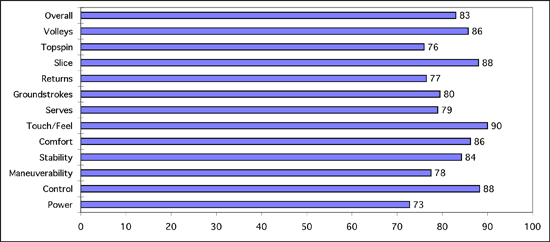 (Scores are determined by averaging individual play test scores)
Chris' Scores
Power
7.8
Serves
7.9
Control
8.7
Groundstrokes
8.3
Maneuverability
7.5
Returns
7.7
Stability
7.7
Slice
8.5
Comfort
8.4
Topspin
8.2
Touch/Feel
9
Volleys
9
Overall
8.4
Granville's Scores
Power
7.5
Serves
8
Control
8.5
Groundstrokes
8.2
Maneuverability
8
Returns
8
Stability
8.2
Slice
8.5
Comfort
8.5
Topspin
8
Touch/Feel
9
Volleys
9
Overall
8.5
Troy's Scores
Power
7
Serves
8.3
Control
9.5
Groundstrokes
7.5
Maneuverability
8
Returns
7
Stability
8.8
Slice
9
Comfort
9
Topspin
7.5
Touch/Feel
9.5
Volleys
8.3
Overall
8.3
Spencer's Scores
Power
6.8
Serves
7.4
Control
8.6
Groundstrokes
7.8
Maneuverability
7.5
Returns
7.9
Stability
9
Slice
9.2
Comfort
8.6
Topspin
6.7
Touch/Feel
8.5
Volleys
8
Overall
8
Playtester Profiles
Chris:5.0 All court player currently using the Volkl Power Bridge 10 Mid. Chris uses a full-western forehand grip, has a fast swing style and hits a one-handed backhand.
Granville: 5.5 all-court player currently using a Wilson K Factor Six-One Tour 95. Granville is an aggressive player who uses an eastern forehand grip and goes continental on everything else, hits with a flat swing and a one-handed backhand.
Troy: 5.0 lefty all-court player with a full Western Forehand and a two handed backhand. Troy currently plays with the Wilson K-Blade 98.
Spencer: 4.5 baseline player currently using the Prince EXO3 Tour 100 16x18. Spencer uses a semi-western forehand grip, and hits with a one-handed backhand.

Review date: June 2011. If you found this review interesting or have further questions or comments please contact us.
All content copyright 2011 Tennis Warehouse.