Pacific X Force Racquet Review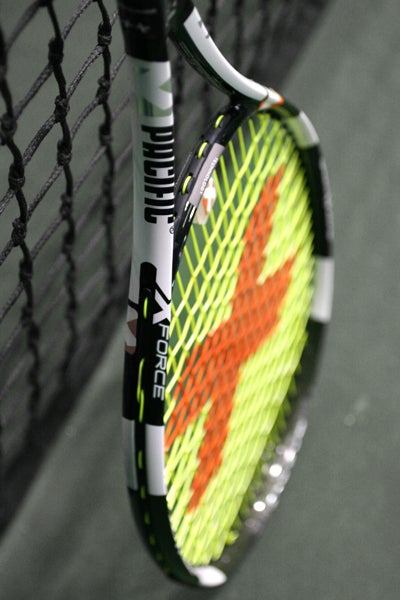 Making the transition into the racquet business can be difficult. Of course, it's a lot easier if you manage to acquire a respected, reputable racquet company.
That is exactly what Pacific, the string company, did in July 2009, when it acquired Fischer Tennis.
Fast forward to 2010. Pacific releases its new line of racquets, which includes the X Force. This player's stick boasts an 11-ounce strung weight, 314 swingweight (RDC) and a 58 stiffness rating. Taking the Zero Tolerance concept from Fischer, each racquet is guaranteed to have the same unstrung weight and balance.
On the technology front, Pacific integrates Basalt X fibers into specific areas of the hoop, which it claims will reduce shock and vibration.
Building on the solid foundation Fischer already provided, can Pacific pick up where Fischer left off? Our team was eager take this stick out for Pacific's inaugural racquet review. Here are our players' findings.
Groundstrokes - Score: 81
The Pacific X Force racquet impressed our team with its mobility and feel from the baseline.
Spencer loved the maneuverability from all areas of the court. He said, "I really enjoyed hitting groundies, and I felt like I could do a lot of different things with this racquet. At 11 ounces strung, my swing speed was easy to increase, which in turn put more spin on the ball. I felt comfortable hitting short cross court shots, as well as flattening out my swing for deeper, more penetrating shots. I felt comfortable with all shots off both sides. The forehand was a no-brainer, and I felt like I could hit forehands all day with good control and consistency. Off the backhand swing, I could come over the top or slice with what I felt was equal effectiveness. The maneuverability was incredible, and there was a good sense of stability to accompany it."
"Of the two versions of this racquet, I actually favored this one," said Jason. "This surprised me because I tend to like heavier racquets, but this stick felt much more maneuverable. I favored the mobility mostly on my weaker side, the backhand. I felt like I could easily hit a shot down the line or pull it cross court. I thought the spin I was able to put on the ball was great, especially when it was strung with a full bed of poly."
Granville also preferred the X Force over the heavier Pro version. He offered, "Despite my preferences to the Pro version's specs on paper, I enjoyed the extra power I found here. I was getting some good depth with this racquet and enjoying the soft feel and good targeting."
Danny said, "From the baseline, I thought the Pacific X Force was solid and very comfortable. I liked the control and maneuverability that I was able to achieve with the lighter version of the Pacific X Force. I noticed right away the high level of feel and flexibility that the racquet offered. With a 58 flex rating, I knew I was going to have some feel with this stick. I had good control with the 16x20 string pattern, but I wasn't achieving the spin potential that I was hoping for. I did notice a bit of instability when hitting outside of the sweetspot. I think the instability might be a result of my fast swing speed, which is better suited to heavier sticks."
Volleys - Score: 79
Our TW playtesters loved the excellent mobility and feel of the Pacific X Force.
There were many positives for Spencer. He said, "The maneuverability of this racquet was great at net. I enjoyed the touch, as well as the sufficient power for put-away shots. The element of stability was missing with off-center volleys, and this one got pushed around a tad with heavy hit balls."
Jason liked the feel. He said, "Once again, the maneuverability of this racquet was what made it a strength up at net. I liked the feel, especially when I tried to go for touch or drop volleys. However, I think I would've preferred a quarter ounce of additional weight. Any added help I can get up at the net is welcomed, and I felt this stick was an asset."
Loving how the racquet played up at net was Danny. He said, "I thought the Pacific X Force was a great racquet for volleys. I thought I had good control and loved the feel. Again, I felt it played true to its flexible rating. One thing I noticed was that I had less spin on my volleys than normal. I think the 16x20 is a better fit for my net play vs. a 16x19. I wish I could have this racquet for my net play and my Volkl racquet for my baseline game."
"This was a very solid racquet at net," said Granville, adding, "It had a soft feel with a nice response, and even with the balance being less head light, it was comparable to the Pro version in performance. I was feeling some extra pop and precision, with shades of the old Fischer scalpels for me."
Serves - Score: 80
The low swingweight of the X Force helped our team mix up serves with great results.
Danny had no complaints, saying, "I thought my serve was solid and consistent with the light and heavy versions of this racquet. I remember the last day that I was testing the Pacific X Force and my serve was on fire. Again, I loved the maneuverability. The lighter version didn't offer the spin potential I found in the heavier version, but I still enjoyed it."
Spencer said, "I thought this racquet offered a good amount of versatility on serves. I liked how I could place serves, as well as the action I was getting on the ball. Velocity was a bit tougher to dial in with any kind of consistency."
Granville found an improved service game with the X Force. He said, "I was hitting with a bit more pop than usual and targeting precision was spot on. I really think I served better with this racquet than my regular stick."
Serving at a high percentage was Jason, who said, "In a word: solid. I was able to serve with a high level of consistency with this racquet. Placement was also very good. The few times that I went for a hard flat serve I thought it lacked enough mass for optimal power. But because a hard, flat serve isn't really my M.O., this was not that much of an issue for me."
Serve Returns - Score: 81
The combination of power, control and maneuverability made the X Force a weapon on returns.
Becoming one with the racquet was Granville. He said, "Here again, I could swing away, baby. There was some nice pocketing and just enough mass to really drive the ball where I wanted. I was no longer thinking about the racquet; it became part of my arm."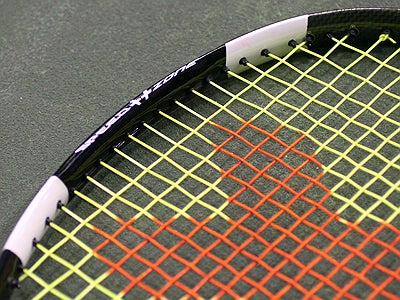 Jason loved being able to get on the offensive, saying, "Because it was so maneuverable, I was able to react to shots and have the racquet quickly respond with me. I like being aggressive and to attack second serves, and I felt with this stick I was able to do so while hitting a variety of returns."
"I was successful when returning with both models," said Danny. "I would prefer a racquet that is about an ounce heavier. I am sure that I could just add some lead tape to this puppy and that would make it a better returning racquet for me."
Spencer had his pick of shots with this racquet, saying, "I enjoyed returning serve with the X Force. This stick gave me plenty of options. I could swing out with this one when going for a more aggressive return without fear of hitting long. From the backhand side I was comfortable slicing and coming over the top of the ball."
Overall - Score: 80
The Pacific X Force racquet was a hit with our TW playtesters. We felt the maneuverability was outstanding from all areas of the court. Our players loved the variety of shots they were able to pull off on groundstrokes and serve returns. Up at net, our team volleyed with precision and touch, thanks again to the racquet's mobility. The team served with excellent placement, spinning serves in at a high percentage. One playtester actually felt he served better with this racquet than his own. The X Force has a soft and forgiving feel that seems to be easy on the arm. The majority of our players would have preferred a bit more mass in the racquet to help with some slight instability on shots hit outside the sweetspot, but otherwise they were very impressed. Overall, we felt this was a solid and impressive introduction for Pacific. A must demo for the 4.0+ player.
Likes
Spencer - "The variety of shots I felt I could hit."
Jason - "The maneuverability and surprising amount of power."
Danny - "I loved the feel and flexibility of the Pacific X Force. I think it is a great racquet for the arm. I liked the maneuverability. I liked the look and design as well."
Granville - "I liked the additional power -- as compared to the Pro version."
Dislikes
Spencer - "Lacks a little stability."
Jason - "Torsionally unstable outside the sweetspot. I would've preferred it to be a few points stiffer."
Danny - "I would prefer the racquet to be about an ounce heavier. I thought there was a bit of instability outside of the sweetspot."
Granville - "My ideal X Force would have a balance point somewhere between the two versions."
Technical Specifications

Length
27 inches
69 centimeters
Head Size
98 square inches
632 square centimeters
Weight
11 ounces
311.8 grams
Balance Point
13.1 inches
33 centimeters
3.2pts Head Light
Construction
25mm/23mm/20mm Beam
Composition
Graphite/Basalt
String Pattern
16 Mains / 20 Crosses

Babolat RDC Ratings

Score

Grade

Flex Rating
58
Range: 0-100
Swing Weight
314
Range: 200-400
Pacific X Force Scores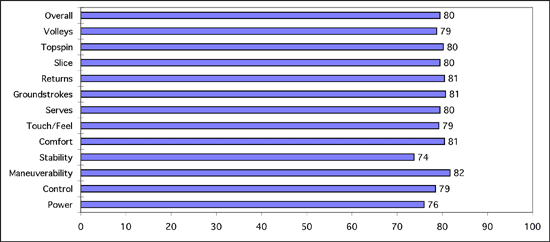 (Scores are determined by averaging individual play test scores)
Spencer's Scores
Power
7.5
Serves
7
Control
8.1
Groundstrokes
8
Maneuverability
8.5
Returns
8.2
Stability
6.7
Slice
8
Comfort
7.4
Topspin
8
Touch/Feel
7.2
Volleys
7.2
Overall
7.9
Jason's Scores
Power
7.8
Serves
8
Control
8
Groundstrokes
8
Maneuverability
8.7
Returns
8
Stability
7.8
Slice
8.3
Comfort
8.2
Topspin
8.3
Touch/Feel
8.2
Volleys
8
Overall
8.1
Granville's Scores
Power
7.5
Serves
8.7
Control
7.5
Groundstrokes
8.3
Maneuverability
7.6
Returns
8
Stability
7.5
Slice
8
Comfort
8.6
Topspin
8.3
Touch/Feel
8.3
Volleys
8.7
Overall
8
Danny's Scores
Power
7.6
Serves
8.1
Control
7.8
Groundstrokes
8
Maneuverability
7.9
Returns
8
Stability
7.5
Slice
7.7
Comfort
8
Topspin
7.5
Touch/Feel
8
Volleys
7.6
Overall
7.8
Playtester Profiles
Danny: Open baseline player currently using a Volkl Power Bridge 10 Mid. Danny uses a semi-western forehand grip, a two-handed backhand and has a long swing style.
Jason: 4.0 baseliner with a semi-western forehand and one handed backhand. Currently using a customized Volkl Power Bridge 9.
Granville:5.5 all-court player currently using a Wilson K Factor Six-One Tour 95. Granville is an aggressive player who uses an eastern forehand grip and goes continental on everything else, hits with a flat swing and a one-handed backhand.
Spencer: 4.5 Baseline player currently using a Wilson K-Blade Tour. Spencer uses a semi-western forehand grip, and hits with a one-handed backhand.

Review date: July 2010. If you found this review interesting or have further questions or comments please contact us.
All content copyright 2010 Tennis Warehouse.