Prince Tour 98 Racquet Review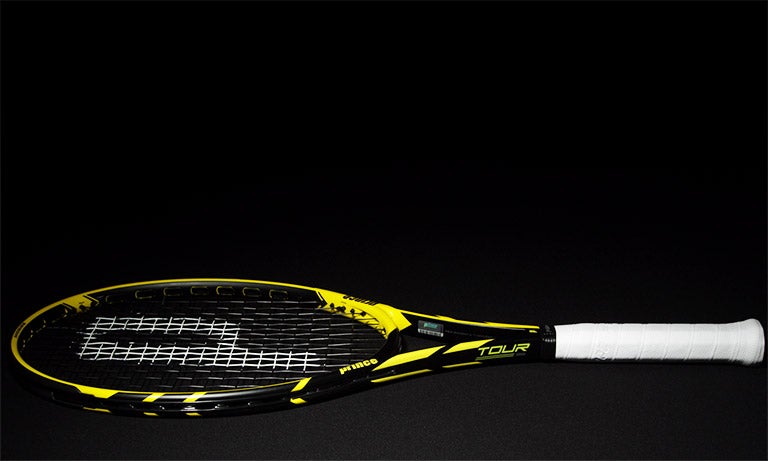 Prince Tour 98 Scores
Power
75
Comfort
82
Touch/Feel
73
Serves
78
Groundstrokes
78
Returns
78
Slice
78
Topspin
79
Volleys
76
Overall
78
Upsides
Plenty of spin
Arm friendly
Maneuverable
Control
Downsides
Almost too soft feeling
Erratic response outside of sweetspot
Summary
If you were a fan of Prince's popular EXO3 Rebel 98, you'll be happy to hear that not much has changed with its update, the Tour 98. The Tour 98 still offers maneuverability, control and spin in a ultra soft, arm-friendly package. Our playtesters really enjoyed how the low-powered response allowed them to take big cuts at the ball without fear of their shots sailing long. The precision was appreciated the most at net and on returns, while maneuverability and spin helped our team from the baseline and when serving. Our biggest issue with the racquet was the super soft, dampened feel. Although the soft feel makes the racquet very arm-friendly and comfortable, it also left our playtesters feeling a little too disconnected from their shots. Depth was hard to judge at times, especially on finesse-type shots. All in all, fans of soft, control-oriented racquets, like the Rebel 98, should take note and throw the Tour 98 onto their next demo order!
Groundstrokes - Score: 78
Maneuverability and spin potential were the two attributes that stood out in the Tour 98 the most to our playtesters. However, feelings about the racquet's overall performance from the baseline differed among the team. Karly felt dialed in from the start of the test and felt the racquet really suited her well. She explained, "Wow, what a great all-around frame! Not only does the Tour 98 offer excellent control with good power, but it's also stable and extremely comfortable on the arm. On top of all that, the maneuverability was right in the range that I like -- it's easy enough to swing quickly, but there's also enough mass behind it to give it a solid feel and help me generate my own power. However, the thing that stood out the most to me was the feel of the racquet. It's one of the most comfortable, forgiving racquets that I've ever hit with, and it also offers good stability. I really liked how soft it felt on my arm, but at times I think that feeling was almost too much of a good thing. The racquet had such a dampened, muted feel to it that my shots didn't feel very lively. It didn't feel like I was hitting with a lot of power because the stringbed absorbed so much of the shock, even though I was hitting with good pace. The racquet felt really solid and stable, but I would've liked a little more feel from the racquet to keep me more connected to my more powerful shots."
Jason liked how easy it was to swing and generate spin with the Tour 98, but he wished for a bit more heft to make the racquet more stable. He said, "There was plenty of pop behind my shots when I hit them cleanly, and the access to spin was great. I did prefer hitting topspin more than slice because there wasn't enough weight behind the ball to hit a more knifing slice. It was easy to generate racquet head speed, but the Tour 98 got pushed around when I played against bigger hitters because of its low weight."
Brittany has certainly hit with her fair share of Prince racquets. She liked the spin and control of the Tour 98 but felt there was an inconsistent response off the stringbed. She offered, "My history with Prince racquets goes back pretty far. I started my tennis career with the Prince Thunderlite, moved to the Triple Threat Hornet and have played with several generations of the Black series. Now, I know the Tour 98 is slightly different than those racquets, but the thing that stood out to me was how flexible this racquet is. I tend to play with racquets with a stiffness rating in the high 60s, so I did have a bit of an adjustment period switching to a racquet in the high 50s. I found decent access to spin and could control the side-to-side placement of my shots with ease. One thing I noticed was the stringbed response was a little uneven. There were definitely hot spots (especially the sweetspot, where I found a lot of power), but there were also some cooler spots. This affected the depth of my ball, and I struggled with consistently hitting balls deep in the court. It isn't as powerful as some of the racquets I prefer, but when paired with a stiffer poly it had all the power I needed. Also, I was confident hitting slices with this racquet."
Sean appreciated the spin and comfort, but he just never could get his groundies working well with the Tour 98. He said, "I had a lot of trouble finding my range with this racquet from the baseline. I felt extremely disconnected from the ball because of the exceptional dampening provided by Prince's EXO3 technology, and this hindered my ability to gauge my shots correctly. I also found that this racquet was far less powerful than I had anticipated, which forced me to concentrate on keeping the ball deep rather than hitting naturally. I did enjoy the spin potential this racquet offered, but unfortunately, it was too difficult to find much consistency from the baseline."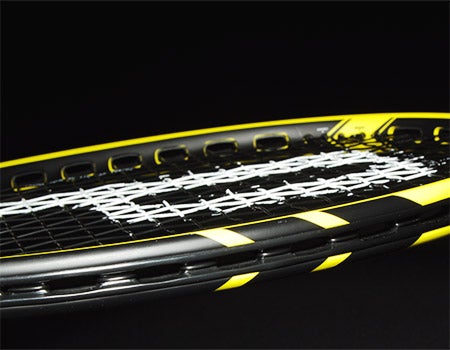 Volleys - Score: 76
Our playtesters liked how easy it was to get the Tour 98 into position to hit their volleys, as well as the precision that it offered. However, the testers struggled at times with the feel and stability. Brittany found it stable enough, but she felt too disconnected from her shots to have complete control over them. She said, "Volleys are where I struggled the most with the softness of the racquet. I felt like I was disconnected from the racquet and couldn't feel where the ball was on the stringbed. I really had a hard time hitting touch volleys and angle volleys. Touch volleys tended to pop up, and I couldn't get the ball to angle enough to pull my opponents off the court. On the positive side, the racquet had a solid combination of stability and maneuverability."
Jason appreciated the maneuverability but once again wished for more weight to help with the racquet's stability. He said, "The Tour 98 was plenty maneuverable up at net, and I enjoyed it on overheads and when I was able to hit a clean volley. However, on shots that hit outside the sweetspot, which felt generous in size, I noticed a lot of torquing."
Sean had more favorable thoughts about the Tour 98 at net than he did from the baseline, but like Jason, he thought a little more weight would help the racquet's performance. He offered, "The smaller sweetspot didn't give me nearly as many issues at the net as it did from the baseline. This racquet had good plow through at net and allowed me to redirect my volleys easily. I had to work to get my volleys deep in the court because of the very low power level, although my touch shots worked great and I could find a lot of angles while at net. A little extra weight might help slightly with the lack of power, and make it easier for me to drive shots deeper into the court to keep my opponents off balance."
The Tour 98 checked all the right boxes on volleys and overheads for Karly. She raved, "I was just as happy to come up to net as I was hitting at the baseline, which usually isn't the case! The combination of control and power was still pretty even, so I was confident hitting my shots where I wanted, and with good pace. If I wanted to take speed off the ball and hit a drop shot, the forgiveness of the racquet made it really easy. Then, to make hitting volleys even easier, the Tour 98 offered good maneuverability so I could get it in position to hit a hard hit ball or a hard overhead smash. I have no complaints with this racquet at the net!"
Serves - Score: 78
The spin potential and maneuverability of the Tour 98 really shone through for our team when serving, and everyone was finding success. All of the playtesters loved the control the racquet offered, but they also continued to struggle with the almost too soft feel. Sean explained, "The dampened feel and low power yielded a great result when it came to my serves. After some adjustment, I found that I could put everything into my first serve and still direct it accurately. Surprisingly, the lighter static weight of this racquet didn't cause me any problems when it came to stability. I did have some trouble adjusting on my second serves because of the lack of feel. With an already soft flex, the muted feel really caused some inconsistencies. I found that the open string pattern grabbed the ball well, although most of my second serves were landing quite short in the service box."
Control, power and spin were all there for Karly when serving, but she, like Sean, had trouble feeling totally connected because of the soft, dampened feel. She said, "The control was still good, but I felt like I got more power and spin out of the Tour 98 when serving than on other shot. The extra power and spin were especially noticeable on my second serves. I could get a ton of topspin, with good pace, to really make the ball kick out. Again, the racquet was comfortable on my arm, but I would've liked to have felt a little more response. The Tour 98 was so soft that it was somewhat hard to tell if I was hitting a powerful serve or not. I personally prefer stiffer racquets that don't feel as muted."
Jason felt in command of his serves, saying, "I think the best thing about serving with this racquet was the consistency. The combination of swingweight, access to spin and balance all contributed to the fact that I was making a higher percentage of my serves than usual. I also felt like directional control was very good with this stick."
Spin was the standout feature for Brittany, although nothing stood out as excellent. She offered, "I found this racquet to be about average when it came to serving. It didn't do anything exceptionally well, but I didn't have any issues with it, either. On my first serves, I never really felt connected with the racquet and ended up just slicing a lot of serves into the body. I did find a tiny bit of success hitting flat down the T on the deuce side, and I was able to get a couple of free points. Second serves were better; I was able to hit second serves that were kicking up high enough to keep my opponents from attacking."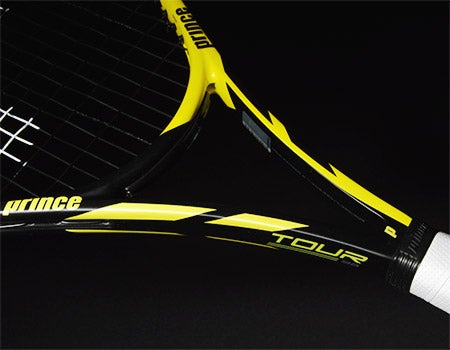 Serve Returns - Score: 78
Maneuverability and precision are usually a recipe for success on the return of serve, so it was no surprise the Tour 98 impressed our playtesters. It had everything Karly could ever want in a racquet. She raved, "It was so easy to hit aggressive returns. I was more confident going for harder returns because of the control the racquet offered. I could take big cuts at the ball without having to worry about my shots soaring way long. I could use the weight of the racquet to drive through the ball to hit a deep, powerful return. Then, when I had to hit a defensive return, the racquet was maneuverable enough to get around in time to hit a decent ball back. I was a big fan of returning with the Tour 98."
Sean liked the low-powered response when he was hitting his aggressive returns, saying, "I had some success being overly aggressive with my service returns because of how low powered this Prince ended up being. I was able to take my returns earlier and use my opponent's pace to redirect shots back deep into the court. The smaller sweetspot did give my return game some problems, especially when I had to defend against slice or kick serves that took me out of my comfort zone. As long as I had pace to work with, I could manage. Without it, however, I was forced to go for a big return to avoid leaving my returns short."
Brittany had more success than she expected when returning serve with this racquet. She explained, "I was a little surprised at how well I returned with this racquet. It had a good combination of maneuverability and stability. I never felt like the racquet was getting pushed around, and I found I was able to set up in plenty of time to return any serve. This allowed me to start points off offensively when I was returning."
Jason didn't have quite as much success as the others when returning serve. However, we can respect and appreciate Jason's modesty. He said, "I think I would've liked returning with this more if I were a better player. My shots were landing short when I didn't hit a clean return, and I was immediately on the defensive. However, I felt like I could attack the second serve because of the spin I was able to put on my returns. The erratic stringbed was quite noticeable here."
Overall - Score: 78
Likes
Jason - "Spin, control and maneuverability. It's also arm-friendly."
Brittany - "I thought this racquet was solid in several areas, including spin, maneuverability, stability and (just enough) power ."
Sean - "This is a lower powered racquet for those looking to blast away from the baseline. I also liked the soft and flexible feel."
Karly - "The amount of control was perfect. The solid feel and the weight of the racquet helped generate power."
Dislikes
Jason - "The erratic stringbed, lack of torsional stability and lack of touch/feel."
Brittany - "I personally did not like how soft the racquet felt. I also had issues with the depth of my shots due to an uneven stringbed response."
Sean - "There was too much of a dampened feel to really find much consistency, and the sweetspot was not very forgiving."
Karly - "The feel was so muted that I couldn't feel if I was hitting a powerful shot or not. I felt disconnected from the ball and would've liked more feel from the racquet. I personally prefer stiffer racquets."
Comparing it to other racquets they've used, our testers said:
Jason - "Similar, but more arm-friendly than the Head Graphene Instinct MP. It has the feel of previous EXO3 racquets."
Brittany - "I'm going to compare this racquet to another racquet that I am currently playtesting, the Prince Warrior 100. These racquets have pretty similar specs, except for the flex rating. The Warrior 100 is a little bit more powerful, but they had very similar control, spin and maneuverability. I liked the stiffer feel of the Warrior better than the Tour 98."
Sean - "The Babolat Pure Storm racquet is a similar frame in that it has a solid, dampened feel with a lighter static weight. The Dunlop Biomimetic M3.0 also fits the mold of a low powered, 98 square inch, 11 ounce frame. I thought both these racquets performed better than the Prince Tour 98."
Karly - "The feel, control and power reminded me of the Head Graphene Radical MP. Both are comfortable, control-oriented racquets that also offer a good amount of power."
Technical Specifications

Length
27 inches
69 centimeters
Head Size
98 square inches
632 square centimeters
Weight
11.1 ounces
315 grams
Balance Point
13.06 inches
33 centimeters
4pts Head Light
Construction
21.5mm Straight Beam
Composition
Graphite
String Pattern
16 mains / 20 crosses

Babolat RDC Ratings

Score

Grade

Flex Rating
59
Range: 0-100
Swing Weight
320
Range: 200-400
Scores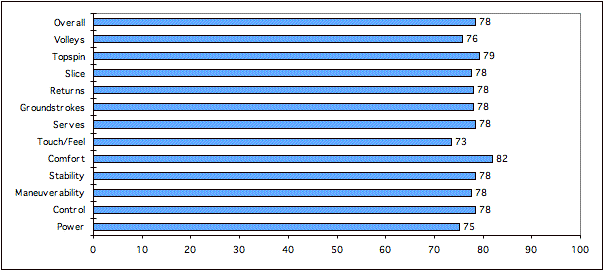 (Scores are determined by averaging individual play test scores)
Jason's Scores
Power
7.5
Serves
7.9
Control
7.6
Groundstrokes
7.8
Maneuverability
8
Returns
7.2
Stability
7
Slice
7.5
Comfort
8.5
Topspin
8.4
Touch/Feel
6.5
Volleys
7.8
Overall
7.7
Brittany's Scores
Power
7.6
Serves
7.8
Control
7.6
Groundstrokes
7.9
Maneuverability
7.8
Returns
8.3
Stability
8.4
Slice
8.2
Comfort
7.5
Topspin
7.6
Touch/Feel
6.8
Volleys
6.5
Overall
7.8
Sean's Scores
Power
7
Serves
7.7
Control
7.8
Groundstrokes
7.2
Maneuverability
7.5
Returns
7.5
Stability
7.7
Slice
7.6
Comfort
8.4
Topspin
7.7
Touch/Feel
8
Volleys
7.8
Overall
7.5
Karly's Scores
Power
7.9
Serves
7.9
Control
8.3
Groundstrokes
8.2
Maneuverability
7.7
Returns
8.1
Stability
8.2
Slice
7.7
Comfort
8.3
Topspin
7.9
Touch/Feel
8
Volleys
8.1
Overall
8.3
Playtester Profiles
Jason: 4.0 baseliner with a semi-western forehand and two handed backhand. Currently using a Wilson Steam 99 S.
Brittany: Open level player with a semi-western forehand and a two-handed backhand. She currently plays with the Yonex V-Core 100S.
Sean: 4.5 baseliner using the Head YOUTEK Prestige Pro. Sean has a semi-western forehand, 1 handed backhand.
Karly: 4.0 baseline player currently playing with the Volkl Organix 10 Mid. She hits with a semi-western forehand grip and uses a two handed backhand.

Review date: January 2014. If you found this review interesting or have further questions or comments please contact us.
All content copyright 2014 Tennis Warehouse.