Prince Tour Pro 100 Racquet Review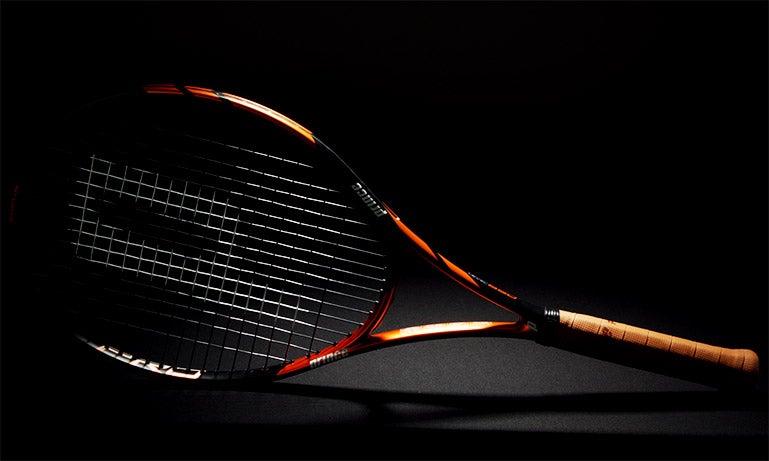 Prince Tour Pro 100 Racquet Scores
Power
81
Comfort
85
Touch/Feel
80
Serves
78
Groundstrokes
81
Returns
76
Slice
77
Topspin
85
Volleys
81
Overall
80
Upsides
Fast feel
Very spin friendly
Summary
New to the Prince line in 2014, the Tour Pro 100 rewards players who love ripping heavy topspin from the baseline. We found this racquet to deliver a crisper response than the EXO3 Tours and were excited to find this new racquet from Prince is not only quite flexible, but also very spin friendly. This sub 12-ounce racquet was comfortable for our team even after hours of hitting, and we consider it to be a modern player's racquet. Maneuverable from all areas of the court, the Tour Pro 100 pleased our team with a great blend of power, spin, comfort and feel. And without the EXO3 ports on this racquet, our playtesters found control in place of power. For players looking to generate some serious RPMs and MPHs from a lighter player's racquet, we recommend giving this one a go.
Groundstrokes - Score: 81
Our playtesters expected a heftier response from the Prince Tour Pro 100. However, once they became comfortable with the specs they all found ample access to spin. In fact, they weren't sure if they had traded out their Pro version for an ESP racquet. Troy began, "I found this version of the Tour 100 light and whippy from the baseline. This Pro version felt more maneuverable than the other two versions (16x18 and 18x20), and it felt less stable during heavy exchanges from the baseline. There was a definite difference in the feel of this racquet versus the two models that have the EXO3 port system. I found this racquet to feel firm and crisp on impact while the two versions with the port system felt very plush and soft. The open string pattern allowed for easy access to spin, although I think the Tour 100 (16x18) had the best spin potential out of the three models I tested. I felt like there was a significant drop off in plow through compared with the other two versions, which had a better weight and balance for me. Overall, this racquet was easy to rally with, but I felt this version of the Tour 100 lacked the plow through and stability that I crave in a racquet."
Mark, who enjoys open string patterns on his racquets when hitting his consistent, lefty groundstrokes, offered, "From looking at the specs of I felt like I was going to have no problems swinging it, and within 15 minutes of play time (just hitting around), I did feel confident. After some 11-point groundstroke games and 10-point tiebreakers my groundstrokes were reliable for the most part. However, it did feel a bit underweighted when trying to deal with some of the playtesters' (Troy in particular) excessive pace and spin."
Michelle, who has been gravitating toward heavier, stiffer racquets, found this racquet really easy (almost too easy) to swing. She explained, "At first balls were flying on me, which was slightly surprising since this racquet doesn't have the EXO3 ports and I was expecting less power. Once I dialed into this racquet's feel I realized I needed to get used to the quickness of it and accelerate through the ball with more spin -- that's when this playtest became fun! With a 316 swingweight, it did feel whippy at times, and it was easy to launch the ball. This racquet doesn't have the typical feel I am used to hitting, but it did offer me lots of spin. It also had a softer and more comfortable response compared with some of the stiffer racquets I am used to swinging."
This proved to be a very spin-friendly racquet from the baseline for Chris, who was amazed by how much topspin he could get on both his forehands and backhands with this racquet. "I was getting as much spin with the Tour Pro 100 as I did with the ESP version of the Tour 98. With the spin came easy access to pace. Combined with the spin, hitting a fast ball allowed me to push my opponents off the baseline. I also found good access to slice and was able to drive the ball low or get it to stop quickly with some reverse spin on a drop shot. The one downside for me from the baseline was consistency. My aim was a tad erratic with this racquet. It was all too easy to hit the ball long or pull it wide. I think the lively response was a little too lively at times."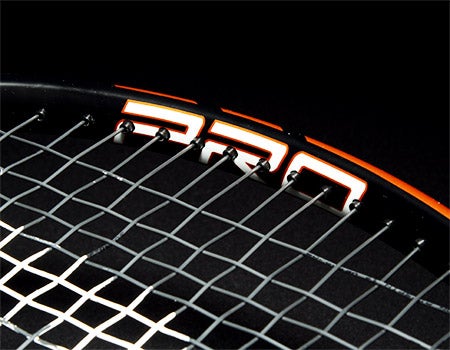 Volleys - Score: 81
The quickness of the Prince Tour Pro 100 continued to help our playtesters at net. Chris said, "I found it very easy to maneuver and to punch through the ball. Again, I was able to add spin to my shots at will. When punching volleys deep I could add some slice to help the ball skid low. I also liked cutting around the outside edge of the ball with this racquet to help it curve away from my opponent. I found it easy to control the lively response at net, thanks to the more compact swing of the volley."
It was easy for Troy to get the Prince Tour Pro 100 to the ball due to its maneuverable feel, and he found it easy to serve and volley when playing doubles. He said, "The crisp feel of this racquet gave me a good connection with the ball. The response allowed me to control the ball well and gave me confidence on my drop volleys. The one knock I had at net was that it was slightly unstable compared with its two slightly heavier brothers."
Michelle continued singing the maneuverability song and agreed that the Prince Tour Pro 100 was easy to volley with. However, she again found it too easy at times, saying, "I found this racquet to almost feel toy-like at times, so I caught myself doing too much with my volleys. However, it was easy to get the Tour Pro 100 in position to punch volleys deep or to hit some touch and angle volleys."
Volleying with the Prince Tour Pro 100 was Mark's favorite part of the playtest. The low 11 ounce static weight made it easy for him to maneuver it. He explained, "Although its swingweight is under 310, stability was far better than I expected (pretty darn stable). From half volleys to backhand volleys on the stretch, I had good control of the net with the Tour Pro 100."
Serves - Score: 78
Our team continued to find great spin from the Tour Pro 100 when serving. While precision and power were also significant, our playtesters were missing some weight in the racquet when bombing bigger first serves. Troy found easy pop and spin, saying, "I could get a lot movement on spin serves due to the open string pattern. The placement of my first serves was dialed in, although I would have liked a bit more heft to get the flat serves to come in with a bit more weight behind them. I was able to mix up serves well with this racquet, and I could hit the corners of the service box consistently. I found the Tour Pro 100 to be a happy medium between the 16x18 and 18x20."
The Tour Pro 100 was very predictable and comfortable for Mark when serving. He said, "The more I served with it, the more aggressive I could get. By the end of the playtest I was hitting quite a few unreturnable serves."
Michelle felt this racquet was whippy and fast through the air, which isn't her preferred feel, and she found herself craving a little more mass. She said, "I wanted more from this racquet when serving, but I found this racquet worked best on second serves for me. I enjoyed the great access to spin, slice and placement, but I didn't have the ability to bomb flat serves."
Chris served well with this racquet, and getting pace was easy for him as the ball really jumped off the stringbed. He said, "My slice serves had some good action on them, and I was able to hit several aces when going wide on the deuce side. I was also getting some nice spin on topspin serves. While I don't hit a huge kick serve, the spin I was getting allowed me to stay on the gas and still get the ball to drop inside the box."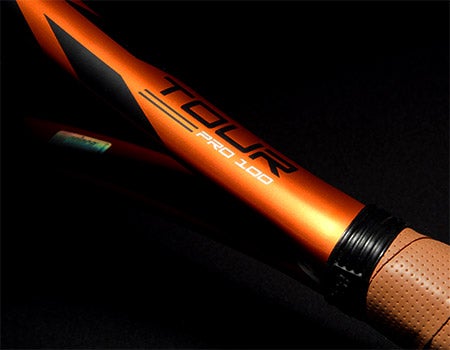 Serve Returns - Score: 76
Despite the low 11 ounce static weight of the Tour Pro 100, Mark found enough stability to return big serves. He said, "I felt pretty sneaky with this racquet on the return, and I was able to effectively chip and charge off the serve, along with hitting an occasional topspin return off both wings."
"When everything came together I was hitting some big returns with this racquet," offered Chris. "I could find tons of pace and spin on my returns. The racquet always felt fast and easy to get in position before driving it through the ball. Again, I struggled a little with consistency, which was a shame because that had me playing it safe even though the racquet felt so good when swung aggressively."
Troy liked the maneuverability when facing big serves and found he could flick the racquet easily when he was pulled off the court and was at full stretch. He said, "I wasn't getting the easy depth and plow through that I had with the 16x18 and the 18x20, but I could take big cuts at the ball with good control. The whippy feel made it easy to get my racquet on returns, which was helping me in doubles. I was getting consistent results on the return; unfortunately the returns weren't pushing my opponent back the way I would have liked. Anytime I didn't get a full cut at the ball my return would fall short, allowing my opponent to be aggressive on the next ball and put me on defense early in the point."
Michelle still didn't feel connected to this racquet. She said, "Despite the fast feel and my ability to get the racquet in place for returns, I felt this racquet lacked stability when returning. When I was returning against anyone with a decent first serve I just couldn't get a hold of the ball to rip it. It became quite frustrating for me because I try to hit offensive returns."
Overall - Score: 80
Likes
Mark - "I expected the Tour Pro 100 to be a 'hot rod' in terms of maneuverability and ease of swing. From first contact I was rewarded with exactly what I expected. With its flexible beam, this racquet provided me with a favorable all-court response. I really played well with the prior EXO3 Tour 100s, but with the traditional grommets and the way Prince has configured the graphite on this gem, you get a lot of racquet in a slightly lighter package."
Chris - "I liked the spin, fast feel, easy pace and crisp response of this racquet."
Troy - "It's light and fast, with easy access to topspin."
Michelle - "This is a fun racquet to grab and go whip some spin with. It's easy to swing fast and generate some serious racquet head speed."
Dislikes
Mark - "I did have the Tour Pro 100 paired with a full set of the low tensioned poly, and if I were to keep this frame I might add some weight to it (not much) and apply a more lively string configuration. I suppose that is more of a personal preference than a knock on the racquet."
Chris - "The lively response made the Tour Pro 100 a tad erratic for me."
Troy - "It didn't have the plow through and stability I crave in my racquets. Although it's not much lighter than the 16x18 and 18x20, I felt a big drop off in stability. It was easy to swing, and with some added weight it may play quite nice, but in stock form it was just very average from all areas of the court."
Michelle - "I wish it were a bit heavier, with more stability. When I pick up a racquet that is labeled as a 'Pro' or 'Tour' racquet, I expect it to have more mass behind it."
Comparing it to other racquets they've used, our testers said:
Mark - "The low 11 ounce strung weight range for a tennis racquet is one of the more competitive and diverse categories these days. Due to the low stiffness, I have to go with the Head Graphene Radical/Speed MP as a comparison, and although the test frame had an RA of 58, I feel like the beam plays firmer than the number indicates. This results in my comparison of the Prince Tour Pro 100 to the Yonex Ai 100 (higher swingweight), the Dunlop Biomimetic M3.0 and the Head Graphene Instinct MP (beam is a bit stiffer)."
Chris - "I would consider the Tour Pro 100 to be close to the Tour 98 ESP in levels of maneuverability and spin. However, this one is way more forgiving in terms of finding pace when contact is a little off center. There aren't many racquets that get close to this one in terms of feel, spin and playability."
Troy - "This version of the Tour 100 fits in between the Tour 100 (16x18) and the Head Graphene Speed MP."
Michelle - "The Tour Pro 100 feels unique to me. It's fast and maneuverable, like an AeroPro Drive, with a much more comfortable response and lighter (less stable) feel."
Technical Specifications

Length
27.0 inches
69 centimeters
Head Size
100 square inches
645 square centimeters
Weight
11.3 ounces
320 grams
Balance Point
13 inches
33 centimeters
4pts Head Light
Construction
21mm / 22mm / 21mm
Composition
Graphite
String Pattern
16 Mains / 18 Crosses

Babolat RDC Ratings

Score

Grade

Flex Rating
58
Range: 0-100
Swing Weight
323
Range: 200-400
Scores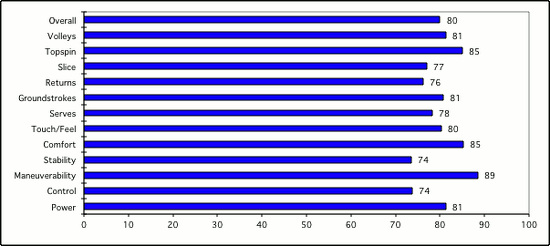 (Scores are determined by averaging individual play test scores)
Mark's Scores
Power
8.5
Serves
7.5
Control
7.5
Groundstrokes
8
Maneuverability
9
Returns
8
Stability
7.5
Slice
7.5
Comfort
9
Topspin
8
Touch/Feel
8.5
Volleys
9
Overall
8.5
Chris' Scores
Power
8.3
Serves
7.7
Control
7.5
Groundstrokes
7.8
Maneuverability
8.8
Returns
8
Stability
7.9
Slice
8.3
Comfort
8.4
Topspin
8.7
Touch/Feel
7.9
Volleys
8
Overall
7.8
Troy's Scores
Power
7.7
Serves
8.1
Control
8
Groundstrokes
8.5
Maneuverability
8.8
Returns
7.5
Stability
7
Slice
7.5
Comfort
7.7
Topspin
8.8
Touch/Feel
7.7
Volleys
7.7
Overall
7.9
Michelle's Scores
Power
8
Serves
8
Control
6.5
Groundstrokes
8
Maneuverability
8.8
Returns
7
Stability
7
Slice
7.5
Comfort
9
Topspin
8.5
Touch/Feel
8
Volleys
7.8
Overall
7.8
Playtester Profiles
Mark: 5.0 lefty all-court player with a one-handed backhand. He currently plays with the Wilson Steam 99S.
Chris: 5.0 all-court player currently using the Wilson Six.One 95S. Chris uses a full-western forehand grip, has a fast swing style and hits a one-handed backhand.
Troy: 5.0 lefty all-court player with a full Western Forehand and a two-handed backhand. Troy currently plays with a Wilson BLX Six.One 95.
Michelle: Open level baseline player with a semi-western forehand and a two handed backhand. She currently plays with the Babolat Pure Drive Roddick.

Review date: January 2014. If you found this review interesting or have further questions or comments please contact us.
All content copyright 2014 Tennis Warehouse.