Pacific Tough Gut String Review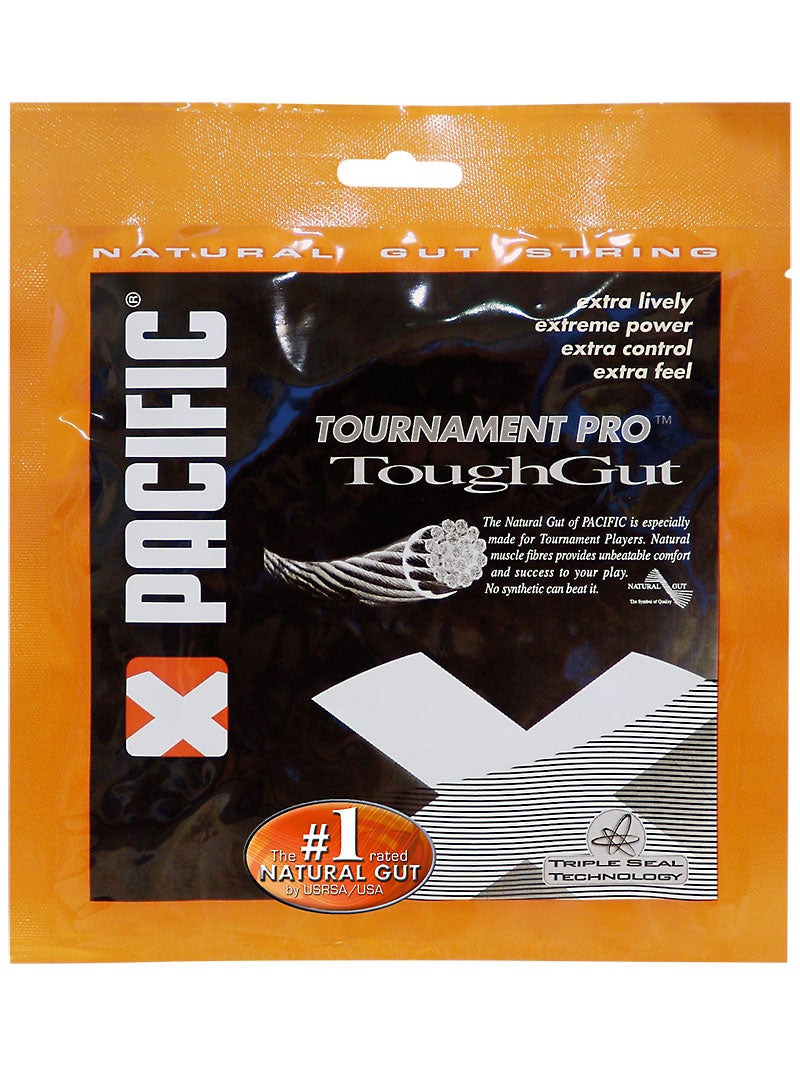 Pacific Tough Gut String Scores
Power
96
Spin
55
Comfort
99
Control
70
Touch
90
String Movement
58
Playability Duration
94
Durability
68
Overall
85
Upsides
Comfort
Power
Touch
Feel
Tension maintenance
Downsides
Too powerful for some faster stroke styles
Too pricey for some budgets
Summary
Prior to the polyester revolution in professional tennis, natural gut was the string of choice for the majority of the world's top players. In fact, even with the stratospheric rise of polyester, many elite touring professionals have yet to quit this magical substance, especially when it comes to creating the perfect hybrid. The reason for this is natural gut offers an unmatched level of feel and playability. With that in mind, our team jumped at the chance to playtest Pacific Tough Gut, one of the most well constructed natural guts on the market. The first thing we noticed was a perfectly crisp yet extraordinarily comfortable response, along with outstanding dwell time and pocketing. This wonderful response not only gave us a heightened connection to the ball, it was also bundled with exceptional power. And though our team prefers the much deader response of polyester, we were able to string Tough Gut tighter for more control without trading an ounce of comfort or feel. Ultimately, for our playtesters, Tough Gut not only supplied a truly impressive combination of comfort, power and feel, but it also made us realize that natural gut, the most ancient of strings, never gets old.
Power - Score: 96
For our team there was simply no denying the high power level of Tough Gut. Though he prefers strings with less power, Andy used the extra pop to make trouble for his opponents. He said, "I'm used to polyester string, so by comparison the ball exploded off the stringbed with Tough Gut. Even when I strung it at a higher tension than I'm used to, I never felt I had to swing extra hard to generate pace and depth. It was easy to get the ball moving through the court in order to hurt my opponent."
Like Andy, Chris also prefers low-powered polys, but he could not help but appreciate how even the power level was across the stringbed. He said, "I really enjoyed the power this string provided. There seemed to be power from every part of the stringbed. Most impressively, the drop off in power when moving away from the sweetspot was gradual with a nice, consistent drop. My racquet played with no hot spots or dead spots with this string. Although the power level was much more than I typically favor in a string, I was able to mostly control it thanks to the consistent response. I also had my racquet strung much tighter (increased by 10 lbs), which helped tame some of the power of this string."
Spin - Score: 55
Tough Gut doesn't have the sharp teeth of a shaped monofilament, so it's not surprising that Andy didn't get quite the bite he is used to. He said, "It doesn't have the spin potential that polyester has, but I did find the slightly crisper coating of Tough Gut grabbed the ball well and gave me some decent spin. I'm used to the ball diving sharply when I take a full swing, and I wasn't quite getting that with this string."
Like Borg and Sampras, Chris used higher tensions with this natural gut so he could achieve the needed stroke speed for effective spin. He said, "I found a decent level of spin from Tough Gut. I wasn't expecting to get poly-like spin from it, but felt I got more grab from this string than I do from a typical multifilament. I liked the grab I was getting on the ball even more as the string broke in. The higher tension also helped me get spin as I was able to swing faster thanks to the deadened response. The extra racquet head speed was easily translated into more spin, and that upped the control level of the string for me."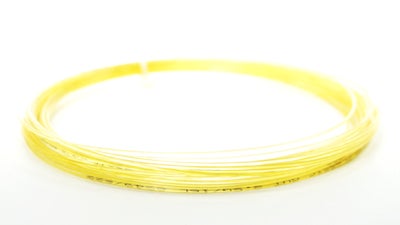 Comfort - Score: 99
Tough Gut didn't simply give our team a comfortable ride, it ranked up there with some of the most comfortable strings our playtesters have ever hit. Needless to say, Chris was impressed, saying, "The comfort level of this string is truly exceptional. Even upping the tension by 10 lbs didn't stiffen the response in an uncomfortable way. Being a natural fiber, natural gut continues to stretch and give even at high tensions, making it unequalled in comfort -- especially on shanks near the edge of the frame. When hitting inside the sweetspot the feel was of the rich, velvety and buttery smooth variety. The response had a goodness to it that had me praying for my shot to come back so I could do it all again."
Agreeing with Chris, Andy was on cloud nine. He said, "It doesn't get any better than gut for comfort, and Tough Gut is no exception. It's unbelievably soft and plush, and was a dream to play with in the crisp Wilson Blade 93. I felt like I was slugging away with a memory foam pillow weaved into my midsized racquet. It felt like Pacific sent my tendons to Club Med."
Control - Score: 70
While there are few strings better for providing touch around the net, Tough Gut can feel a little too lively when paired with the fast strokes and powerful racquets of the modern power game. Having said that, our biggest hitter was dialed in. Andy said, "I received more control than I expected to with Tough Gut. Like I previously mentioned, I couldn't achieve the spin to get the ball hooking down at the court, but on touch and feel shots I felt I could be really precise with the ball and do what I wanted. Especially at a high tension, the stringbed doesn't change a whole lot at impact so the ball went where I wanted it to go."
Chris provided thorough details on how this string performed at different stroke speeds and tensions. He said, "The first time out with this string I had set the tension 4 lbs higher than my regular set up, but I increased it a further 6 lbs to find more control. The power level of natural gut is great. The downside to all that power is over-hitting. The good news is, gut can be strung tightly for added control without becoming overly stiff, unlike a synthetic string. The level of feel is also very high with Tough Gut. The feel is not as crisp as Pacific Classic Gut, which I prefer because I find better control, but it is softer and has more of a plush feeling. On touch shots I felt dialed in. When trying to hook a curved down the line passing shot, I had to be on it a little more since this string doesn't provide the spin and control I get with a poly. It was also harder to get the ball to drop inside the baseline on lobs compared to my usual poly set up."
Playability Duration - Score: 94
When it comes to tension maintenance, there are not many options better than Tough Gut. In fact, according to our lab data, Pacific natural guts tend to hold tension better than any other brand. Andy was totally satisfied, saying, "Such minimal tension loss compared to what I'm used to with polyester, and no drop off in playability either. You're talking about the best in this category when you're using natural gut."
Chris noticed some wear patterns but thought Tough Gut aged well. He said, "The coating started to wear off after a few hours of play and I actually liked the feel of the string more as it broke in. The string had more feel to it the more I used it, and I was feeling more connected to the ball with each hitting session."
Overall - Score: 85
What type or player would you recommend this to?
Andy - "I probably wouldn't recommend this to the aggressive modern player who would really benefit from the control and spin potential of a polyester string, but there is a wide variety of players that would love Tough Gut. Anyone with shorter, slower strokes will love the comfort and power of this string, and any poly user looking to get more comfort out of a hybrid should definitely give this a try. The durability of this particular natural gut string would make it ideal for a big hitter looking to create a hybrid string setup with their favorite polyester."
Chris - "I would recommend this to the player seeking the utmost in comfort and power. It is a very plush natural gut with a soft feel. The feel on touch shots and volleys is simply sublime. A player with classic strokes who likes to charge the net would love this stuff!"
Likes
Chris - "I liked the power, feel, comfort and response on touch shots."
Andy - "Comfort, touch, feel, tension and playability duration, and durability for a natural gut. I kept saying during the test that this natural gut in my Blade 93 was how tennis is supposed to feel."
Dislikes
Chris - "Too much power at mid to low tensions, and durability is a concern for me. Natural Gut comes at a price, so my budget would be a concern if I switched to this string."
Andy - "I need a little more control and spin in order to maximize the effect of my longer, faster strokes."
Comparing the string to others they've tried, our testers said:
Chris - "Tough Gut felt softer and plusher than Pacific Classic Gut and Klip Legend, both of which feel noticeably crisper to me. Babolat VS Gut has a similarly dampened feel until the coating wears off."
Andy - "I haven't really played with many natural guts in my lifetime, but it's similar in playability to the really soft multifilaments like Babolat XCel and Tecnifibre X-One Biphase. But take those strings and take the touch, feel, comfort and playability up a notch or two."
Scores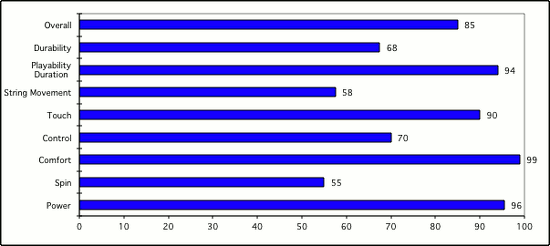 (Scores are determined by averaging individual play test scores)
Chris' Scores
Power
9.8
Playability Duration
9
Spin
7
Durability
6
Comfort
10
Control
7.5
Touch
8.7
String Movement
5
Overall
8.5
Andy's Scores
Power
9.3
Playability Duration
9.8
Spin
4
Durability
7.5
Comfort
9.8
Control
6.5
Touch
9.3
String Movement
6.5
Overall
8.5
Playtester String Setups
Andy:
Playtest Racquet: Wilson BLX Blade 93
Playtest Tension: 58 lbs
Typical String: Volkl Cyclone 17
Chris:
Playtest Racquet: Estusa Power Beam Braided Mid
Playtest Tension: 61 lbs
Typical String: Volkl Cyclone 16g

Review date: July 2013. If you found this review interesting or have further questions or comments please contact us.
All content copyright 2013 Tennis Warehouse.